Our guide aims to make the process simple, empowering entrepreneurs to embark on their mobile app development journey with confidence. We collected and answered frequently asked questions, such as: 
What is the

cost of developing

an

ecommerce application

?

How long does it take to build an

eCommerce app like Amazon

?

What features

does the app need?

How can you monetize

mobile e-commerce apps?

Where and how to

find

highly skilled developers

?
Enough preamble, let's delve in.
Key takeaways
Well-known examples of e-commerce apps include global giants like Amazon, eBay, and Etsy.

In 2022, 76% of adults in the U.S.

shopped

online and national e-commerce sales

reached

$1.03 trillion in 2022 for the first time ever. The market is growing fast and we receive a lot of inquiries about related apps for startups.

The estimated full-cycle ecommerce app development costs around $106 000 and it takes around 3 months.
What is an e-commerce platform?
E-commerce (electronic commerce) apps are platforms for buying and selling goods and services. They act as a mediator and connect businesses with consumers online. Usually, these services use a B2C (business-to-customer) model, like Amazon.com, or C2C, like eBay.com or Etsy.com. Some of them operate as B2B (business-to-business) platforms.
Can you imagine a world without online shopping? We certainly cannot.
In 2022, 76% of adults in the U.S. shopped online and national e-commerce sales in 2022 topped $1 trillion for the first time ever. 
The market is growing fast and with a rising competition, needless to say, users expect seamless shopping experience and feature rich functionalities.
Mobile App vs. Desktop
The history of online shopping started with commercial sales websites. Over time, mobile traffic overtook web traffic and these platforms were forced to evolve into ecommerce mobile apps. Nowadays, nearly 60% of users complete online purchases on their phones and most startups enter the market with a mobile app right away.
Market overview: current state
The pandemic has significantly accelerated e-commerce app development processes and changed online shopping forever. After many countries went into lockdown and implemented stay-at-home orders, the number of searches with the word "delivery" was up between 300% to 900% in various countries, according to Google stats.
The uncertainty of the situation has had an impact on shoppers' habits worldwide. Studies show that people started spending more money on essentials, for example, groceries and household items. Meanwhile, the budget for apparel and travel saw a decrease during these times.
Should you enter the e-commerce market now?
Despite the apparent trepidation, now is a great time to start an e-commerce startup. Currently, the retail mobile app market doesn't meet the demand of billions of users wishing to shop online — they're dealing with delivery delays, increased fees, and out-of-stock items because there are no good competitors to go to. While millions of local businesses and vendors are struggling to find customers, your solution can help them meet their online needs.
How e-commerce app benefits businesses
Frankly, it will be easy for you to find the first users for your future app, as there are 2 problems of small businesses that an ecommerce mobile app can solve: it broadens the audience nationwide, or even worldwide, and increases the retention rate for long term success. Let's take a closer look at both of them.
Increases retention rate
Ecommerce apps increase the retention and engagement rates of your service. For example, a user adds an item to the cart but does not complete the payment. Your platform can catch a customer later on send a push-notification with a special offer to bring them back. It is possible only with an app because the desktop version allows you to interact only through email (if a customer leaves one), which is likely to go directly to their junk folder.
Expands target audience
Online shopping platforms expand your target audience local, to everyone shopping online. Imagine opening up a gift shop in a nice neighborhood, but then the pandemic hits, and footfall goes to near zero. Sales rapidly drop and you have to find a way to reconnect with customers again. You have 2 choices: to wait it out and possibly close up shop or to go online and find new customers via an e-commerce platform.
Looking for a company to create an e-commerce app?
After 300+ completed projects, we can develop an app in any niche — from e-commerce to IoT. Contact us, and get a free project estimation in 48 hours.
Contact us
How your e-commerce app can make money 
Before discussing the eCommerce app development cost and timeline, let's talk about the income. Research suggests that the average eCommerce store generates $150,000 in revenue after 3 months on the market. There are several monetization strategies for such apps to thrive:
Delivery fee
The most popular and easiest way to make money out of an eCommerce app is to charge a small fee for the delivery of each item. However, we would recommend you take a look at other strategies because studies show that 75% of consumers expect delivery to be free. For some, it becomes the deciding factor in whether to buy from you or not. For example, giants like Amazon dropped delivery fees in favor of other monetization strategies.
Commission fee
The majority of apps charge a sales commission for each item sold on their marketplace. For instance, Myntra charges a fixed commission of 4% to 5%, depending on the category and brand of the product.
Subscription 
This is one of the most popular methods to monetize an e-commerce app. Amazon offers Amazon Prime, a membership package that unlocks special offers and unlimited free delivery on millions of items. Users have a choice to pay $12.99 monthly or $119 annually.
Sponsored content
If sellers want to be on top of search results, they can pay a little extra and attract more buyers.
7 key features for the e-commerce app platform 
Any e-commerce app is a double-sided platform for both sellers and buyers. We created a list of key features your solution will need for both parties:
1. Registration and personal account
Every app starts with a login page. No matter who opens it – buyer or seller – they have to start by providing basic information about themselves. We suggest keeping it as short and simple as possible: ask for an email, the first and last names, and a phone number. Make sure to add social media integration, so new users can sign-up using their existing accounts on Facebook or Instagram.
Don't forget about a personal account page so that later on users can get back to it and set it up with more details and preferences.
2. Catalog 
Here your solution will need a search bar to look for a particular item and also be able to filter by categories such as price, color, brand, etc. Sellers should be able to add new items to the list and attach photos and filter tags to them.
Overall, the search results page will contain a lot of elements, so make sure you work with an experienced UX/UI designer, who will keep the item catalog intuitive and easy to navigate. Additionally, make sure to add a Share button, so users can easily share a product in a message or on social media accounts.
3. Item Page
The item page should represent all necessary information about the item, such as the name, photos, description, price, delivery date, and reviews from previous buyers. Now many consumers consider shipping costs and special deals even before getting to the checkout page, so make sure you display all conditions from the beginning.
4. Wishlists
When browsing, you probably see a lot of things that you want to save for the future, it's useful to be able to just add the item to your wishlist. This feature is essential for customer retention. They can bookmark items that they like, and if the price for a wishlist item drops, you can send a push-notification to inform the user.
5. Payment feature
Customers should be able to add a product to the cart, see the total and then pay. If they don't complete the payment, you can remind them about the order later on and bring them back to the app, increasing retention rate. Also, make sure your app supports ApplePay, GooglePay, and PayPal for the convenience  of your customers.
When it comes to finances, we recommend double-checking that you implemented a reliable payment gateway and secured the connection with data storage services. 
6. Order history
The history of previous orders and payments is essential for both sellers and buyers. Customers could see what they have bought, when, and also how much money they have spent, while vendors could track their sales and count their income with this feature.
7. Customer support chat
Startups like eCommerce apps deal with a lot of customer inquiries and feedback. People buy and sell a high volume of goods daily and it might be difficult to keep an eye on the quality of every single item. If you don't want unsatisfied customers to go to social media, customer support should be easy to reach so questions and concerns can be addressed. We recommend implementing messaging functionality so users can easily contact support and get help quickly.
5 factors affecting the cost of building an e-commerce mobile app 
Building a successful e-commerce mobile app requires a good understanding of the factors that influence cost of developing. By carefully considering these 5 things and making informed decisions, businesses can build an ecommerce app that meets the needs of their customers and gets the most out of their investment.
The complexity of app design
UI/UX design plays a vital role in determining the cost of developing. A simple and minimalistic app design may require less time and effort, resulting in lower costs. On the other hand, a complex and trendy design with intricate user interfaces, animations, and unique features can increase development time and drive up costs.
Also, an ecommerce app development company is responsible for creating seamless user experience, intuitive navigation, and visually appealing aesthetics. It requires significant investment in user research, prototyping, and testing, as well as skilled UI/UX designers — their level of expertise will also impact the overall development costs.
App development platform
The choice of app development platform and technology stack is another critical factor influencing the cost of building an e-commerce mobile app. Businesses have the choice to either develop separate native apps for iOS and Android, or opt for cross-platform development frameworks like React Native.
Developing native apps for multiple devices generally incurs higher costs because it requires two separate development teams and maintenance efforts. In contrast, cross-platform frameworks offer cost efficiencies as a single team can handle development for both iOS and Android. 
App functionality
The features and functionality of an e-commerce app significantly impact the overall cost of mobile app development. Basic e-commerce apps with standard features like catalog, push notifications, product recommendations, wish lists, shopping carts, and secure payment gateways tend to be more affordable. However, as the complexity of features increases, so does the cost.
Integration with third-party services, such as inventory management systems, customer support tools, and analytics platforms, may also add to the mobile app development costs. Moreover, the inclusion of advanced features like augmented reality (AR) for virtual try-ons, personalized product recommendations, and in-app chat support will require additional development time and resources.
Team size and location
Where your development team is located and how many experts it consists of, matters. Hiring a team of experienced developers, designers, quality assurance engineers, and project managers will have a direct impact on the overall budget.
The hourly rates of the ecommerce app development company can vary significantly based on their location. Offshore development teams, in countries with lower labor costs, may offer better rates but can also pose challenges related to communication and project management. On the other hand, hiring a local team may involve higher hourly rates, but it can lead to more efficient collaboration and better quality control.
Timeline of the project
The timeline set for your mobile app development of an e-commerce mobile app is a critical factor in determining the overall cost. Rushing the development process to meet an unrealistic deadline can only cause higher expenses due to overtime pay and potential compromises on quality. Conversely, extending the project timeline might lead to additional costs in terms of team retention and maintenance.
Cost breakdown of e-commerce mobile app development 
Here comes the most interesting and vital part: eCommerce development cost and timeframe. Before we start, an important note from us: at Purrweb we try to make the process for our clients as transparent as possible, and we always openly discuss all future steps. If you want to get a personalized price estimation, just contact us through the form.
When it comes to costs, the general rule is the bigger team you hire, the more you pay. The good news is that we work with React Native framework which allows us to develop apps like Amazon or Myntra really quickly and to use one JavaScript code and one team for both iOS and Android systems. It saves our clients tons of time and money.
Let's do the math now! When you work with us, you can expect to pay for the following:
UI/UX app design costs
We plan and execute the interface, build a prototype, and choose fonts and color schemes that match your style and business requirements best.
App development costs
To build an ecommerce app, our team uses React Native, a cross-platform development tool, in line with best practices and cutting edge technology on the market, build both iOS and Android eCommerce apps, simultaneously. During this stage, we consider all important elements, including a secure payment gateway, product page and push notifications.
QA Testing 
We test the usability of your application to find and fix all potential bugs before the release.
App deployment cost
We upload the app to the production environment and connect it with servers, making it available for your audience.
Project management 
We manage the project for you, plan sprints, track the progress and solve administrative tasks.
Costs breakdown
🚨Disclaimer: These are our estimations and we don't guarantee other companies have the same costs or timelines. The following is valid only if you work with us.
| | | |
| --- | --- | --- |
| Stage | Timeframe | Approximate costs |
| Initial meeting | 1 day | Free at Purrweb |
| UI/UX design | 150 hours | $7 500 |
| React Native development | 860 hours | $43 000 |
| Backend API + admin panel | 600 hours | $30 000 |
| QA Testing | 500 hours | $11 000 |
| Project management | 3 months | $15 000 |
Average eCommerce app development time for the Purrweb team is 3 months. According to similar projects we have made, the estimated eCommerce app development cost is around $106 000 for a full cycle of execution – UI/UX design, building a prototype, testing, creating iOS and Android versions, and more.
Start working on developing your e-commerce app today!
We can help. Contact us for a free project estimate within 48 hours.
Let's start
4 ways to reduce e-commerce mobile app development cost 
Depending on your business requirements and planned budget for developing an e commerce app, there are several ways to reduce costs:
Сhoosе open-source platforms.

They provide a source code that you can re-use, modify and enhance. It will serve as the foundation of your mobile app.
Simplify app design

. In terms of design, complex doesn't mean good. Recent trends include minimalism, intuitive interfaces, simplicity, and a clean look.
Prioritize key features.

Focus on the features you need the most. For example, without a

payment gateway

or

real time order tracker

, a user won't be able to complete and receive a purchase, but maybe

social media integration

can wait.
Start with MVP

(minimum viable product). MVP is the first fully-functioning version of your product. It usually has a limited set of features, which is enough for users to use and provide feedback. It can help you test the market and

develop an ecommerce app

that will be relevant for your target audience.
How to find a contractor in 2023?
We know it is not easy to find a reliable and fast developer to build mobile ecommerce app. There is no time for mistakes, you have to move quickly with your solution while the market is evolving. Here we gathered 3 bits of advice from our team on how to choose ecommerce app developers:
Choose companies over freelance developers
It's more convenient and time-efficient to get all services from a professional team with good communication. Imagine spending time finding a coder and designer and then managing all of the processes by yourself. Why bother, when you can delegate and focus on release strategy and investor pitching, the developers' lab will cover all technical aspects of development and polish your solution.
Check reviews
It is always better to be safe than sorry. We advise performing a background search and reading feedback on your potential contractor beforehand. First of all, Google the name of the company and see what comes up. Then check professional websites, such as Behance and Dribbble for portfolios and reviews.
Choose someone who works with React Native
For a startup, money and time can be crucial. The React Native framework has many benefits for newly released apps. For example, a shared codebase allows developers to build two apps for both iOS and Android with 60-65% similar code. It not only saves time and money for the startup but also helps to release the product for a larger market. Also, React Native eases the testing process and helps to quickly discover and fix all possible bugs before the release.
Wrapping up
Recent years significantly boosted the e-commerce sector. Only in 2022, 76% of adults in the U.S. shopped online and national e-commerce sales reached $1.03 trillion in 2022 for the first time ever. 
The market is growing rapidly and the demand exceeds its current opportunities. That's why now is the perfect time to choose your niche and start building your solution.
Here are 7 key features to consider when developing an eCommerce app: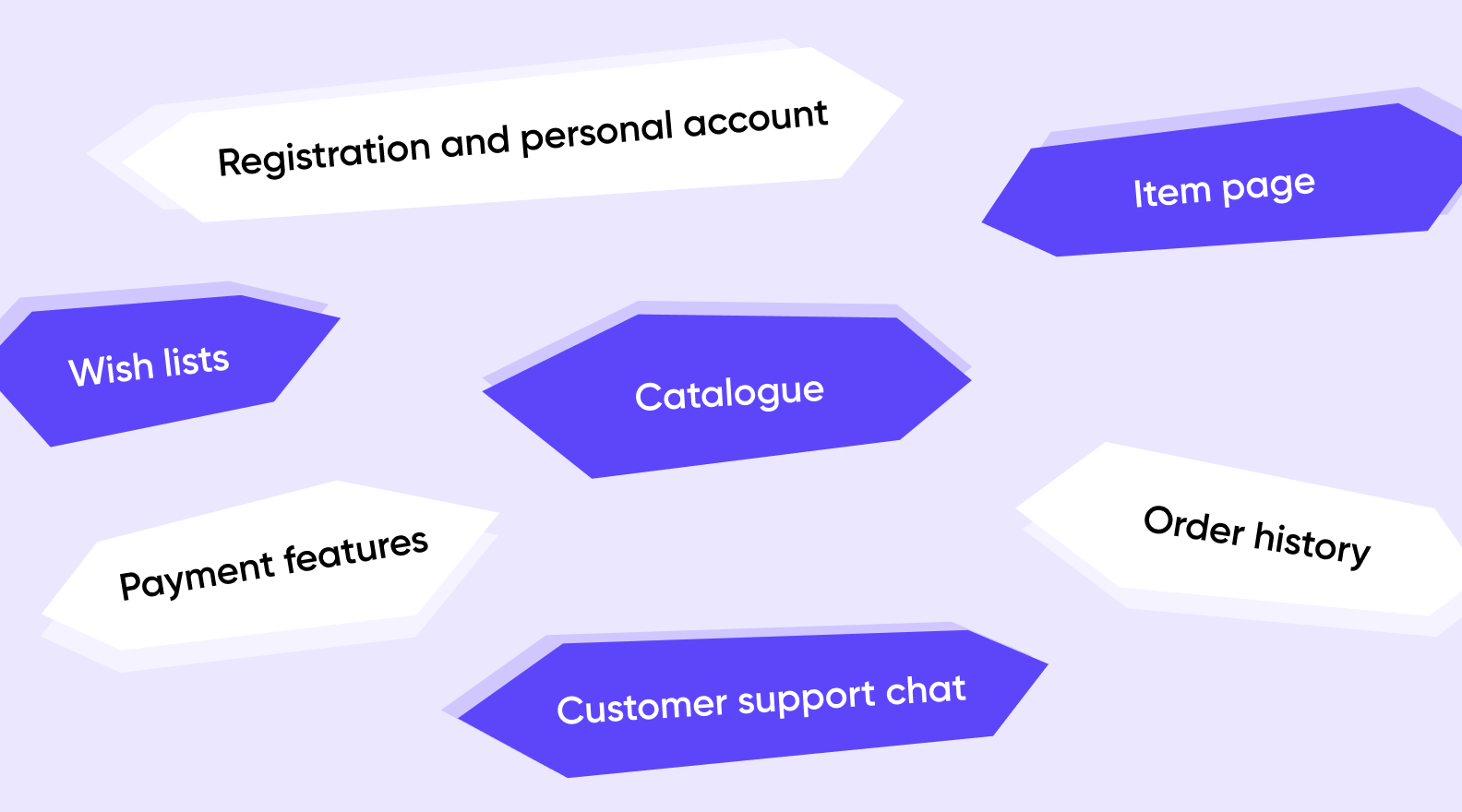 Let's talk money. If you are wondering how much does  ecommerce app development could cost and how much money you can make, here is the answer. Studies show that the average eCommerce store generates $150,000 in revenue after 3 months on the market. There are 4 main monetization strategies:
delivery fee
commission fee
subscription
sponsored content
Our advice is not to stick to only one strategy, but to mix them together. Also, keep an eye on recent trends and big companies' updates. For example, recent research showed that 80% of customers prefer delivery to be free of charge when they are shopping online, and they look at it before getting to the checkout page.
The estimated full-cycle eCommerce app development cost is from $ 20 000 to $ 40 000 and it takes around 800 hours [64 days].
At Purrweb, we build eCommerce mobile platforms with a focus on UX/UI design and QA testing to develop a robust cutting-edge solution. We have a blog where we openly share our experience and a portfolio with previous works where you can check our style. Plus, we work with cost effective and time-efficient React Native that helps us develop fully-functioning high-performing marketplace apps in 4-6 months.