What is React Native, and what makes it so good?
An app might look the same on iOS and Android, but these products are different inside. The reason is that every operating system has different requirements. Thus, to make an app display correctly for both iPhone and Xiaomi users, developers choose between two options:
native development: 2 codes — 2 apps (iOS and Android);

cross-platform development: 1 code — 2 apps.
Native development is the best for creating some extra complex functionality. For instance, it was used to build Spotify, a streaming service with a paid subscription, or Pokemon Go, a mobile game. At the same time, cross-platform development is usually the best solution for startups: it allows them to create apps quicker and cheaper. Significantly quicker and cheaper, too: you can save time and money to 30%-35%.
The point of cross-platform development is that the same code works correctly in various operating systems thanks to a framework: a platform based on some programming language. React Native is precisely such a platform used for JavaScript apps development. Facebook created and supports it, so React Native became one of the top popular tools in wide use worldwide.
Creating a React Native mobile app allows you to develop a product within a short span of time. Thus, it significantly prices down a project: a developer will need less time to complete work. So how much do developers charge in different countries? But first, let's find out more about React Native developers.
Why hire a React Native developer?
We defined some reasons to use React Native. Let's dive more into this. Hiring a React Native developer is the best investment as it saves your time and money and helps to get good results in performance and speed.
There are several benefits of hiring a React Native developer:
It's cost-effective. We've mentioned before that using React Native allows you to kill two birds with one stone and develop a mobile app for both iOS and Android platforms. Time is money — React Native developers use the same codebase for different platforms, so they need less time for the development process and therefore you need to pay less money. Voila!
It brings great performance. If you need to do a cross-platform app — React Native is a winner. If you hire React Native developers, they will build the architecture and make the app tuned to mobile devices.
It's supported by a strong community. React Native is powered by Facebook and their huge community puts in the efforts to make this framework the best of the best. A large audience is conditioned by a common programming language, JavaScript.  
It's faster than native development. React Native developers can create high-quality and native-like products without compromising functionality — they can reuse one codebase for different platforms. This makes app development faster compared to other approaches.
Proper skills for a React Native Developer
Let's see the key hard skills of each React Native developer.
JavaScript knowledge. In cross-platform app development, JavaScript is a big boss. A good React Native developer must know how to build components, structure app's logic, and understand app's flow. 
Android and iOS development experience. Developers should know the basics of iOS and Android development  — it helps to make the app work on different devices.
If you want to hire a React Native developer, then you should look through their portfolios. It shows the relevant experience and reflects the skills of developers. It also helps to understand if the developer is suitable for your project or not. 
How much does it cost to hire a React Native developer in Russia?
As a Russian software development company, we decided to start with the local rates: we know all the ins and outs of how it all works here. The Russian development industry is pretty versatile: a developer's salary may vary depending on a particular region. For instance, Moscow and Saint Petersburg have higher salary rates, while Siberia, Ural, and the Far East are cheaper. Still, you can stick to the average figures. We studied Russian React Native developer salary rates per year offered at popular local job search websites, and here is what we got. Note: they usually indicate salaries in RUB per month in Russia, so we converted them into USD and gave you annual rates.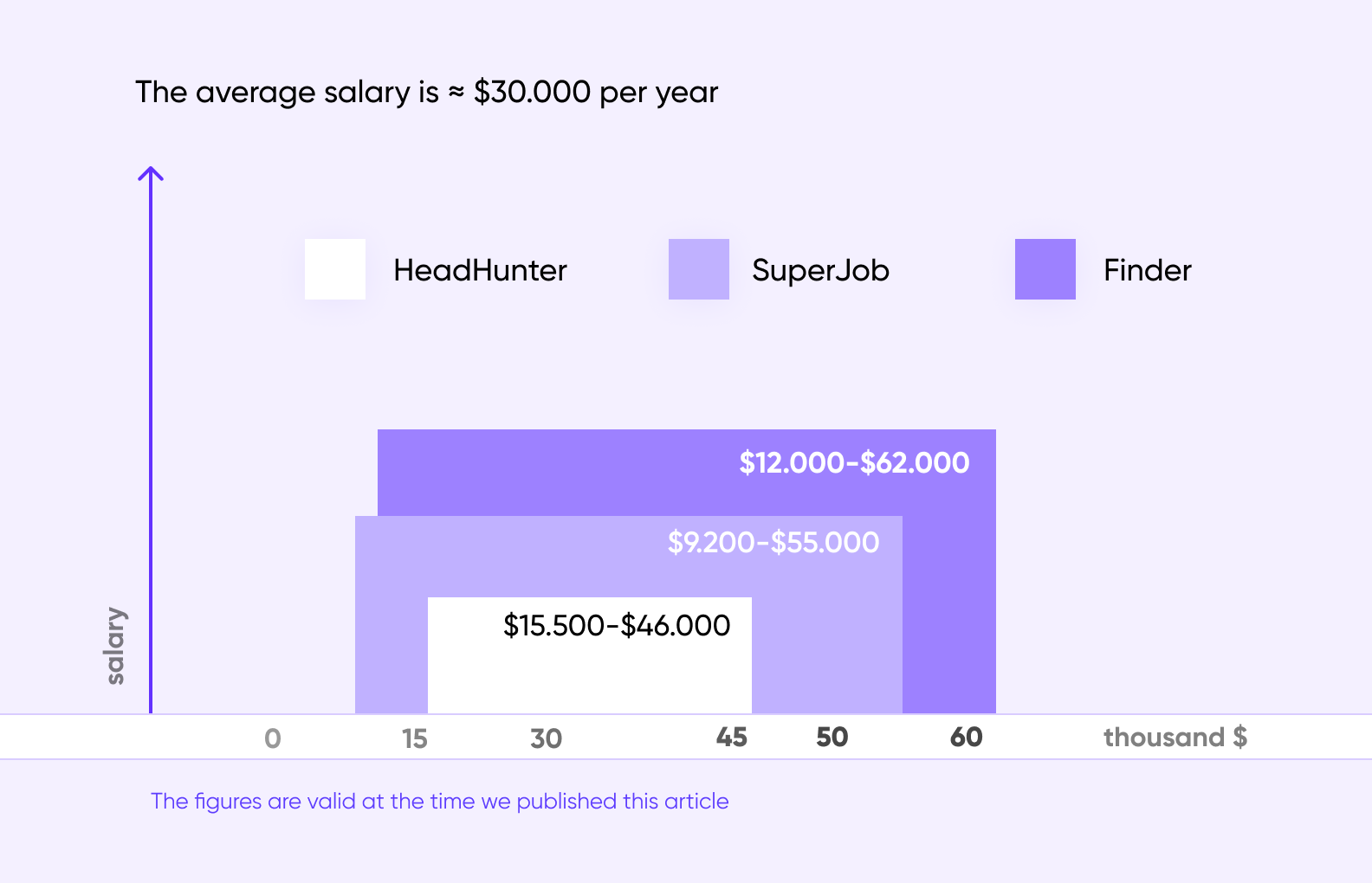 Creating a React Native app takes more than a month, and a single developer might not be enough for a project. Thus, it becomes evident that a startup requires a significant budget. However, React Native mobile app development in Russia still implies lower expenses than in Western countries.
Let's try to estimate a development cost in the context of a particular app. Here is a recipe app :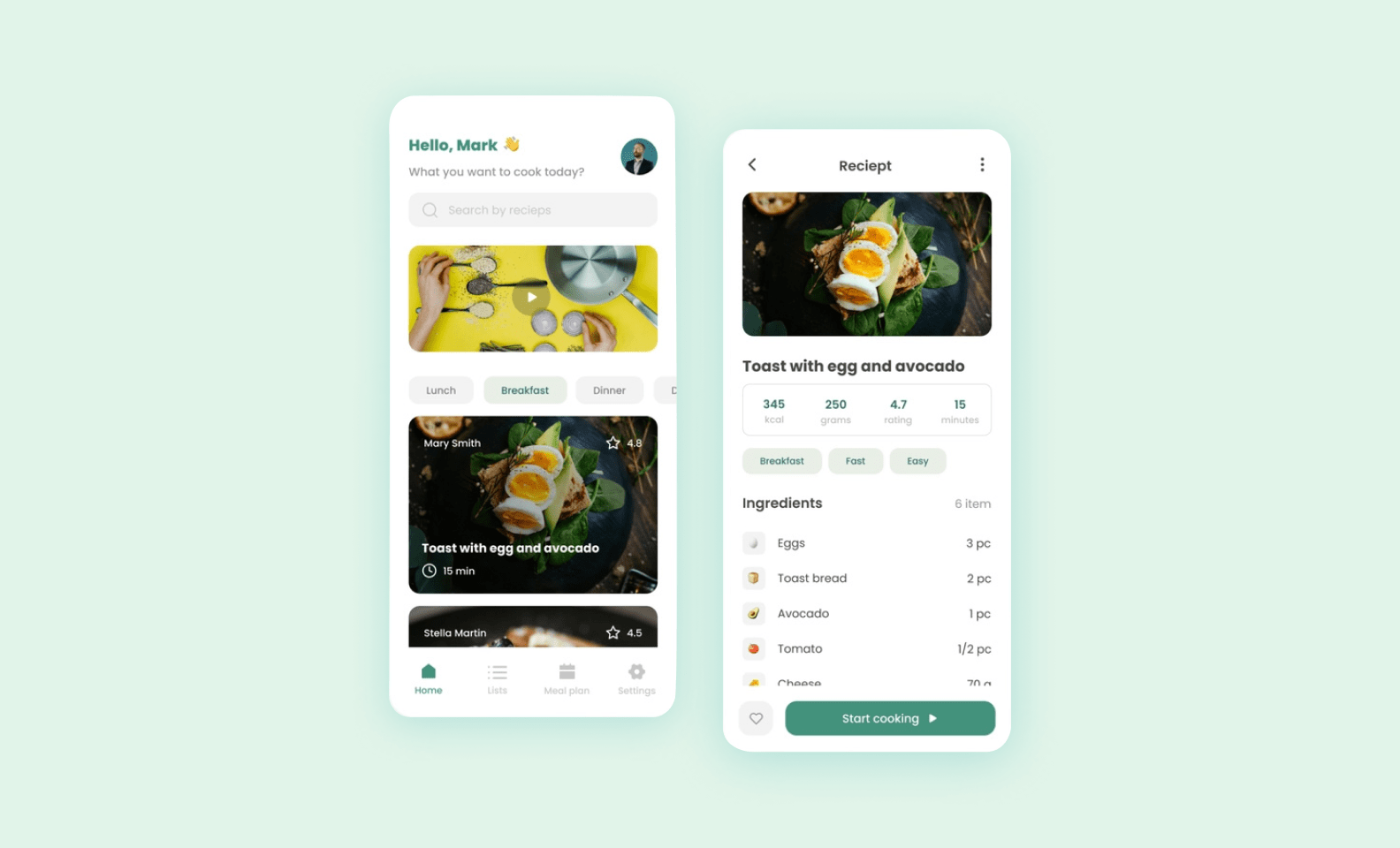 The frontend of nothing but these two app screens requires 180 hours of React Native developer labor. The frontend of the entire app will take 900 hours. Suppose a developer works 40 hours per week: it makes overall 5,5 months. If we base on the $30,000 annual salary, it appears app development on the front side will cost approximately $15,000. Let's now check how much we'd pay for the same in the USA.
How much does it cost to hire a React Native developer in the USA?

React Native average salary in US is mainly higher in most industries, and IT is not an exception.Here is what we saw at local American job search websites: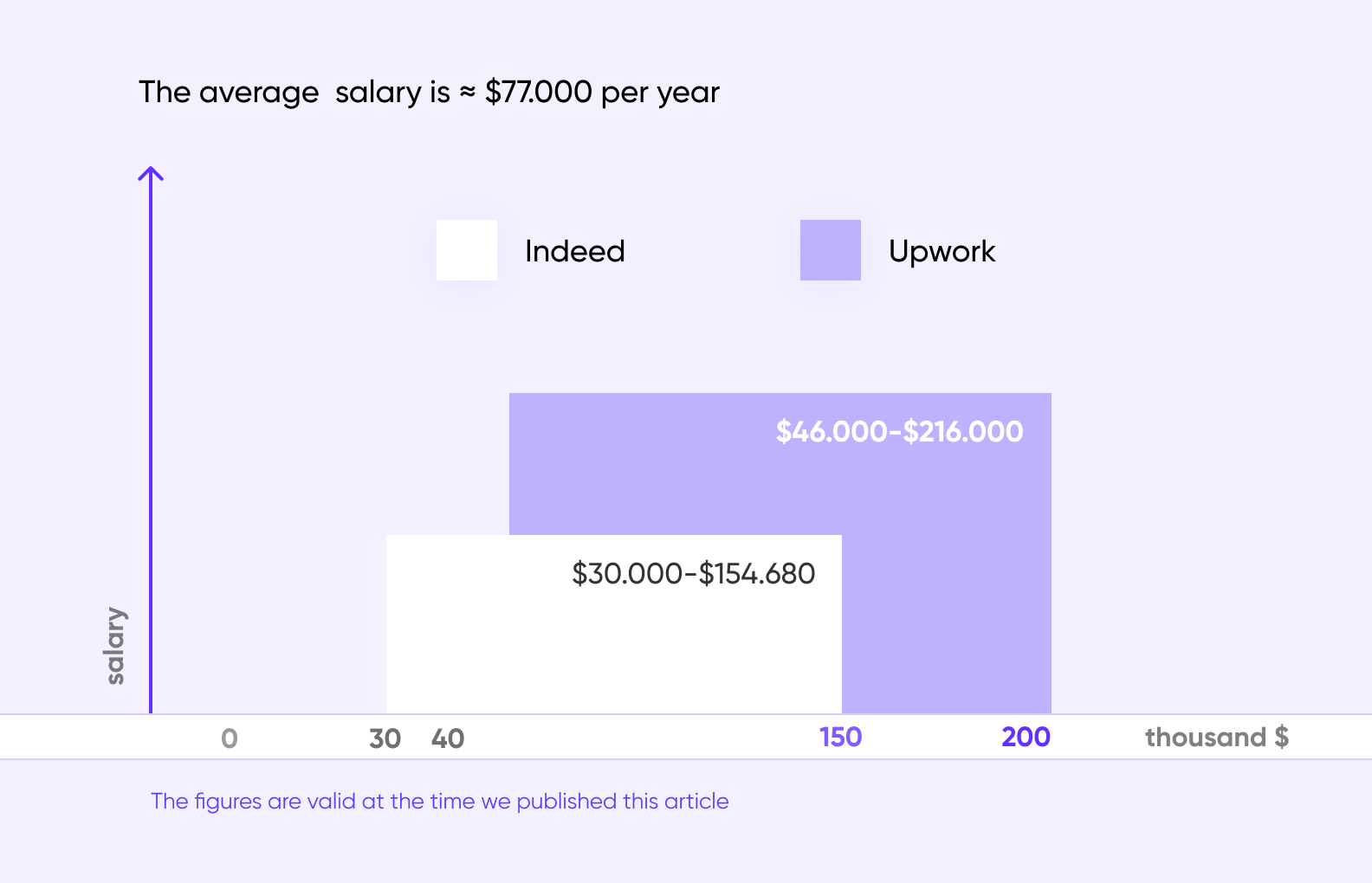 A React Native development salary of a yearly $216.000 is a hefty sum, isn't it? Obviously, it relates to the top positions in tech giants. Still, even the average rates require a several times larger budget than in Russia. For instance, the same 900 hours of a food recipe mobile app development would cost approximately $35.000.
How much does it cost to hire a React Native developer in Europe?
So, the USA offers much higher rates compared to pretty affordable ones in Russia. Meanwhile, Europe allows you to find more or less average costs. There's no point in specifying all countries, so we studied salaries all over Europe and highlighted a couple of regions to give you a better image.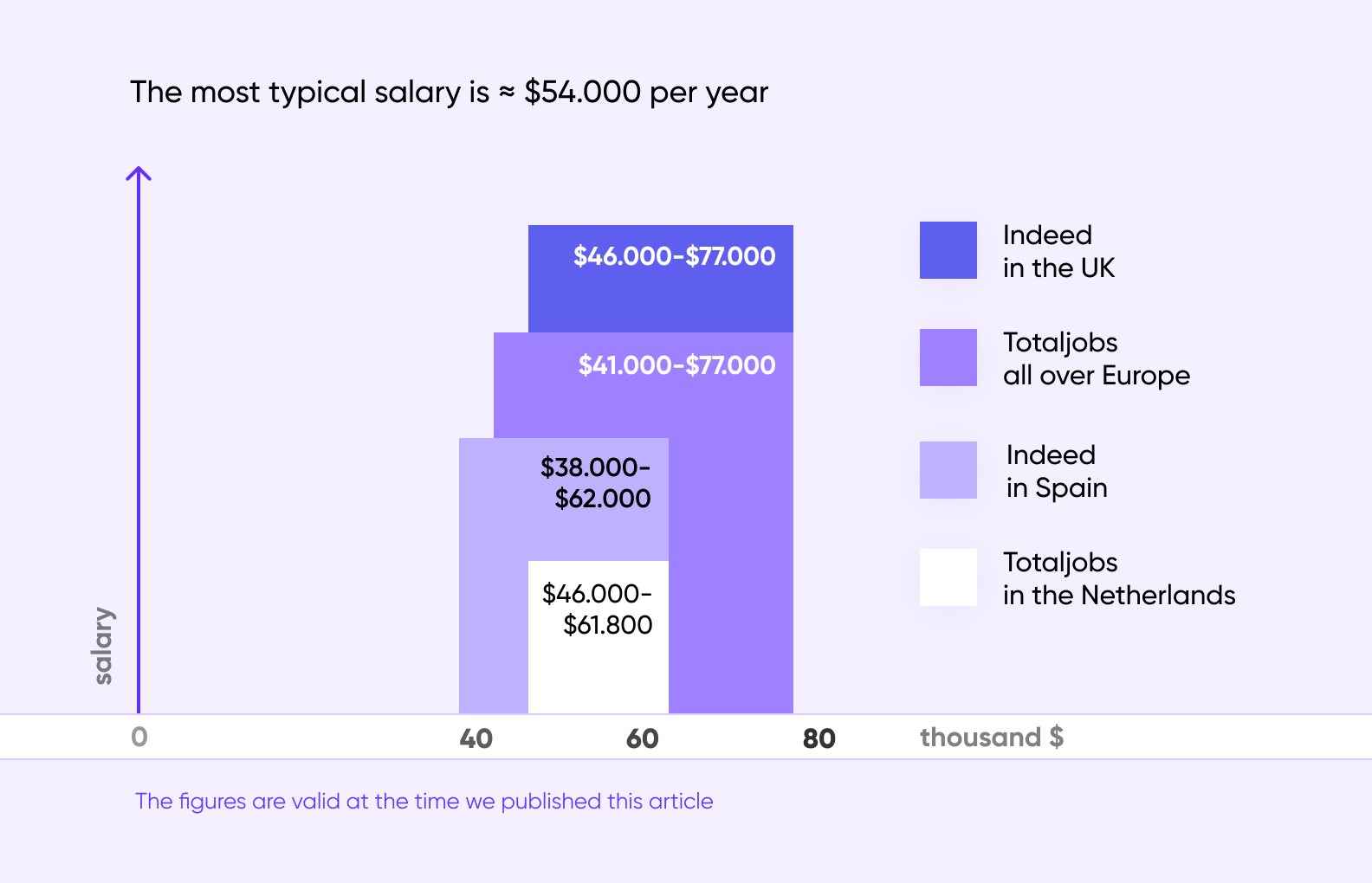 European rates are not as shocking as the US ones, but they are still higher than in Russia. The 900-hours frontend development will cost about $24.800 on average. A legitimate question: why do React Native development salary rates differ so much?
What impacts a React Native developerment salary?
Obviously, React Native development salary depends on the specialist's level. We won't discuss a junior, middle, and senior developer's earnings separately, but a long-experienced one will earn much more than a rookie. However, we looked through positions for various expertise levels, and the a React Native average salary is mainly similar to the one of a mid-level developer.
Why does a mid-level US specialist require a significantly higher wage than a Russian one for a React Native mobile app development? The main reason is the overall low income and cost level in Russia. At the same time, Russian IT education is up there with European and US: Russia is home to many skilled tech specialists. Russian developers work in the biggest international corporations like Epam and DataArt, and they successfully bring about truly challenging projects for the USA and Europe. Reasonable budget planning is crucial for a startup, so the Russian development market is definitely a worthy thing to consider.
Factors that affect React Native development salary
Not only the level of expertise impacts a developer's salary. There are 2 more factors that can influence the cost of hiring a React Native developer.
App's category and complexity
Sometimes it's more difficult and expensive to build some apps with the help of React Native. Here are some examples: AR applications, apps that need access to the phone's hardware: camera, geolocation, accelerometer, or fingerprint identification.
You can build almost any type of app with React Native but using native development injects. Also, it's harder to create a multi-page app with complex logic and make the app look great even on the old devices.
App's design
Well-designed app is a key point that will allow you to stay ahead of your competitors. The cost of the app depends on the number of screens the app requires. If the app has complex UX/UI design, be ready to pay more. React Native development allows you to spare money and design only one application for every platform. The usage of React Native reduces price compared to native development. 
Let's consider in more detail, should you hire your own team, find a freelancer or to outsource React Native development, because it impacts on development cost too. 
Where to search for developers at a reasonable price
With pandemics, most companies set up remote workflows. It became particularly common for the IT industry which best adjusts to transformative technologies. High-quality management, messengers, and video calls make remote communication comfortable for both contractors and customers. Thus, startups can search for talents worldwide, and Russian development rates add the advantage of lower costs. At the same time, the development quality in Russia is not at all worse than in other countries.
Remember the recipes app example? It requires 900 hours of a Russian developer's labor (5,5 months), e.g., about $14.000 to develop the frontend of a React Native mobile app with recipes. It seems the most cost-efficient offer compared to the USA and Europe. However, it's only the frontend, and you also need a backend, QA, and design. Hiring and onboarding specialists take time, too: at least a month for a single employee. 
So, the whole recruiting process takes at least three months. Besides, if you don't want to do it yourself, you may wish an HR manager's help. And you need to find this manager, too! What is more, you risk failing to be on the same page with your team if you are not very well-versed in software development. How will you know if they lack expertise? A good way to get ahead of this problem is to hire React Native consultants, so they can guide you through the process.
Hiring freelancers has the same issues: you need to spend countless hours finding a true expert and making sure they do have the expertise. Don't be swayed by sub-market rates: a developer working for peanuts will hardly end up with a high-quality product.
Outsourcing studios are more predictable. On average, they need about three months for app development and charge from $25.000. It is an end-to-end solution that saves time, nerves, and money and helps avoid risks related to product quality.
---
Looking for a seasoned developers team to create a React Native mobile app and spend your budget wisely? Purrweb has developed solutions for startups for seven years now. We create UI/UX designs, build React Native apps, ensure QA, and support our projects on the post-release stage. Our consultants will be glad to advise on any questions. Just fill in the form below!