Nothing in this world is perfect: everything has its pros and cons. So there is no clear answer to the question "which is better: in-house team or an outsourced one? It all depends on your goals, budget, and expertise. But one thing we know for sure — hiring a designer on a permanent basis is not suitable for everyone.
Why hiring a full-time designer isn't right for everyone?
The advantages of your "own" web design professional are obvious:
availability and readiness to complete tasks at any time;

a reasonable amount for a salary from the budget;

clear understanding of tasks thanks to a deep involvement in the values and particularities of the product.
But at the 'second' glance, it's not so simple. If we talk about the digital sphere, many companies outsource from 10% to 30% of their tasks. Out of all the digital services, digital design is the second most popular outsourcing service. Companies such as Mail.ru, Delivery club, Alfa Bank, attract external designers. But why don't the market giants and many other companies just hire employees?
The choice depends on the particularities of the business: products, volume and budget. The manager must remember that good professionals are expensive ones. If you turn to Indeed, you can notice that the monthly salary of an experienced web designer starts at $4,000. Add taxes, time for training and involvement in your product, the workplace technical equipment. In fact, full-time professional hiring turns out to be more expensive in each and every way.
Also, a designer's job in a company can be inconsistent: designer has tasks today and tomorrow — doesn't. That is why it is necessary to start from the needs and capabilities of the company while choosing an employment method.
According to CMS magazine data, the majority of organizations approaches outsource in order to save time and money: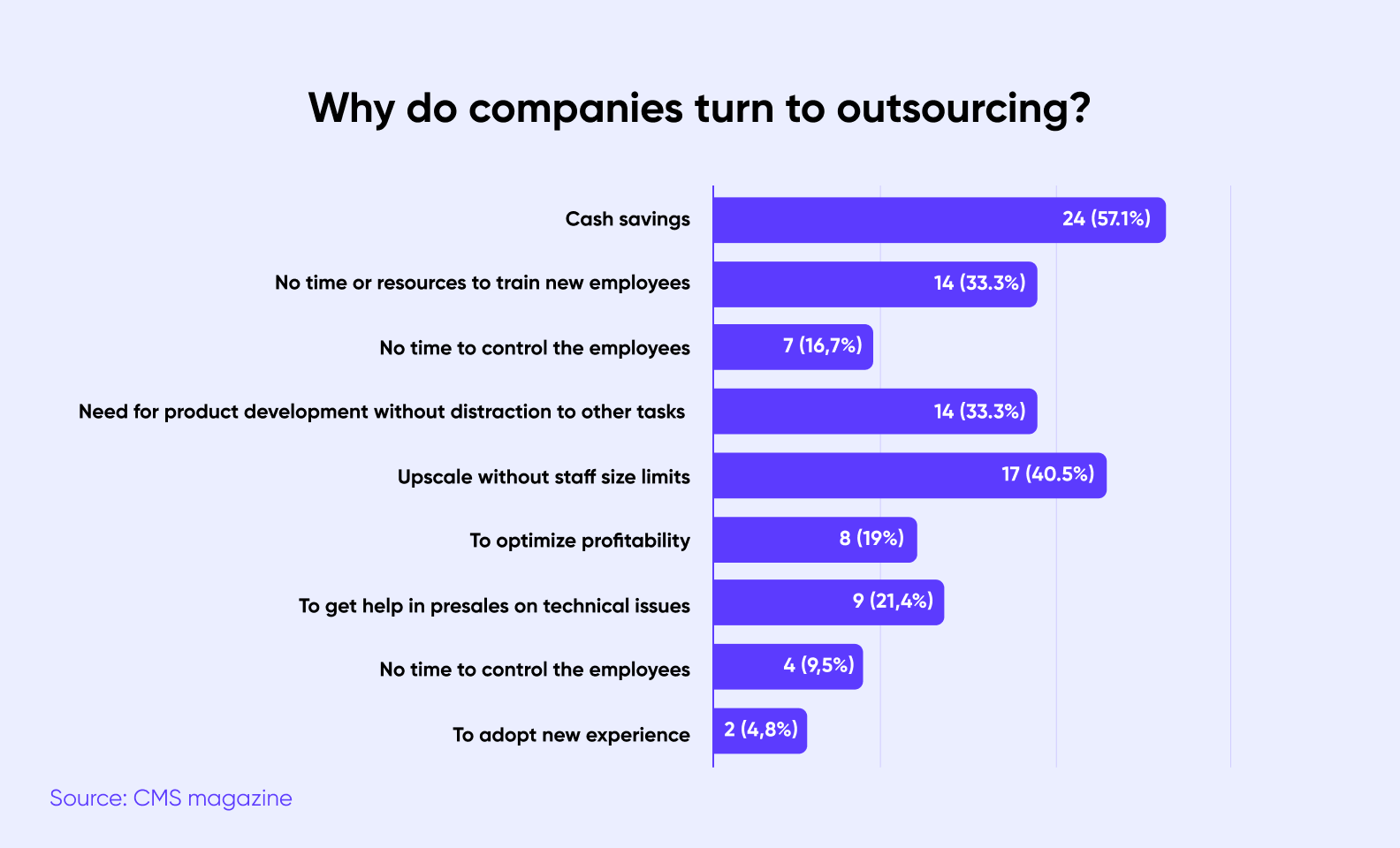 There are cases when an in-house designer is your option. For example, you want to launch an online store, which guarantees a constant flow of tasks and creates the need to know the particularities of your product. If your startup has other criteria, you may want to look into the possibility of hiring an "outside" professional.
When is it more profitable to outsource web design?
How to find out that outsourcing is right for you? There are a few features that will help you to figure that out:
Your in-house designer lacks wide experience and expertise.

It is required to fulfill a large amount of work in a short time and in-house professionals are busy with other tasks. 

There is a need to perform a single

digital design

project and in future such tasks will seldom appear.

There are no resources for a constant control of workflow and is a necessity to delegate tasks. 
Even if the choice to outsource web design seems obvious, many questions arise: "What if someone else's designers won't be competent enough?", "What if I don't get the result in time?" Now we will clear up the prejudices and show that asking for a design outsource has its own advantages:
Designer's visual experience and background

. Designers from outsourcing companies work with a wide pool of industries. They have a lot of visual experience, they don't think in terms of typical solutions and can offer really creative solutions. 

Operational responsiveness and strict deadline control.

If you delegate tasks to an outsourced design team, they can get the job done much faster than an in-house designer can. Simply because the "outsiders" are already trained and think more broadly than your permanent employees.



Priorities and resources control.

The company can focus on product development and be not disturbed by other tasks if it is

outsourcing web design

.



A possibility to deliver a big project.

If there is a lot of work and deadlines are tight, hiring a whole design department, which will have nothing to do in 3-4 months – isn't a good solution. But, outsourcing allows you to hire a whole design team who can cope with the massive task.

Labor and financial resources saving.

It is cheaper for customers to work on a project-by-project basis than to pay a salary every month. Also, company designers or freelancers don't need a workspace.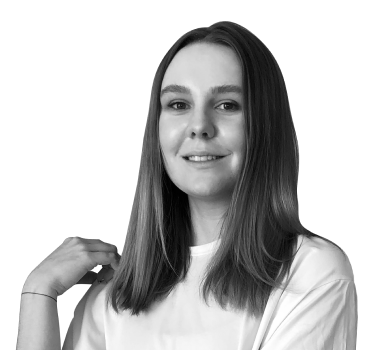 Outsourcing has another cool and not obvious advantage that many people miss. For no good reason! After all, outsourcers can look at your business from a different angle, which is unexpected even for you. Also, they can offer original and creative ideas for web design that will benefit your business and attract the customers' attention. For the sake of new ideas and non-standard solutions, some companies hire professionals even if they have an in-house designer, who has been around long enough with the product.
I got it! I need to outsource! What shall I be prepared for?
As you can see, outsourcing is a good thing too. However, you have to know how to use it. It is like driving a car. It will be useless if a person does not know what to push, where to turn the steering wheel and does not remember driving regulations. Here, it is the same. There are unspoken rules that will help you not to make a mistake and minimize the risks.
What is required to receive a high-level web site design? Let us respond point by point:
Give performers as much information about the product as possible. In addition to the spec and brand book, provide examples of designs that you like. Tell them more about your target audience and their needs. Also, explain to them what function the requested design should perform

.

Be clear about deadlines. It is best to divide the process into stages and agree on a date for each of them and for the delivery of the project as a whole. In such a way, you will be able to control the process and get the finished project on time.

Try to establish a prompt feedback loop, so that the coordination of the work stages does not slow down the whole process. That will speed up the work. Also, the probability of getting a good quality result will increase.
According to maryco statistics, the biggest feedback challenges that performers face are on digital design development. Compared to other problems, long and complicated approvals lead with a wide gap: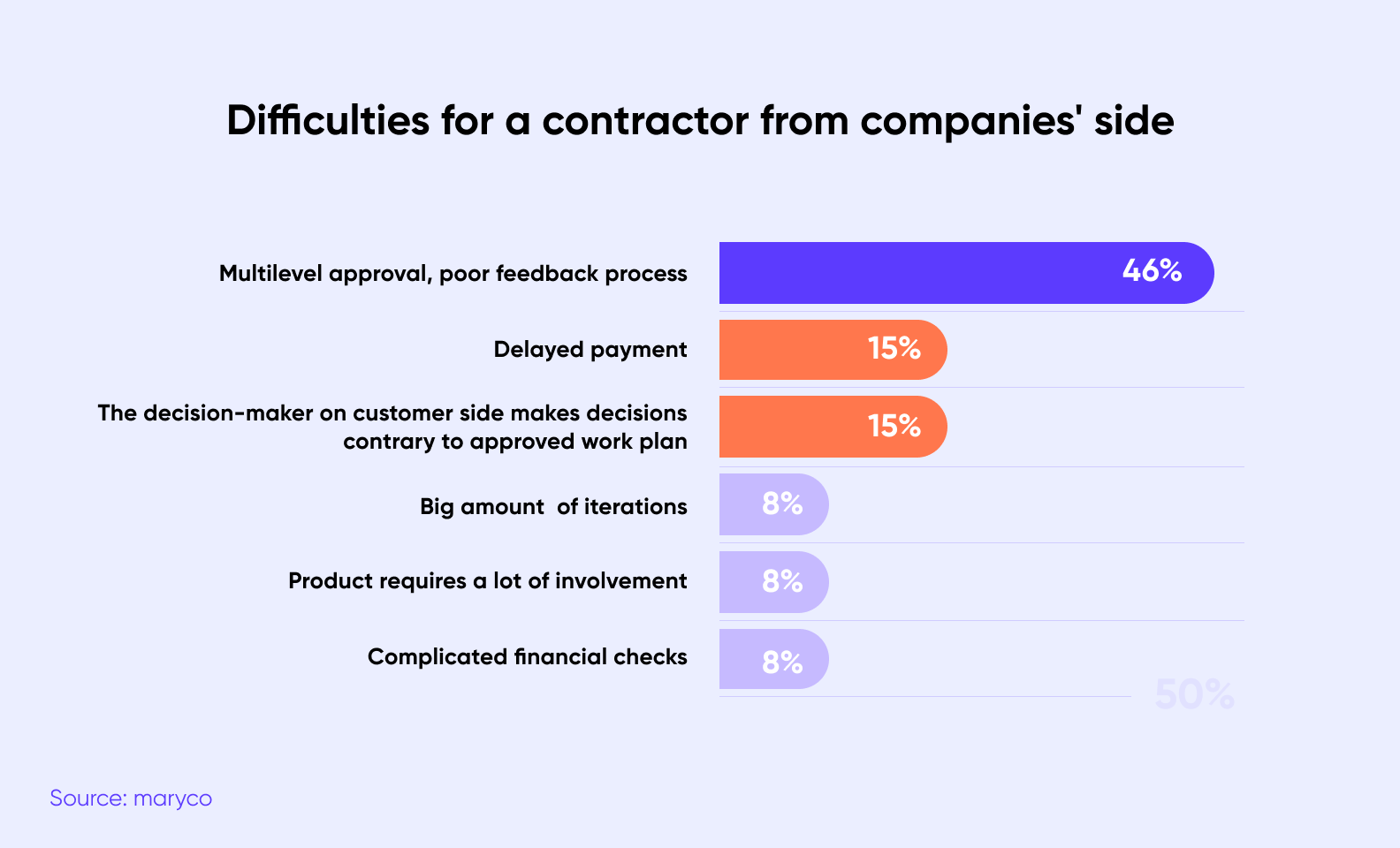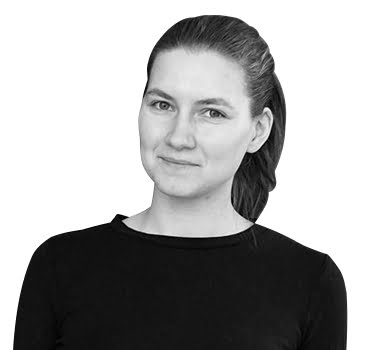 Clear and simple communication is a priority for us. We know how important is it and how much it affects the quality of the product. Each and every project in our company is managed by a project manager. They communicate with the client and designers, broadcast the client's wishes to the team, and control the specialists' work. This allows us to build a competent process of feedback from our side, making the work more efficient and responsive.
Are there any risks in hiring specialists from an outsourcing company?
Despite the attractiveness of this hiring method , there are certain risks. What do you need to pay attention to while choosing a company for cooperation and what can go wrong?
Web design outsourcing

companies can refuse to do the task and simply disappear. Before you outsource, it is better to read reviews about the performers, choose a convenient and safe payment scheme.

In project work, there is one factor to be considered: depending on the specificity of the project, errors in the design may not appear immediately. After the project completion, it is no longer possible to turn to outsourcers for free remodeling or making changes to the

web site's design

.

The work of the contractor may not meet the expectations of the customer. If you do not control the work on the project from the initial stages, the output may be very different from what you expected.

Dishonest companies can outsource the work to freelancers, without being involved in the work process in any way. This is why transparency and established feedback loop are important in the organization of work with outsourcing studios.
While
outsourcing web design
, all product information will need to be transferred. This includes confidential information. You need to be careful at this stage: there is a risk that the data will be in the public domain. For example, due to unfairness of the outsourcing company, or by accident (low-quality services, insufficient security).
To be on the safe side, we recommend you to sign a non-disclosure agreement before starting  to work together. 
What is the difference between outsourcing and outstaffing?
Outstaffing is another form of personnel management that resembles outsourcing, that is why they are often confused. When you turn to outstaffing, you "rent" a professional to work on your app design. For the duration of the work, the professional becomes a part of your team. 
Outstaffing is effective when a company needs new employees, but for some reason it is impossible to hire them. For example, a company works under the simplified taxation system and the number of employees is limited, or the staffing plan for the year has already been fulfilled. 
Some companies turn to outstaffing when a professional is needed in the workplace, but there is no time to hire them. For example, an in-house designer is ill or quits. The same for tight deadlines and a stop in the project work. Outstaffing literally saves the day — you don't have to waste time on interviews and wait for an employee to come back, you can quickly close the need for resources and carry on working. 
Outsourcing and outstaffing are both effective hiring methods when you need to minimize costs, optimize the work process and get the project done in a short time frame. Each of them will benefit your business if you decide on the right method and rely on proven criteria when selecting a contracting company.
How to choose an outsourcer and not to fail?
The outsourcing market is huge; there are many companies with different approaches to the work process, experience, and pricing. It is difficult to choose a reliable company that can create a worthy project that fully meets your requirements. Fortunately, you are not a pioneer, the trial and error method has been used many times before. We have combined this experience and developed a formula that will help you not to regret while choosing an outsourcing company. It looks like that:
Reputation + Experience + Transparency = Success
Where:
Reputation is feedback and reviews. In addition to websites and portfolios, look at other sources of information about the company and check feedback and ratings. Before choosing and starting to work, you need to get as accurate idea of the company as possible. If there are few reviews, do not be in a rush to reject a partnership. In combination with other points, cooperation can give you a good result.
Experience is relevant cases and collaboration with companies in different fields. Careful study of the portfolio will help you to understand whether the studio has cases that match your request, are there the necessary skills in designers' background and  do they use modern design trends in their work.
Transparency is willingness to explain each step of the work. If the studio at the initial stage of work is ready to provide all data on the work process, to tell how many people will work on the web design, when the professionals will start working and how soon they will present the first result is an indicator of its competence and openness.
The sum of these variables greatly increases the possibility of getting a project, which reflects your wishes and meets all your requirements.
We develop apps according to the Scrumban framework. But our approach to web design is very special. There we work on the basis of Agile principles and waterfall model, that is if we haven't accomplished some design stage, we can't move to another one. At the same time, we are pretty flexible and can revise arrangements with a customer within each stage, if need be. As a result, we have the process that includes minimum of bureaucratization, and maximum of flexibility and transparency
If you want to dig deeper into what Anastasia is talking about, we recommend reading her article about project management and SCRUM: it is as clear as a bell. And if you are interested in design process in Purrweb, follow this link ⬇️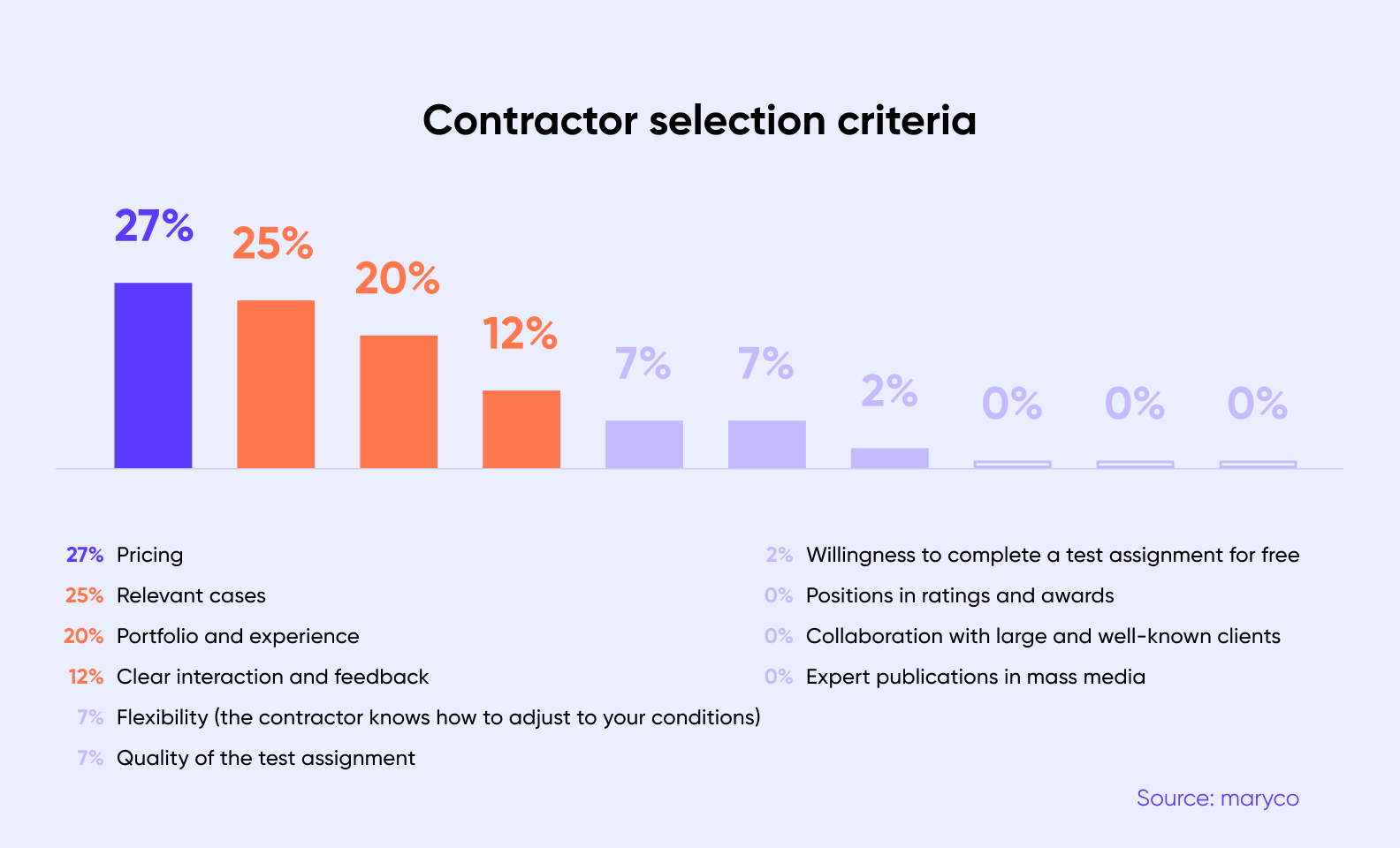 We did not touch the subject of pricing, because the acceptable cost of the project is determined by each customer on the basis of their capabilities. The choice of a price tag does not play a role in a successful search for a contractor: some companies can inflate the cost. That means, a high price does not always relate to a high quality.
Conclusion
You can think for a long time on whether to outsource web design or not. But, you can just give it to us😄. Seriously, before outsourcing, compare all the arguments. If the decision is positive, be as serious as possible in choosing a company. We hope that our article cleared out many questions and destroyed many prejudices on the way to your cooperation with outsourcing companies.
If you have made up your mind and you want to delegate web design creation, we are ready to help you. Fill in the form below and we will contact you within 24 hours.