Key takeaways
Outsourcing is a strategy that involves transferring tasks to a third party.

Most commonly companies outsource finances, HR, recruiting, customer service and software development. 

Outsourcing helps businesses become competitive faster, adjust their staff, reduce costs, and focus on the main business processes.

When deciding on a service provider, check their portfolio, customer reviews, and choose time-and-materials pricing model.
What is outsourcing?
Outsourcing is a management strategy that involves transferring tasks or projects to a third-party company. This is the case when a company doesn't have the people, time, or skills to complete a project, and asks another company to do it. Let's see what you can outsource and why it's reasonable.
What processes and roles can you outsource?
As a rule, companies outsource secondary services or business processes that are not related to the main activity. For example, if a restaurant needs an app, it would probably ask an IT company to create it. 
Process outsourcing involves tasks from almost any field — accounting, law, administration, marketing, management, and much more. But, according to Workforce, the most commonly outsourced service is IT and everything related to computer science. Let's look at some processes that both startups and big companies can outsource.
Finances
Many companies don't really need a full-time in-house accounting team until they experience significant growth or increase organizational complexity. A great solution would be to find a company that will either provide you with automation software, or assign an employee who will take over the tasks of reporting in your company. In modern accounting, the first option works even more often.
An example of an accounting solution for startups is AirCFO, a cloud-based software designed to simplify money management for small businesses. The second example is Carta, a leading capitalization table management and valuation software, which helps many startups with equity programs.
Human Resources and Payroll
Human resource management is an important and complex task. It usually includes accounting, document management, salaries, taxes, pensions, allowances, and bonuses. This huge amount of data needs to be gathered, analyzed, and put in coherent tables and docs. Not every business wants to do this manually.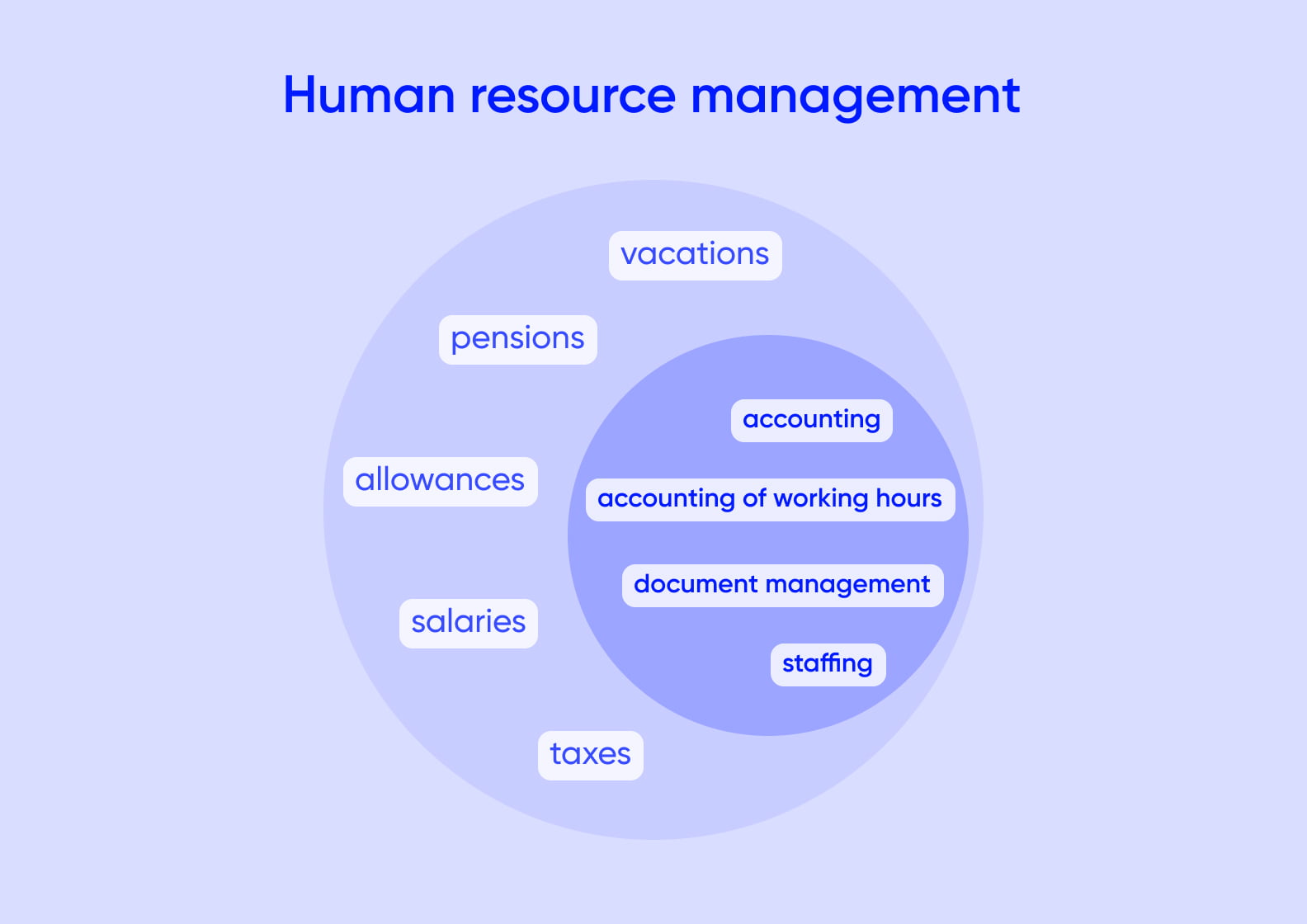 The market leader in HR outsourcing is TriNet, a cloud-based professional employer organization that specializes in serving SMEs and simplifying tasks related to human resources. Bambee is another option in the process outsourcing sphere — this company helps streamline onboarding, benefits, and payroll. 
Recruiting
Recruitment is always a laborious process. There are two opinions on whether it is really reasonable to give HR functions to a third party. Some believe that this is acceptable since you outsource recruiting to specialists who are able to select the best candidates, and you won't spend ages doing this. Others are convinced that employees should be selected by the company itself. 
For those companies that follow the first approach, Alexander Mann Solutions and ManpowerGroup will be of great help. These are the top recruiting and hiring organizations that help reduce the time it may take to find talents, track applicants, and hire new employees. 
Software development
IT outsourcing can be divided into two types. The first one includes the maintenance of a company's computer equipment and computer networks. The second type implies the transfer of functions related to software development. IT companies develop applications for mobile devices, PCs, and the web. They can also create websites or redesign existing ones. 
At Purrweb, we build MVPs (minimal viable products) for our clients. These apps include only the key features, which are enough to test the idea out in the market. We can help analyze the segment, make a step-by-step development plan, create the design, write all the code and test the app. Optionally, we help update and maintain the product after launch.
The benefits of outsourcing for startups
Outsourcing is a real game changer as it allows businesses to become more competitive faster and easier. Here we gathered the key «reasons for» and main benefits of outsourcing.
Scale up fast
The most important things for a startup at the initial stages are time and money. With process outsourcing solutions for startups solutions for startups, you just get this golden mean — quality services and no extra costs of hiring an in-house team. During product development, outsourcing services enable the initial entering to the market with a high-quality product. You can quickly launch a product and win over your audience without waiting for many hours of hard work to pass. 
If you gain first results faster, you automatically earn money and grow faster as well. Also, you remove some of your responsibilities and routine work — for example, accounting — freeing up more time.
Adjust your staff at any time 
With outsourcing services, you can hire professional developers only when you need them. If you don't need a full-time developer or a designer, you just don't employ them. Thanks to outsourcing, you choose a team that best suits your needs. Here, you enter into a fixed-term contract with the company, and everyone is ultimately satisfied — no offensive dismissals and constant headhunting.
Reduce costs
Among all the benefits of outsourcing, reduced expenses are the most evident. About 64% of organizations outsource to reduce costs, state the Deloitte researchers. In the US, outsourcing IT services reduces costs by as much as 60%, according to a recent McKinsey Global Institute study. 
Focus on the core business
Pay more attention to what you really started your business for. Imagine that you decided to go into a complex and interesting project and start producing bionic prostheses. You already have many tasks — from logistics and ordering materials to compliance with the law. Meanwhile, you can safely outsource processes like marketing, website creation, and financial monitoring.
This logic applies to other cases. For instance, if your main task is not accounting or software creation, feel free to outsource these processes. Additionally, don't waste your time on hiring specialists separately instead of hiring a team, especially when a product or process you want to outsource is not your business core.
Easily hire top experts 
Outsourcing for startups makes it easy to hire a ready-made team of expert developers, designers, and marketing professionals, making it an all-in-one solution. When you outsource processes or products, you get a team of experienced specialists, rather than look for each employee individually to create a team.
Pitfalls to avoid when outsourcing
There are common pitfalls companies face when they outsource tasks for the first time and don't have enough experience yet. It's natural for startups and small businesses that are just starting out. We believe it's much better to know what to avoid in advance, so let's look at some of the most widespread mistakes. 
Choosing the cheapest vendor
Appealing, but suspicious. Choose the ideal price-quality ratio. If you decide to hire the cheapest service provider and don't spend time choosing a company and reviewing its cases, this may have negative consequences. Evaluate other factors, such as portfolio and customer reviews. Even though money is important, with a low price comes a big risk of financial losses in the future.
Not checking the reviews
Unfortunately, there are situations when a business faces poor-quality service, overpayments, or even scammers. Imagine this: you have paid for the work, but the service provider simply disappears and doesn't answer your calls and emails. To avoid this, be sure to read former customers' reviews and pay attention to what previous clients liked or not. This way, you'll know what to expect.
Choosing fixed price vs time-and-materials
You may choose from two pricing models — fixed price and time-and-materials. However, our experience shows that the first approach has too many «buts».
A fixed-price model sets a single rate for a project, regardless of time and cost. With a fixed-price contract, the provider may start managing costs and seriously reduce them, which leads to poor-quality work. In contrast, time-and-materials outsourcing services bill the client for the hours spent on the project and for the expenses incurred. This approach is much more flexible and reliable for both parties. 
| | |
| --- | --- |
| Fixed-price model | Time-and-materials model |
| Best for large companies and corporations | Best for startups |
| A strict development plan drawn up in advance | The development plan changes during the project |
| Not flexible, the price remains unchanged regardless of the hours and materials used | Flexible, the price varies depending on the time spent and the number of features you add |
Ignoring bad communication signals
Communication breakdowns, missed calls, and unwillingness to make edits are real red flags. If you see them — change your vendor. Communication is an art that every professional must master. When communicating with their clients, specialists should show empathy, delve deeper into the topic, and check whether their client understands the logic of the inner processes. If anything goes wrong, don't rely on time to make it better — it will never happen.
When do startups outsource technology development?
Thanks to the digital transformation of the world, IT outsourcing is a market leader. As professionals in this field, here we'll discuss technology development outsourcing for startups, namely when you need to develop and design an IT product like an app or website. Let's repeat the key principle:
Outsource when a technology is not the core of the business, but a tool to reach customers.
Also, it's a good idea to choose outsourcing services when you are an expert in the field, but have a strict time limit. In any case, you start with your needs. There are different roles for different outsourcing models. Let's look at how startups outsource technology.
Head-and-hands model —

the customer has little technical expertise and the team comes up with the app concept and creates it.

Hands-only model —

the customer has a lot of technical expertise, comes up with a concept, gives design references, and sets strict criteria. The team develops the product according to the requirements.

Head-only model — the client has a team of developers but needs the advice of a professional. Such cases are rare, and this model is more about consulting than outsourcing.
| | | |
| --- | --- | --- |
| | What you have | What you get  |
| Head-and-hands model | little/no technical expertise | app concept + development |
| Hands-only model | a lot of technical expertise + a concept | product development |
| Head-only model | a lot of technical expertise + development skills | concept analysis + expert consulting |
How outsourcing works: a step-by-step guide
Outsourcing for startups won't be a challenge if you know what steps to take. Here are the key stages that a client goes through while working with Purrweb.
You fill in the form.

One of our managers contacts you. They will be responsible for all communication.

We analyze the market and competitors, create custom scenarios, and evaluate the scope of work based on your wishes and requirements.

We form the internal logic — create a mind map, turn it into wireframes, and lastly, create live prototypes. This way you'll get a full-fledged UI/UX design.

The next stage is coding and testing. We split it into several sprints to monitor progress, fix bugs, and make changes, if necessary.

We publish the mobile app in the App Store and Google Play. With web and desktop apps, there's no need to release them on marketplaces. And we'll support the new product.

 
Outsourcing for startups might be a challenge in the first stages when you are choosing the vendor. But then, in most cases, everything goes well. Choose a reputable company and get all the benefits of outsourcing. At Purrweb, we are sure that we'll meet your expectations. Check out our article, if you want to learn more about in house vs outsourcing software development.
Wrapping up
Thanks to processes and roles outsourcing, any company has a chance to make a strong start, develop fast and become successful. The world's digital transformation requires firms to be more competitive in IT, and the demand for software outsourcing grows. Small startups now have the incredible opportunity to leverage the expertise and knowledge of top industry professionals. 
If you select the right outsourcing services and avoid common outsourcing pitfalls, you will effectively allocate your budget and maximize profitability. Additionally, it is best to develop your product with an experienced team. At Purrweb, we are confident in our ability to create a minimum viable product that aligns with your needs. If this resonates with you, we would be glad to assist you. Fill in the form, and we will contact you soon.