Perfectionists who plan their app too long, burn out and eventually miss the perfect chance to release. Haphazards that don't pay much attention to planning and testing and as a result, launch a raw and sloppy solution. And finally, MVP-fans that carefully plan out their app and test the idea without hanging on to it for too long. They manage to grasp the perfect moment for the release, collect customer feedback, fix minor issues and make their product successful.
The definition of MVP?
MVP stands for minimum viable product and it is used to test business ideas. Minimum means simple and clear, while viable means 'capable of working successfully' and being sufficient to use. Basically, the MVP development of your app should include all features that help customers go through their journey. For example, if you create an eCommerce app, you should build an MVP that customers can go from the search bar to the cart and make a purchase with.
The common misconception is that MVP is a prototype of the future app – that is not correct. MVP if the first fully-functioning version of a new product with a focus on must-have features.
We always say that every startup needнs to start with an MVP. Why, you ask? Let's see!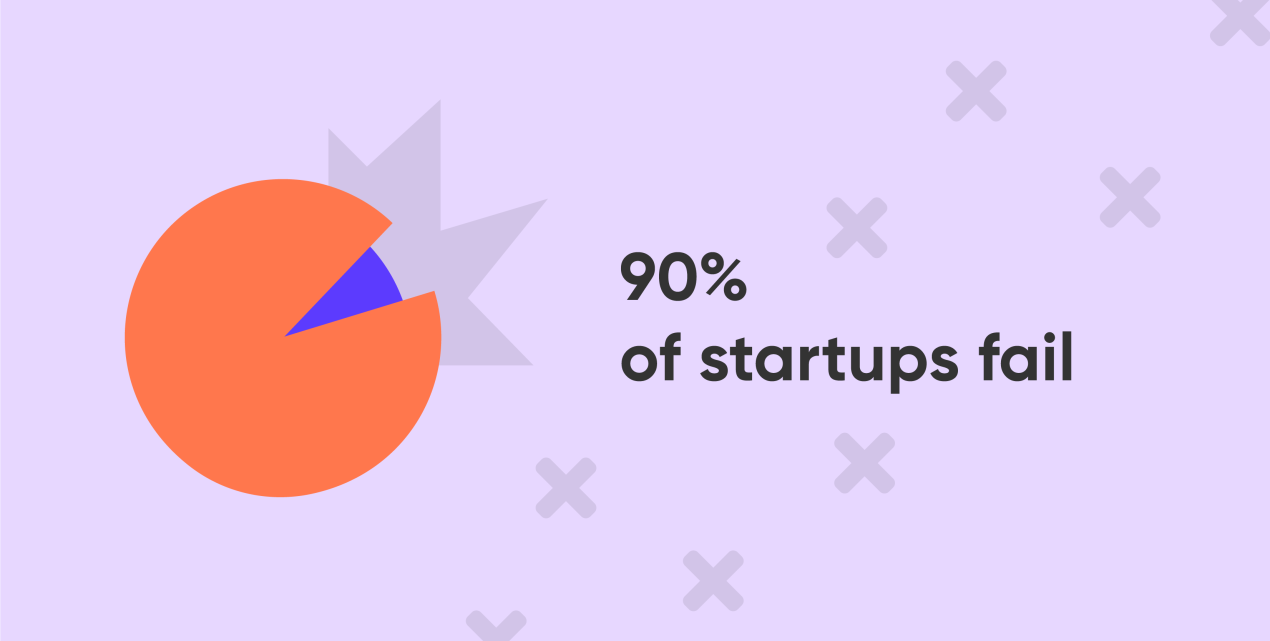 Why is MVP important?
The MVP app development stage is crucial for future success, since 90% of startups fail because they don't compile market needs. No matter how genius your idea is, if you don't do preparatory research and get to know your target audience, nothing is going to work. 
MVP is a fully-functioning solution with key features of the app that will help your startup with:
Researching your audience.

Collecting your first customers' feedback. 

Validating your idea.

Pivoting your startup to the right direction.

Pitching to investors and raising funds. 
The full cycle of launching an MVP app takes around 3-4 months from an idea to the final release. As a startuper, you can either develop it yourself, if you have enough technical skills, or outsource it to a team. We highly advise choosing the second option, because just delivering an MVP is not the end of the road. After collecting feedback, the next stage will be to make changes to the solution according to customers' experience, and the professional team will help you with that. Plus, while they are working, you can dedicate this time to other operational tasks, such as deciding on marketing strategies and financial models.
Step 1. Polish your idea
Before jumping to the execution phase, answer the question "What customers' problems will your app solve?" to define what helps you stand out and make your idea special. Your app should be beneficial to customers and be in-demand. Try to define the benefits users will receive from your solution and fit it into 1-2 sentences. 
Here is an example from our experience. We worked on a sneakers store solution for our client. Their idea was to unite all new releases from different brands in one app with filters and a user-friendly menu. Their app saves users time and helps them follow fresh arrivals without installing dozens of apps of other brands and subscribing to a newsletter.
The main idea of your app should not necessarily be complicated and should not exceed a couple of sentences. For this sneaker store, the solution will help users follow new releases.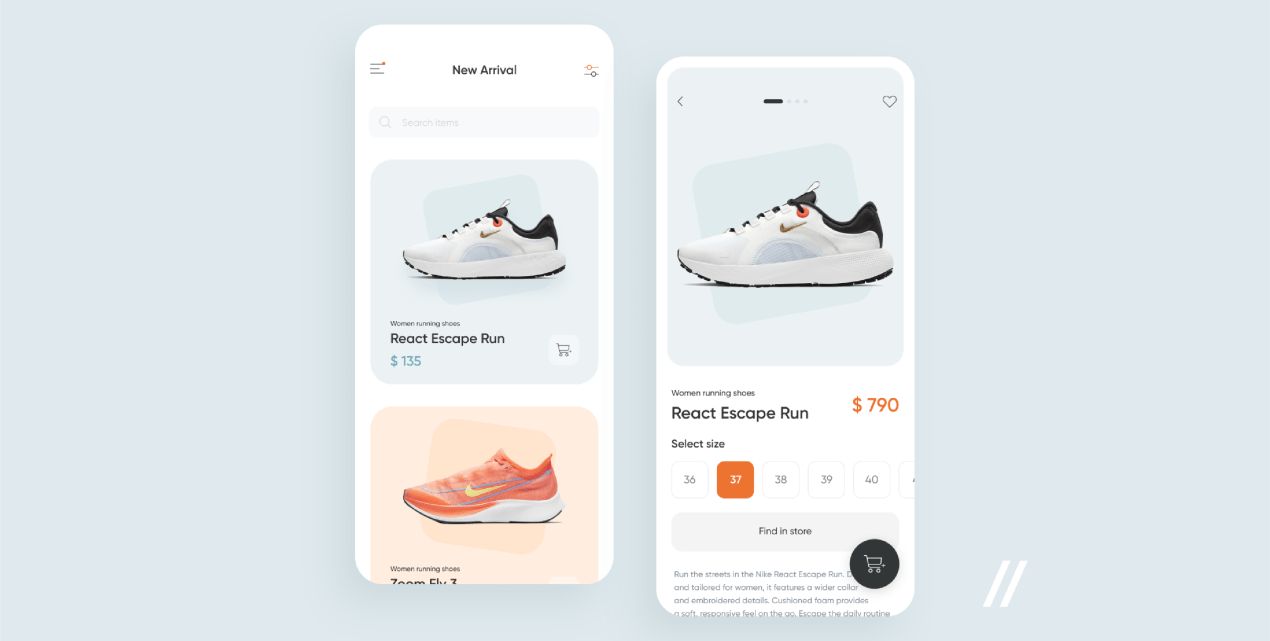 Step 2. Research your audience and competitors
For the second step, define your target audience as precisely as you can. Imagine that you draw a portrait of a future customer in detail. Think about how old they are, where they live, what they are doing in their free time, etc… These answers will assist in choosing a marketing strategy and channels as well.
Then move on to a competitors analysis. Make a list of the main players on the market that work with similar target audiences, break down their business models and define their pros and cons. Our advice is to be unbiased – there is no perfect company, as everyone has their own advantages and disadvantages.
Step 3. Map the user's journey
If you decide to hire a professional team of developers, starting from this stage, they will assist you with the release. First, you need to think about every step a customer will undergo to accomplish their goal (solve their problem from step #1) and map this path. Every following step should be logical and clear.
The journey of the user will be the main guideline for developers and designers when choosing what features your MVP app will need.
Step 4. Choose key features
After you create a list of features users will need on each step of their journey, prioritize them from must-have to will-not-have. All must-haves will be in your MVP, and the rest you will have the option of adding in the future.
For some types of MVPs you will need to choose only one core feature to test the idea and technical feasibility. But we will get back to this later.
Rule #1: MVP should consist of must-have features only.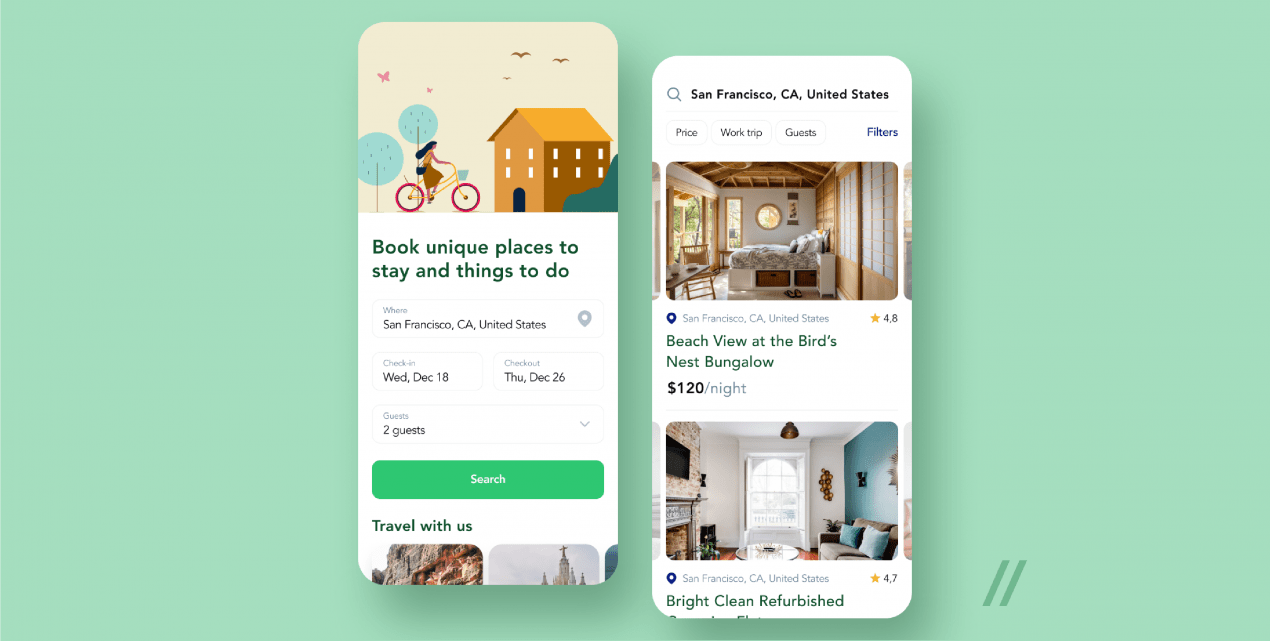 Step 5. Develop MVP
This stage includes prototyping interface design, creating main pages, developing front and backend, and testing the quality and release. But before – you need to choose what MVP development style your solution needs. It all depends on your goals.
There are many MVP types – no one knows how many exactly. Some developers say 18https://www.robotmascot.co.uk/18-types-of-minimum-viable-product/, some prefer to define only 10 or even 7. We've decided not to overload you with information, because most of the types are similar to each other. They only vary on to what extent you develop the product itself and what functionality you use.
We overviewed 3 of the most common MVP app types and described them with examples.
Concierge MVP
MVP development using this type serves to test your hypothesis to answer one simple question: "Is your app relevant to current market needs?". The basic principle of the Concierge MVP is to replace all parts of the app with humans where it is possible. While serving your customers manually (exactly like a hotel concierge does), you can learn more about who they are, why they buy your product and what questions they ask.
This type of MVP is perfect for collecting real customer feedback.
With this type you don't even need to develop an app. For instance, if you want to develop a platform for buying music festival tickets, with the Concierge MVP, you will have to act as a sales manager and manually manage all tasks:
generate festival selection

send it to them

see their readiness to buy

process orders

issue tickets

send them out to a user's email. 
Yes, it might sound exhausting, but it's a brilliant way to interact with customers personally and build a budget-friendly MVP with minimal features.
Wizard of Oz
Wizard of Oz is also an MVP type with minimal technical functionality and human support. In contrast to the Concierge MVP type, the human is hidden here, as they operate only at the backend. The customers don't know if they are interacting with an automated algorithm or a human as long as their problem is solved.
Wizard of Oz helps to evaluate the idea as well, but it also mimics user experience and tests the representation of the solution itself with a limited number of features.
Let's say, you are building a dating app and decide to create Wizard of Oz MVP first. Then you create a sign-up/login page and a personal profile page so users can register on your service. But then, you have to select profiles, create suggestions, match or unmatch them, notify them and open chats manually.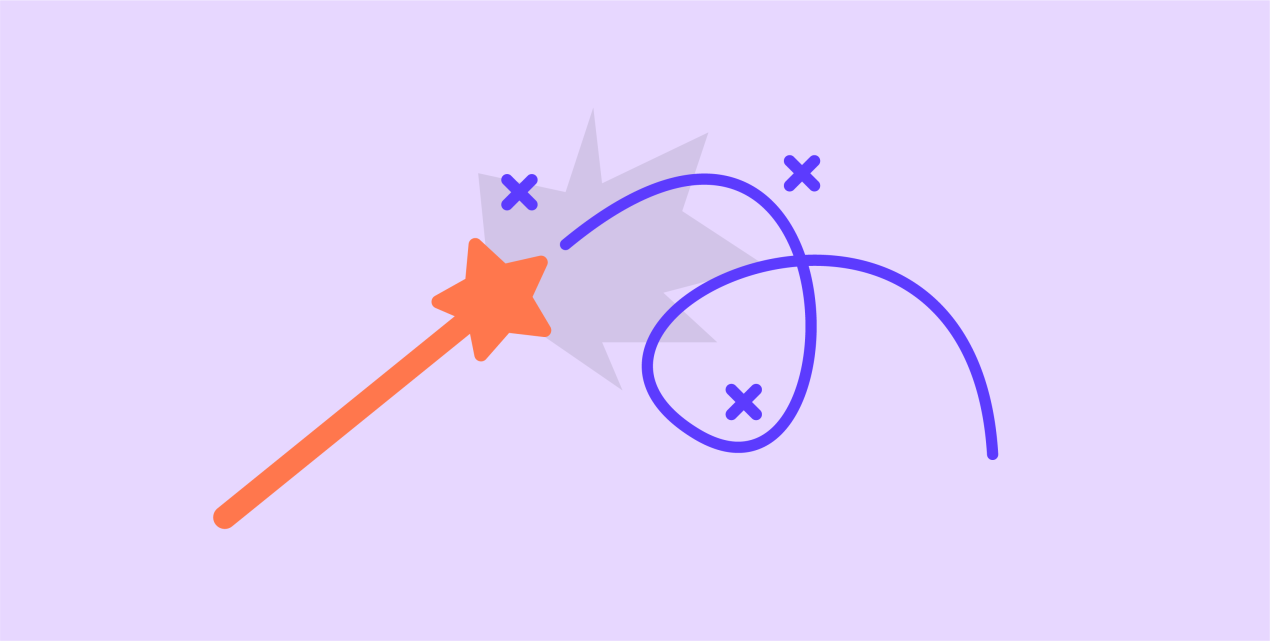 One Painkiller
This type of MVP is a single-feature MVP (as we promised). It's very simple: you just pick one key feature that is going to be a painkiller for your target audience, meaning it will directly solve their problem and represent the idea of your startup.
One Painkiller MVP should correlate with your unique selling point. It will help check the technical feasibility and can be used for fundraising. 
Plus, the core feature of the app will help verify the direction you are moving in and collect valuable feedback on the product. If you remember Foursquare, it was released as a single-feature MVP that allowed people to check in to places. Later on, it grew into social media with a news feed, rating functionality, friends lists and other nice features.
Conclusions
There's no doubt, any startup should begin with the business idea validation. That's why the MVP development stage is crucial and why you can't skip it. 
Speaking about 3 types of startupers in the world. We recommend not being a perfectionist or a total haphazard. Be an MVP-fan and don't hold onto your idea for too long. Test it and launch before someone else does it first.
As soon as you are done with steps #1-2, we can jump in and help you with the rest: map the user's journey, choose key features and the right MVP type, develop the app and release it. At Purrweb, we help startupers with steps #3-5, accompanying the project until the release. Moreover, we can provide additional info on how to prioritize features and what techniques can be used for it. If you delegate the MVP development to us, you will have plenty of time for PR and investors, while we guarantee your app will be well-thought out and cutting-edge.
To find out what MVP suits your idea the best, fill in the quote here.