Matchmaking 101: UX/UI design tips for dating app maker
The world of human relationships is complicated and the usual logical approach might not work here. Dating app design and creation are no exception. You need to account for users' psychology, be empathetic, and at the same time provide a quality service. 
1. Understand your users' psychology
To make a successful dating app UI /UX design, embody your audience. Who they are and who they're looking for? How would they meet someone? What would they want and don't want to do? 
You probably know how the swipe mechanic works in Tinder's UI/UX design. So let's take another example — Hinge. How does it use psychology to make dating easier? Here are key aspects of the mobile app design:
Profiles are more personal.

Users answer different prompts (like 'unusual skills') and it makes the experience engaging and exciting. 

Sending likes eases the conversation.

When you browse someone's page, you pick a picture or a prompt answer. Then you like that part of the profile and write a message about it. It feels more like a comment than an actual conversation starter, so there's no anxiety.

There's no 'read' status.

The other person in the chat won't know if you saw their message. And you'll have time to think about the answer.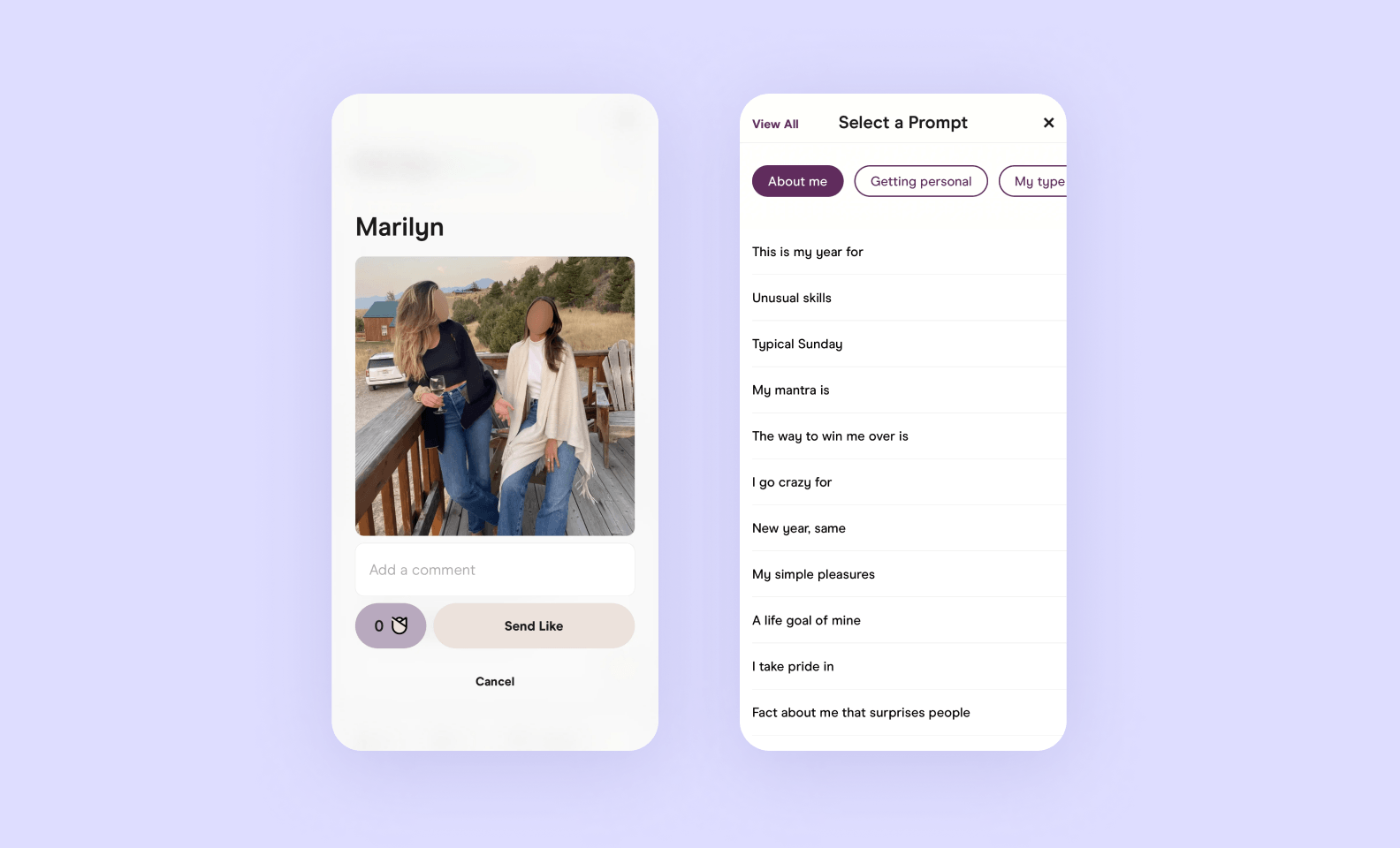 UX/UI design in Hinge
2. Decide how you match people 
The matching process is the draw of a dating app. This is what you have to figure out even before bothering with researching articles on how to start a dating app. This can make or break the whole user experience. Typically, dating apps connect people with the same interests, profession or location. 
What's UI/UX design got to do with this? Match screens should give a feeling of excitement and inspire users to start the chat. On Tinder, people get a big "It's a match!" text and an option to send a message. The dating app also provides four emojis (👋😉❤️😍) to use instead of text. 
But there are other more subtle ways to encourage the connection. In Coffee Meets Bagel matching is different for men and women. When a man sends a like he needs to wait for the same reaction from the woman. And a woman gets a selection of people who already liked her profile. There's a "He likes you" sign underneath the profile photo and also a message (if it was sent) at the top. In a way, it imitates the initial complement in real life. These simple UI/UX design elements make women users feel appreciated and ease the connection. And when a woman likes the other person back, the dating app automatically creates a match.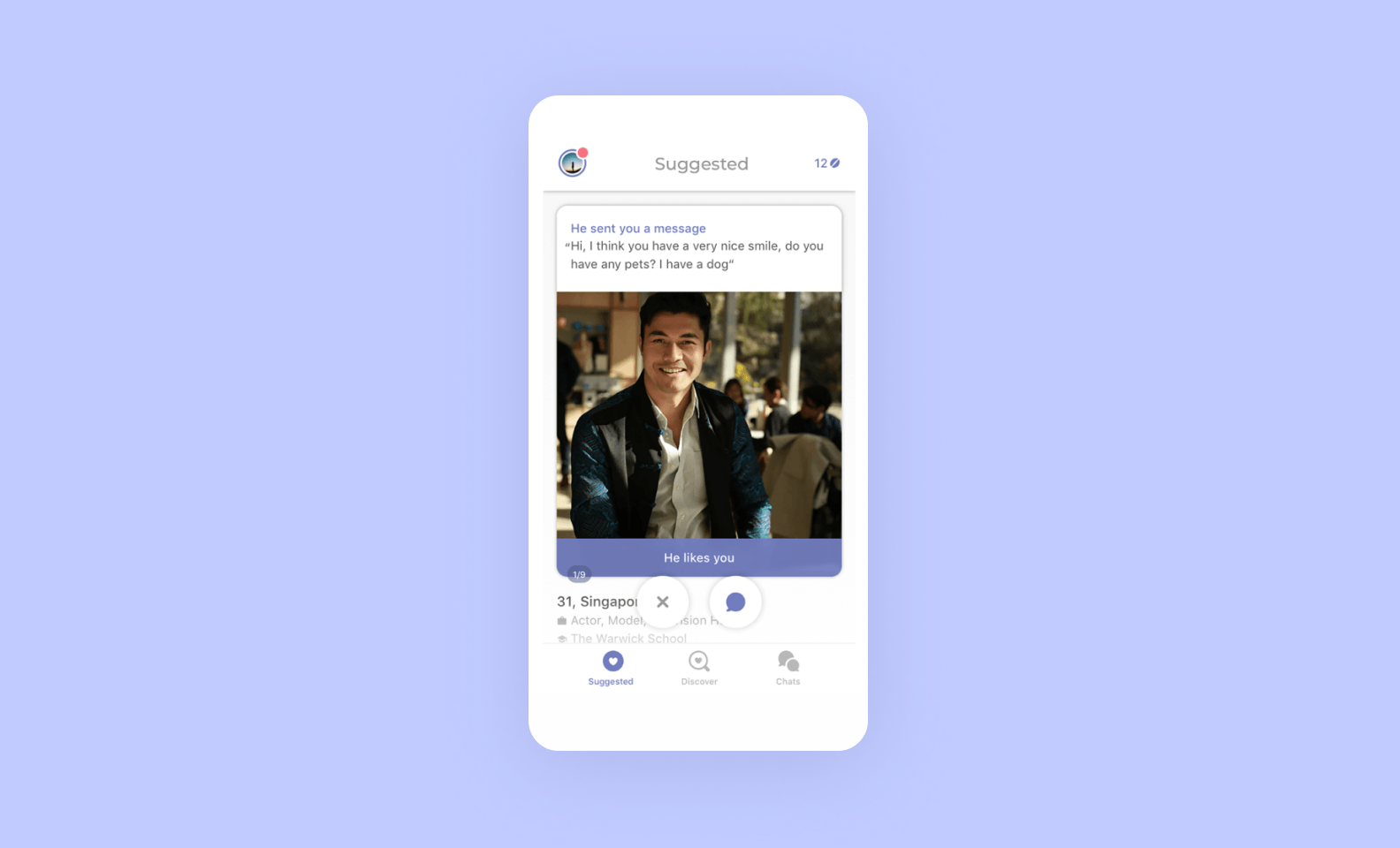 UX/UI design in Coffee Meets Bagel
Be creative with how you match people, it will help your dating application to stand out. 
3. Pay attention to the user profile
User profiles are crucial for the visual design of a dating app. The safest approach is to balance personal information and user photos. 
But your mobile app can also be on the edge of the spectrum. Tinder, for example, encourages matches based mostly on looks. People use the app for casual dating, so personal profiles with big attractive photos are perfectly in line with users' expectations. So, if you want to create an app like tinder — you can stop here, but how do you plan to stand out? The opposite approach is to blur profile photos altogether, emphasizing interests and personal traits.
Think about what's valuable for your audience. Imagine a dating app for cinemaholics. How the UI design would look like? Maybe you should emphasize their movie preferences and make their avatars smaller. Or make people use their celebrity look-a-like photo instead of their own. 
4. Create a safe space
Meeting strangers is not only awkward but also sometimes dangerous. Online dating can be even more stressful. Untrustworthy users may hide behind other people's photos or lie on their profiles. And what if you match with a friend or a colleague? 
To be open with each other, dating app users need safety. The app's UI/UX can create the feeling of security in different ways. For example, some information on the user's profile unlocks only when the connection is set. The League — a dating app for professionals — goes beyond that. Users must connect the app to their LinkedIn account to pass the authentication. This allows The League to block business connections and coworkers automatically. And if users connect their Facebook, the dating app will also block their friends & family. You don't see them, they don't see you. No awkward conversations. 
5. Consider the communication 
When you begin the dating app development and design, prioritize the communication. The UI/UX design should encourage the conversation and help people create meaningful connections. Communication is essentially the main feature of a dating application. 
There are two main approaches to chat screen design:
Simplistic.

In Hinge the chat screen only displays messages between users and their matches. Inactive chats are grouped below the active ones in "Hidden". This is how the

app design

prioritizes the active conversations. There's also a "Your turn" badge motivating a user to answer the message.

Multi-purpose. In dating apps like Tinder and Bumble the chat screen also displays other matches users have and news. In addition, Tinder creates a chat with a user  imitating a dialogue to announce changes.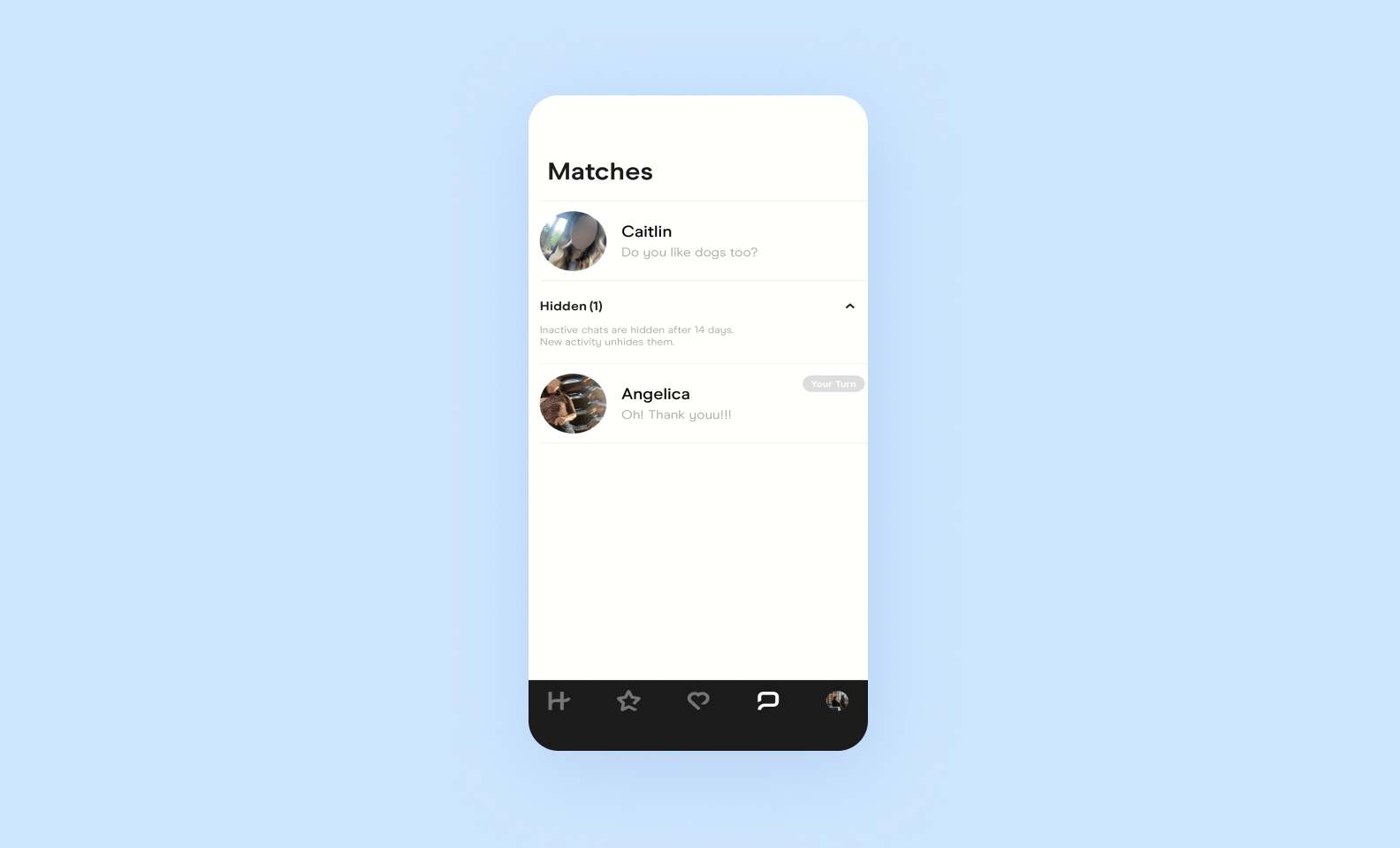 Chat screen in Hinge
6. Design for bigger screens
Dating apps are a casual way to kill time. Users probably won't boot up Tinder on their computer during the work time. Instead, they browse matches on the phone when bored. Maybe they'll do it on the subway home, one hand on the rail.
The interface design for a new dating app should be mobile first. Important thing to remember is that smartphones are only getting bigger. The iPhone 14 Pro Max, for example, is 6.33 inches high. And the bigger screens are, the less of the screen people can reach with one hand. With all of that in mind, your dating app design should be thumb-friendly.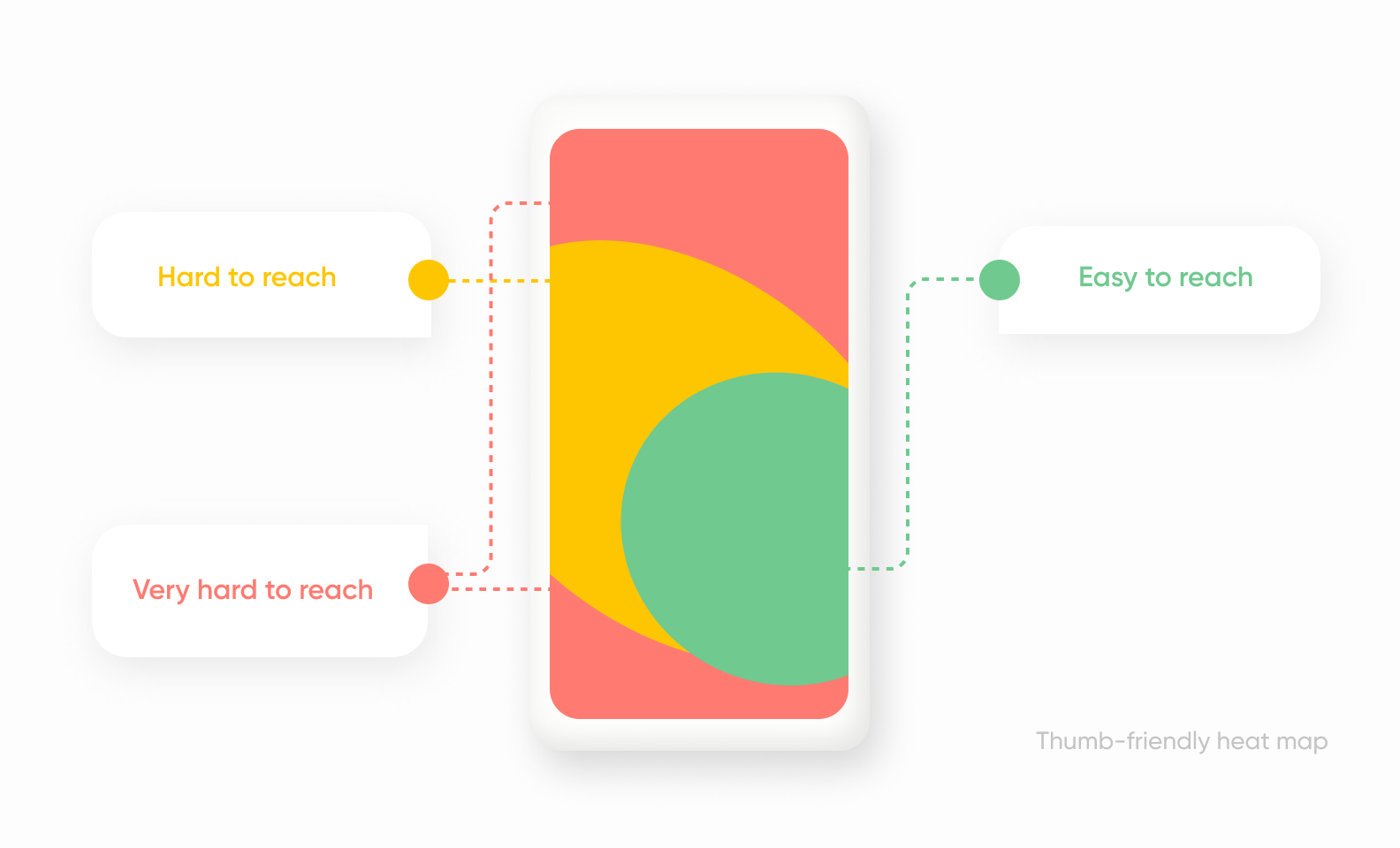 Thumb-friendly heat map
In practice, the dating application design should have navigation at the bottom. And if you use the swiping mechanic, it needs to be responsive in "thumb-active" areas of the screen. 
7. Choose the right color palette 
If you want to create a dating app design, think the color scheme through. What feeling do you want to evoke? Is it passion, interest, general positivity, or something else? Let's examine dating app design with some examples.
A dating app called S'More is all about deeper connections. That's why their main color isn't romantically driven red or pink. Instead, S'More app design prominently features orange. This UI design feels active, energetic, and friendly, encouraging users to behave that way too.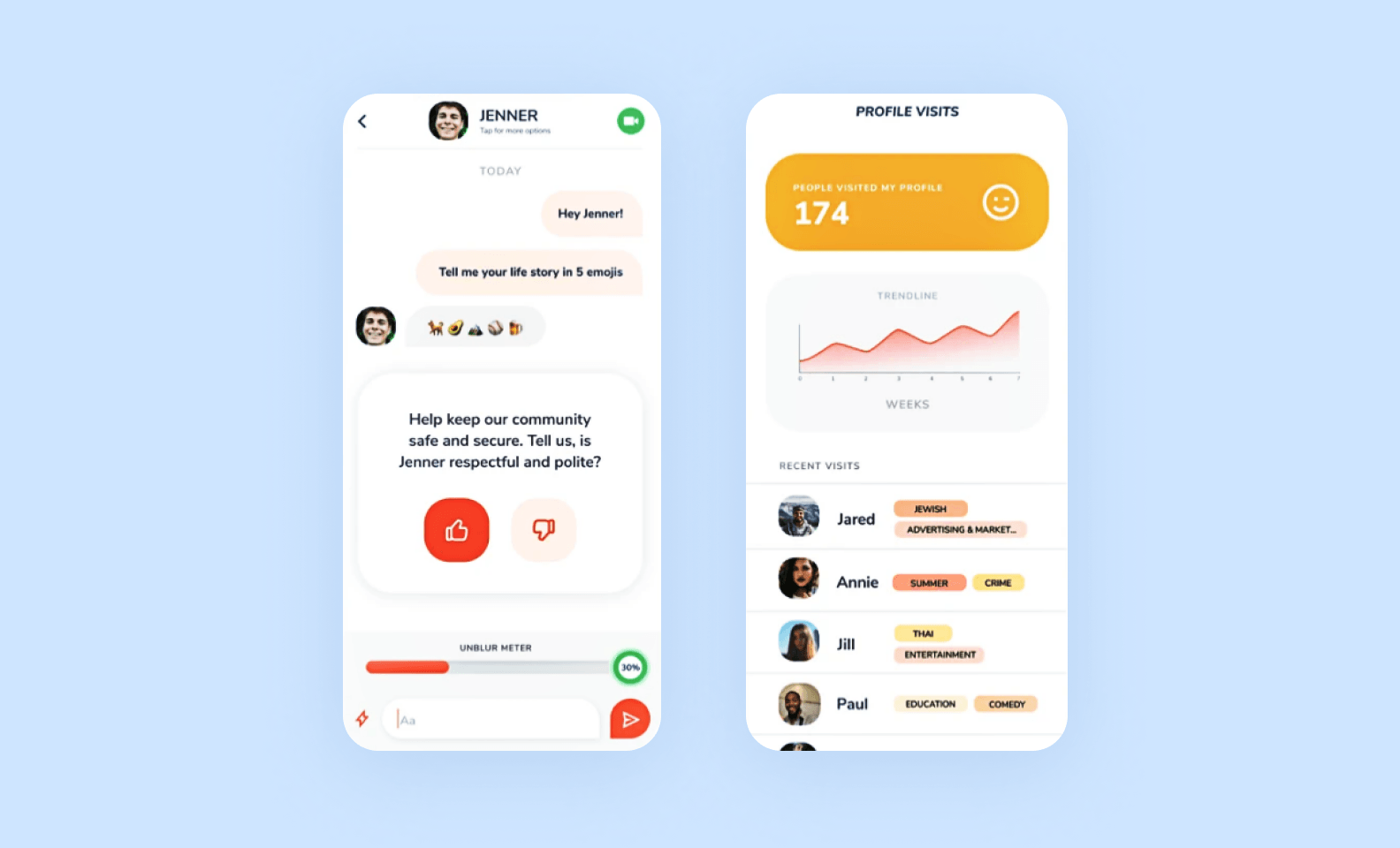 UX/UI design in S'More
Depending on your audience, you can come up with creative uses of color. The League — a dating app for professionals — did exactly that. Every first picture in a profile appears black and white, and swiping through the photos makes them full color. Why? It gives the one viewing the profile a sense of being in an elite dating club. Black and white photos look sophisticated and also shift the focus from looks to profile information. To be effective, dating app design should be made with the target audience in mind.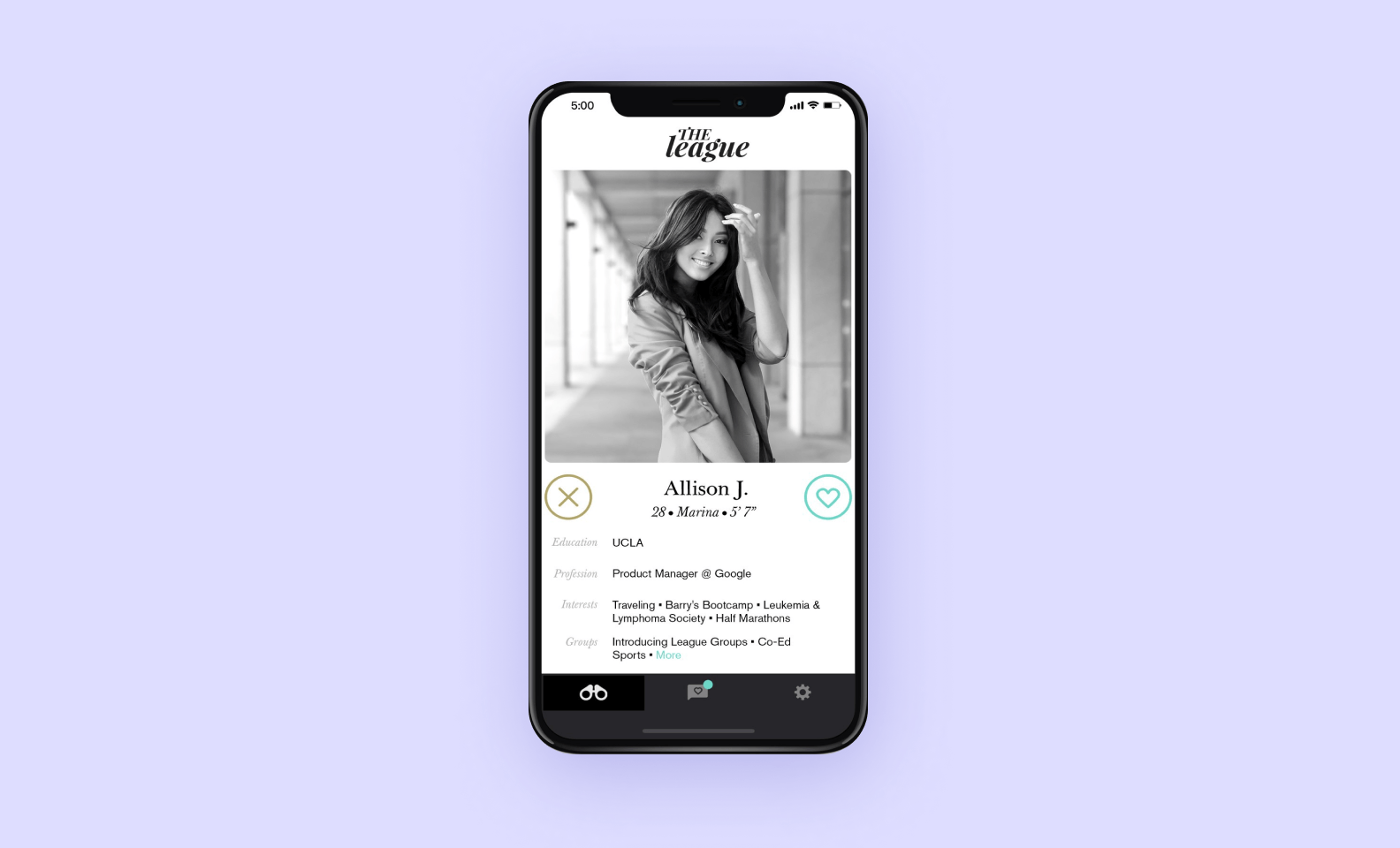 UX/UI design in The League
8. Use gamification 
Gamification is a big trend in education but also in the realm of dating apps. If the app development budget allows for it, give gamification a chance.
In 2016 almost one of six U.S. citizens (15%) felt addicted to looking for a date. And what's more addictive than swiping? It became almost synonymous with a dating application. The process is stimulating and rewarding. The more people you review, the closer is "the one" — just like in a game. That's why Tinder is an obvious example of gamification in UI/UX design. The matching process in a way becomes a card game and a very fun one. From eHarmony to Zoosk, swiping became a dating app design staple. Its popularity probably means that it won't complicate app development too much.
But there are other examples of gamification. In S'More the video becomes less blurry as the call continues making the process more exciting. Another way to gamify the mobile app UI/UX is to reward users after they complete the onboarding or their profiles.
9. Make it simple 
A simple, straightforward design is prominent in dating apps. And it's easy to understand why. That way the app development is also direct and easy.
Focus on the action users need to perform and cut out the rest. It's especially true for the onboarding process. If your dating app asks for minimal information, dedicate one screen to one question. A sense of control is also important for users. If the mobile app has a vast questionnaire, show the progress bar at the top. 
Stylistically, the main trend in design is minimalism. Not only does it simplify app development, it also minimizes distractions. Other benefits of the approach are faster loading speed and fewer performance issues. 
Here are some minimalist design principles you can use in your dating app UI/UX:
Curated color schemes.

Some of the most popular ones are monochromatic (variations of one shade) and analogous (colors that are next to each other on the color wheel) combinations.

Limited typefaces.

One would be enough for most

dating app

purposes.

Prominent white space.

It attracts users' attention to important elements and improves readability.

Wise use of icons.

This allows the design to look simpler and conveys the app's style.
How do these UX/UI design principles combine in major dating apps? In the next part, we'll show you the onboarding, profile, and messaging design samples. 
Dating app design samples
In 2021 most downloaded dating apps in the world were Tinder, Badoo, and Bumble, reports Statista. What brought them to the top? A combination of factors, where design certainly isn't the last one. Let's look at these apps and find out what attracts millions of users. Maybe some of their strengths will inform your own dating app development.
Tinder
Tinder's audience is mostly interested in casual dating or one-nighters. That's why the logo and design feature coral and reddish-pink to orange gradient. The flame icon also meets users' expectations. 
The onboarding process is brief. It's not even necessary to write a line in the profile. Users can simply choose their interests from the pre-made list. Tinder's UI/UX does everything to encourage a rapid start.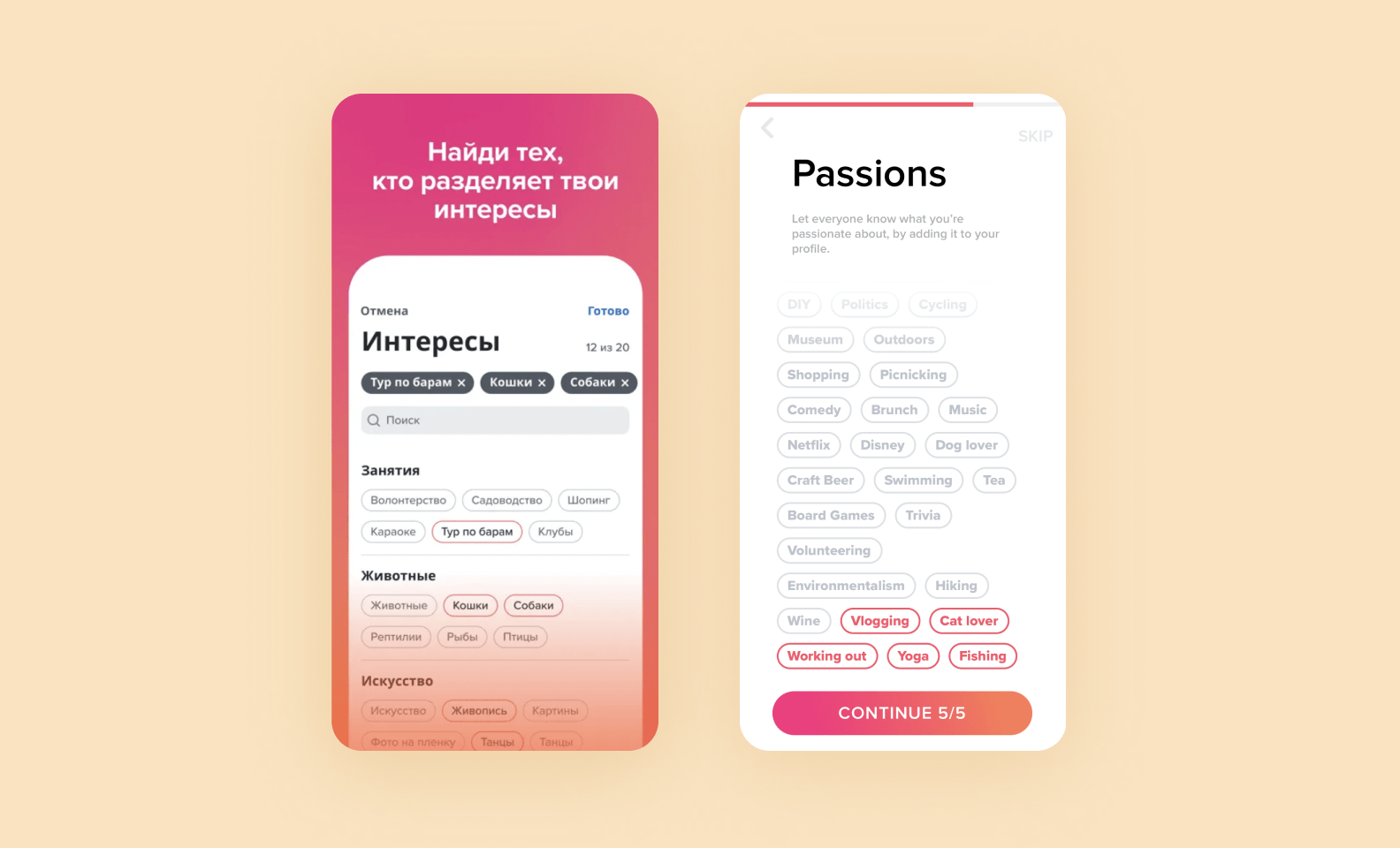 Onboarding in Tinder
User profiles are minimalistic and focus on the person's photos. Navigation and actions are textless icons. There's also a lot of white space on the top and bottom of the screen.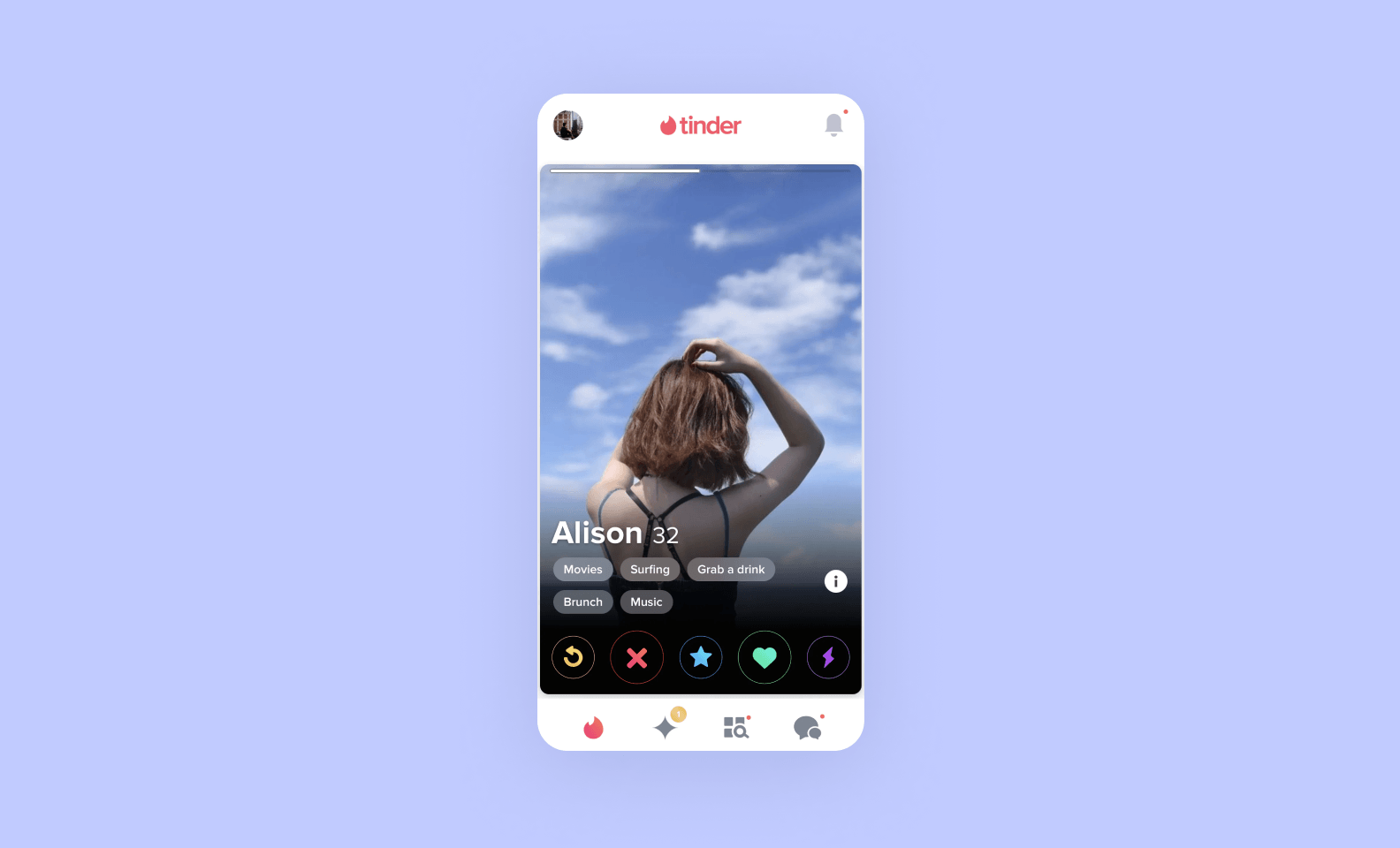 User profile in Tinder
The chat screen also has a lot of white space. It encourages simultaneous conversations and distracts users with new matches at the top.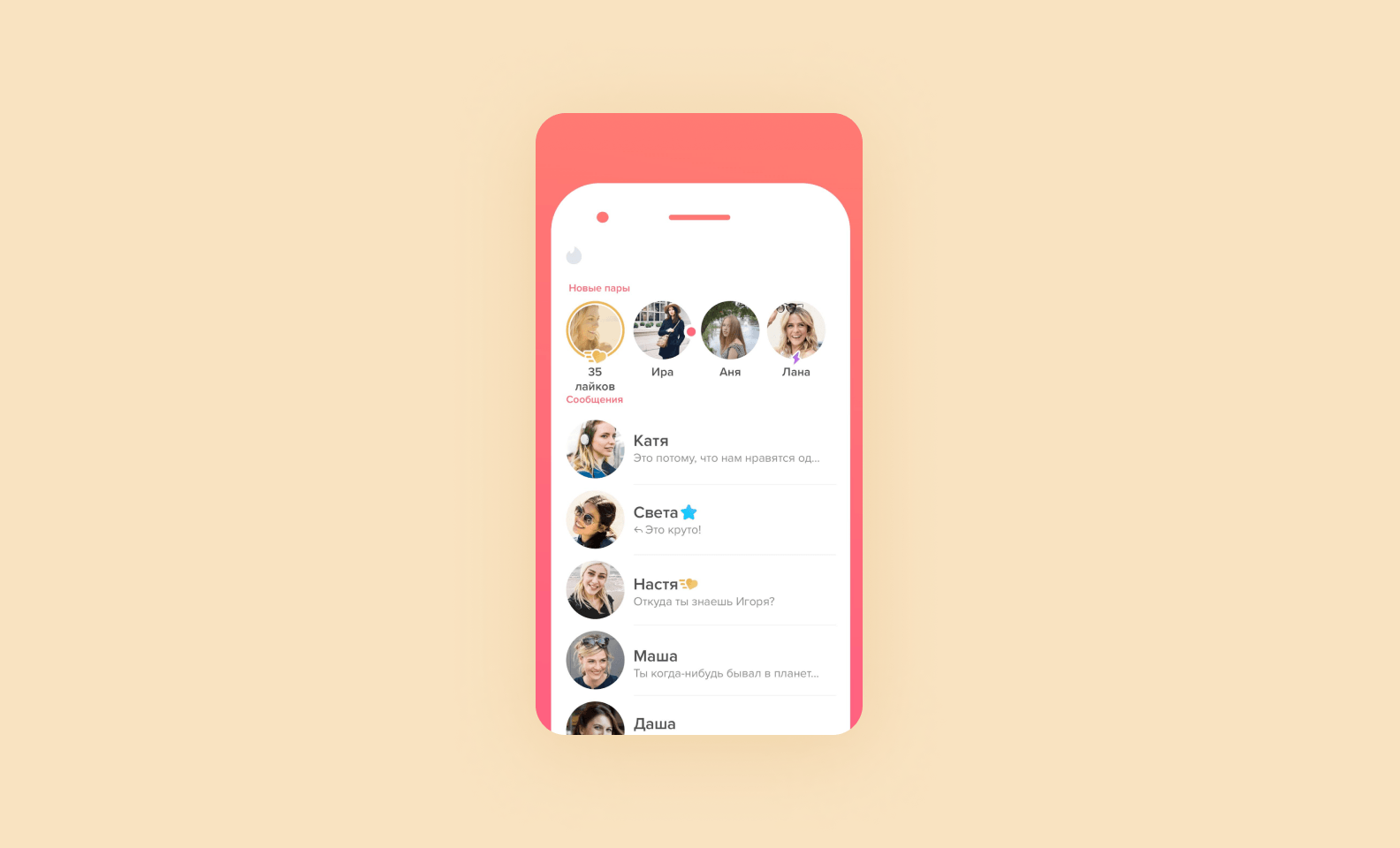 Messaging in Tinder
Badoo
Badoo encourages honesty, and emphasizes that during the onboarding. Before the start, the dating app makes users accept "The honesty pledge". Afterward Badoo offers three personal questions to answer and a list of things that make users happy.
Onboarding in Badoo 
Purple accent color and playful illustrations make the app stand out. The style also conveys a sense of something new and exciting. As variations of blue and purple are popular among social media apps, Badoo inspires connection and communication.
Badoo offers a swiping mode and a selection of people nearby. User profiles dedicate almost half of the screen to personal information. This motivates users to read about the person before sending them a like.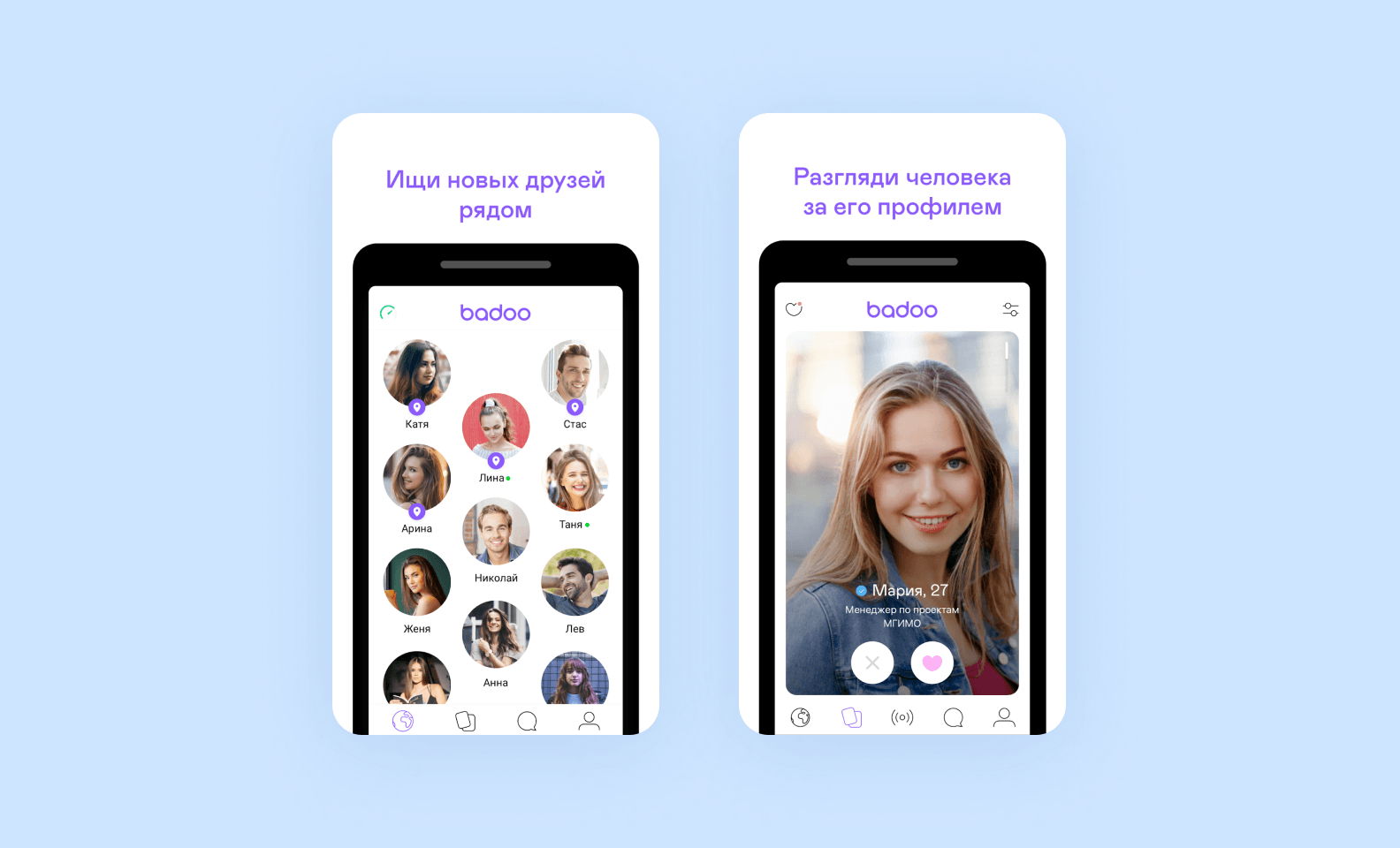 A selection of people nearby and a user profile in Badoo
The chat screen, however, also shows new matches and encourages users to message more than one person.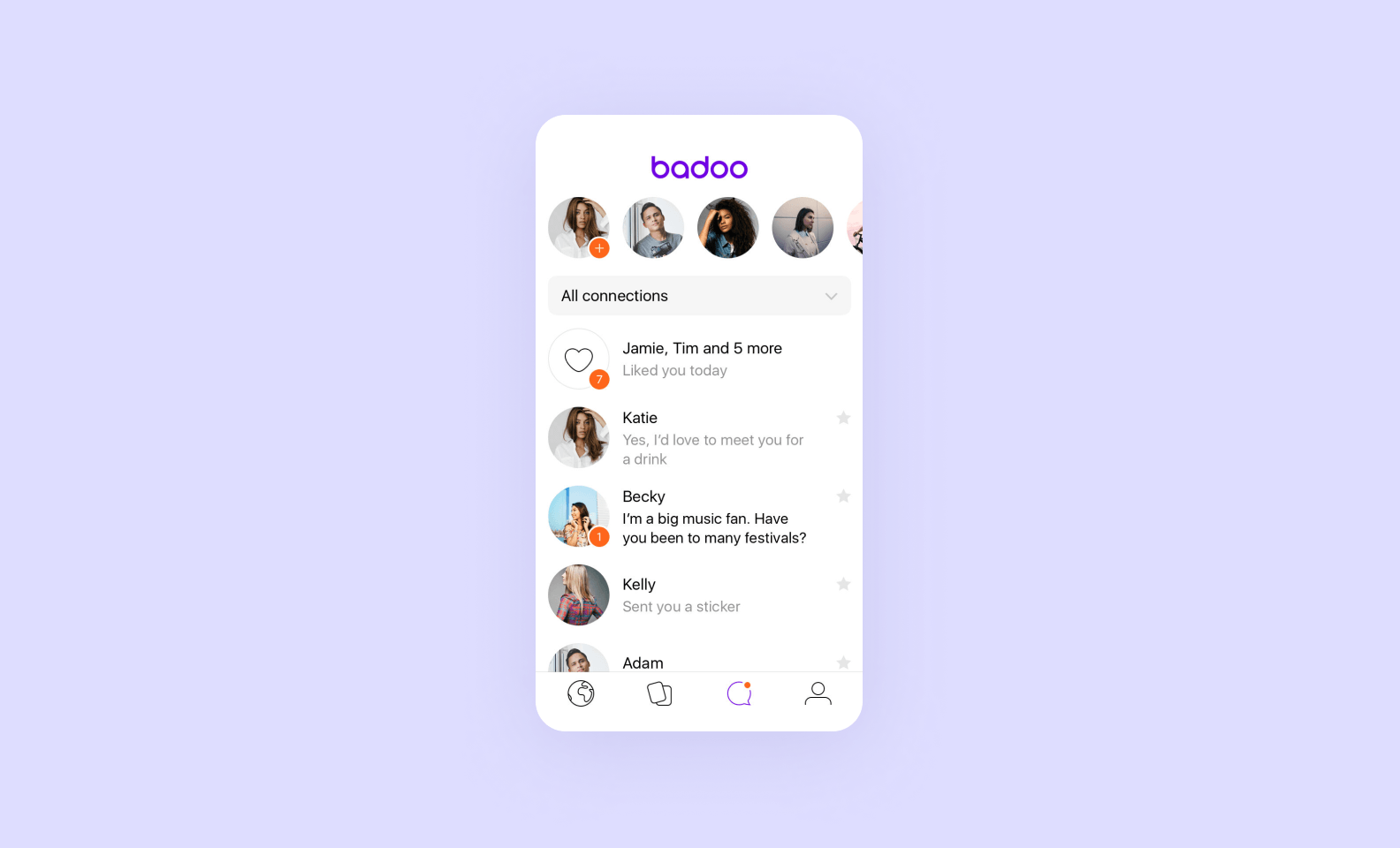 Messaging in Badoo
Bumble
Bumble's distinctive feature is communication. On this dating app, women message first and matches expire after 24 hours. Bumble also allows you to find friends and do networking (in separate modes).
The onboarding process is short and is similar to the one on Tinder. But most of the screen is yellow — Bumble's signature color. Yellow evokes general positive feelings and warmth. The color also strengthens the association to bees and honey, making the name "Bumble " easy to remember.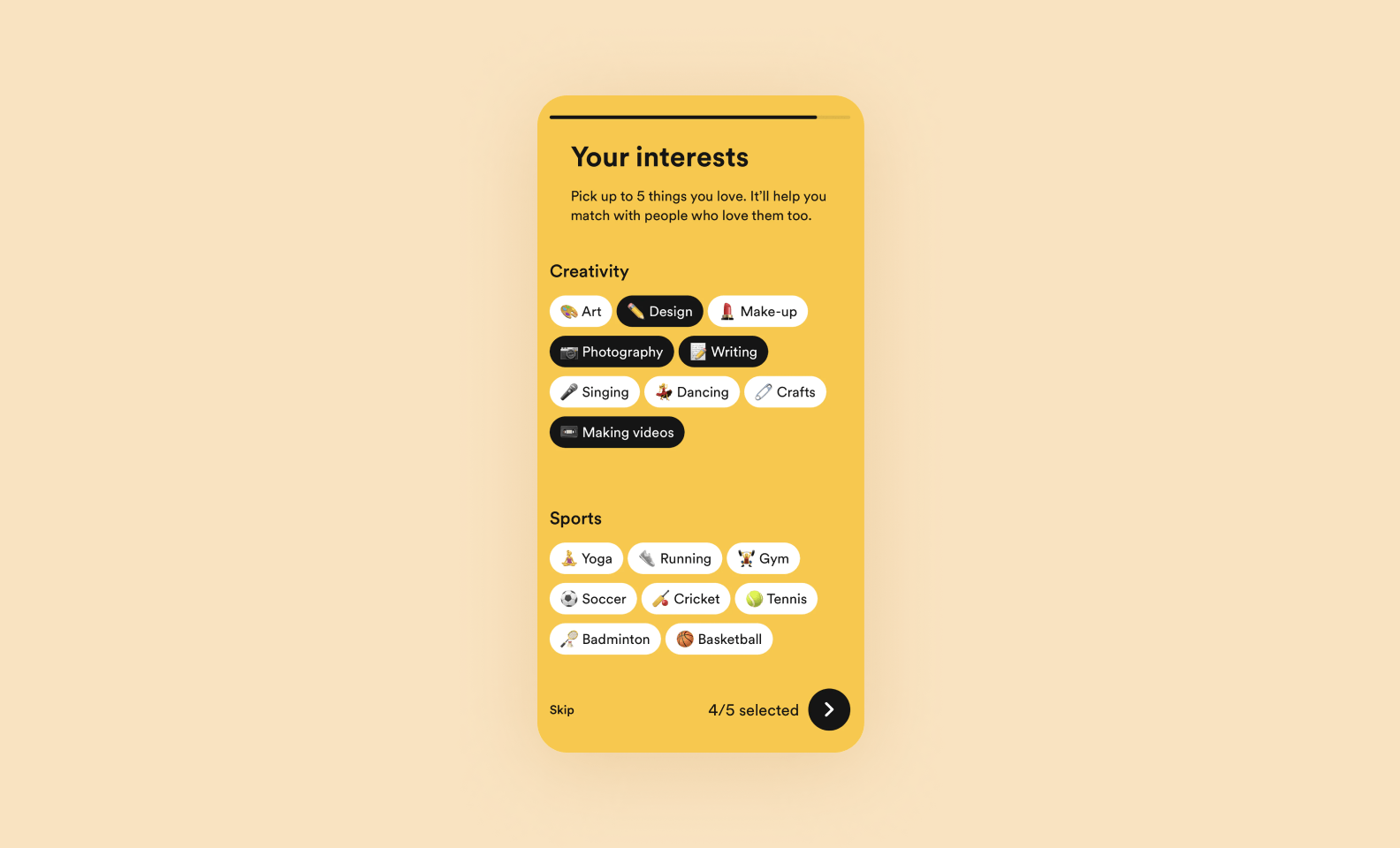 Onboarding in Bumble
Profiles in Bumble are simple. At first the other person sees the profile photo and then can view the whole personal page. Users can share a lot of information from height and zodiac sign to political views and vaccination status.There's also a big "About me" section to write anything and everything.
User profile in Bumble
The chat is mostly similar to other dating apps but there are a couple of interesting UI/UX design decisions. First, Bumble encourages communication with prompts. After users get matched, there's a special question for both to answer. This gives people something common to discuss. Chats also have a "Your turn" badge. It reminds users to answer and highlights active conversations. On the top, the yellow ring around the profile photo shows how much time is left until the match expires.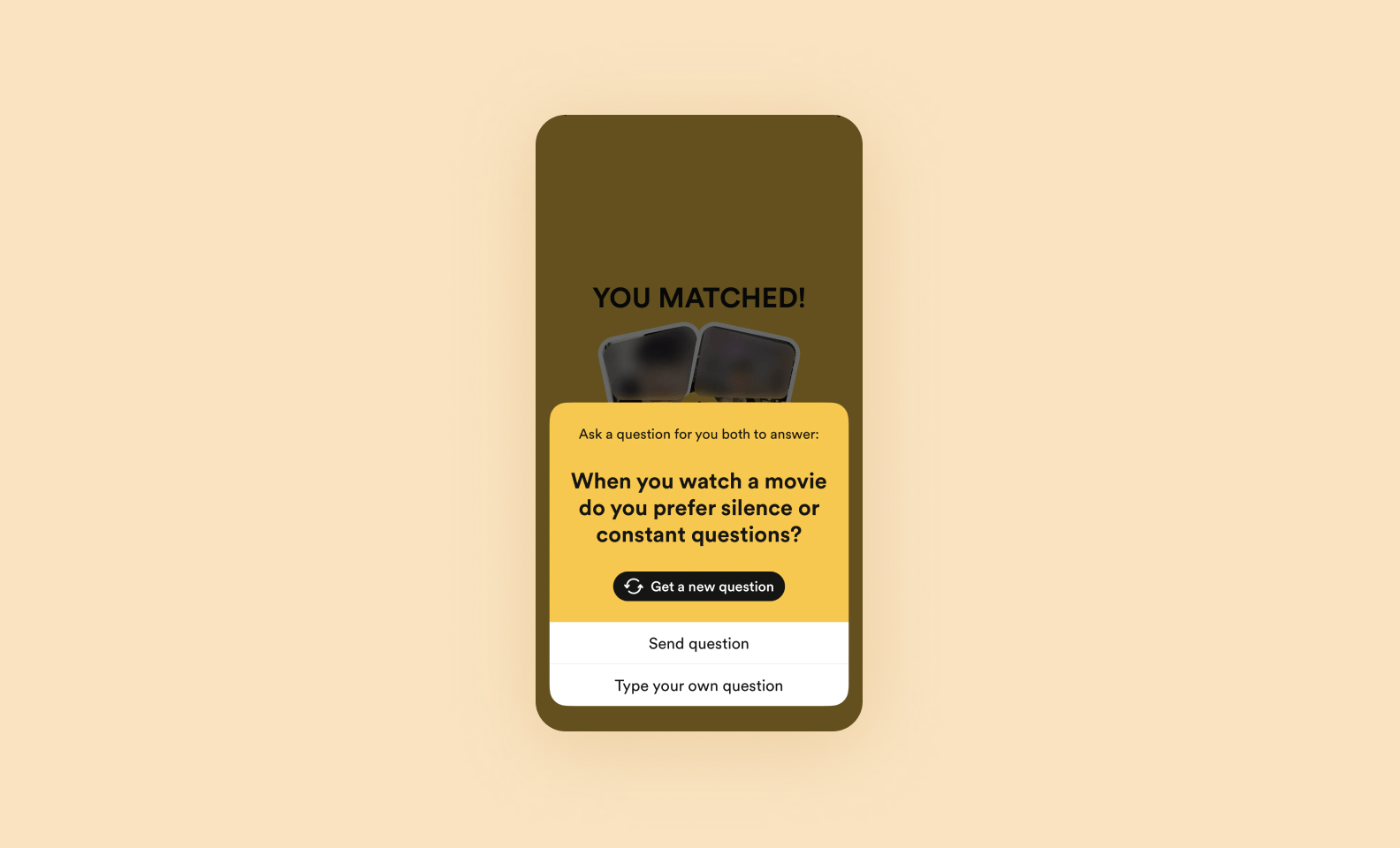 Messaging in Bumble
Final thoughts
Many dating apps have similar UX/UI design. From the swiping mechanic to minimalist chat with several matches at once. What draws the audience in is the refinement of every element and a strong concept. Whether it's an app for dating dog lovers or sportsmen, people want to find a like-minded person. So as long as we keep fighting loneliness, new dating apps will be made.
Have a dating app idea in mind? Share it with Purrweb! We'll help you create a perfect dating app design. We made dozens of apps, MVPs, and logos. In our portfolio, there's a social party app, a travel platform, and many other inspiring projects. Ready to start matchmaking? Contact us today.