Key takeaways
There are three main types of dating apps, with search based on location or questionnaires or with a focus on a certain niche
Main features of a dating app include: secure registration form, person's profile, geolocation, audio and video chatting, ice-breakers, partner search algorithm, in-app purchases
The cost of developing a dating app depends on the technology stack that is used, the features included, and the team developing it
The cost to develop your dating app with Purrweb is approximately $55 000.
Dating apps types: how they work
The dating apps market has many players, but the search and selection principles are quite the same. Basically, there are only three options.
Geolocation. Lots of dating apps like Tinder have a partner selection principle based on geolocation and a minimal set of parameters, such as the required age, height, religion, etc. Thus, the coverage of potential matches turns out to be very wide and quite random — sometimes it's thousands of questionnaires. But choosing accounts by scrolling is so addictive that people don't notice how they spend hours watching them.
Questionnaire survey. It is becoming more in demand in dating app development. You can use common questions like favorite hobbies or even involve psychological tests. Artificial intelligence helps you to analyze these answers and seek the person with the most relevant response. For example, OkCupid dating app includes approximately 4000 questions, from which people can choose the most interesting and important ones for them.
Niche selection. In order not to look for the specific fish in the endless sea, you can initially narrow the field. Niche dating apps are a kind of clubs of like-minded people who are looking for a mate. Look at the Pure app — it openly invites you to find a partner for recreation. It means that every user accepts these rules and doesn't look for a serious relationship there. 
The unmatched advantage of online dating over the traditional format is that you can find a partner based on the exact query — appearance, education, habits, etc. Therefore, we believe that niche applications or apps using questionnaires will prevail in mobile app development.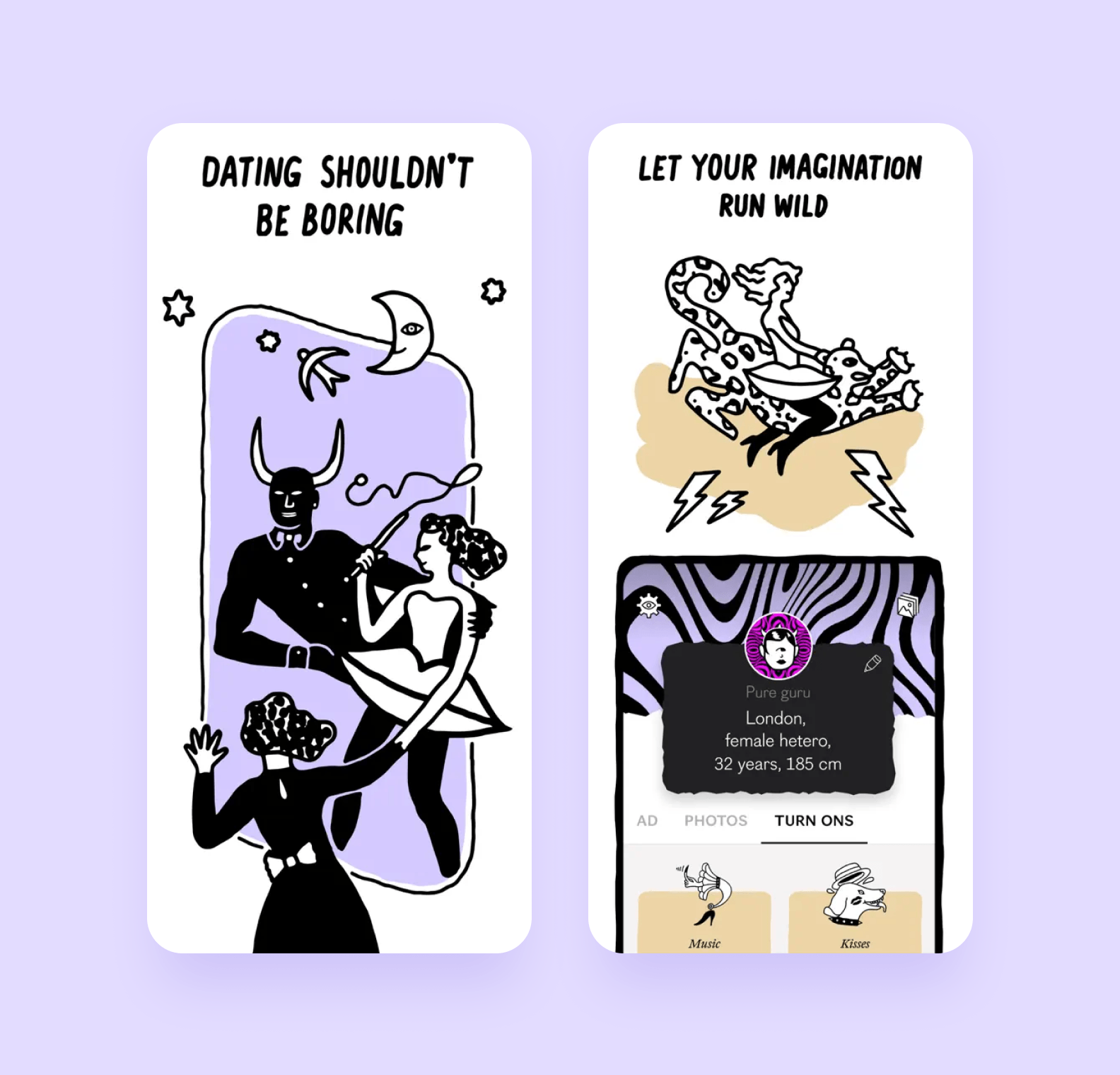 Pure app values freedom and suggests to explore your sensual desires
Main features of a dating app: what's inside
To make a dating app, you need to know a set of necessary functions that users are already used to and which are basic for the most popular dating apps. Let's look underneath the hood of an app like Tinder.   
🔐Secure registration form. It is required in dating app development. You can authenticate your users through social media accounts. So, your dating mobile app will weed out bots and scammers, which will increase user trust.
🧑‍🦰Person's profile. Dating apps like Bumble give users the opportunity to describe themselves in detail. But people don't read a lot on the web, and long texts most likely won't fit into the interface design. So some restrictions are needed in any case. 
🗺️Geolocation. No matter what kind of app you prefer to choose, having GPS and filtration by the distance are must-have. You can propose to define a distance in kilometers or select particular cities or even countries.
📞Audio and video chatting. Currently open communication is in the trend. Users are abandoning simple texting that is common in traditional dating apps in favor of communication via exchanging audio or video messengers. Because this is the only way to make the right impression about the person. That's why it's important to provide different ways of chatting. It will be good to provide exchanging audio/video messages, but having call features, including video chats, will be the best.
⛄Ice-breakers. Even in online dating, being on the other side of the screen, it can be difficult for people to start a conversation. Many users are looking for alternative options instead of the banal question "How are you?". In this case your ice-breakers come to the rescue. They help to start a conversation and make a relaxed atmosphere. When you create ice-breakers, remember to follow the rule of 3E's. They should be EASY, ENJOYABLE and EXPLAINABLE. For example, the system may offer user to choose one of the questions like "If you were a wizard, what desire would you immediately fulfill?". It is easy to understand, funny to think about and gives a partner an opportunity to describe themselves.  
An ice breaker example
🧙Partner search algorithm. This is the most responsible and difficult part of dating app development. Some extraordinary algorithm can be your killer feature. What if you suggest finding a partner by singing songs? This may at least impress your users!  
💰In-app purchases. Statistics say that users are willing to pay for good service and extra features. An average user spends about $243 a year on app subscriptions. You can give users several packages to choose from that include advanced options, for example, a super like on Tinder or virtual gifts. 
The final set of features for a dating app will depend on your idea, target audience and use case scenarios. If you are still looking for the concept of your future dating app explore some interesting opportunities below.
Get free project estimation in 48 hours
300+
startups trusted us since 2014
55+
reviews from happy clients
Book a meeting
What influences the cost of dating app development
Dating app development cost is primarily affected by the chosen technology stack, the scope of work, and the number of dating app developers in the team. Let's find out how they build the final price.

Technology stack
First you need to determine what type of application you want to create. There are three options:
Native apps. This type implies writing code literally from scratch without any limitations in mobile app development except your budget and imagination. But you will need to create separate dating apps for each type of operating system (iOS and Android) which can take quite a long time. 
Progressive web application. PWA is a special technology in web development that visually and functionally transforms a website into an application. This type is less expensive, but they don't have high data processing speed, since they have to render the interface all the time. So it hardly can be a solution for a dating app where people spend a lot of time. 
Cross-platform apps. Cross-platform technologies allow you to create apps for both operating systems (iOS and Android) at the same time that cut costs to create a dating mobile app in 2 times. And the quality remains similar to the native development, at least it's proven that users don't notice the difference. The most popular cross-platform framework is React Native. It is based on the JavaScript language, which has large-scale libraries and a community. We recommend it because it can save your budget and create a dating app in record time — only 4 months.
Required features 
After choosing the technology, the next thing you should pay attention to when building a dating app is what features you want to have in the app. For example, some of the killer features which will blow all the dating app market can influence the price. If you are not sure which specific features to choose, you can start with MVP — this is the first version of the product with the most key features that define your idea. It allows you to quickly launch the product. If its release is successful and users appreciate your dating app, you can think about its further development. 
UI/UX design
The next thing is UI/UX-design. UX-design helps to create a product that people can use easily and comfortably. The UI-design is responsible for how the application looks and what mood it evokes in users. In modern mobile app development, they are half the success. But the more complex the design, the higher the dating app development cost. If you have a limited budget, it is better to keep it simple.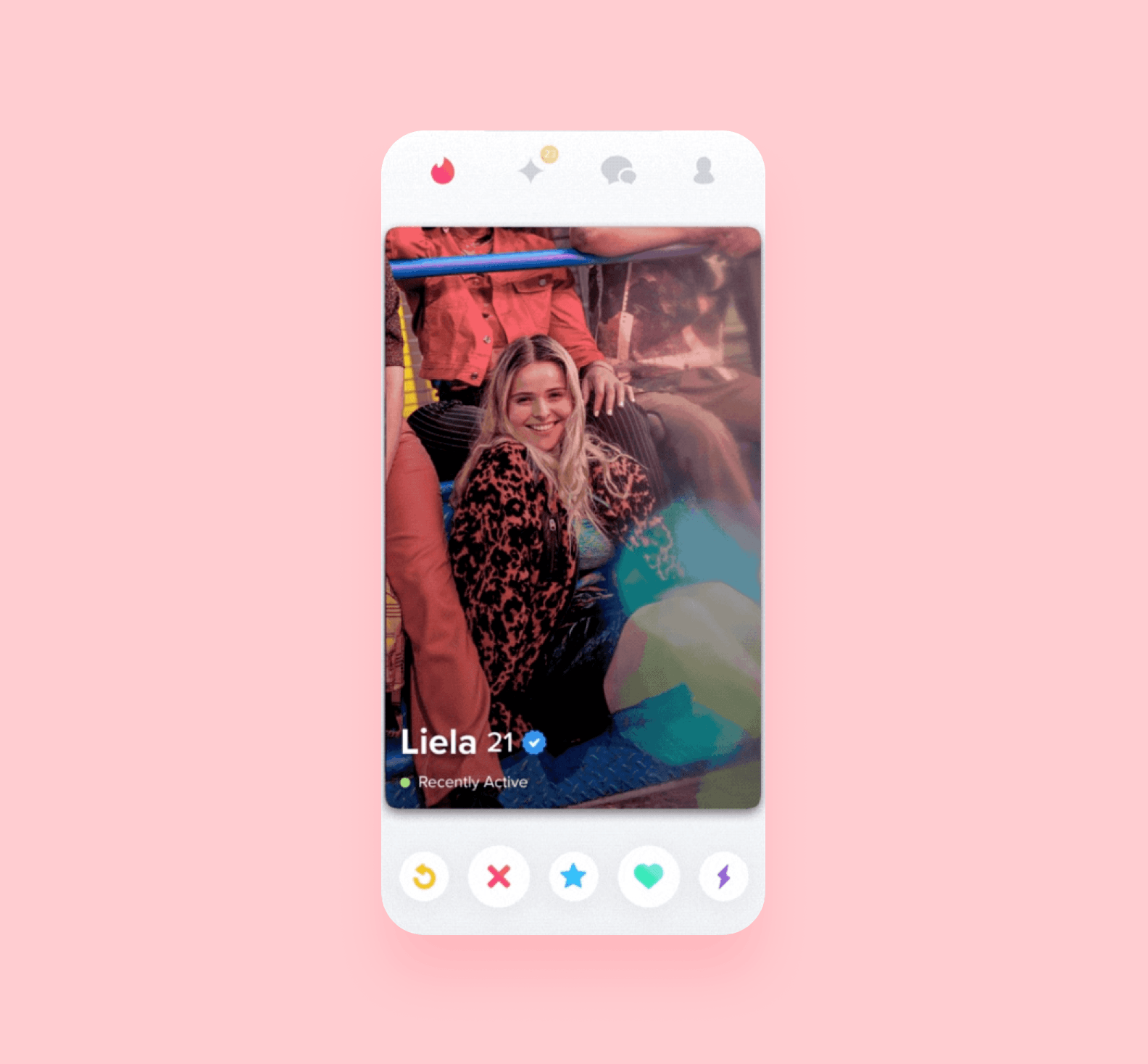 UI/UX-design of Tinder doesn't distract you from main idea — search the ocean of profiles and swipe.
Development team
When you define the concept of the dating app, the technology stack and features,  it remains only to choose a team that will design and develop the app for you. Usually it consists of a designer, frontend and backend developers, a tester, and a project manager. You can hire them in-house, find freelancers, or use the services of an outsource agency. 
In-house. This approach assumes 100% employee engagement, but it has disadvantages. For example, you will have to accommodate all your employees or provide them with remote work equipment. In addition, you will need to decide what to do with the staff when the project is over, since the technical support of the app doesn't require the involvement of all specialists.
Freelance. There are a lot of freelancers on the market now who are ready to participate in the application's development for a reasonable or even low price. But most likely you will have to dive deeply into the process yourself and control their work.
Outsource. Outsource mobile app development companies are experienced full-service teams that have the competencies and resources to develop any application. Their own staff includes many specialists who can join your project. They won't need to adapt, as the team members are used to working together.
Get free project estimation in 48 hours
300+
startups trusted us since 2014
55+
reviews from happy clients
Book a meeting
How much does it cost to make a dating app
And now we come to the main question: how much does it cost to develop a dating app? Let's take a look at the stages of dating app development and their cost below. As an estimate basis, we took the dating app MVP with features listed above. At Purrweb, we have already created over 250 MVPs and with us, the cost to develop your dating app will be approximately $55 000. So, if you don't know where to start, don't fret! With so many projects under our belt — we know how to build a dating app like Tinder and we can help you out. See the details below.
Stage
What we are doing
Estimation in hours
Estimation in weeks
Approximate costs

Project estimation

We discuss an idea of your

dating app

and estimate the costs and time needed

20 hours

–

no costs

UI/UX design

We map users' journey, come up with design concepts for each step, and present them to you

140

5 weeks

6100$

Development stage

Our team works on the architecture, the interface and the admin panel

820 hours – app

200 hours – admin panel

 

10 weeks – app

In parallel with dev – admin panel

 

40800$

QA Testing

We search for any possible bugs and fix it before launch

250 hours – in parallel with dev

10 weeks

 

4500$

Project management

A PM assigns tasks, controls deadlines and removes any bumps from the road

In parallel with project

In parallel with project

500$ – design

2500$ – dev

3000$

 
The total cost to develop a dating app varies based on the features, UI/UX design, and developers you hire.
With Purrweb, you can count on:

$55 000 for a
dating app
MVP and
up to $70 000 for a full-fledged mobile
dating app
The cost of the leading dating apps development 
Of course, the cost of developing popular dating apps like Tinder is a trade secret. But knowing their set of functions, we can guess how much it costs to create a copy of them. So let's see what they have under the hood and estimate their development cost.
Tinder 
Tinder's features include users profiles with photos and short videos, opportunity to integrate Instagram and Spotify, select partners by age, gender and their radius of location. It also uses a profiles rating system which influences the matching algorithm, features for swiping and several different paid features for the best dating. The app also has an option to remove a formed couple and complain of indecent behavior.
Purrweb's estimation: from $157 000 to $200 000. 
Bumble
Bumble has a more advanced and detailed profile format, linking Instagram and Spotify accounts, ice-breakers in the form of questions and emoji reactions for photos. It also has their own special feature — algorithms which allow only women to do a first step and limited-time matches. The last thing is premium paid modes which open extra options for users. 
Purrweb estimation: from $161 000 to $250 000. 
Let's summarize
Creating a dating app — what could be more relevant in today's fast-moving world? Especially if you know how to help users solve their problems — security, convenience and accuracy of matches. We are ready to help you with the development of a dating app, to consult you on the stages and cost of work. Contact us or fill out the form below and we'll call you back shortly.