Despite the developed market, dating apps still leave room for growth. 56% of users remain disappointed in dating apps. And this can become a source of dating app ideas for a new explosive startup that will help millions of people find their soulmates without getting a traumatic experience along the way. In this article, we will look at 7 dating app ideas that will inspire you to create your own application.
Dating apps market overview
The dating app industry is growing fast. Let's look at the statistics that prove it.
There are 1,500 online dating

 services in the world, including sites and apps. 

Since 2015, the number of active users

has increased by almost 40%

and now stands at 300 million people.

The average user spends about $243 a year

 

on a dating subscription, 

8 billion dollars is the volume of the global market for online

dating apps

in 2022. The

online dating industry

expects to grow by an average of 5.5% per year until 2030. 

Coronavirus has significantly increased the use of dating apps. In March 2020, Tinder registered the record of swipes — over 3 billion on a single day.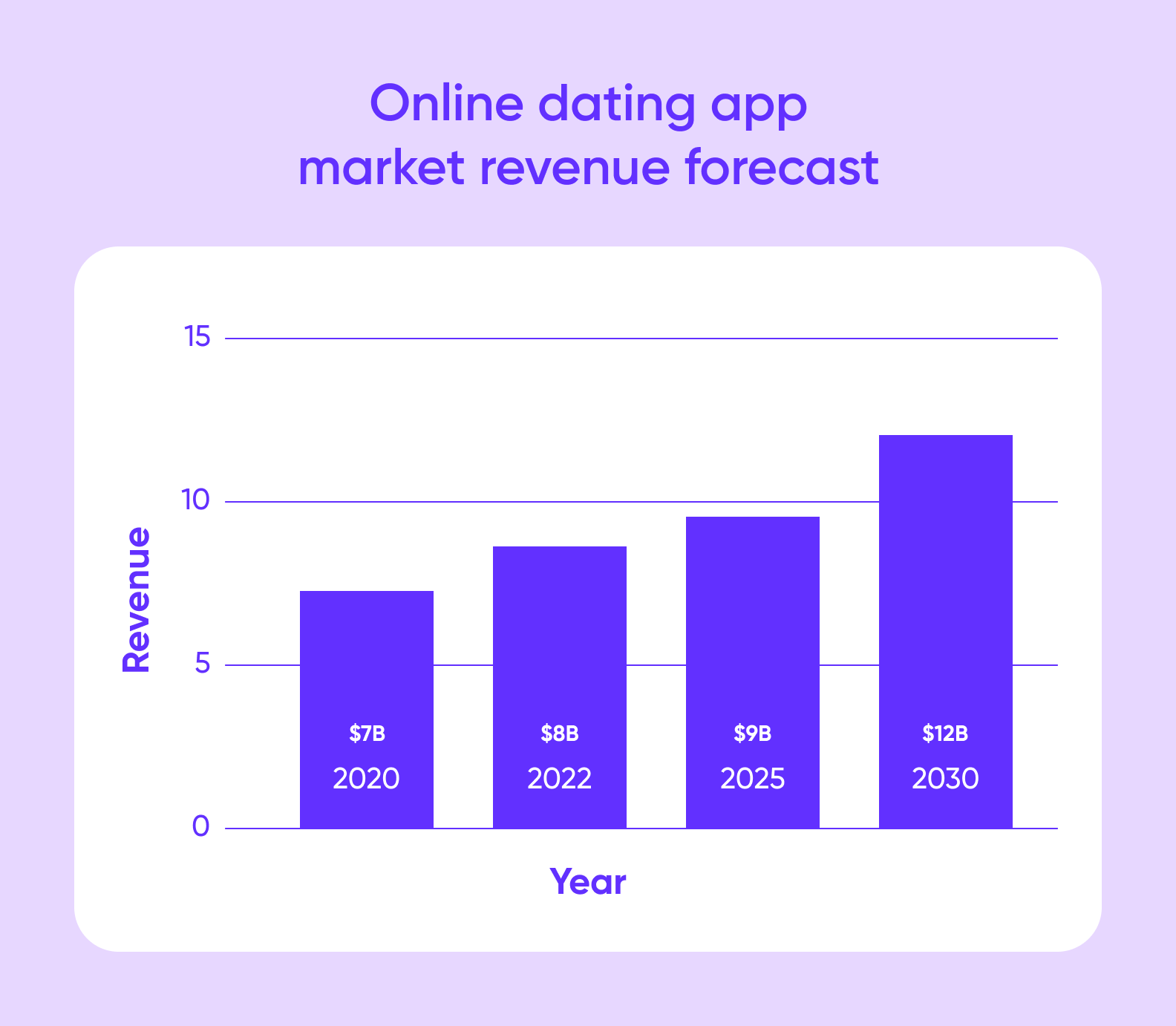 Best Dating Apps in 2023
Tinder 
📲6.5 million downloads a month
💰Revenue — $1.4 billion in 2021
🛒
In-App Purchases — $0.99 – $299.99 per item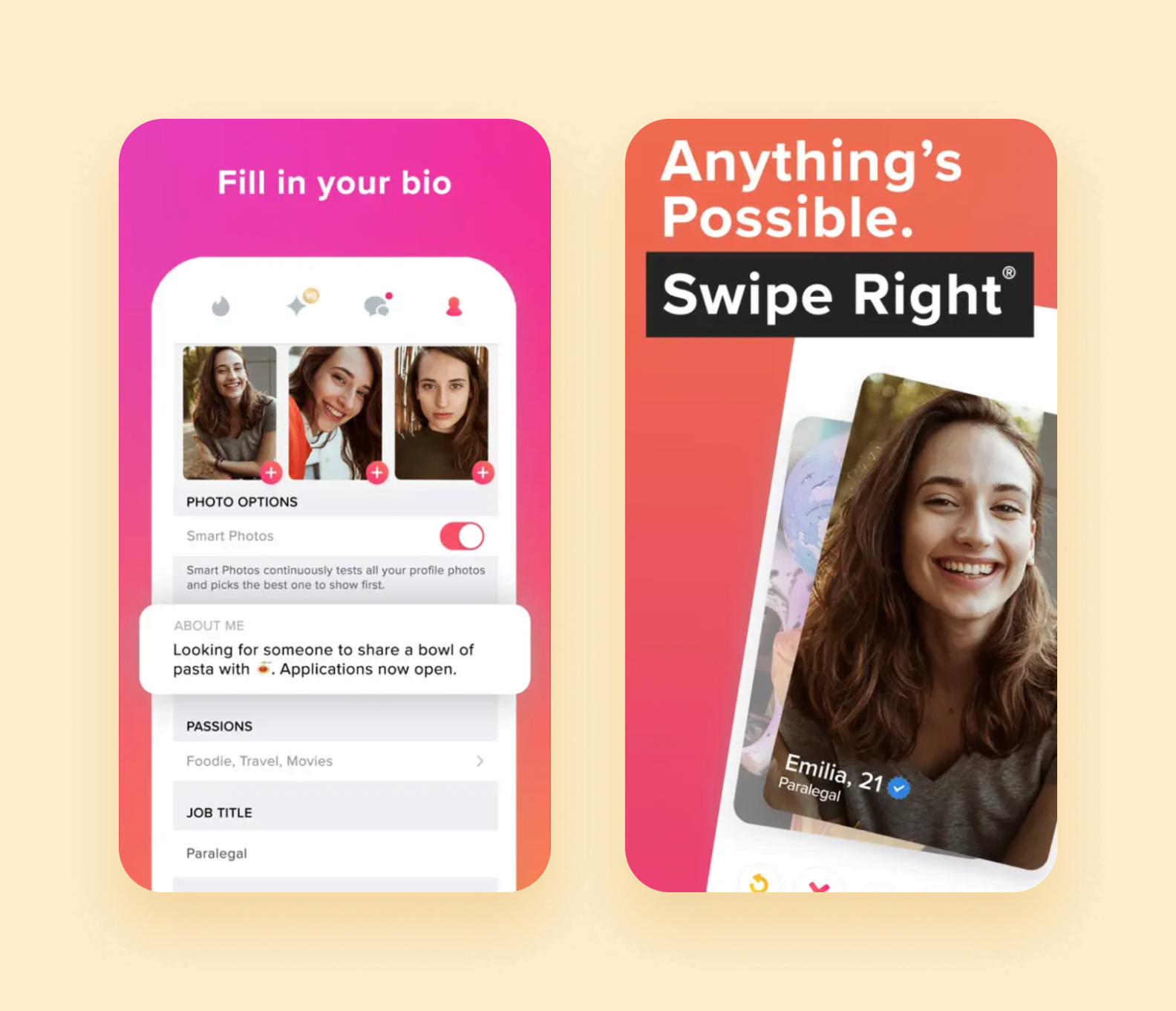 The most popular dating app relies not on the quality of dating, but on the quantity. It is famous for swipes: to the right to like, to the left to cancel. The user's profile is short and doesn't allow them to write an autobiography. This is necessary to speed up the process. If you want to know how to create a dating app like Tinder, our article will be useful for you. There we analyze the stages of dating app development. 
Bumble
📲1.8 million downloads a month
💰Total Revenue — $532 million in 2021
🛒In-App Purchases — $8.99-54.99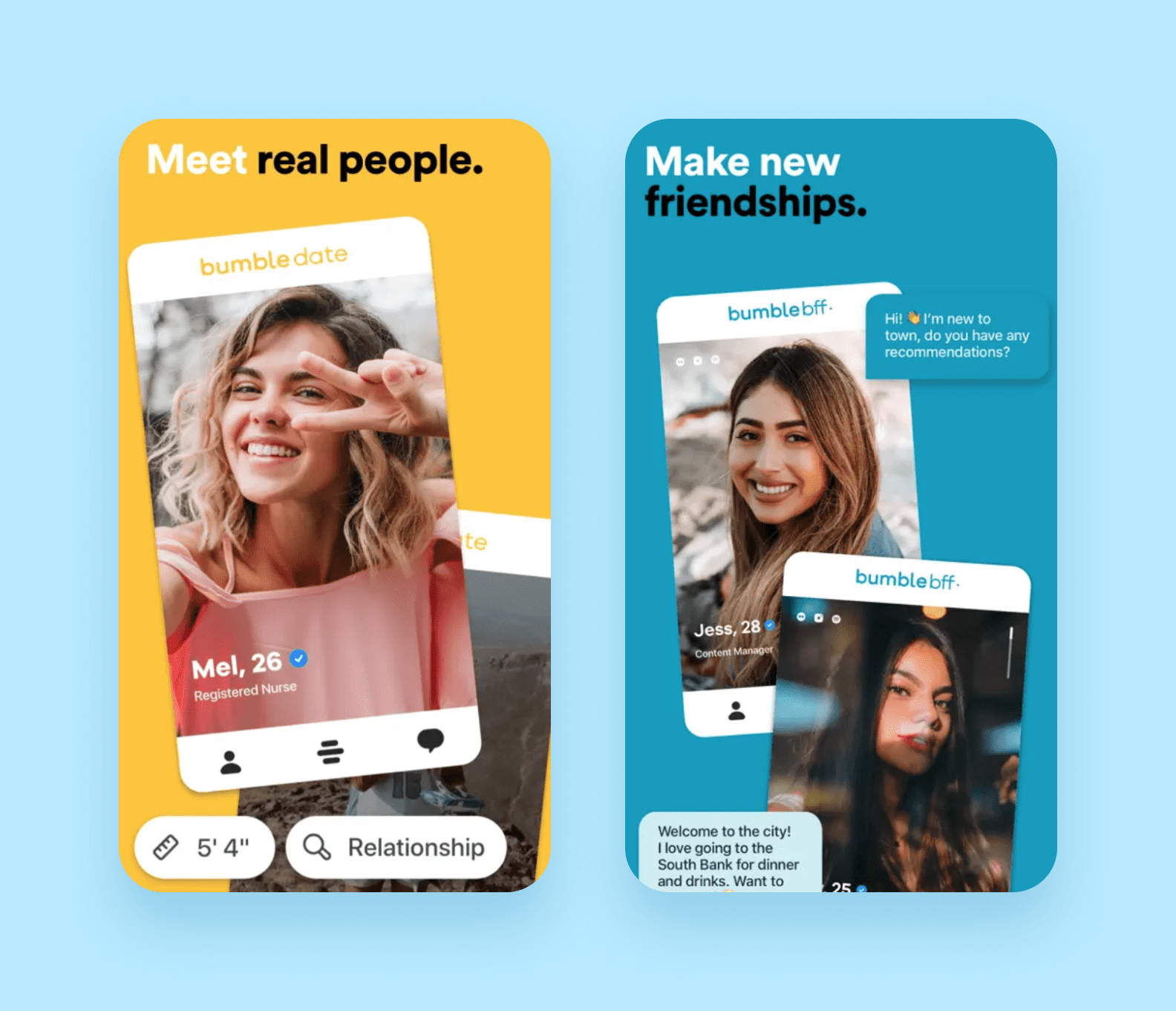 Former vice president of marketing at Tinder Whitney Wolfe Herd founded the app. She called her brainchild a "feminist dating app". It is because a woman takes the first step in the app. After the match, she has 24 hours to write to the man she likes. 
OkCupid 
📲0.4 million downloads a month
💰Revenue — $28 million in 2021
🛒In-App Purchases — $0.99 – $179.99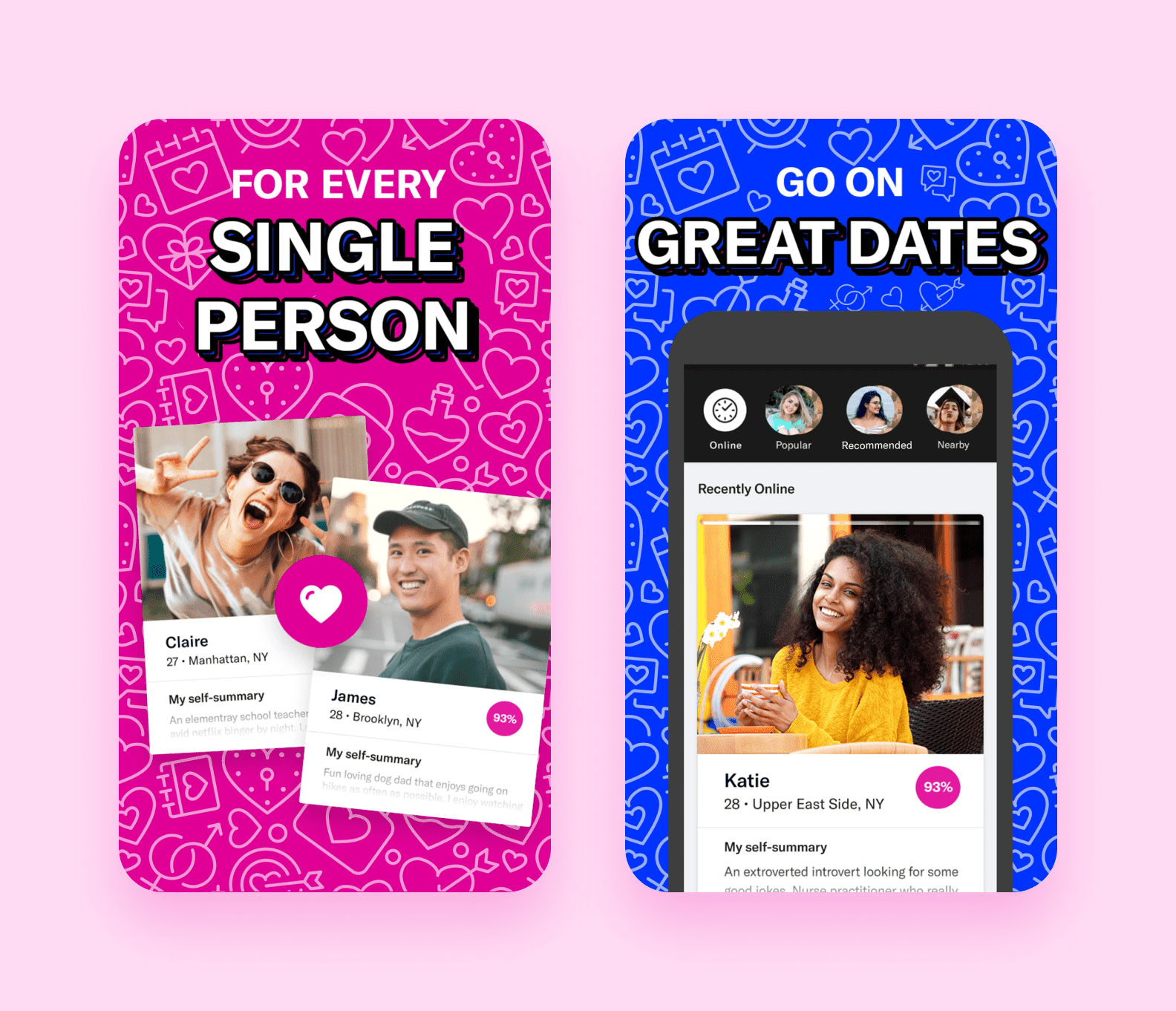 The application offers profiles of users who have passed the compatibility test. To do this, it uses data about user actions and their answers to questions. The form has almost 4 thousand questions for choosing from. The user also indicates the answers that they would accept from partners and the level of importance of the question.
Key Features for Dating Apps in 2023
To test your dating app ideas with a real audience, you only have to implement a basic set of functions during the dating app development. Your app just needs a secure registration form, a person's profile, geolocation to find a person nearby, a messenger, and integration with social media. But there is something extra, like the cherry on the cake, that will make your product more special.
Partner search algorithm

. Many apps include basic filters like gender and age, which help people exclude irrelevant candidates. But search algorithms can be smarter. One of the ways is to make it based on compatible answers to questionnaires. You can come up with your own algorithm, for instance, using astrology.  

Chatting.

Text messaging is no longer enough. Among your

dating app users

may be audiophiles that only connect to others when hearing the sound and intonation of their partner's voice. You can implement video calls and offer funny masks for the

shyest

users. This can become a killer feature.

Ice-breaker

. One match between users doesn't guarantee it leads to a conversation, since few people are emotionally ready to take the first step. Icebreakers come to the rescue and help a person start a conversation. For example, your app can generate funny questions that users can select and send to a person. Humor often brings people together.

Push notifications.

They increase user engagement by reminding them of a new match or message. But for them to work, it's better to make them more personalized. Something like "Hey David! Just reminding Kristin from Atlanta, who likes to surf on the west coast, is waiting for you to respond to the message" sounds intriguing. 
7 Ideas for Dating Apps
Now, let's look at some ideas to spice up your app.
1. Gamify the dating process. This is what made Tinder a global star among top dating apps. Finding a partner by swipes feels like a game. And it is so exciting that people can spend a couple of hours swiping and earning likes. Simple scrolling is boring, it is better to make this process a playful activity.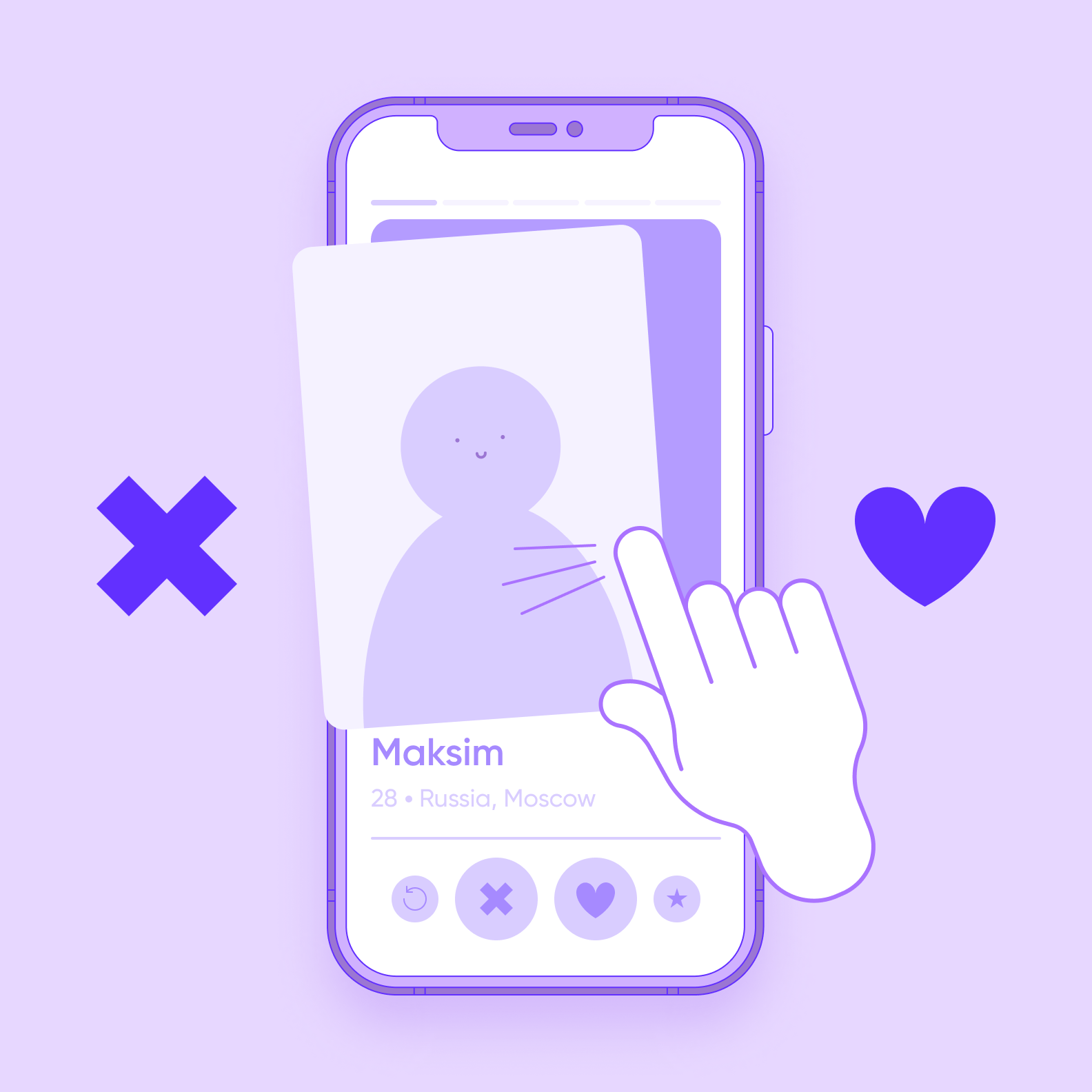 Swipe left to say no or right to like profile
2. Use astrology and numerology. Zodiac signs, numbers, and mysterious connections are what people believed in long before psychological compatibility and matching algorithms appeared. Your app can use this to find a suitable match for every user. For example, the NUit app offers astrology-based dating using the date of birth and the horoscope sign.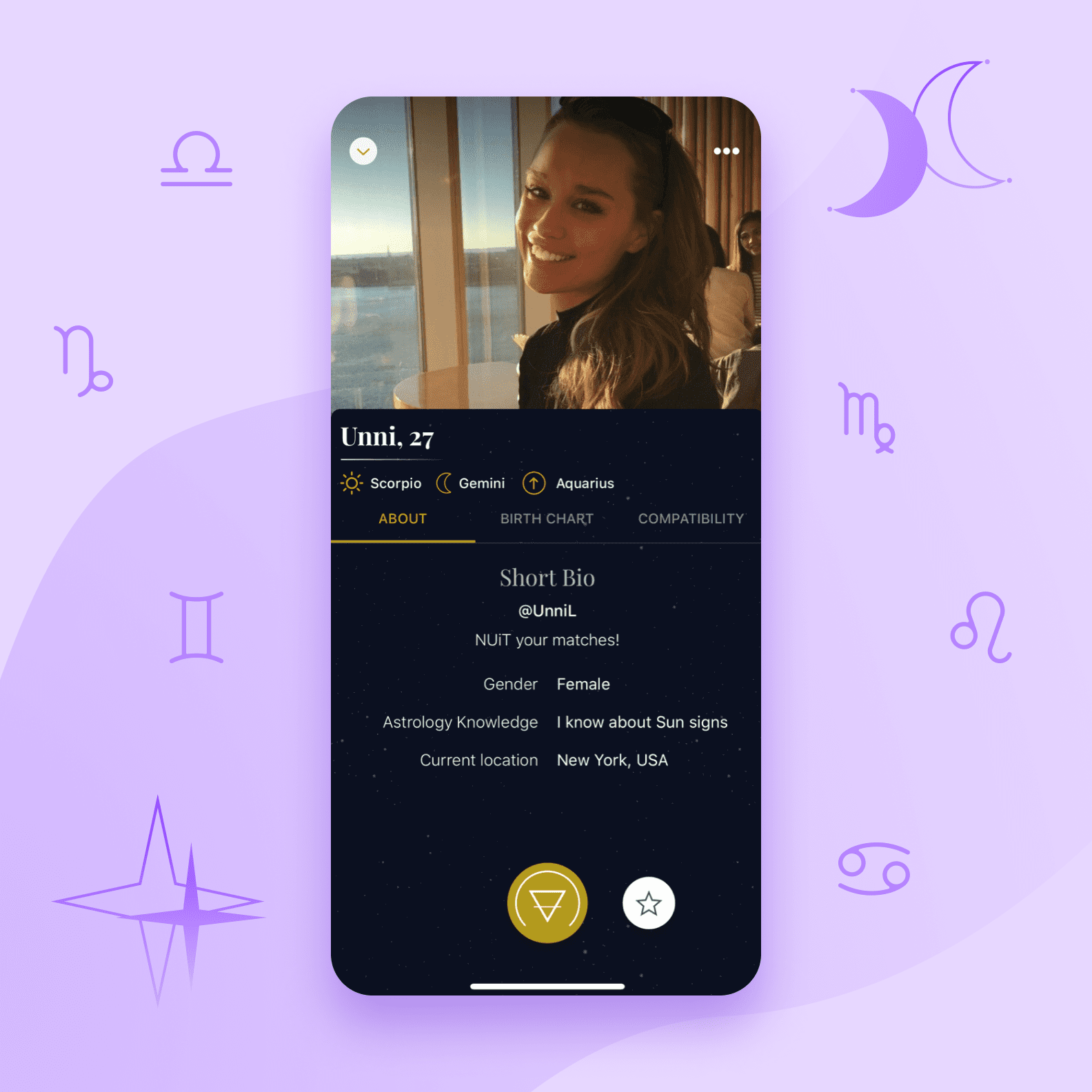 NUit gives an intriguing opportunity to check your astrological compatibility
3. Give feedback to users. Dating app users would like to know which of their photos and profile descriptions are the best. They will be able to improve their profile instead of being disappointed and deleting the app. You can use artificial intelligence or anonymous feedback from people with whom the user already had contact. But in the last case, it is necessary to enable moderation to avoid insults to users.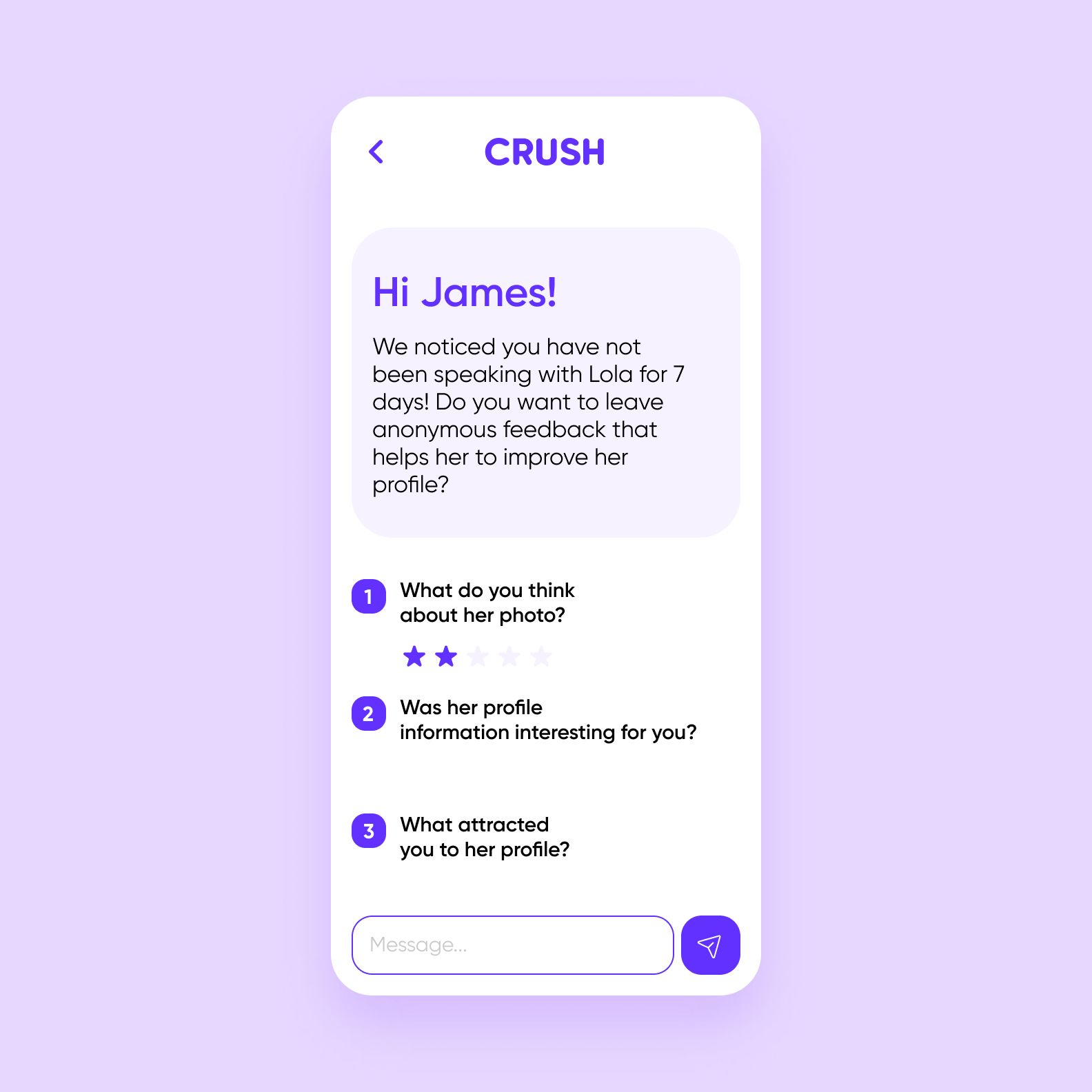 This is how feedback suggestion can look like
4. Match people with similar tastes. One research on the OkCupid app showed dating app users with a mention of music in their profiles receive 28% more likes. Some applications show users' playlists on streaming music services or social media. The Tastebuds app uses music for uniting people with similar tastes. What if to do the same with movies and even offer users the function of viewing them online?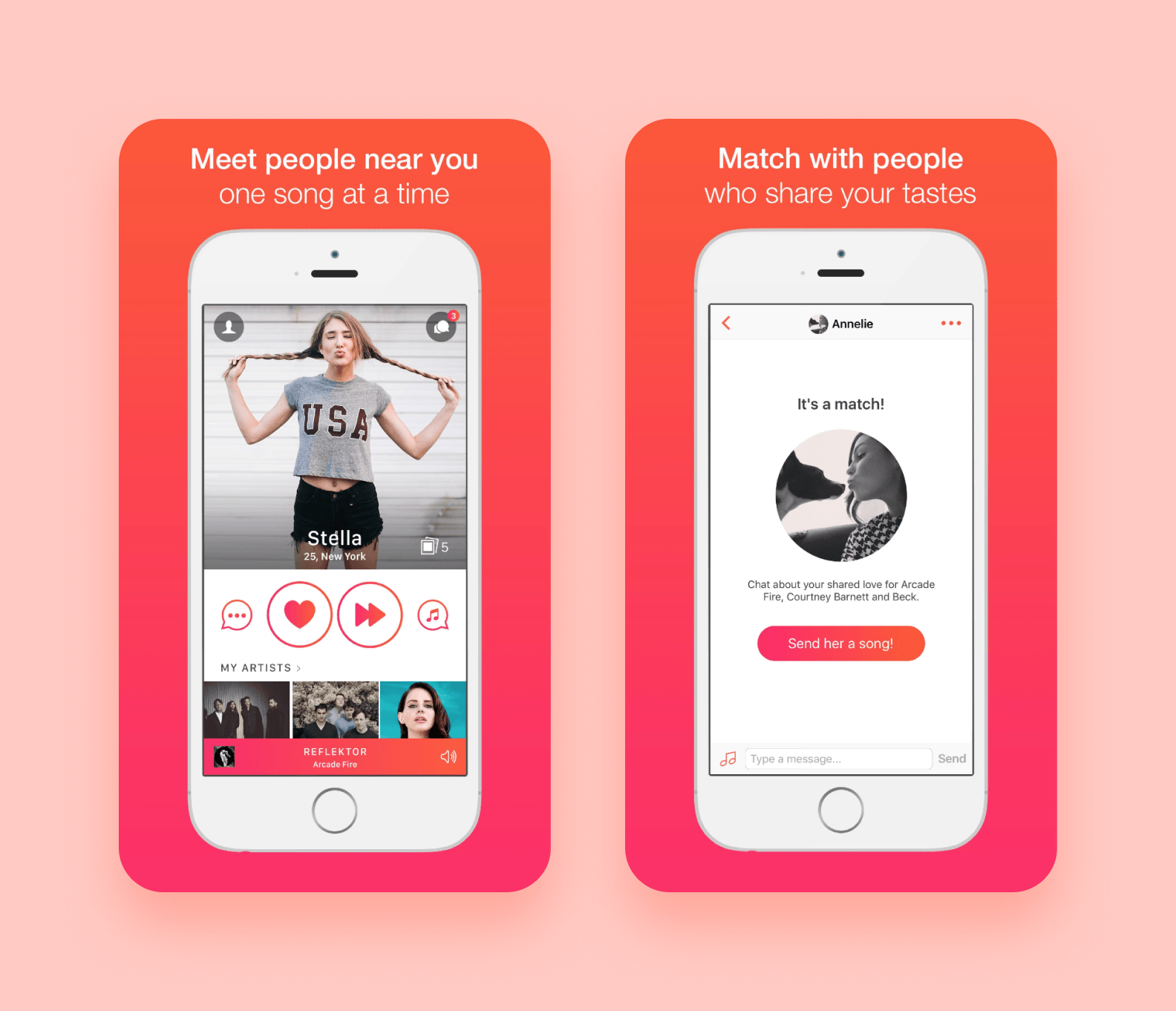 The Tastebuds app says "Compare what you have in common by songs, send your favorite one, and the ice will move!"
5. Let people be honest. Dating apps are not always downloaded to find the love of one's life. Therefore, 72% of women and 53% of men consider it important that the profiles indicate what type of relationship they are looking for. For example, the Fruitz app assigns fruit to users depending on their purpose. There is cherry for users who are looking for love, grapes for those who just want to have a good time, and other options.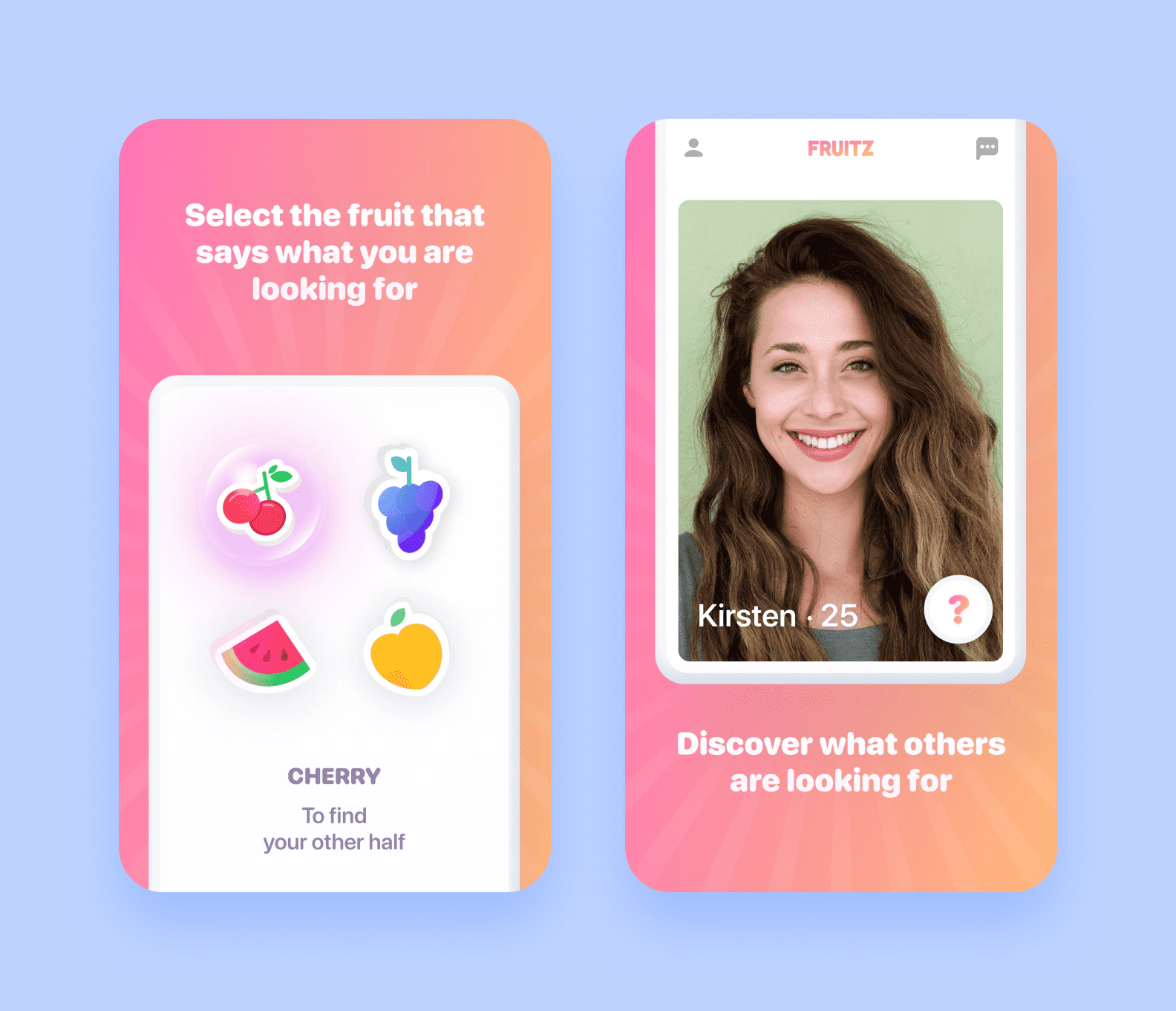 Fruitz suggests to meet people who are looking for the same kind of relationship as you — just select appropriate fruit
6. Focus on meaningful conversations. Apps are often accused of dictating a superficial way to find a partner through photos. So there is definitely a demand for alternative options. The S'more app opens to users only a blurred version of a person's profile photos — until they start chatting. The longer the conversation lasts, the clearer the photos of the person become.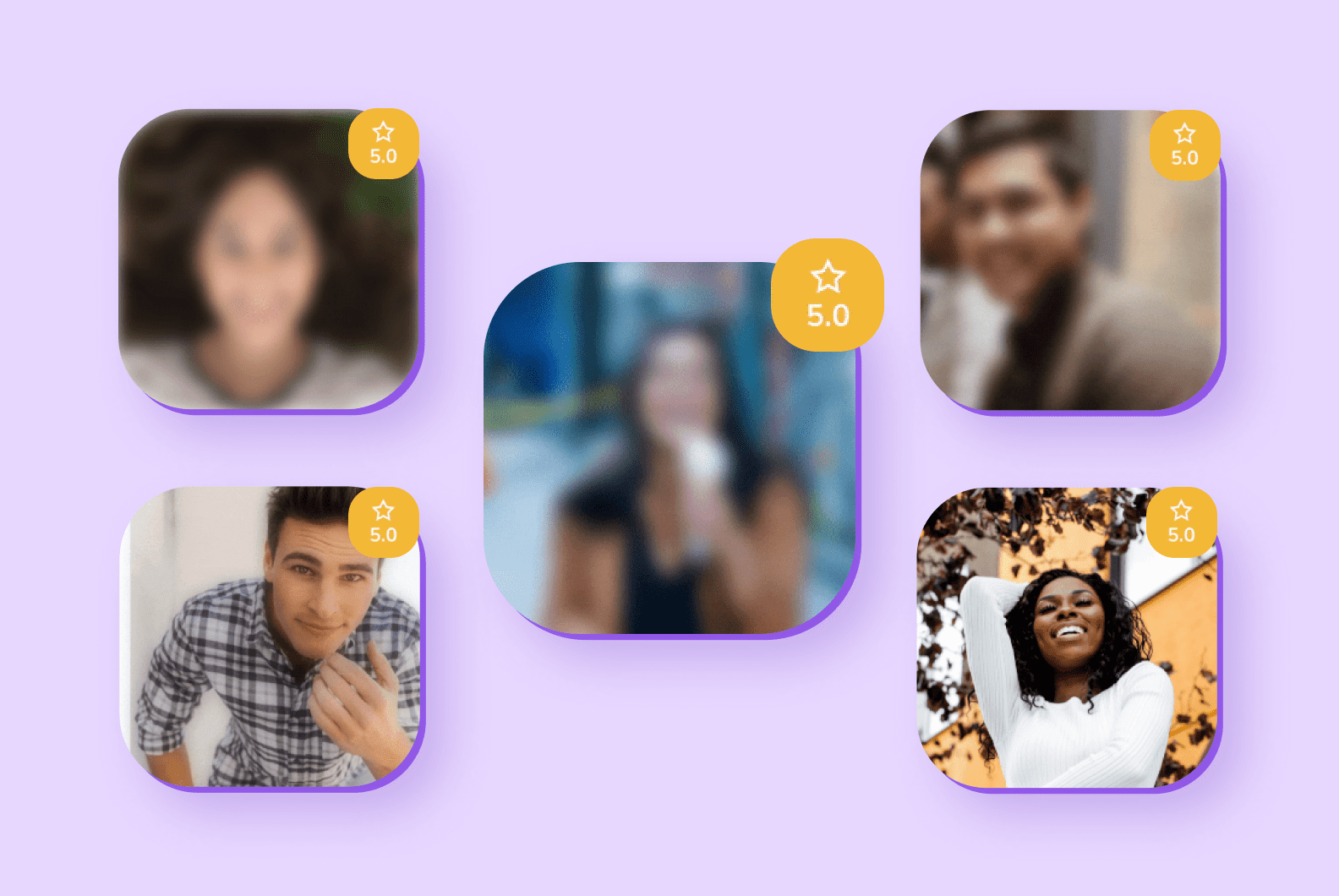 The idea to blur photo also makes dating more fun — try to guess what you see
7. Start group dates. It is catastrophically difficult for some people to go offline and have a one-on-one date. You can offer to arrange group dates as it is possible in the Clover app. Even if the match doesn't work, the user will be able to find like-minded people and friends.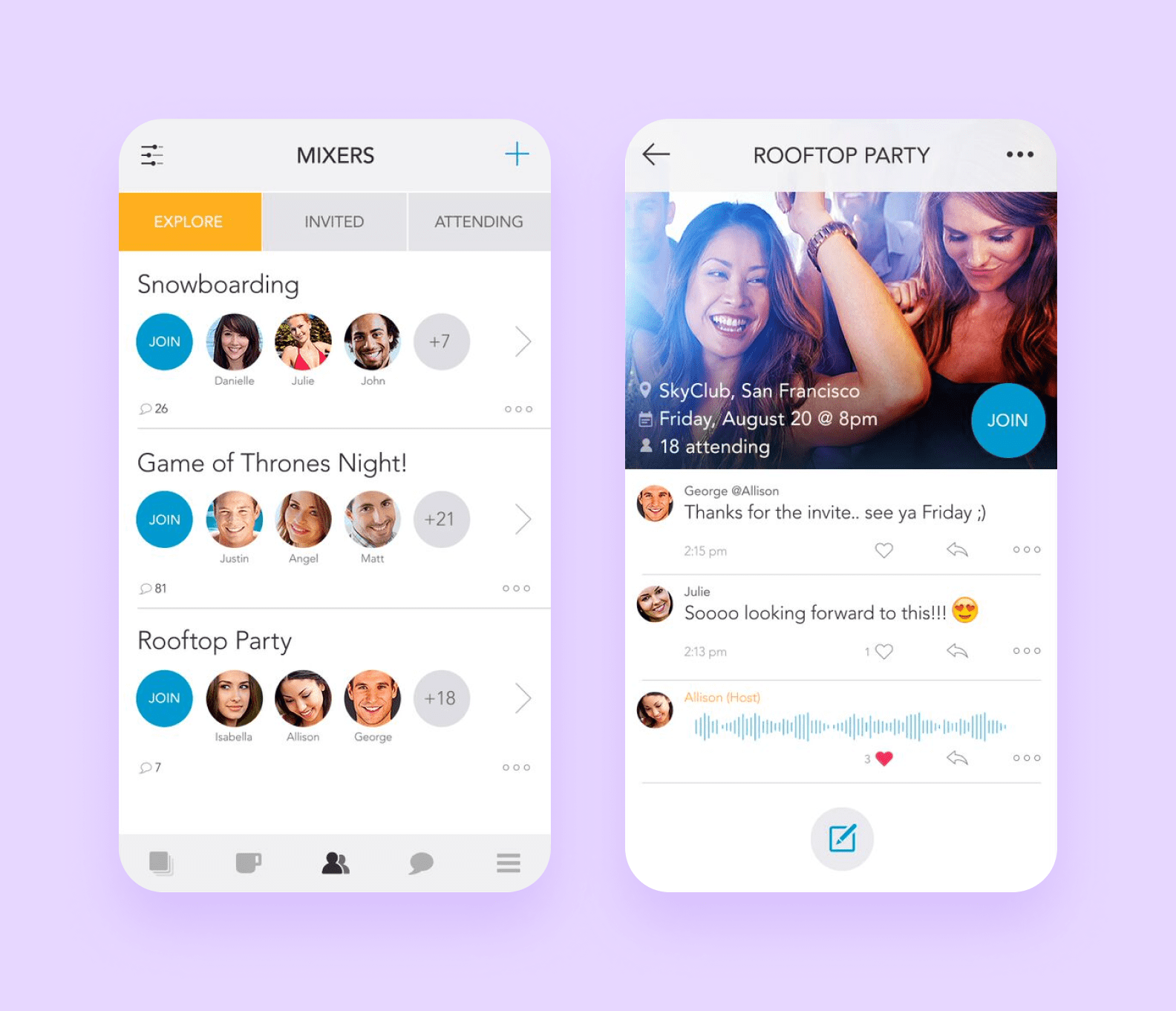 Via Clover app you can join the party and find new friends there
Looking not only for how to build a dating app? Explore more trending app ideas here
Wrapping it up 
Finding love via a dating app is already a new reality that will stay with us for a long time. The market is developing rapidly, but still has many points for growth in terms of user engagement, safety, and audience segmentation. Feel free to take any dating app ideas from this article and use them as inspiration for your application!  
If you have already come up with the concept of a new application that will win Tinder, contact us. We already have created apps for a startup that helps make parties with friends, a startup that offers restaurant order management software, a startup that helps rent a powerbank, and many others. Our team will be glad to make your idea a real dating app!