What is MVP?
So what is MVP in software development and do you really need it? MVP (minimal viable product) is basically a test version of the product that includes only essential functions. The main goal of the MVP developing process is to check whether the product is viable and competitive among the software market. Find a software developer to save your time and money from wasting it on useless functions. 
One of the main advantages of MVP is the ability to save your resources while making the first version of the product. Creating an MVP and improving it with each iteration is more effective rather than launching a fully functional product from scratch without carrying out any researchers.
That means that MVP gives companies fast results at the lowest cost.
From MVP to a complete project
MVP is ready, what's next?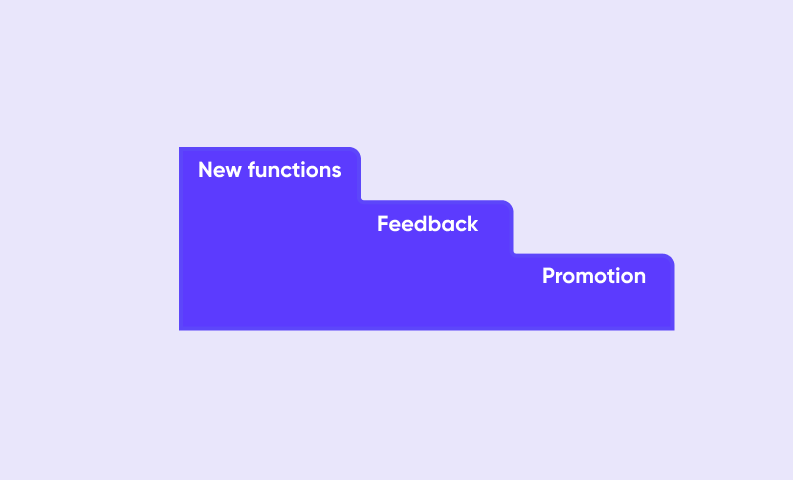 Step 1: promotion
MVP promotion does not require a global market. Indeed, the target audience can be rather small as the main goal here is to attract future customers. Let them test your product: enjoy the visual part and try all its current features. There are several options for choosing the right target audience.
The first one: if you are not a beginner in the sphere, present your MVP app software to a couple of reliable partners who will give you honest and constructive feedback.
The second one: if you are a newbie to the software market, you are better to pick several experts, influencers and regular users who are truly interested in your product.
The key point while presenting your MVP is to remember that it should be useful to the end user. Not all users who test your product can imagine the complete version of it, so your task is to attract their attention at the MVP stage.
Lifehack: focus on the features that a specific group of users are looking for to catch their attention.
Step 2: collect feedback
It's an essential step as the users' feedback can help you improve the product. However, it can also make it clear that the product is not needed at all. When people test your MVP, you will understand whether the core functions satisfy users or they have to be changed. You will find out why users buy a product or refuse to use it.
Customer feedback is the best way to understand what to improve. When a project team sees all requirements for a project — such as desirable features, design preferences and other clients' wishes — developers team work with a full understanding of what users really want. This leads to fewer edits, so the work on the project requires less time and financial investment.
Lifehack: do not miss the opportunity to improve your product at the initial stages and keep focused on things that  make your idea unique.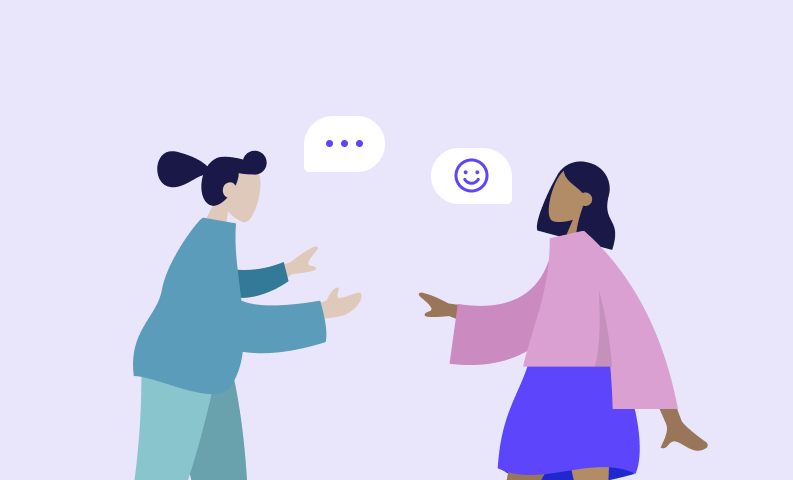 Step 3: new functions and design
When the team has successfully developed all the functions, improved the design and added interesting features, the final product is almost ready. If users enjoy using the MVP app software, they will use it more often, and what's more important, they will tell others about it. During this stage, you should focus on both useful and interesting features. Create a catchy design to make the MVP visually appealing, make the product user-friendly to provide your users with a positive experience, and add a wow factor.
In the age of social media, people are paying more attention to visuals than ever. If what they see on their screens doesn't catch their eye in the first couple of seconds, they'll scroll down and forget about it. Moreover, it is important to come up with a great interface designed for the target user to achieve the right reaction to your product. For these reasons, bringing in more UI / UX designers will play into your hands.
Lifehack: focus on creating an outstanding and unique product.
This process (testing – collecting feedback – developing) can help you to improve your product and keep up with the market needs.
Mistakes MVP helps to avoid
Let's take a look at the main reasons why most startups fail:
42% of startups fail because they don't meet market needs. During the MVP developing process, this problem is solved by testing the audience reaction to the MVP of the product. The same applies to the lack of need for a product (the main reason for the failure of 17% of businesses), as well as the problem of ignoring the needs of customers (became fatal for 14% of young companies). Moreover, a big problem is a rapid depletion of the budget (it was the main reason for failure of 29% startups), as well as the problem of allocating funds — all this can be avoided thanks to the MVP development since the risk of spending money on unnecessary functions is minimized.
Examples of successful companies that started as an MVP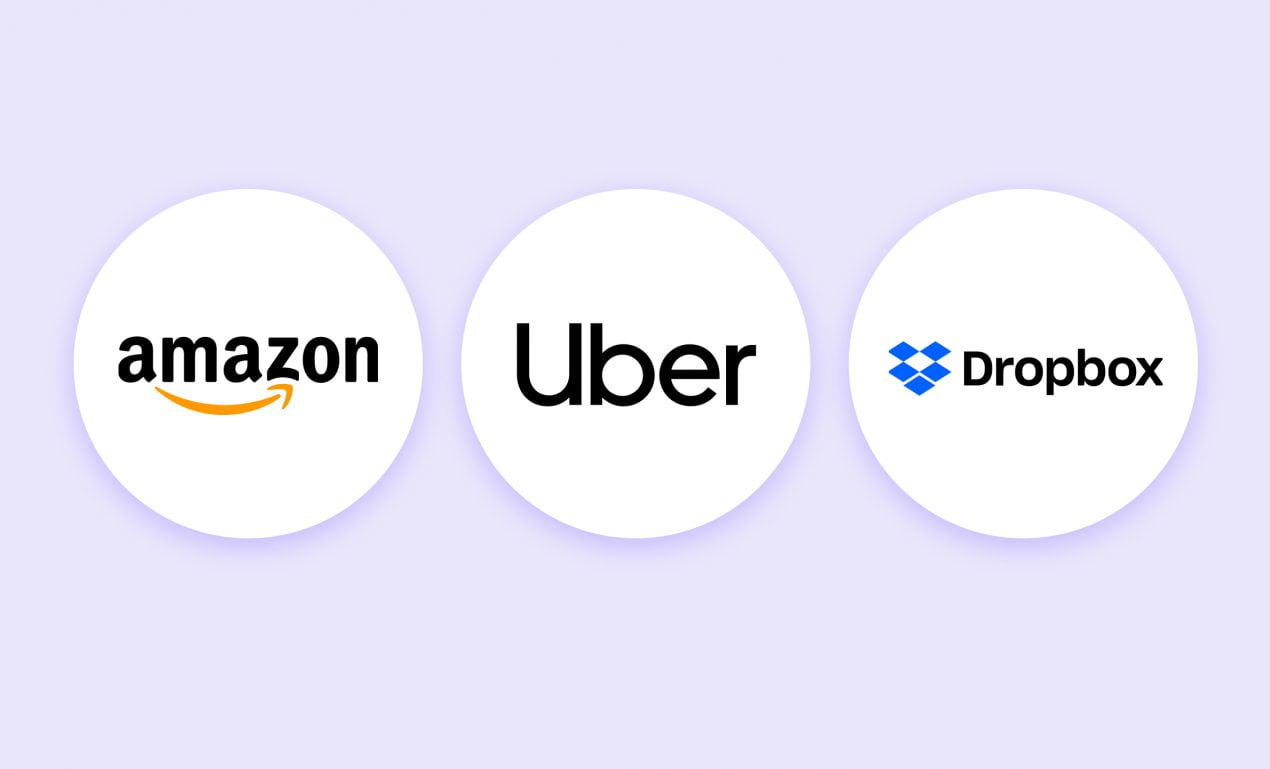 First case: Amazon – american online shopping platform
Amazon was founded in 1994 and focused on selling books at low prices.
When customers ordered a book through the website, company employees bought it from a distributor and shipped it directly to the customer. The first version of amazon.com is a typical example of an MVP in which everything was becoming bigger and more complicated gradually. When Amazon was created, many people were still hesitant to place orders over the Internet, despite this, it eventually became one of the 3 leading multinational technology companies. Amazon's idea remains unchanged since then, but the number of features and product variety has changed.
Second case: Uber – the most famous application for ordering a taxi 
All users of the world fell in love with this taxi application during its MVP stage. Back in 2010, the beta version of Uber (formerly known as 'UberCab') had a simple interface that was available only for the  founders and their friends. To get access, you had to contact one of the founders. Basically, it was MVP in every sense of the word:
It had a simple design;

Its only function was to connect users with drivers and provide them with a payment system;

There were only three cars;

It was aimed at solving only one specific user problem – finding a quick and cheap ride.
Such features, as GPS tracking of cars, an ability to split payments between users, credit card payments and an opportunity to see the estimated cost of the trip were introduced as the company grew and the user base expanded. However, despite all the additional features, the main idea of Uber is still the same —  to connect drivers and customers.
This approach allowed Uber to start with a small user base in San Francisco and use their feedback to improve the product. The company has several divisions, named UberX, UberBlack, UberEATS and UberPool that provide various types of services. Each of them found its target audience and became popular. Uber operates in 77 countries and the number is still growing.
Third case: DropBox – the biggest file hosting service
Their MVP was a short video that showed the first version of the product, explained its originality, and demonstrated how easy it was to share files via DropBox. This video attracted a huge audience. DropBox raised a problem of poor file syncing and provided a decision —  their platform.
As soon as DropBox was launched, it acquired about a million users in the first 7 months. However, they did not stop there, and since then the service has been constantly improving. Here are some features that have been added later on:
Cooperation

 Integration with Microsoft Office

Automatic download of photos and videos from a camera, tablet, SD card or smartphone