Disclaimer: it's not a one-size-fits-all experience, as we deal with small businesses and startups only. This article will come in handy for an employee of a Purrweb-like outsource company from another city. Still, you will find some efficient tools here even if you make projects for major corporations or work full-time in another time zone. So this article is worth your attention. Bonus: you will get an insight into an IT project manager's workflow.
Currently, I'm managing 4 projects for different clients from:
the US — 10 hours behind the Omsk time;

Mexico — 13 hours behind the Omsk time;

Moscow — 3 hours behind the Omsk time;

Saudi Arabia — 3 hours behind the Omsk time.
On top of that, I used to manage projects from the UK, China, and Singapore. Day planning is the key skill for an international project manager. Now, it's time for an example.
Schedule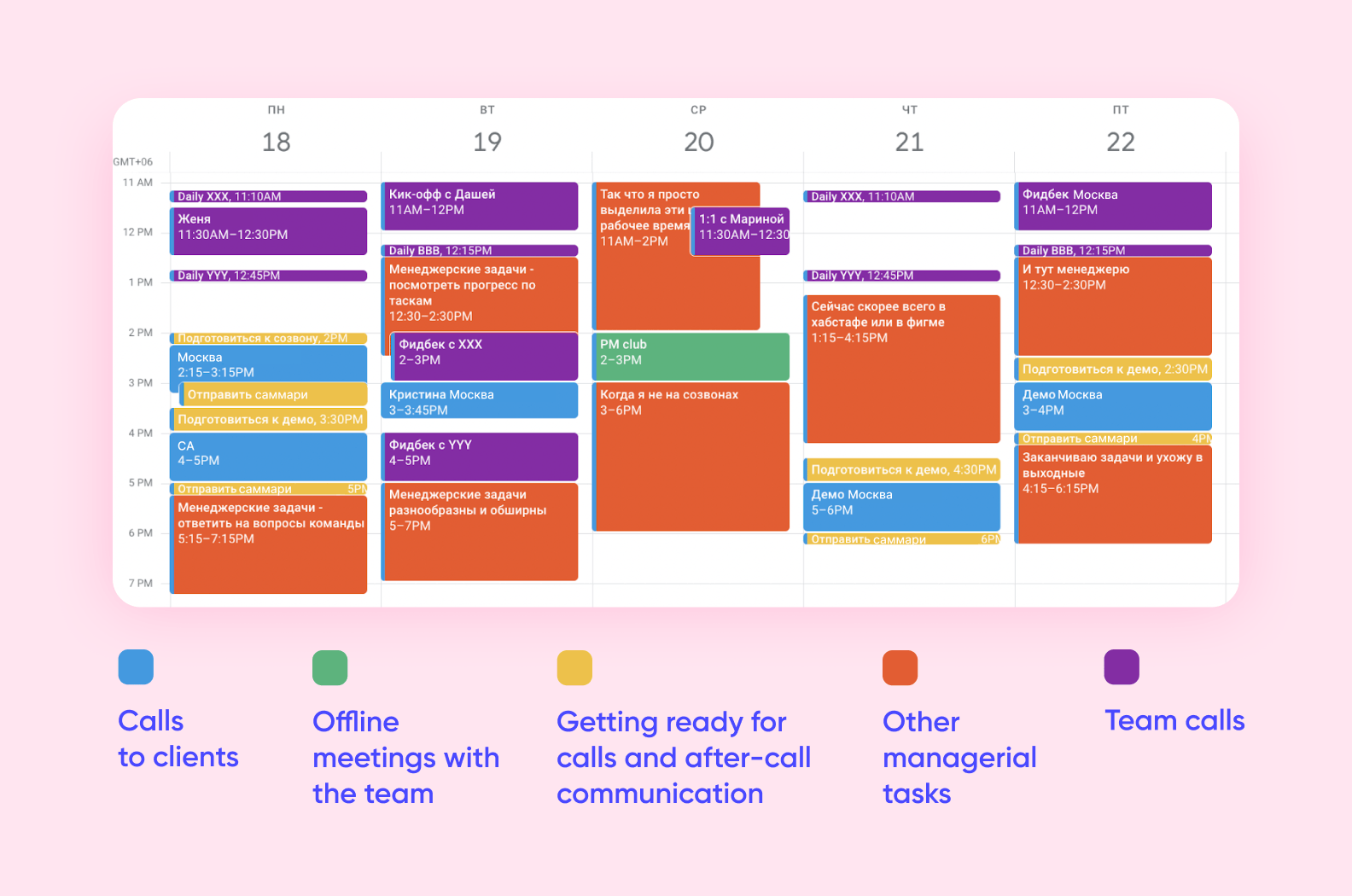 This schedule includes only meetings. I have a To Do list for other tasks. To stay focused, I use different spaces for different task types.
Monday is overloaded here. View the details: 
8:15–9:15 a.m. Call with the client from Mexico, as we have some questions.

11:10–11:25 a.m. A daily meeting with the Mexico team.

11:30–12:30 a.m. Make a BPMN diagram — it is an illustration with block schemes demonstrating business processes.

12:45–1:00 p.m. A daily meeting with the US team.

1:15–2:00 p.m. Call with the client from Moscow.

4:00–5:00 p.m. Call with the client from Saudi Arabia — demonstration.

 8:00–9:00 p.m. Call with the client from the US — demonstration.
During my breaks, I send meeting summaries to clients, answer our team's questions, get ready for a demonstration, and track project progress. I arrange my tasks the following way: I have meetings with the Omsk team in the morning and call clients in the evening. In the middle of the day, I have time to recharge my batteries: to have a walk, relax, and give my brain some rest. Sometimes circumstances may interfere with my routine. For example, clients may be late. Other accidents are possible too.
A project manager's nightmare 
Here goes my top list of critical situations I have to face as a project manager.
Early and late calls. Once I had a meeting with our US clients at 5 a.m., as that was the only convenient time for everyone. It has been my earliest call ever. We needed to prioritize our task log and discuss future plans. Besides, we wanted to clarify some business-logics issues that hampered development. Meeting the deadline was at stake, so the call was vital. 
Actually, early meetings are far less troublesome than late ones. Late in the evening, one can hardly concentrate and listen to anybody.
My latest call was the one I had with Saudi Arabia clients at 12:30 a.m. They thought it was Moscow time — UTC+3 — everywhere in Russia. But in Omsk, we have UTC+6. Rescheduling was out of the question, as we needed to discuss some important matters.
Unprepared clients. Sometimes clients don't prepare for a call. They need more time to comprehend the context and we waste lots of time. Sometimes you are lucky if your client and you talk business for 10 minutes out of 60. 
Time zone confusion. Once we had Chinese clients who lived in the States but came to China for a vacation. They preferred to stick to the time zone they had in the US. Every time we needed to contact them, we couldn't figure out what time to use. 
Daylight saving time and standard time can confuse you as well. We don't advance clocks in Russia, but this is a common practice in the States. 
Rescheduled and canceled calls. Unexpected delays are a great hindrance. Once we were supposed to have a call with our clients at 11:00 p.m. They didn't show up. I texted them at 11:05 p.m. They asked if we could talk 20 minutes later. Ok, I texted them 20 minutes later. They rescheduled the meeting again. Finally, we contacted at… 00:00. I don't change my opinion about a client because of such situations, but they do affect my efficiency.
Sometimes culture interferes. Once we scheduled a call to our Arab clients at Namaz time (Namaz is a daily Muslim prayer). They not only missed the call but also reproved us for inconvenient timing. So mind the culture.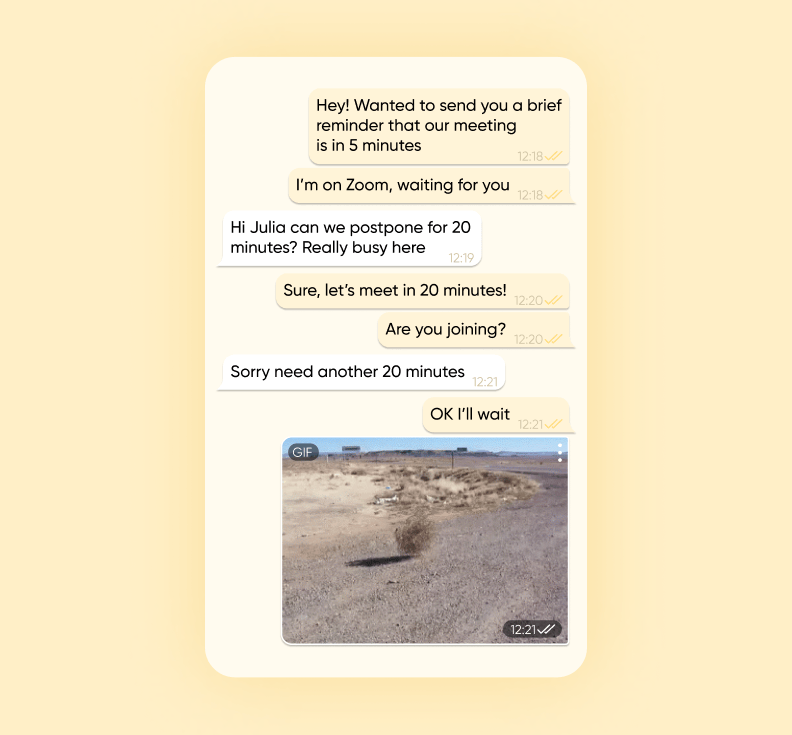 Heavy schedules. 5 calls a day are too much for me. Cannot survive such a load, and my head simply stops processing information. Little breaks save me. It is so refreshing just to go get some water or chat with my colleagues. 
No matter how great a planner I am, I still have dozens of tasks to do — this is the nature of my position. Still, I can do my best to manage my workflow, pull myself together, and get ready for the meetings. Read further to learn what helps me.
What helps me stay sane
Meet my secret assistants.
Love for foreigners. Speaking English recharges me, as well as socializing with foreigners. It just makes me happy. All I have to do is to see a foreigner — it works right away.
Soft skills. I used to be an English teacher: once a teacher, always a teacher. In the classroom, my task was to get any human being talking. I know how to make a good impression on a client, what questions to ask, and when to stop. If someone is tired and wants to end the conversation, I'll see this right away. Keep the balance between persistence and indifference. Make your communication comfortable.
A small talk helps break the ice. Inquire about holiday plans or health. If your client mentions a child, keep this in mind for future conversations. Some clients even shared their pets' pictures in chats. These details help you get along and contribute to communication efficiency. 
One more tip: smile. You need a friendly social smile to communicate with Europeans and Americans. You may skip this point if your clients are from Russia. A smile is not necessary in our culture 😊
Plan your calls. Before any call, I send a relevant agenda to the client, no matter what we are going to discuss: the start of a project, a demo, or some other issues. This way, they know what the call is about, so there is no need to describe the background. Besides, clients can feel relaxed and confident, so it's easier to interact with them.
I add a call plan to the invitation and write it down in a specific document if it's a regular meeting. After the meeting, I make its summary in the same document. It gets longer and more detailed after every call. This helps save effort in monitoring agreements. If any question arises, one can open the document to read what the agreement was.
Life hack

. I set time limits for every topic in the call plan. This helps me and the clients stick to the point. If we are out of time, I schedule another call.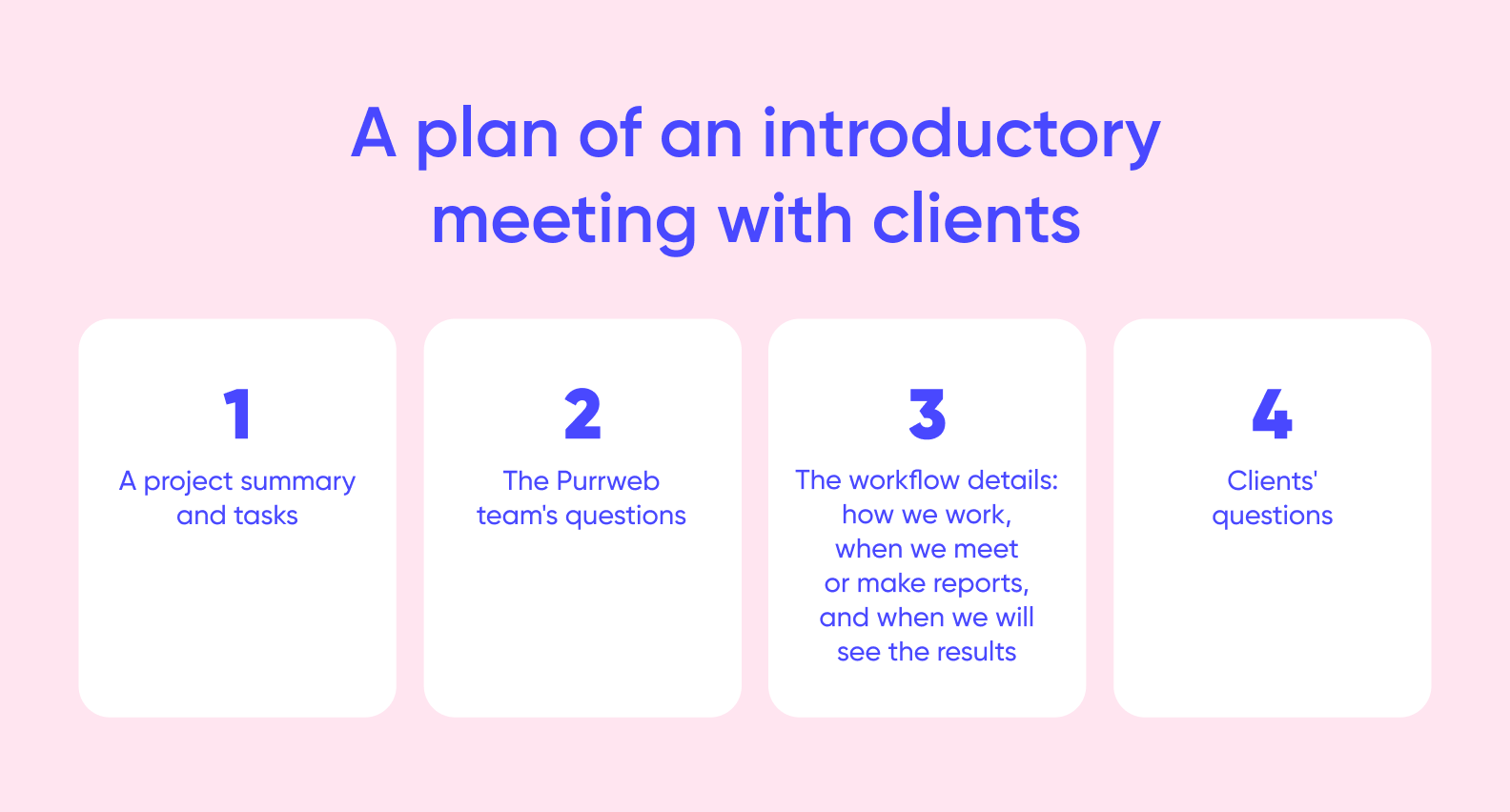 A universal approach to communication. Many men, many minds. Some clients join Zoom calls willingly, the others wish to avoid them. Anyway, any project requires calls. For example, only calls enable me to demonstrate the results of our work. 
I can't just text a client to inform them about the progress or send them a Figma or stage environment link. First, I need to explain why we made this or that decision. Otherwise, the client will underestimate our work. Second, I use our online meetings to describe our workflow. This inspires trust in clients, so they won't try to micromanage our team. Third, I don't have to invent specific ways of communication for every client. This, sure, makes things easier.
Life hack

. Schedule all your calls to make them more convenient for everyone. For example, make a demo call once a fortnight on Thursdays at 5 p.m. If calls are regular, the client knows what to expect and trusts your team more. As a result, they will not control every step and micromanage you.
You will appreciate this too. One gets used to regular calls. You always keep them in mind and know what to discuss. This strategy saves more and more energy with every meeting.
Tools
Meet some helpful tools that save my energy and attention.
To-do lists. Your memory can let you down, so write down all your tasks. If you don't do this, your task doesn't exist.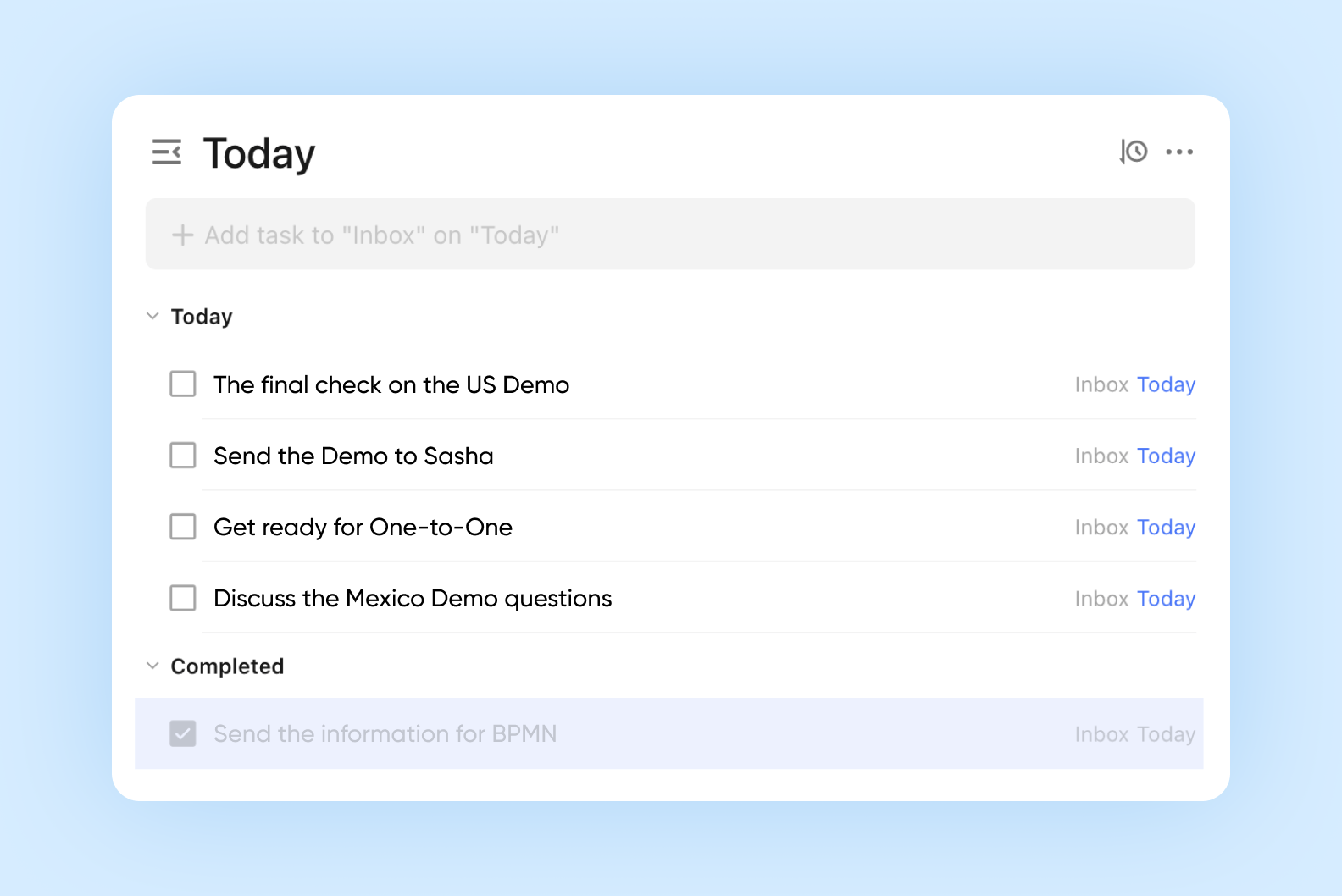 My to-do list
Note! A good to-do list app always has a convenient mobile version. You will not survive without it. Any task, added to the mobile app, must immediately appear on the desktop version. You can use TickTick, Microsoft To Do, or other programs that have the necessary functions.
Calendar. I use Google Calendar to plan my calls. Our clients like invitations that contain links to meetings. A manager gets their benefit too: a client will hardly miss a scheduled appointment. Offer a meeting and send such an invitation right away. A client can reschedule it, and this affects my calendar immediately. As a result, the value of the agreement grows and the chances of missing the call fade away.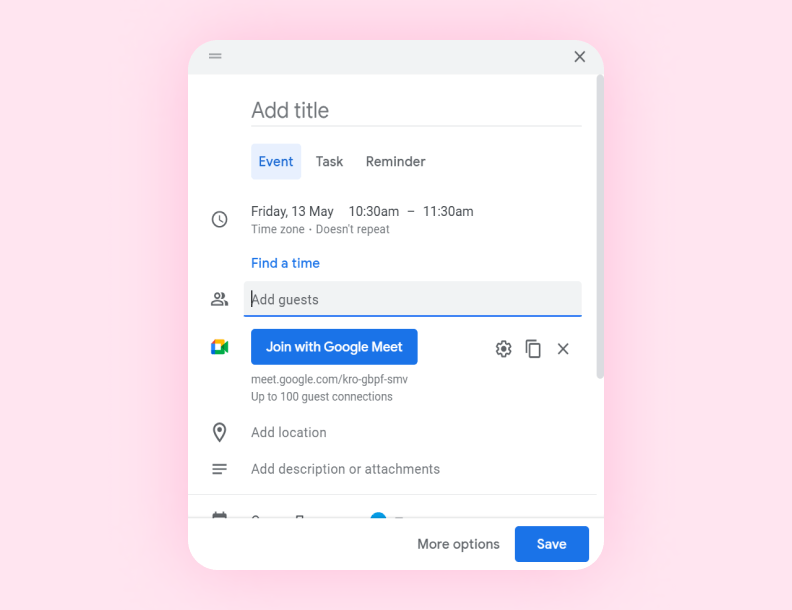 I send a meeting invitation to a client
Time zone converter. WorldTimeBuddy is my precious helper in planning calls. It is a platform that shows the time difference in selected locations. I have to distribute my attention between 4 projects from 4 time zones. I can waste my effort trying to figure out the time difference again and again or just use special software. This service shows that when it's 5 a.m. in Jersey, it's 3:00 p.m. in Omsk. Yes, it takes DST into account.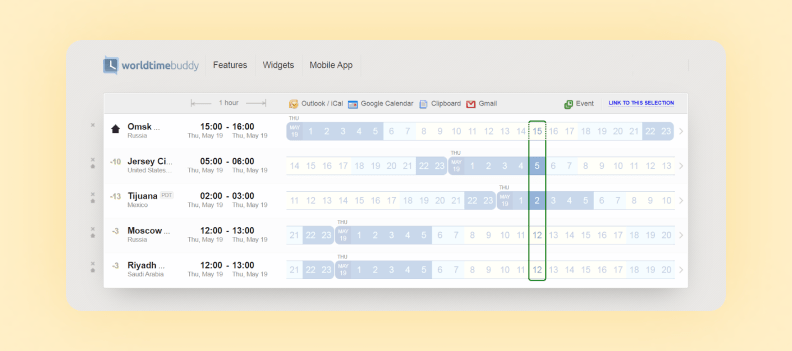 You can tell right away that when it's 3:00 p. m. in Omsk, it's 12:00 noon in Riyadh
Notion. I use Notion to keep all the project details in one place. Here you can sort the information: links, images, tables, tools, etc. Finally, you get a kind of project Wiki where everything is in its place, so you save time when looking for something.
You can customize settings and use the result as a template for your future projects. That's what we've done. All our projects' pages look the same. That's why, when I go on vacation, I can simply hand my project over to another manager who will have no problem finding the required data.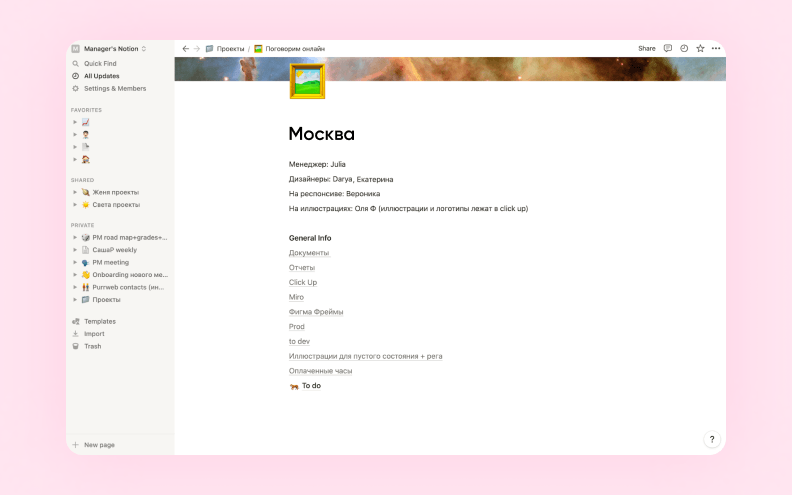 This is a project page in Notion
Whiteboards. They come in handy with schemes and mockups. I use Miro to demonstrate how an app functions. Here our designers make a project's mind map. During a meeting, I share my screen with the clients and explain the scheme. I note all the questions and comments right there.
The routine is the same for Figma mockups.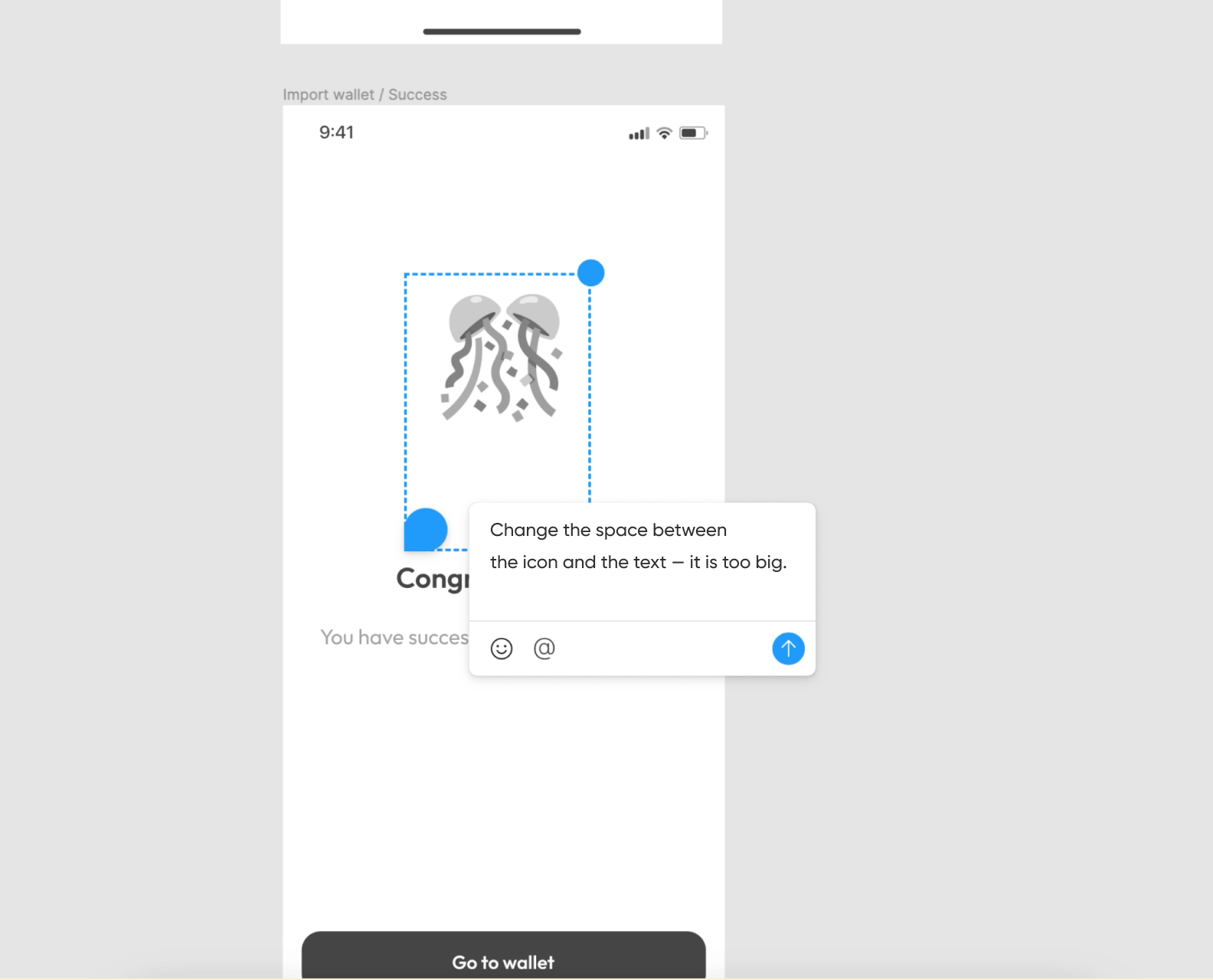 Marked where I want to ask the designers
Communication platforms. I prefer Zoom because of its screen recorder. I need it to be able to listen to a call once again. It's hard to seize all the client's ideas during a 2 a.m. meeting, so I need to make sure I've got everything right. Besides, such recordings help train new project managers.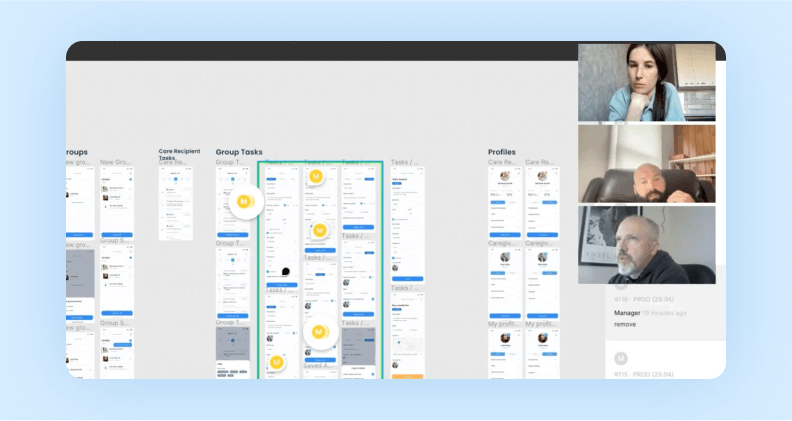 A Zoom call with clients
Messaging apps. Slack helps me maintain my work-life balance, so I choose this app to message our clients. If it's not convenient for them, I can switch to Telegram or WhatsApp. In such cases, we have to agree on time frames: we message only during working hours and plan calls. Such agreements cause no problems if you are polite and tactful while setting your boundaries.
Result
As a result, a project manager can stay sane even under the pressure of a heavy schedule, late calls, and other hardships. Keep enhancing your planning and time-management skills, enjoy the company of people from other cultures, and mind helpful tools. 
The Jedi Techniques by Maxim Dorofeev helped me some time ago, so I can recommend them to anyone who wishes to boost one's efficiency.