Key takeaways
Fintech (financial technology) refers to financial products and services that allow us to access and manage finances digitally. Revolut, Paypal and AliPay are examples of fintech apps.
The global fintech market is

expected

https://www.globenewswire.com/en/news-release/2022/08/17/2499868/0/en/FinTech-Market-Is-Booming-Worldwide-At-A-CAGR-of-13-9-To-Hit-US-16652-68-Bn-by-2028-Global-FinTech-Industry-Services-Size-Share-Latest-Innovation-Recent-Development-and-Technology-.html

to grow 2.5 times by 2028.
There are 7 types of fintech apps: digital banking, payment processing, insurance, investment, personal finance management, tax management, and exchange services.
Developing a Fintech app costs around $59,000.
What is FinTech
FinTech is short for financial technologies — financial products provided with the help of innovations, commonly online. 
The FinTech industry uses modern technologies to compete with traditional financial institutions. This includes payments and transfers, financing, money management programs, financial planning applications, insurance, and much more. Financial technologies improve data processing and increase the security of customers with additional layers of fraud protection.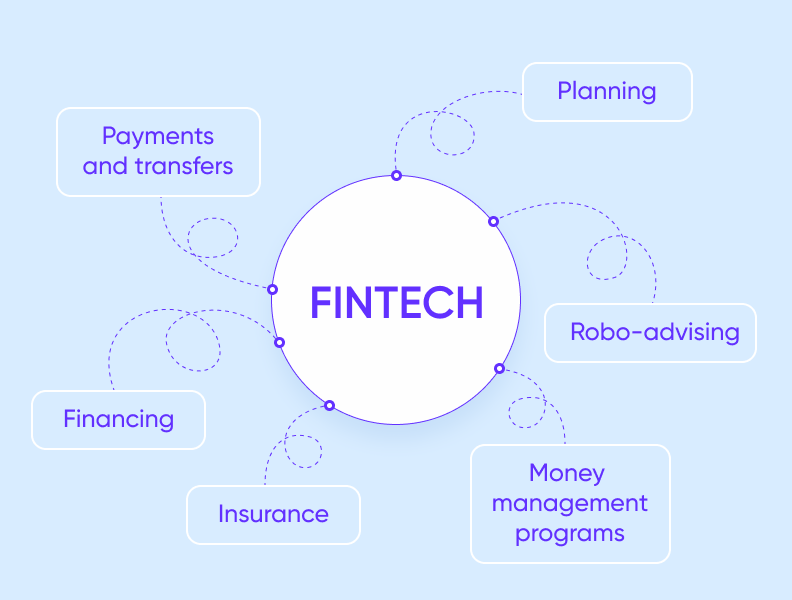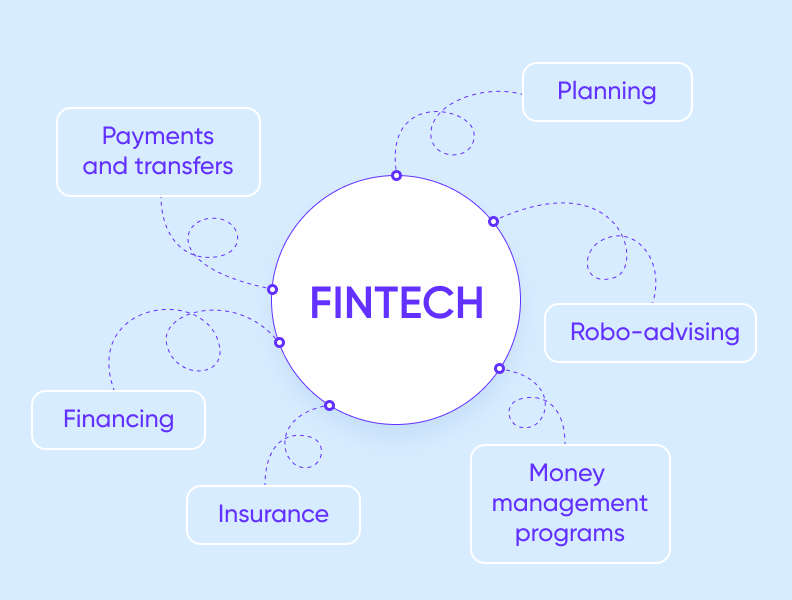 What is FinTech
FinTech market overview
According to Forbes, FinTech investments in 2021 hit $91.5 billion, almost doubling the 2020 total. The global FinTech market size is booming across the globe. It is estimated that the volume of financial assets would reach $16652.68 billion by 2028, which is 2.5 times larger than today. In contrast to that, the size of the financial sector was $6588.78 billion in 2021 at a Compound Annual Growth Rate (CAGR) of 13.9%. According to Statista, in 2021, 64,6% of US citizens used online banking, and this figure is forecasted to grow.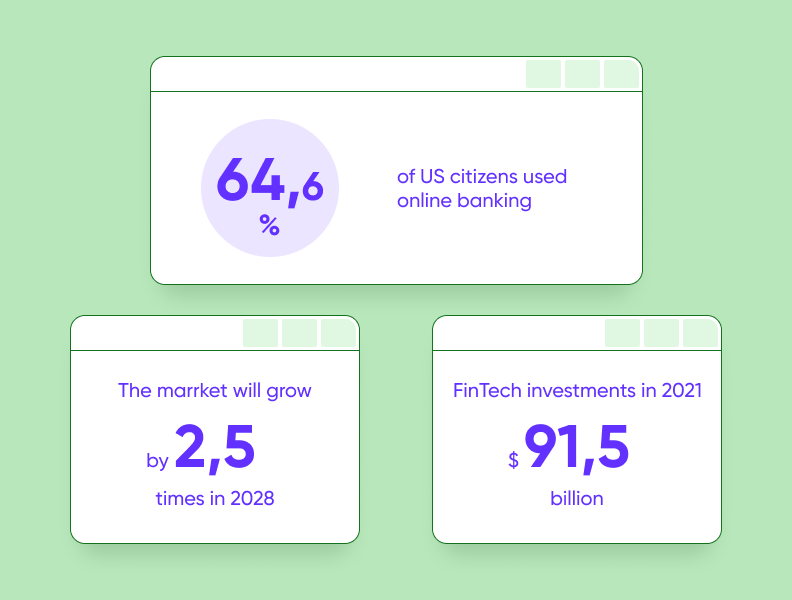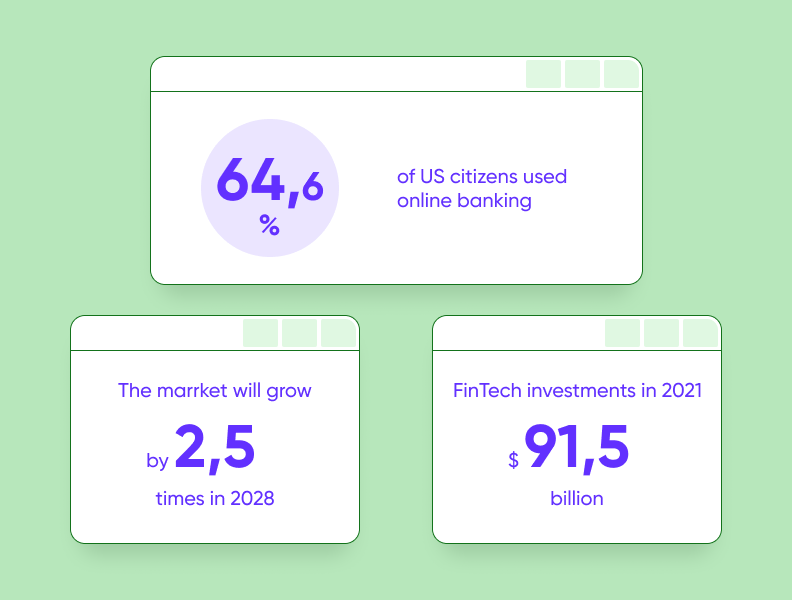 Main FinTech trends
We've analyzed the Fintech market and outlined 5 key trends on the market.

FinTech strives for banking mobility
Banking moves from physical places of service delivery closer to the consumers, or rather to their smartphones. The pandemic has intensified the growth of digital banking. To ensure safety, many traditional banks started using FinTech solutions to provide their services to customers purely online. So, this eliminated the need for physical interaction. 
Use of artificial intelligence 
Artificial intelligence is becoming the reason for the growth of the FinTech sector and the adaptation of FinTech applications to the users' needs thanks to automated data analytics. FinTech mobile apps use AI interfaces, chatbots for customer service, and personalized dashboards and offers. 
Development of crypto and blockchain
The market sees an ongoing exploration of crypto and blockchain ecosystems for efficient regulation and management. According to analysts, blockchain technology is considered the most promising — it develops at the highest pace ever and has undeniable benefits. 
Democratization of the market
The market is becoming more transparent and businesses, retail investors, and ordinary users get more new opportunities. There are various marketplaces, tools for money management, and new business models of financing, including digital assets, available for all.
Products for the self-employed
Self-employed and freelancers with increasing opportunities for remote work are a driver for the FinTech sector, as all of them require an application for monitoring taxes, creating invoices and receipts, and accounting for finances. FinTech can also offer tools for risk management and financial stability.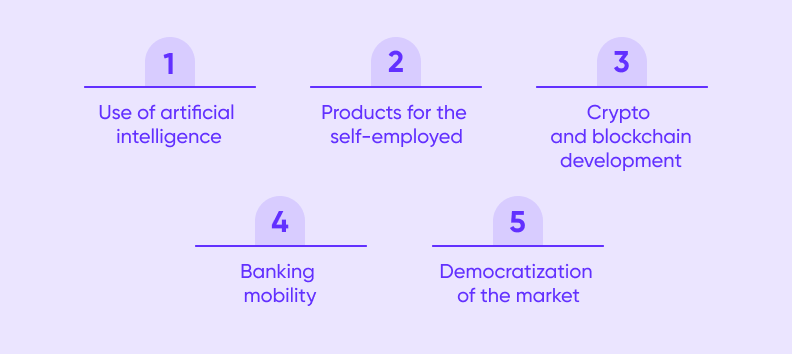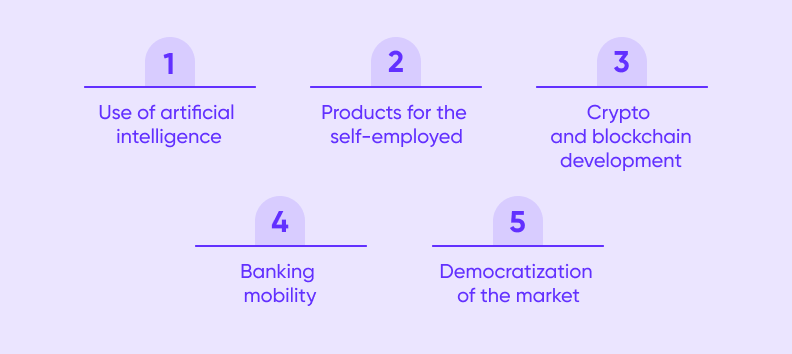 Main FinTech market trends
Monetization of FinTech apps
From the point of view of app owners, there are convenient models for the monetization of FinTech apps, which means that you can make money on this. They include:
Subscription 
You can offer a free trial period and then charge a fee if the user wants to continue using it. Your income will be directly determined by the number of users. Subscriptions are paid at a fixed rate, so there is no need to calculate interest in the application.
Transaction fees
If your financial application offers a virtual card or account, then you can add a commission for transferring funds to other financial organizations. Transaction fees are the most profitable way of monetization, since financial applications not only allow users to transfer funds, but also convert currencies, and pay for third-party services. 
Advertising
If you think about a constant income from the application, advertising is a great option. Despite the criticism of users, advertising banners or small videos are used almost everywhere. To avoid dissatisfaction, you can place banners in the application so that they do not interfere. In any case, the advertiser pays for placement and views.
Types of FinTech Apps 
If you want to develop a FinTech app and are looking for a new idea, you will have plenty to choose from. Let's look at the main types of existing financial applications.
Digital banking apps 
Digital banking apps allow users to manage their bank accounts and use financial services without going to a bank's office. The category includes both mobile and online banking. 
The app services cover everything a person can get in a physical bank: opening an account, checking & managing the balance, transferring funds, making payments, getting a loan, etc. The main benefit is that digital banking apps ensure transparency and convenient 24/7 access to money. 
Payment processing apps
Payment processing applications process all transactions on behalf of the development company. They take on the role of an intermediary that connects payment service providers with the customer's card information to enable web and mobile payments. 
Payment processing fits perfectly into a typical e-commerce ecosystem and enhances customer convenience. Such applications open up the possibility to offer even small businesses debit and credit card transactions and other online payment methods. 
Insurance technology (InsurTech) apps
InsurTech applications help develop the insurance industry by adding more accurate ways to assess risks. It provides users with fast ways to apply for insurance coverage and process claims. 
There are many implementations of InsurTech applications for property, cars, pets, and even life insurance. They help not only to manage claims but also help insurance agents conduct on-site risk assessments and make better deals. 
The scope of InsurTech goes beyond simple applications. It uses Internet of Things devices, smart wearables, and AI to better assess a person's lifestyle and risk profile. Even though InsurTech is a relatively new niche, it is rapidly developing. Its market size was estimated at $2.72 billion in 2020.
Investment apps
Investment apps are the leading platforms engaged in democratizing investing by making it accessible to everyone, not just the wealthy. An investment app eliminates intermediaries, lowers commissions, and makes it easy to trade and make bids and purchases. 
Robo-advisors take this idea one step further as they provide an automated broker to manage the user's portfolio and make trades. They use AI and machine learning to assess a client's financial situation and risks.
Personal finance management apps
Helping people manage their finances — tracking income and expenses — is one of the most important functions of FinTech. In personal finance management applications, interaction with the users is always intuitive: they need to choose a goal, link a bank card or account, and monitor the flow of money. Centralizing the data in one place greatly simplifies financial management and tracking spending habits.
Tax management apps
Taxes are often the most difficult aspect of finance. The rules and fine print are challenging to understand, which increases the likelihood of error. Different rates of income tax for individuals and organizations, tax benefits, and changes in legislation can be confusing. 
The complexity of the tax systems worldwide is the reason why tax management software for filing and managing taxes is that much valuable. FinTech companies create applications to simplify the process of preparing, submitting, and controlling documents. There is no need to hire an accountant or have any experience since almost everything is automated. 
Exchanges and exchange services 
These are online systems that help to exchange currencies on the internet. Various financial companies deal with electronic money, so they need platforms where their users can make money transfers or buy desired currencies.
Speaking of the booming sector related to blockchain technologies, a cryptocurrency exchange is an online trading platform where users buy, sell and exchange cryptocurrencies. They work similarly to an online broker since users can deposit fiat currency and purchase crypto. Some exchanges allow users to receive interest from the cryptocurrency stored in the account.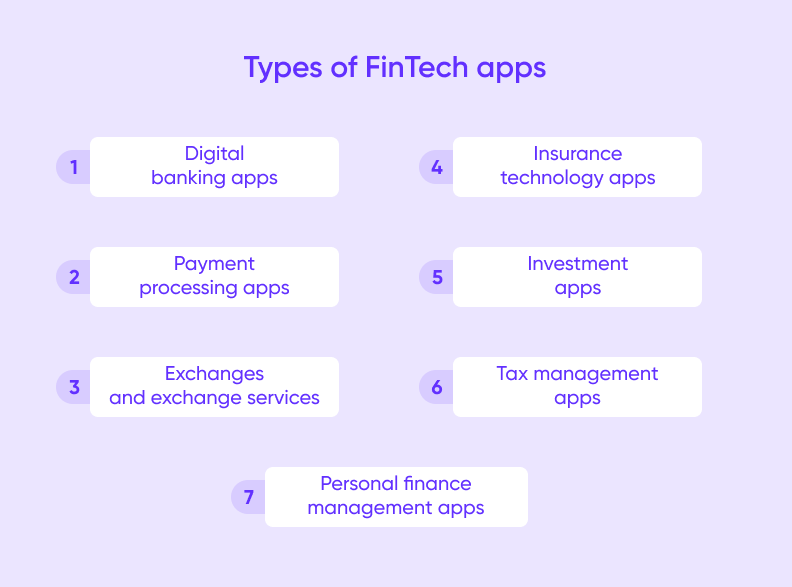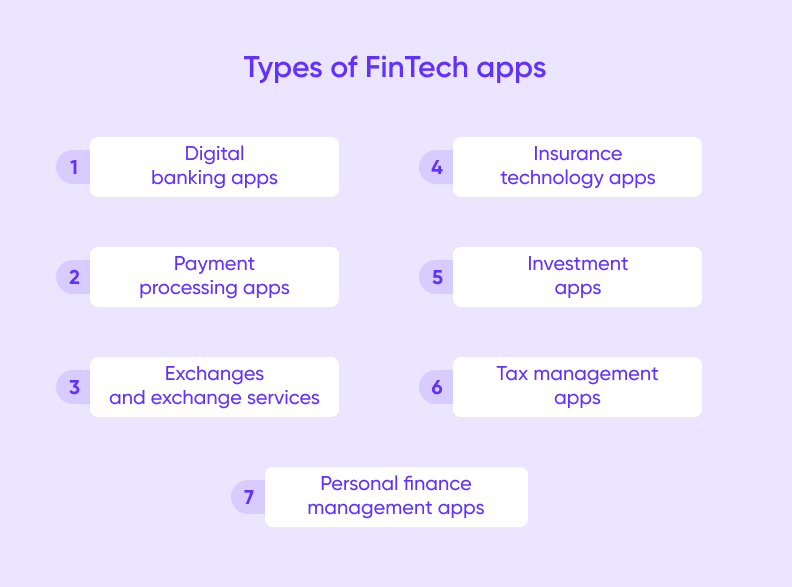 Types of FinTech apps
Top 6 FinTech apps
Let's see how financial applications are implemented in practice. We have compiled a selection of top applications for various previously mentioned types and fields of application.
This FinTech app is the most popular in the online banking sector. It has over 20 million users and provides services for 950k businesses. Revolut covers 200+ countries across the globe and offers various services that help users to manage, invest, borrow, and protect their money. The app offers businesses additional tools to accept payments, manage accounts, and minimize costs.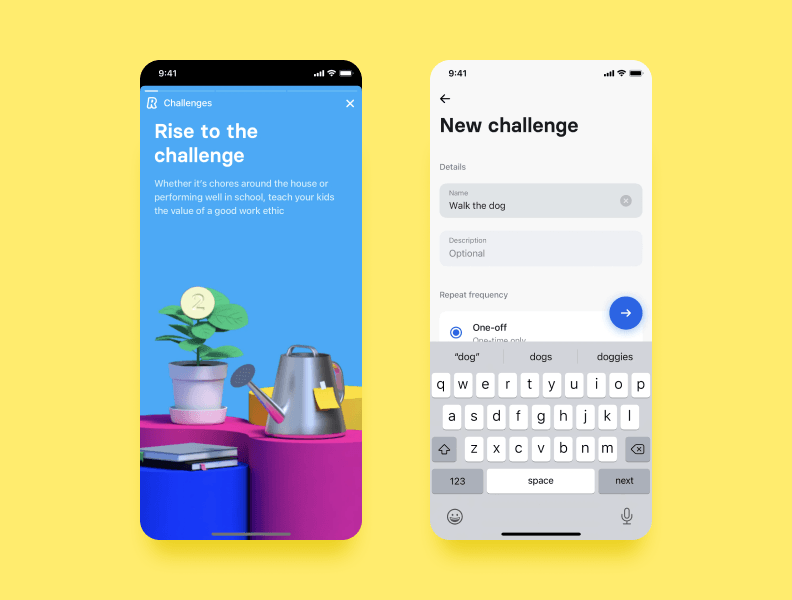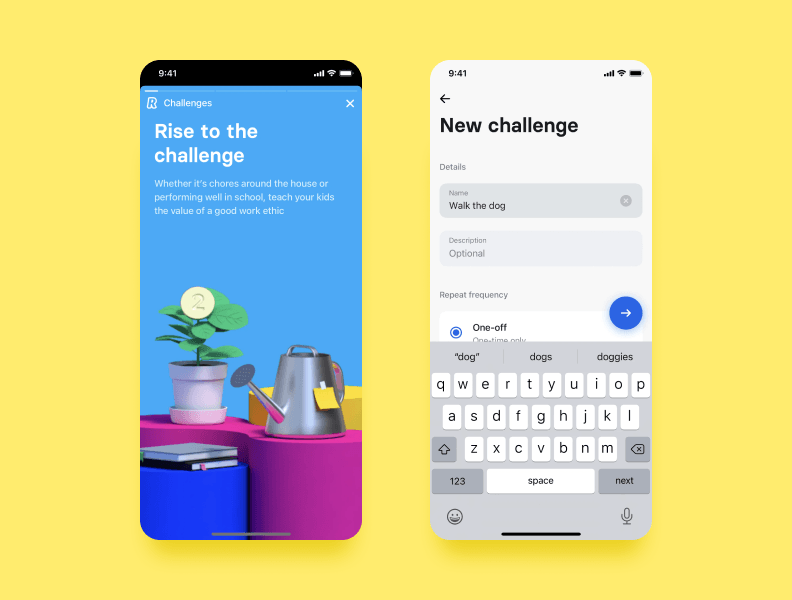 Create challenges for children and encourage them for completed tasks
PayPal: payment processing
PayPal is the payment system that allows you to conduct and accept payments on PayPal wallets without commission. Users can make purchases with PayPal in online stores around the world. All information is protected, the service needs only an email address and password in PayPal to make payments. The payment system offers fast, flexible, and inexpensive solutions. Funds are withdrawn directly from linked to an account bank card, which makes shopping convenient.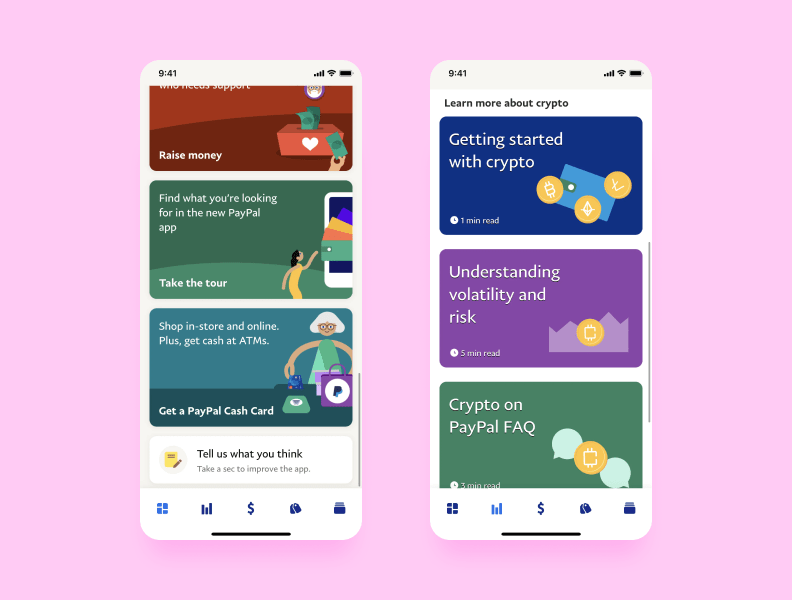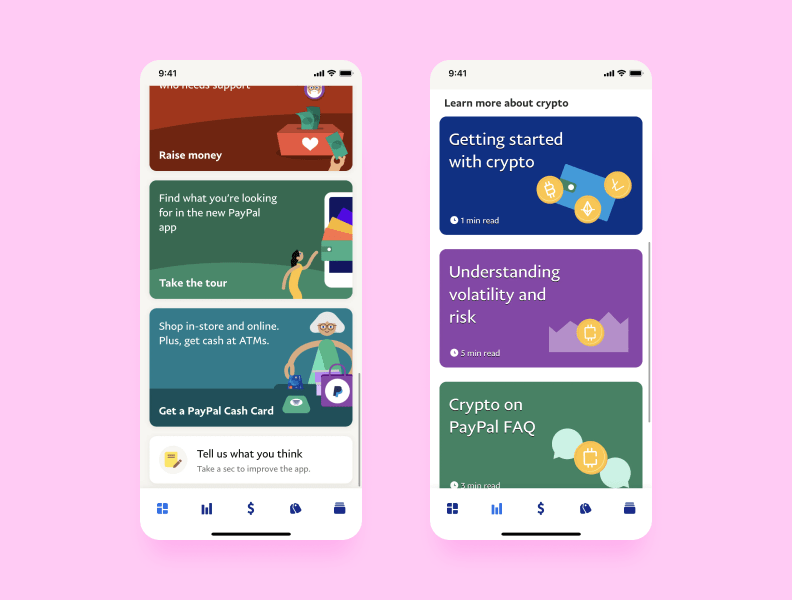 Enjoy traditional money transfers and explore crypto in one app
Regardless of whether you want to insure your home, car, pet, or even your life, Esurance offers the appropriate coverage. Having several types of insurance to choose from, users can choose the policy they need or combine coverage to save money. Esurance was chosen as the best insurtech app by Investopedia. It has a user-friendly interface and is available in 50 states in the USA and DC.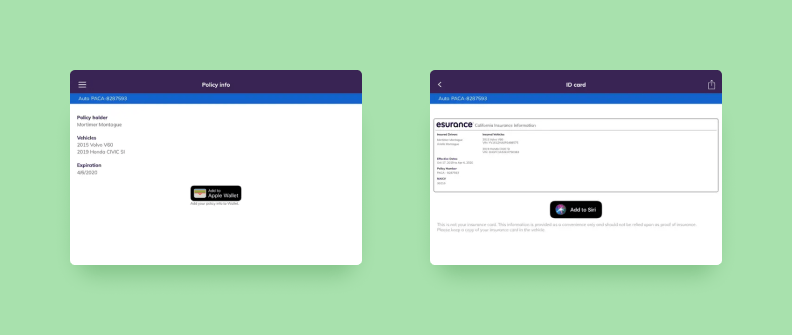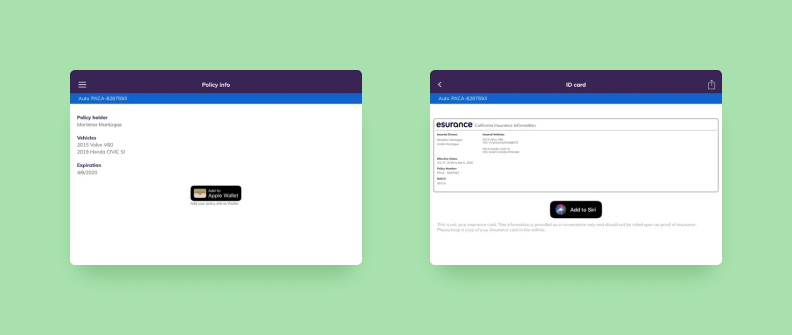 View your policy, pay bills, file claims, and even get roadside assistance with Esurance app
This financial application is used to exchange currencies and automate investments. Wealthfront was launched in 2011. The app offers retirement savings in traditional IRA, Roth IRA, rollovers, college savings accounts, trusts, and investments. The Wealthfront robo-consultant uses the Modern Portfolio Theory algorithm to manage money and invest.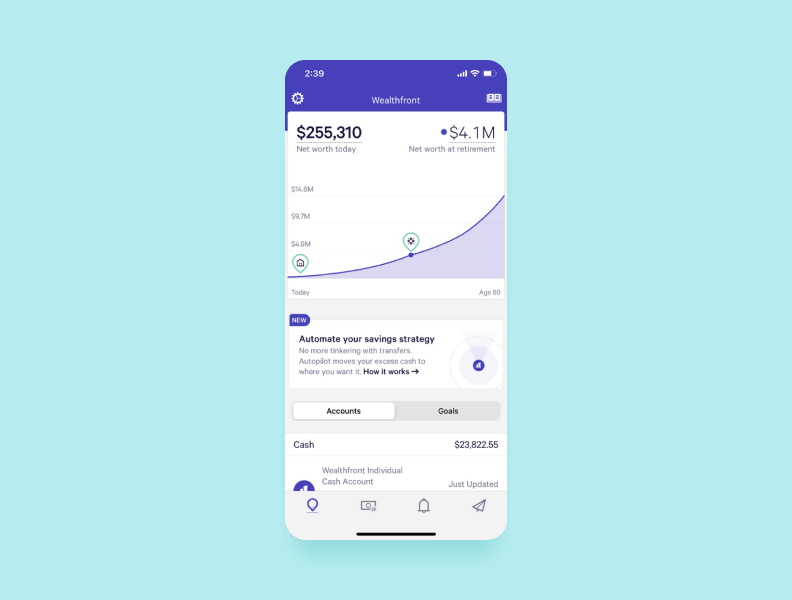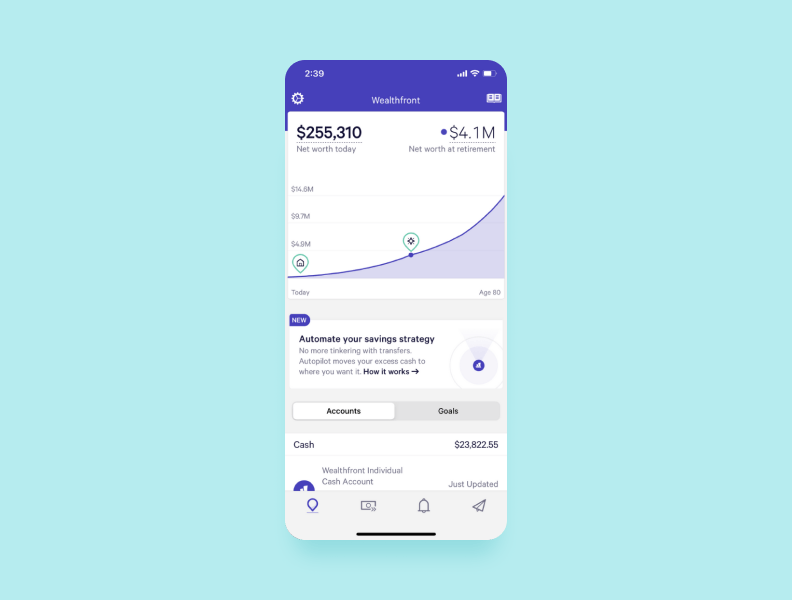 Explore the automated Robo-Advisor for passive investors

This is an application offering financial management tools and additional services to control personal assets. This is a great tool for budget planning. Personal Capital tracks your net worth across all your accounts, assets, and liabilities.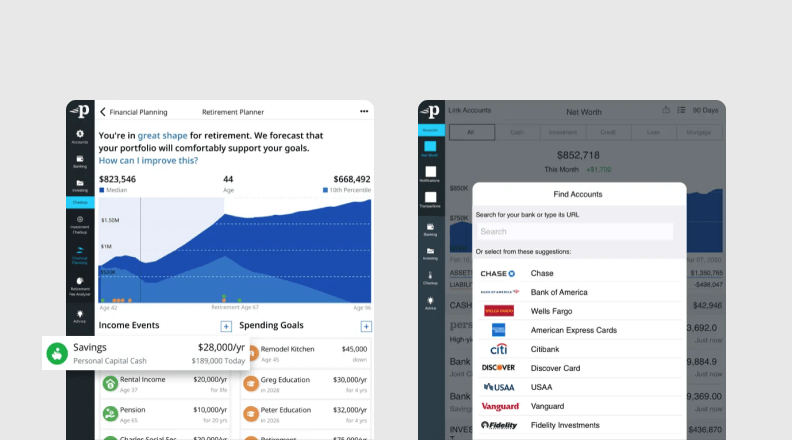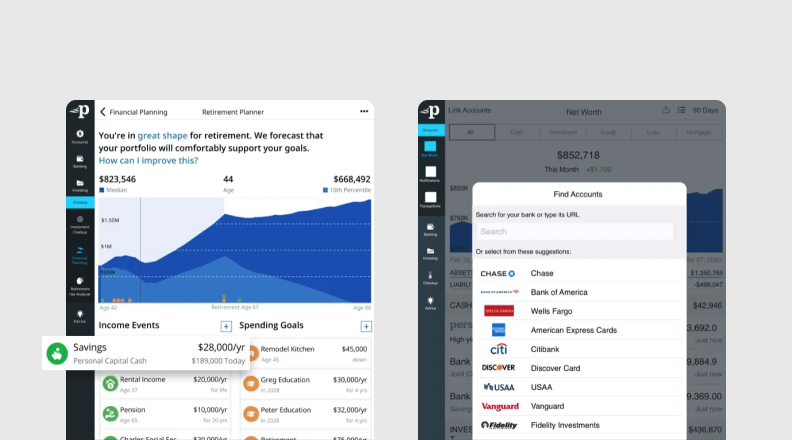 Track your net worth and plan your retirement
Alipay: super-app in FinTech
The Alipay application can be called a super app, as it is a combination of mini-applications that meet all customer needs. The main Alipay page has only basic functions for financial management: QR-code scanning for payment and receipt of money. All other services are divided into 6 categories: daily services, transfers, shopping and entertainment, funds management, education and public welfare, and services from other companies.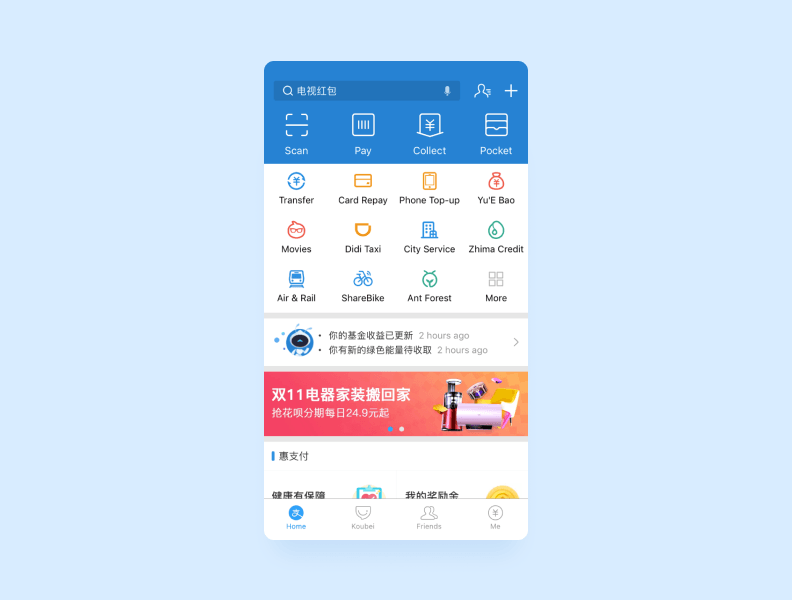 A super-app in your pocket: everything you might need in one place
Core features
A financial application should have a set of functions that distinguish it from any other app. Let's look at what a developer needs to create a FinTech app.
Linking a card is a must-have for any application. This can include the integration of the payment gateway and linking and managing bank cards.
Security is the most important aspect to focus on in a financial application. Users' money must be securely protected with a password or PIN code, and transactions must be confirmed with one-time SMS codes or two-factor authentication. You need to have a security protocol, advanced data encryption, and a simple but safe login process.
Basic financial transactions. You should allow users to make payments and debit and credit funds. You can add convenience for users' distribution of funds between different cards, accounts, and virtual wallets.
Custom notifications. You need to inform the user via push notifications about debiting or crediting funds, and messages from banks and tech support about their news and offers.
Every FinTech app must comply with accepted standards. As a rule, financial data flows are carefully controlled. This is not a feature, but it is crucial to know all the subtleties of the banking and FinTech industry because they are strictly regulated. 
Laws regulating the FinTech industry include: 
Anti-Money Laundering Policy (AML)

Know Your Customer (KYC) verification

The Payment Card Industry Data Security Standard (PCI DSS)

The General Data Protection Regulation (GDPR)
Depending on the application, you should consult with a business analyst about what laws and standards apply specifically in the service area.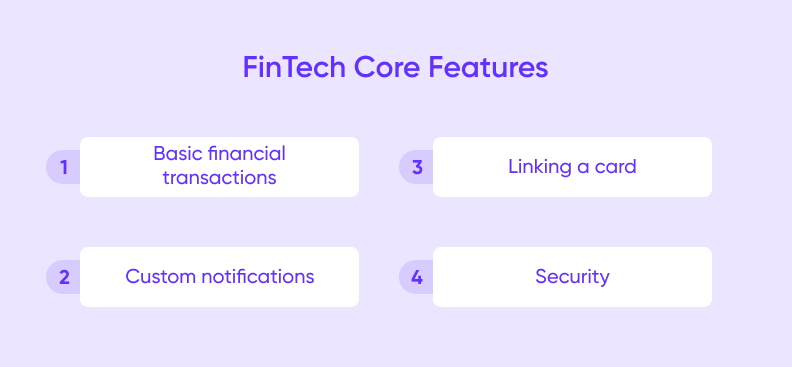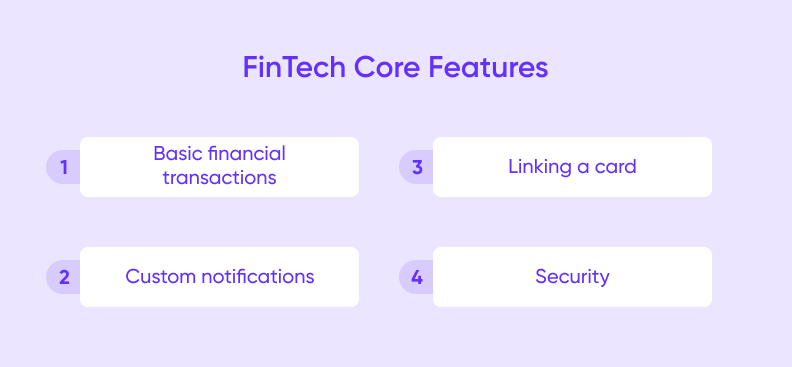 FinTech app core features
Nice-to-Have features
Additional functions and services in the application will increase users' engagement, enhance their experience, and distinguish your app from competitors.
Personalization and use of AI algorithms. These are the features commonly used in bank applications: the ability to transfer money by a frequently used number, put regularly used services on the main page, view up-to-date spending analytics, and more. Here you can add the use of Big Data to predict customer behavior and create targeted offers.
Automation of online financial processes, for example, payment of utility bills, loan repayments, and others. You can allow users to make regular payments automatically by setting a schedule, automating internal business tasks, and controlling the status of all cards and accounts.
Blockchain solutions will help your application reliably store data, securely track and manage digital identification information, and eliminate the problem of personal data leakage.
QR-code payment is one of the fastest payment methods. The buyer can pay for the purchase using the mobile banking app by clicking on the QR-code, or by clicking on the button in the interface.
Dashboards and information boards. Make sure that everything your user might need is available on the dashboard without any unnecessary features. 
Additional services. You can add non-traditional financial services to your financial app, such as ordering food, buying tickets, or donating money to charity. It's possible to integrate microservices, so an application will be structured as a set of interconnected services like Alipay.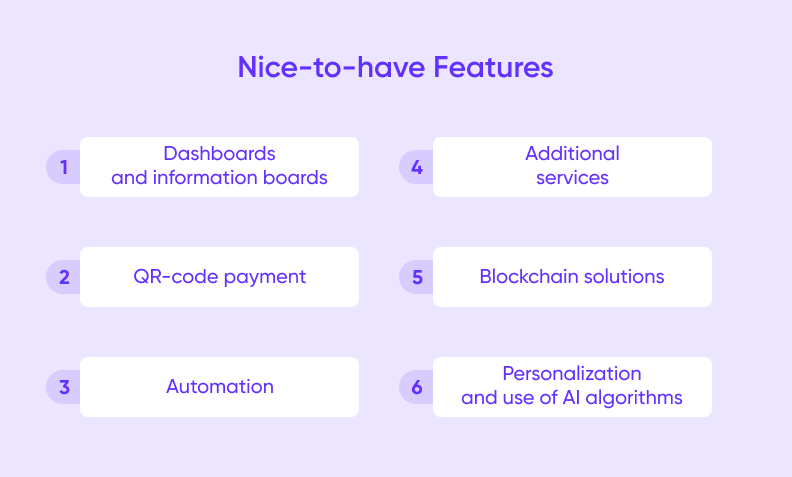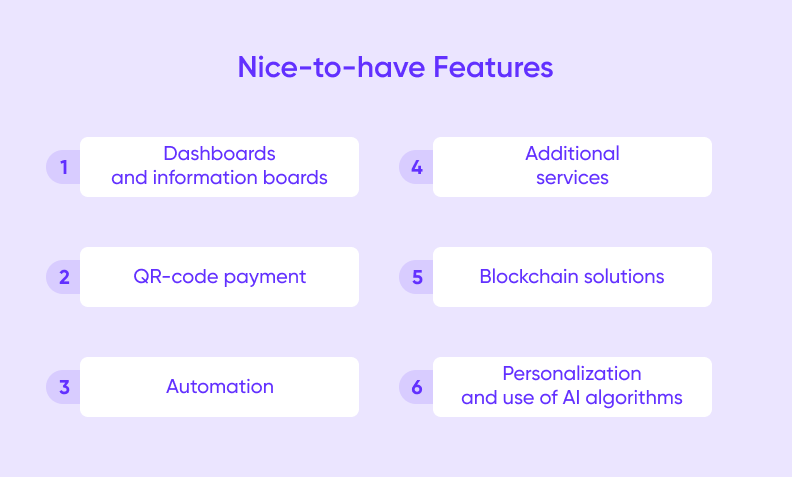 FinTech app nice-to-have features
Tech Stack for FinTech app development
First of all, when developing a FinTech app, you need to choose a desktop, a web, or a mobile app. Let's learn about the most advanced technologies used for different app types. 
Desktop apps with Electron.js. A well-known open-source framework Electron.js is used to create native cross-platform applications for desktops. Electron uses JavaScript, HTML, CSS programming languages, Chromium and Node.js frameworks. Electron.js helps to build apps compatible with Mac, Windows, and Linux. 
Web apps with React.js and Node.js. They are JavaScript libraries for creating web apps. React is an open-source library for the front end. Node.js is a JavaScript environment that is used for back-end development. These tools allow web apps to be flexible and have high performance.
Mobile apps with React Native. React Native is used to creating cross-platform mobile applications for IOS and Android. Using a single code base, this framework helps develop applications for both operating systems. From a user's perspective, such apps cannot be distinguished from native ones written for a specific platform. Meanwhile, you'll need only one development team, which is cheaper than finding professionals to create two applications.
At Purrweb, we agree with professionals that these instruments and frameworks are the most efficient for FinTech app development, so we create desktop apps with Electron.js, web apps with React.js and Node.js, and use React Native when creating mobile apps for FinTech.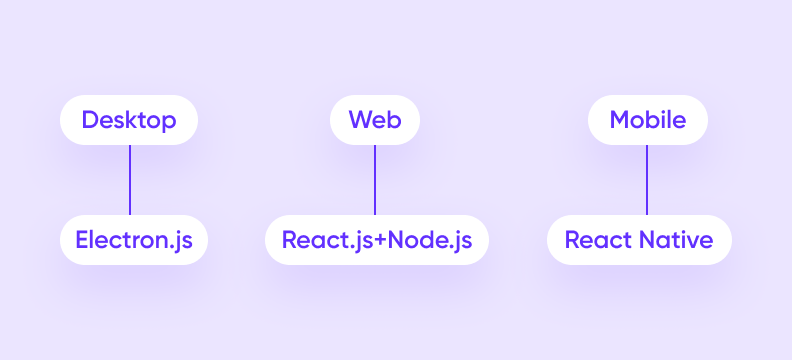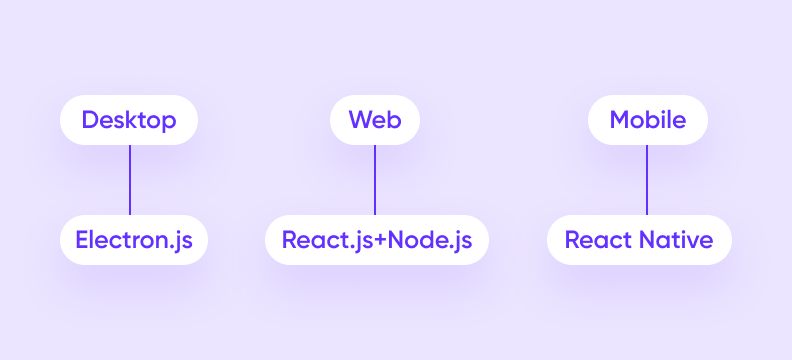 Tech Stack for FinTech app development
How to build a FinTech app in 5 steps 
Creating an application is not a matter of one day, it requires time and investments. Therefore, the first thing a startup should think about is an idea and a niche. There are several more stages that each development goes through. You can create a mobile banking app in just five steps:
Step 1. Analyze the project. It is necessary to analyze the market and determine the type of future application and monetization model. Pay attention to the project evaluation, then define the budget and deadlines.
Step 2. Create a design. Applications should be user-friendly. Clients praise simplicity, transparency, and a beautiful picture. A good user interface and UX is the second most important step when it comes to FinTech apps. Find references, define your personal preferences and develop a design with the UI/UX team. 
Step 3. Develop the app. Define a project vision and the features of your FinTech app. Outline, what problems it solves for users and how they would interact with the app. Discuss all your ideas with the development team and create your application. You can create a minimum viable product (MVP) — a basic version of the application that includes its main components
Step 4. Test the app. Be sure to check and test the fintech application. A test run will allow you to check all aspects of the work of the application and avoid bugs in its future operation. 
Step 5. Release the app and collect feedback. Launch the application and get feedback from the first users. Getting feedback from real users will reveal flaws and add ideas about which features should be added, removed, or changed. 
In case you want to create an app and you think you lack skills, it is easier and reasonable to seek help from professionals. If you are a startup or you have a great idea or plan to grow and you need technical assistance, the Purrweb development company will be useful to you.
How much does it cost to develop a FinTech app? 
We know how to build a FinTech app from scratch. The Purrweb team has successfully launched several applications, including a crypto wallet, a content marketplace, and a smart design for the FinTech app for investments. Check out our financial app cases to learn more.

At Purrweb, we estimate the cost of a project based on a basic set of functions. If you are going to create your own FinTech app, you should know a lot about what stages of development you will need to go through and how long each of them will take. Our estimate does not show the average value for the market, since the complexity of FinTech software development projects and the level of specialty of the teams differ significantly. 
We would like to share the potential costs and timeframes of a personal finance management application development:
| | | | |
| --- | --- | --- | --- |
| Stage | Estimation in hours | Estimation in weeks | Approximate costs |
| Business process project analysis | 40 hours | 1 week | $800 |
| UI/UX design | 130 hours | 5 weeks | $6 525 |
| App development stage | 760 hours | 8 weeks | $40 950 |
| QA Testing | 360 hours | In parallel with the development  | $7 200 |
| Project management | during the whole project | during the whole project | $3 550 |
Overall, the development of a FinTech app will cost you $59 000.
We are always ready to answer your questions, so for more detailed information on how to build a FinTech app or to get an individual offer, please contact us.
Wrapping up
We hope the article was useful and now you know all about building a FinTech app. 
Application development for FinTech is in demand, and it will only grow. Traditional banks are outdated and to compete with IT companies and digital banks, they need modern and complex FinTech solutions. We see that even the world's leading banks are investing in FinTech, changing internal business processes, as they are looking for new ways to interact with customers. 
Should you have any questions about FinTech app development, don't hesitate to contact us.