What is a personal finance app
Well, getting to the point of it is not hard. A personal finance application, also known as a budget application, is an app for managing your money. You shouldn't confuse such software with a banking app, as the latter uses cards and accounts of a particular bank. Whereas a finance management app provides a detailed review of how you control the purse in general.
You can't really say how many applications of that sort are available in the App Store or Google Play, but the number is definitely going to be huge. As all the developers strive to release a unique product, apps' features differ in many respects. However, a standard set of capabilities for a management app usually includes:
calculating and balancing your income/expenses;
budget planning;
saving for a rainy day;
figuring out cost categories you spend most of your money on.
Before getting down to any product building, you need to gain an insight into the target audience. In terms of personal finance app development, it's essential to study what drives users to start managing money and what objectives they pursue. The point of tracking expenses is clear and lies on the surface, but usually there are plenty of other needs hidden behind the money management process. Here are the most common reasons:
"I can't make any savings to buy a proper house for my family, the money is just slipping through my fingers"
"Seems like I earn enough when I get the paycheck, but I find myself out of pocket a week after"
"I don't have a penny for a rainy day and it worries me"
For such people, a budget app is a useful tool, helping them become more financially literate, discover weak points in their personal finance management and speed up savings.
Personal finance app market review
Personal finance app market is rather promising for startups, as the number of finance software users continues to increase over the last 4 years. Statistics show that in 2021 mobile budget applications exceeded 573 million downloads in the US. That's a 19% increase compared with 2020.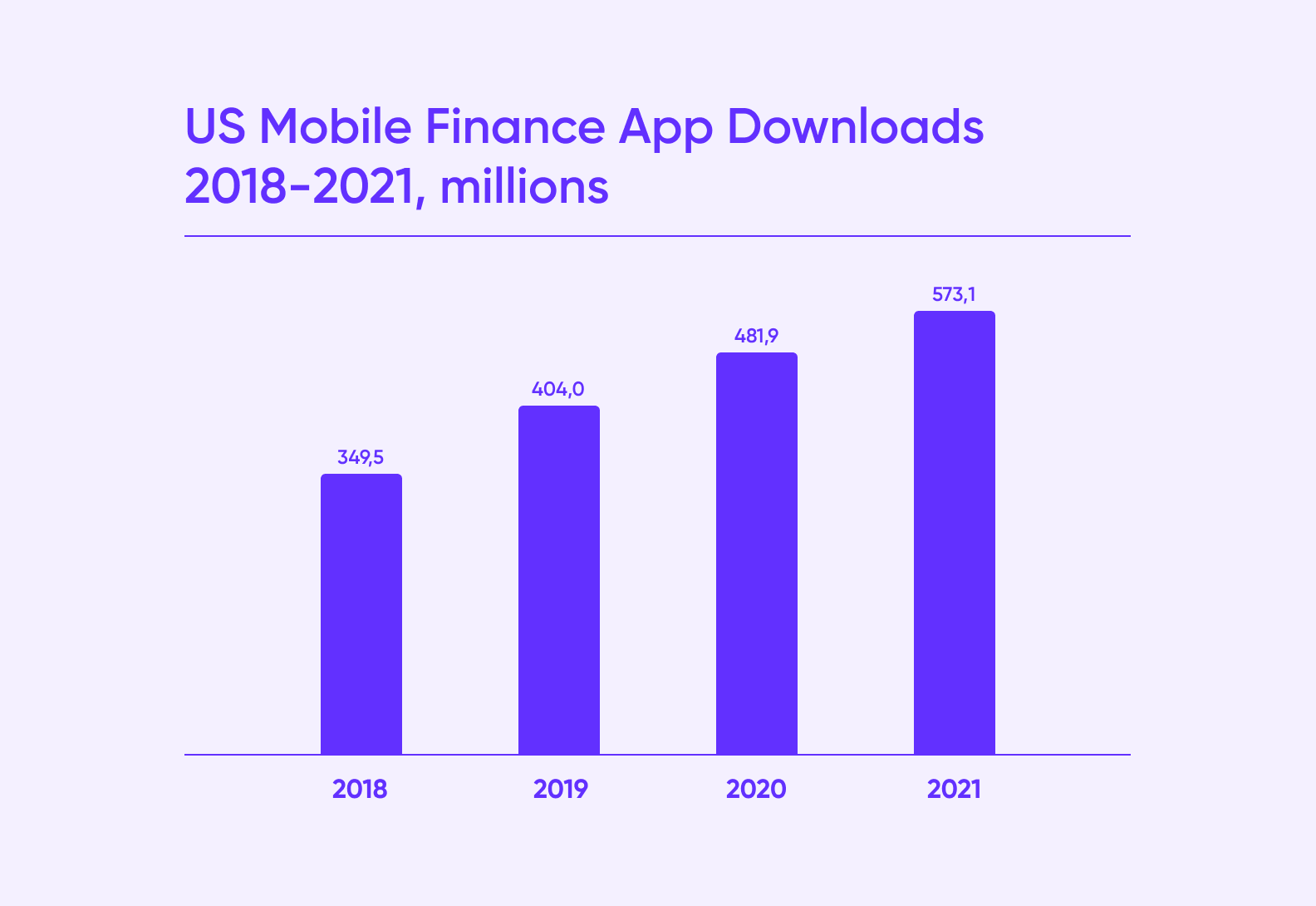 In global reports, the finance app market has the biggest share among the entire app development sector. All these numbers make it a promising niche, appealing for developers. As a consequence, we have a highly competitive environment. So, in order to make a worthy adversary, you have to learn more about the best of the best on the personal finance app market.
Mint
Any list of the most popular finance tools out there would include a money management app called Mint. This application syncs bank accounts, credit cards and retirement accounts to give an overall review of your income and expenses, suggests goals and budget plans based on the financial data, and categorizes expenses. Users value its simple and intuitive interface, high security, real-time updates on money transfers and useful tips. Anyway, there is a fly in any ointment — Mint is unavailable outside US and Canada and can't distinguish income from budget.
YNAB
The second place of our finance app market list occupies a software called You Need a Budget or simply YNAB. It might be helpful for people who want to take charge of their money, save and plan financial decisions with care. Developers claim that in general new users save over $600 in the first two months of using YNAB and $6,000 in the first year alone. This application is mostly about building a prosperous tomorrow, which is going to need a lot of discipline in your today.
Everydollar
Everydollar is a classical financial planning app created by American personal finance advisor Dave Ramsey. It's efficient if you aim to bring order and become savvy at managing your purse: building a budget based on income, categorizing expenses and tracking spending habits. Everydollar can also assist you with debt payoff using the Debt Snowball Method. In a nutshell, it means paying off the smallest amount you owe as soon as possible.
Personal Capital
Personal Capital, which is the next in our list, is slightly different from all the above-mentioned options. This is a platform offering investment services and wealth management in the first place, enriched by free financial tools, money management accounts, budgeting and personal portfolio analysis. Personal Capital audience consists majorly of high net-worth users, who need to monitor bank, credit card, and investment accounts all in one place. However, the app can't be described as cross-functional, as it doesn't have an option of adding a debit card or cash transactions.
Honeydue
If you have a family or partner living with you, it's not just about sole budget optimization anymore. The best tool for partner finance management is Honeydue where users can check balances, track expenses of each other, set common financial goals and set spending limits to their account. Moreover, this app has a chat, so if one sees that the other has made a mysterious purchase, they may inquire about it right away. Users can also set transparency settings themselves and choose if they want to share transactions and balances with their partner or not.
Types of finance apps
 As we may judge from the market review, companies develop personal finance apps for various purposes. They combine features and build solutions according to the audience needs, so sorting out apps based on their area of focus in terms of mobile app development makes just a little sense.
First and foremost, if you want to build a personal finance app, you have to choose whether it's going to be a simple or a complex app.
Simple software requires manual data entry. That means that users have to fill out all the information about income and expenses on their own. Let's say you had your paycheck just now, you open the app and write the number you got. Then you buy some groceries, open the app again and write the total cost. Sounds psychologically effective, as committing reports may help grow self-awareness, but the whole idea may seem too time- and effort-consuming.
That's why eventually a complex personal finance app was invented. Complex solutions ensure automatic data entry, as you can connect them with bank accounts or credit cards. Let's say you got the money transferred; the app recognizes this and adds it to the budget. Then again, you buy groceries and the app commits the transaction before you can say knife. Owing to precise real-time data tracking, there is no chance to forget or miss something. Though make sure the application has strong security.
You might be wondering why developers keep on building simple applications when we have these cool complex things. That's not hard to guess, as the first ones are cheaper and faster to create.
What do people expect from personal finance apps
When you know what forces people into finance management, it's essential to dwell on their needs and expectations. The two stages combined give you the full picture of features recommended to implement in personal finance app development.
Visualized reports and stats
What people want from a personal finance app is a comprehensible and objective record. And there should be a reason for them to install an app instead of writing down each penny they spend and get in a spreadsheet. So, insightful, clear and visually compelling reports really matter.
Personalization
Seeing your stats is good, but receiving it along with individual saving plans, recommendations and categorisation of your expenses is way better. We use financial planning apps to know more about ourselves and expect developers to understand this.
Progress tracking
In the end, this is all about carrying the bag in a sensible way, so don't ignore the psychological aspect. And it's essential for users to see if they have reached the goal of savviness or not. Besides, a money management app is a frequent assistant in savings allocation. Users will appreciate it if the software is able to help with reaching such goals.
Essential features for a budget app
Now that we studied users' drivers and examined their expectations, time to move forward to the features. There are certain functions that are vital for personal finance management, and you'd better start the development process with defining those. And then advance to some additional ones.
Core features for budgeting apps 
Income and expense tracking. Either manually or automatically.
Expenses categorization. Customizable categories and color-coding for user convenience.
Push notifications. Reminders to insert info or notify that the transaction is tracked.
Goal setting. In terms of budget optimization and saving.
Financial reports. Visualized stats about user's spendings and incomes.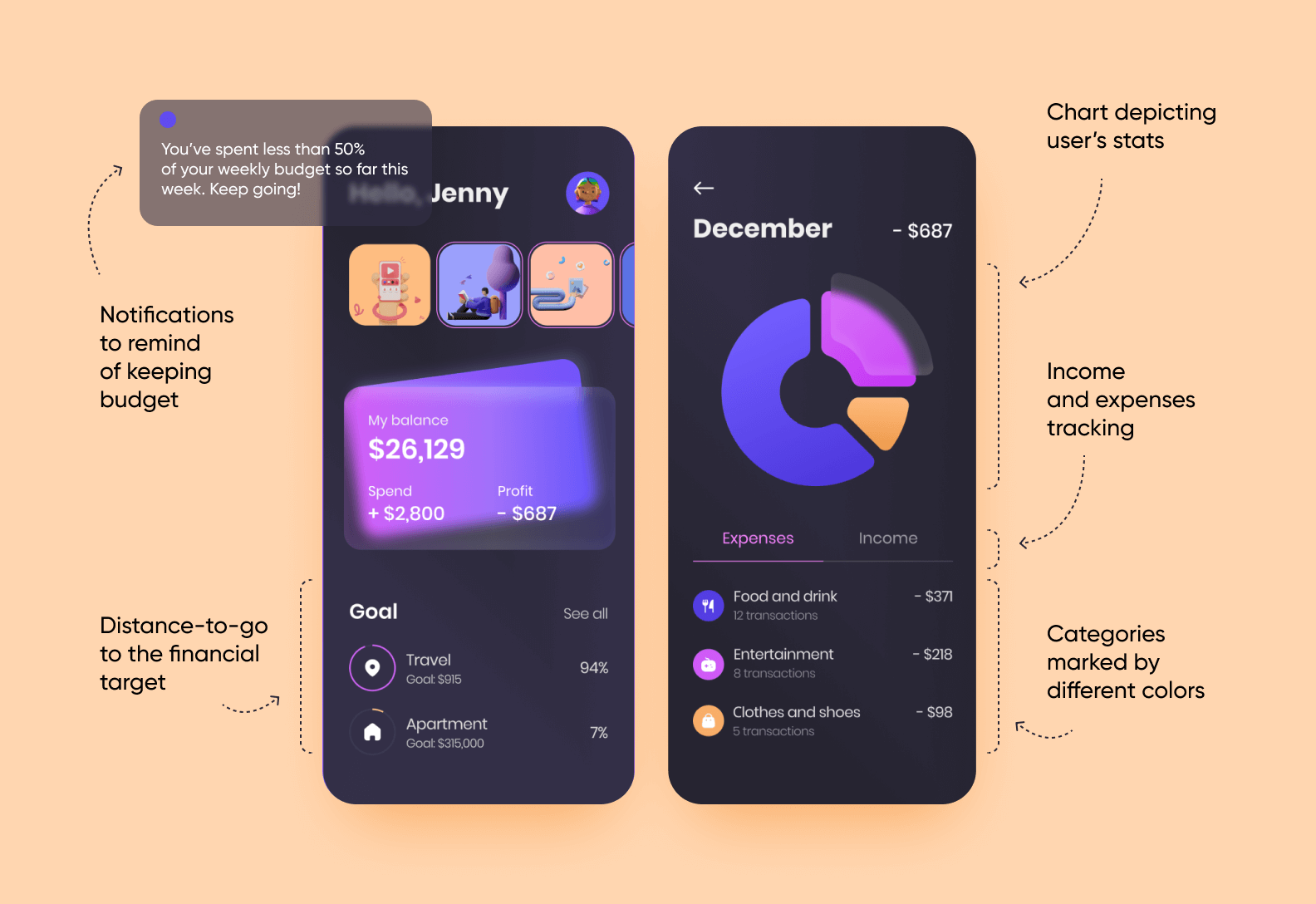 What you can top them with
Card/account transaction history. For complex apps.
Savings management. Setting monthly allocations for the future.
Integration with credit card or bank app. For automatic tracking in complex apps.
Investments. Stock portfolio and updates on its state.
Security: multi-step login & authorization. To make sure essential data is secured.
Forecasting. AI and ML based forecasts about financial results next month.
Gamification. System of achievements to engage users.
Partner budgeting. Just like Honeydue does.
Personal financial advisor. Useful tips based on user's history.
How to choose a tech stack for building a budget app
Before discussing the actual process of creating a personal finance app you have to think over some technology matters. Now startups have dozens of tech opportunities for software development and making the right choice is hard.
The options here will be
native development;
cross-platform development;
progressive web applications development.
If you are intending to release a personal finance app for Android and iOS simultaneously you may choose either cross-platform approach or PWA. However, one cannot upload progressive web apps to the App Store, so we recommend choosing the first option. Cross-platform development reduces time and costs, as you hire just one team that uses the same codebase for various platforms. Besides, you can create a unified design for all these platforms.
One of the most popular cross-platform frameworks is an open-source React Native framework, created in JavaScript by Facebook. This solution enables startups to create software with truly native performance and user-experience flexibility.
5 steps to make a financial app for budget planning
When you release a new solution, the best approach is to avoid the "go big or go home" concept. MVP or Minimum Viable Product approach has proved effective hundreds of times that's why we strongly advise you to stick to it.
Without further ado let's find out how to create a personal finance app in just five steps with the MVP approach.
Step #1. Discover the product and research users 
At this stage your task would be to do the research. Start with collecting data about the target audience using the prompts mentioned above, studying the market, defining Must, Should, Could and Won't haves for your product.
Step #2. Design UI/UX
As soon as the idea is crystalized, it is time to move forward to the UI/UX design. At this stage, design teams create wireframes for the future User Interface, develop its style including visuals, color scheme, typography etc. In terms of User Experience, it's crucial to map out user flow and invest efforts in working out user journeys. MVP success depends much on UX and user-friendliness, so make sure you do your best at building it.
Tip! Keep it simple to create the feeling of trust and safety which are crucial for financial apps. Though the temptation to use as many trending design details as possible is high,  bear in mind that nothing should distract users from getting to their goal. Otherwise, they wouldn't value your product.
Step #3. Develop your app
That's the phase at which the finance app development team starts writing the codebase. You will need to hire a frontend and a backend developer. Besides, there is an option of hiring just one full-stack coder, who can do both, but in this case the development is going to extend. This process is tightly bound to quality assurance. QA checking helps eliminate bugs and make sure the software works properly on any device.
Step #4. Test your idea and collect feedback
The app released, there starts the most dramatic and stressful stage — idea validation. Beware that you haven't confused MVP with "that can do" version. Minimum viable product has to meet users' needs anyway. You observe how people perceive the product, what they do or don't like, and what's lacking. Then collect feedback and find the areas for future growth.
Step #5. Implement changes and add advanced features 
With user reviews up the sleeve, it's time that you mapped out updates and further development for your personal finance app. Release just got it on the road starting the product life cycle. You will have to maintain the software to ensure a bug-free experience to the users, proper app functioning, or increase app safety afterwards. People may ask you to enhance the app functionality with personal recommendations, shopping reviews and so on. Chalk up and users are going to appreciate it.
Cost of Building a Finance App
This is an estimation on finance app development costs with Purrweb, where we evaluated an MVP release with the core features and approach described in this article. However, before starting each project, our team discusses the idea and estimates expenses individually and free of charge.
| | | |
| --- | --- | --- |
| Stage | Time | Approximate costs |
| Project estimation | ⏰ 8 hours | 💰0 |
| UI/UX design | ⏰ 120 hours | 💰5400 |
| Development | ⏰ 700 hours | 💰31500 |
| QA | ⏰ 360 hours | 💰7200 |
| Project management | ⏰ During the whole project | 💰3750 |
As a bottom line
Let's cover the most valuable insights once more.
Personal finance apps help bring costs and expenses in order, save, optimize budget and find out the most ravenous shopping categories. Such applications are reliable assistants when it comes to growing financial consistency, speeding up savings and aggravating the downsides.
The niche is promising. Figures prove that users appreciate personal finance management tools. This is rather promising for startups, as the number of budget app users keeps increasing over the last 4 years. To top it off, the finance app market occupies the largest share among the entire sector. As a result we witness a promising but highly competitive niche.
Money management apps can be subdivided into two groups: complex and simple. Simple ones require manual data entry, they are faster and cheaper to build. Anyway, their features list games away compared to the complex apps. The latter offer automatic data entry, card and account integration, enhanced tracking capabilities.
When developing an app, make sure users' expectations have been studied thoroughly enough. As a rule, people want to receive visualized reports, personal cost and expenses reviews and an opportunity to track their progress.
In case you want to build a solution both for iOS and Android simultaneously, we recommend a cross-platform development on React Native. It's a cost-efficient and fast way for startups to release an application with a unified design and truly-native performance at the same time.
Start with building an MVP. This is going to help you with evaluating the idea in action and studying the audience. Minimum viable product development is usually a path of just five steps: product discovery, UX/UI design, writing the codebase and testing, collecting feedback and further support.
Inquire for finance app development costs individually, as it all depends. Anyway, we strongly recommend starting with MVP, as this way product release expenditures are going to be much lower. If you are nursing a financial app idea right now, feel free to contact us and share it. Purrweb will help you create a reliable and elegant application.