Clubhouse is hotly discussed right now. The social media app with audio chats blew up the market in the blink of an eye and became #1 app in AppStore in several regions. Some people are deadly sure the app is going to be the next major player on the market.   
Let's break the app down and see what Clubhouse voice app is so popular, how much it will cost to develop app like Clubhouse, and how long the process can take.
How does Clubhouse work?
To understand how popular Clubhouse is, looking at the numbers is enough: in December 2020 the app had a revenue of $100 million, and in a single month, it increased ten-fold, rocketing to $1 billion. Overall, in February 2021 Clubhouse  hit 6 million users and 10 million downloads.
The iOS app is an invitation-based social network. It works like an elite club: someone from there should invite you to join the app. Inside you can find tons of conversation rooms – audio chats with experts, celebrities, and general audiences as well. Usually, there are several users who host the discussion, and listeners who can raise their hands and jump in and ask questions.
Everything happens only in the app and chats cannot be recorded (Clubhouse even blocks people who try to record or stream the conversation). Topics of these rooms can be different: from stocks and digital marketing, to TikTokers and spirituality. By the way, recently Elon Musk had a room with Robinhood CEO Vlad Tenev about GameStop stocks and the room reached the maximum number of 5000 listeners allowed. They were even allowed to stream the conversation to YouTube, but this was an exception to the rule.
How to get an invitation to Clubhouse?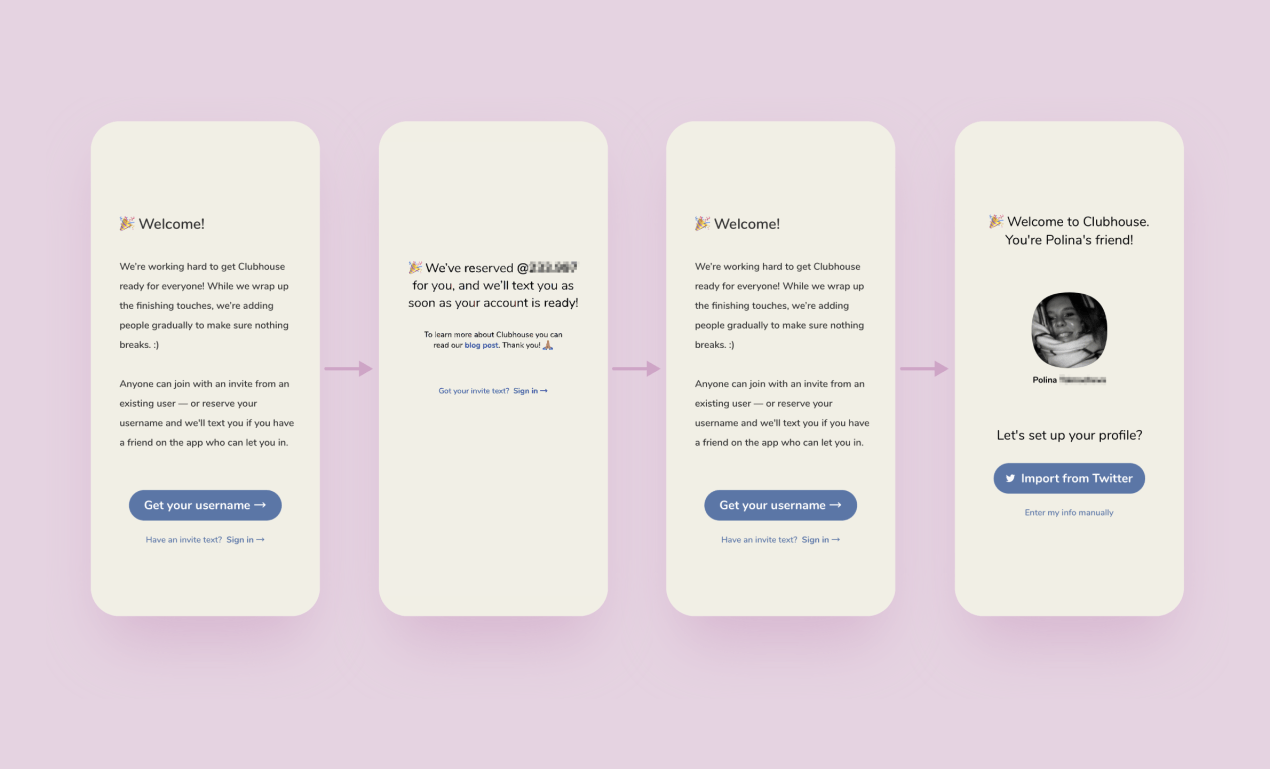 After registration, each user gets 2 invitations to send to friends. The name of the person who invited you will be displayed on your profile and if you violate any rules of the community, you put your nominator at risk to be banned as well. Moreover, when you initiate conversations or join rooms as a speaker, you get extra invitations for your activity.
There is another option to get in, if you don't have an invitation. You can just sign up in the app and sync it with your contacts. Users from the list will get a notification, suggesting to admit you to the community or not.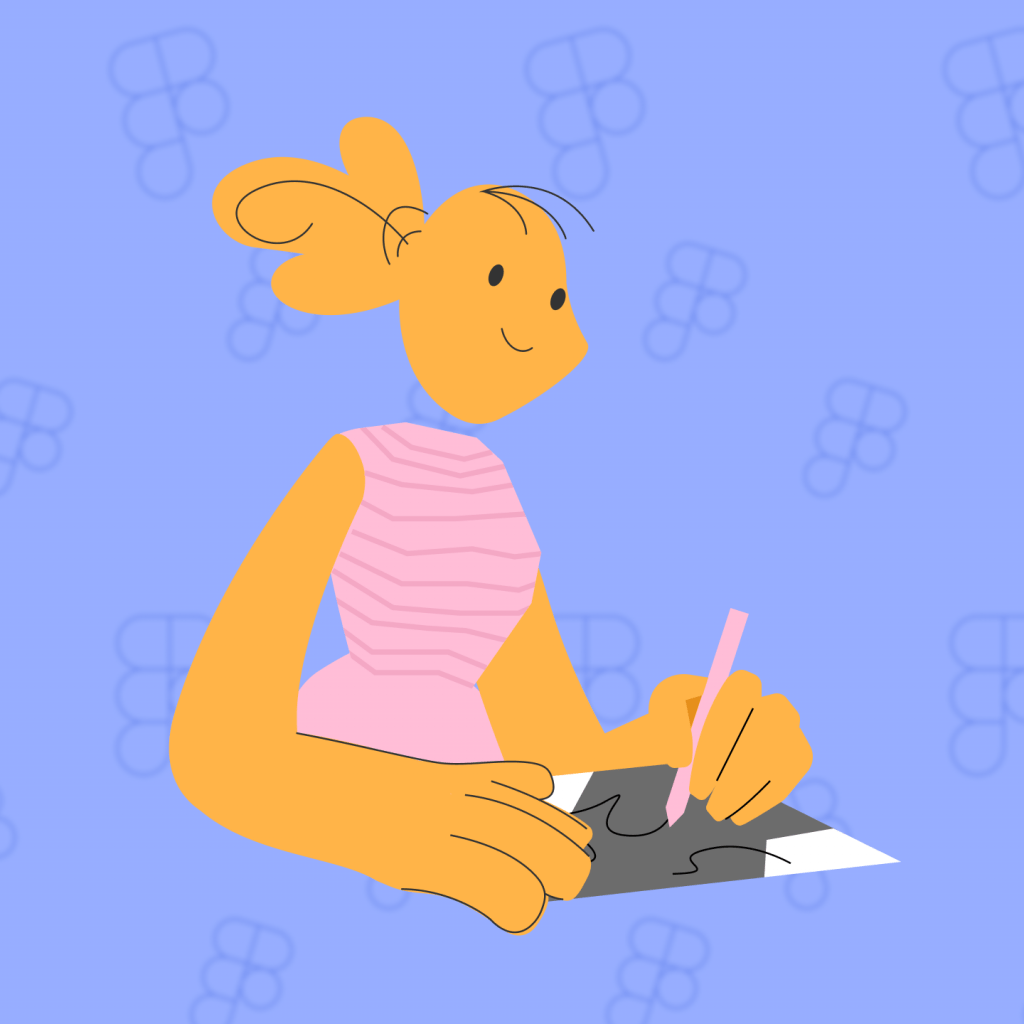 On the first screen, the Clubhouse app offers you to reserve a username and then you will be promised to be added to the app soon. In reality, nothing will happen until you receive an invite. Until then, the only thing you can do is read the blog or go through a new registration process. It turns out to be a cycle to nowhere. From a user care perspective, this is not great, but we must not forget one fact: Clubhouse is the brainchild of Facebook, and the people there are qualified. It can be assumed that this was done on purpose in order to pique interest so that the user goes to Google and Twitter to find out what is going on, making the app viral. This is exactly what they did.
Key features of an app like Clubhouse
The social media app is extremely minimalistic not only with the UI/UX design but also with features – it has only the essentials. Let's dive in!
The first page of the Clubhouse app is the registration form. No matter if you have an invitation or not, it starts with the phone number and picking your username, as no real names are required. Then the app asks you to allow access to your contacts. Now here comes the tricky part. 
Clubhouse is now being criticized for a lack of security. No one knows where your phone number is stored and some people even think they make money out of selling them (like the GetContact app, for example).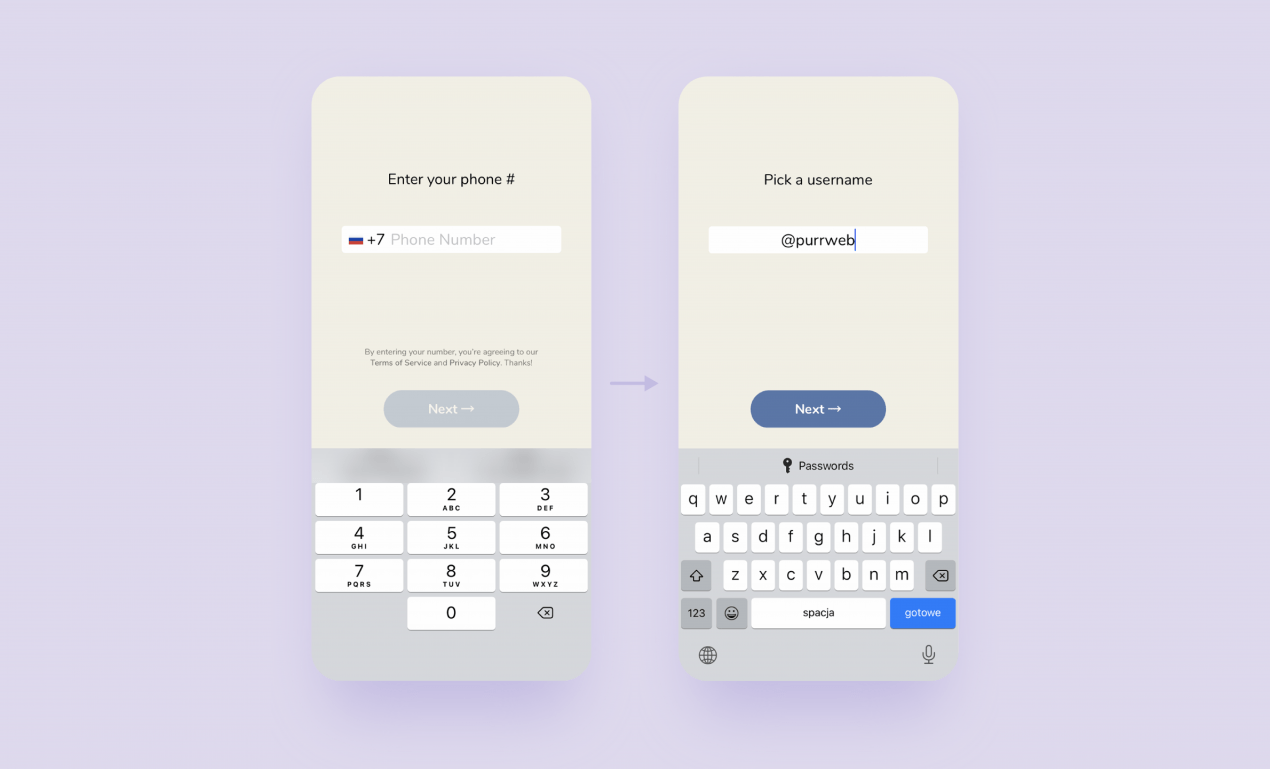 After registering, you will be offered to choose your interests and communities or people you would like to follow. As we said, there is a lot of content on the app divided into sections and languages. Unfortunately, the suggesting algorithm is not as accurate and active as on TikTok, but you will get some recommendations related to your choice. Clubhouse hasn't developed tools for tracking what conversations users liked or shared yet (there is no liking functionality itself). Recently Forbes's tech contributor pointed out that the future of the app relies on how it can help users find content and enable engagement.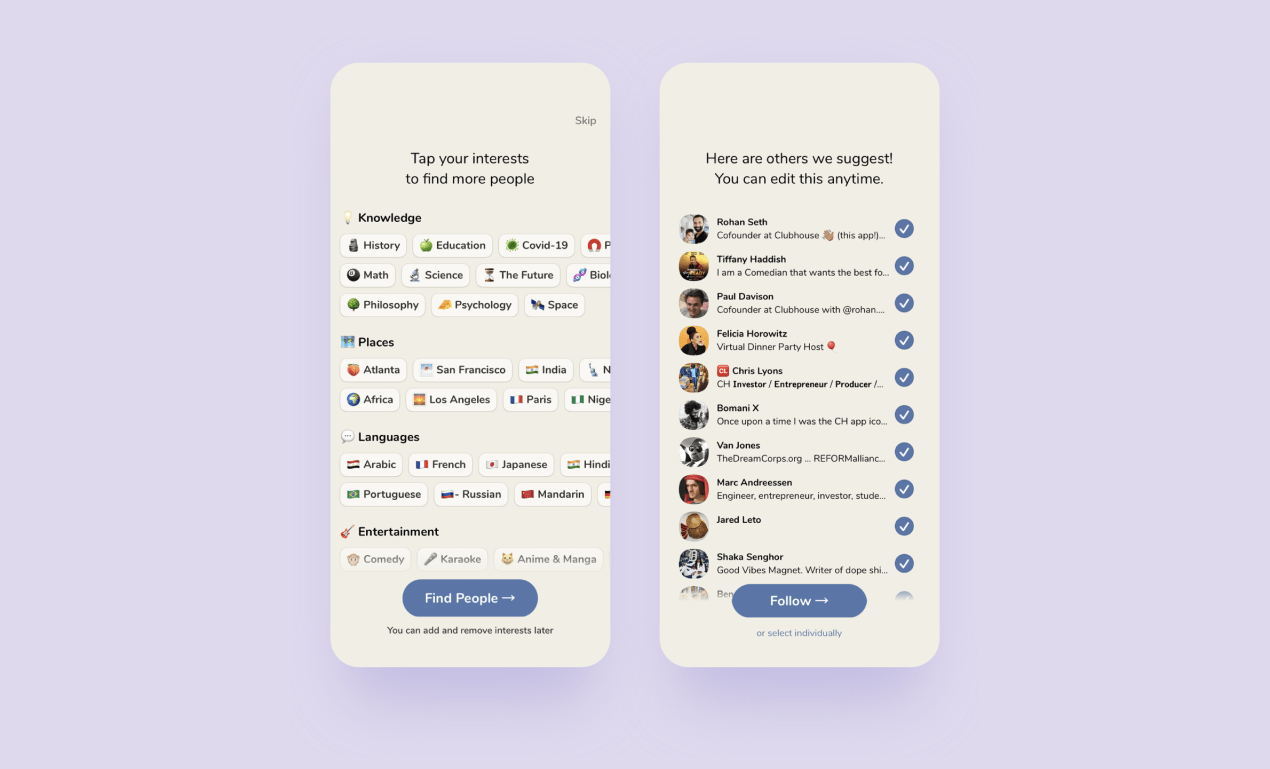 On the app, you can choose your interests and follow individual profiles too
You can also create a bio and link your Clubhouse account to other social media. The app itself has a very minimalistic interface with emojis – we said that icons and minimalism would be key trends in UI/UX design in 2020.
The search functionality of Clubhouse allows you to browse the app by people or clubs. There is a search bar in the top with no filters and suggested conversations under it. The app shows clubs to follow that can be related to any topic. For instance, here you can find the 'Bitcoin' club with 162k members or 'Digital Marketing Society' with 85k followers.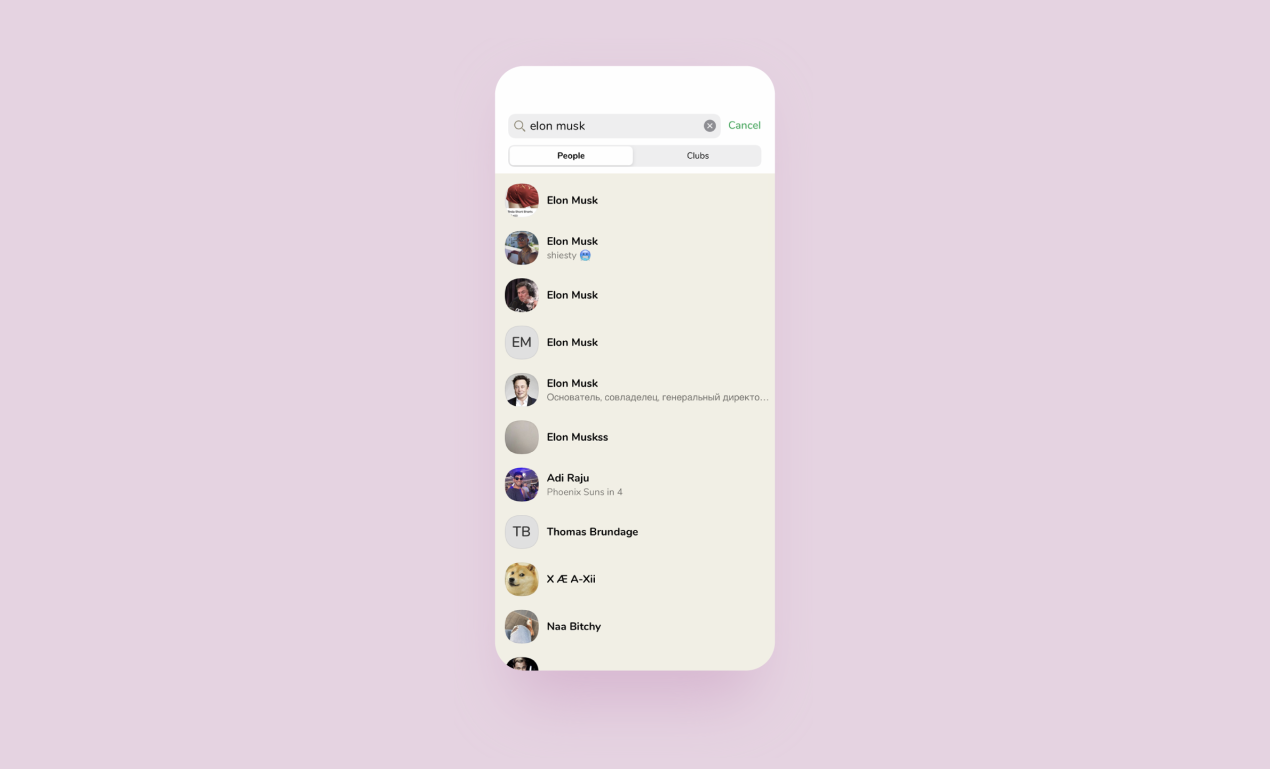 There are no verified pages on Clubhouse yet, so if you want to find Elon Musk, for example, it can be complicated.
Clubhouse is a voice chatting app, so audio functionality is at its core. There are no messaging features, and the only way to contact anyone in the app is in a chatroom. The app only needs access to the microphone and it works like Zoom, but with audio. Speakers can mute themselves and listeners in the room can raise their hand and if a host allows them to talk, they can turn the mic on and jump into the discussion.
Everyone on the Clubhouse voice app can start a room of three types: open, social with people you follow, or closed with people you choose. You can also add a short description up to 60 characters and link topics of your conversation so other people can find your open room.
One room has a limit of up to 5 000 people. 
That's how desirable text with invitation looks like. It is tied up with the phone number.
The popularity of Clubhouse set a black market of invitations, and now it is possible to buy said invitations on eBay. You can invite those who are on your contact list and they will get a text message with a link to join.
When inviting anyone, remember that the app is available only for iOS, so make sure you know what phone your friends have.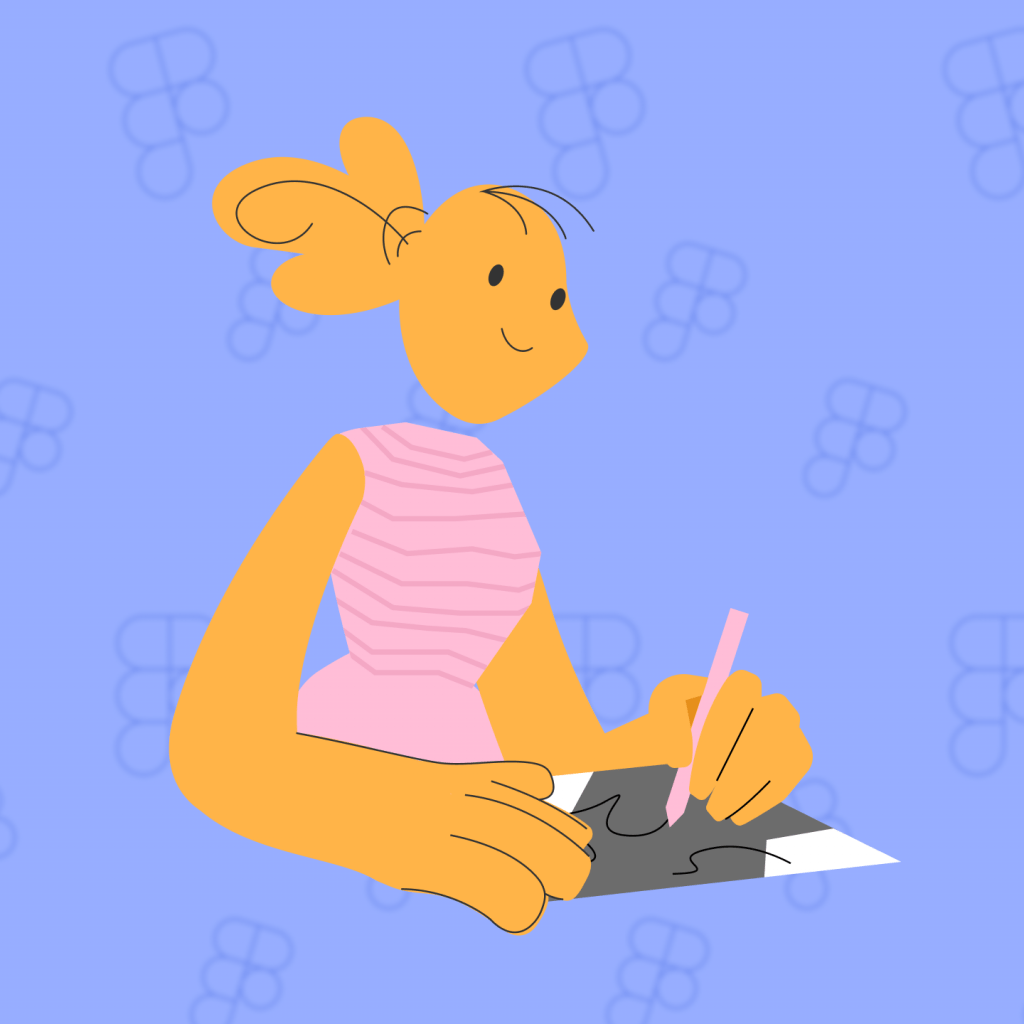 The idea of letting people go through invites is quite viral. When you open the registration form for the first time, you pick yourself a nickname, and then you are sent to an empty page with the text, where you can do nothing (except register again). This is an incomprehensible case because any decent flow should lead the user somewhere. Because of this, I suspect that this was done on purpose, so widespread speculation would form across the internet about the app. From here we come back to the idea that the whole principle of registration in the application is made in order to make the application viral itself.
As with any other app, Clubhouse app sends notifications to users about popular rooms happening now or invitations to start a new room with people you follow.
In terms of user-friendly features, Clubhouse offers members the option to set their preferred frequency of notifications, allowing you to get them very rarely or very frequently, it is totally up to you.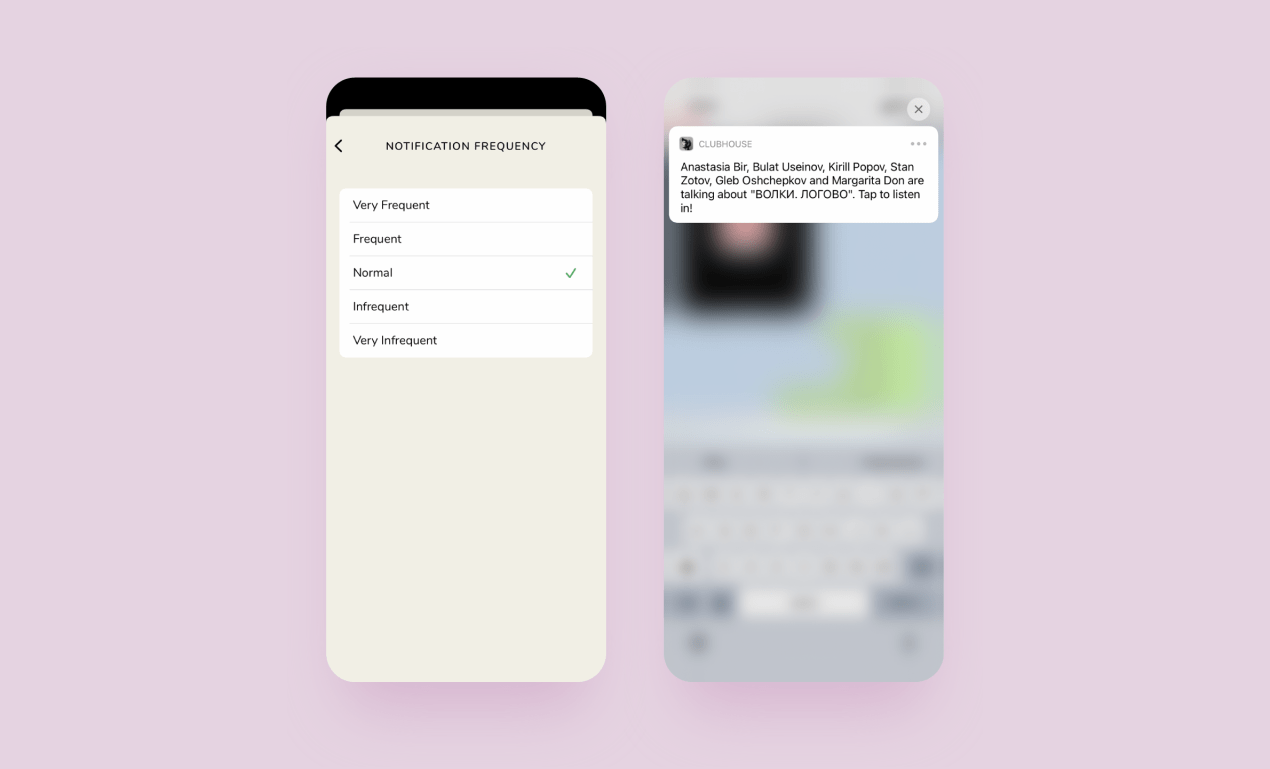 Clubhouse uses notifications to let users know about currently happening rooms.
How much does the development cost?
MVP (minimum viable product) is a good place to start when you want to develop app like Clubhouse. The famous iOS app has only must-haves itself, which basically makes it an MVP with plans to expand markets and functionality. 
When it comes to the development, at Purrweb, our priority is the transparent process for our clients, therefore we always openly discuss all financial and timeline matters. We know how to deliver an app quickly – for the Purrweb team average social media app development time is 3 months. Let's do math now!
When you develop app like Clubhouse with us, you pay for the following services:
UI/UX design, including all the elements your app needs – profile pages, search history, audio functionality and etc.

Cross platform development

. Using React Native allows us to build both iOS and Android apps with one code and one team, and helps you cover a larger market by creating two apps for different mobile platforms. Or you can start with only one operational system and order a scale-up service later on for reduced costs.

Project management.

Thorough QA Testing.
Click here to get the estimation of your future project!
Conclusions
Yes, the Clubhouse voice app is booming now, and everyone around is looking for an invitation. Recently the app was called the Unicorn startup, meaning it is valued at over $1 billion, like Uber, Airbnb, and a few key others. 
Currently, Clubhouse is the #1 app in AppStore in many regions. The app is available for iPhone users only as of now, but developers say it is supposed to appear on other markets soon. However, no deadline was said.
Whether Clubhouse app expands and becomes the next big player in the game such as TikTok or Instagram, or fades away like Snapchat, it is interesting to observe this process in real-time.