Key takeaways
In 2021, the global market for lending platforms was almost $6 bil and is expected to grow by a quarter every year until 2030
Transactions and personal data usage in the apps require an additional level of security and legal compliance.
Must-have features for a lending app are registration, user profile, loan application form, payment log, notifications, transactions and support service.
With Purweb, an MVP loan lending mobile app costs about $72 650.
What is a money lending app
Money lending mobile app is an application that allows users to take out loans or borrow money instantly on demand using digital technologies.
Money lending apps connect lenders and borrowers. They differ depending on types of loan,  suggesting personal, business, car loans or even mortgages. They are also divided by the type of lender that provides loans to individuals and organizations:
Banks
Credit unions
Individuals
Banks, as a traditional provider of financial products, develop loan lending apps because they allow automating the process, improving the quality of service and the amount of loans. But there is a growing interest in alternative platforms —  peer lending apps. In these apps, individuals can become a lender and invest in interesting projects, or get more profitable loans than they can apply for in banks. Often such P2P lending platforms also become a place for donations that people take for charity and other purposes. Before we go directly to the question "How to create a loan app?", let's get acquainted with the current situation on the global market of mobile lending apps.
Lending apps market overview in 2022 
The global economy is growing year by year. It has an upward trend of 2.9% in 2022. Digitalization also helps the financial services sector to grow. This increases the issuance of loans, reduces risks and improves customer service. In 2021, the global market for money lending platforms was equal to almost $6 billion dollars. Analysts expect this volume to grow by a quarter every year until 2030.
In addition to the spreading digitalization, the coronavirus pandemic has also affected the market of loan lending mobile apps. The number of users has increased by 25%, because of the need to reduce contacts with people. Since 2020, the number of customers who use online banking services worldwide has grown to 1.9 billion people.
In 2021, banks and other financial organizations, including insurance companies, credit unions and associations shared the most of the money lending apps market.
Top 5 consumer lending apps
​​To understand how to build a loan app, let's take a look at some of the well-known loan applications and their strengths.
Cash 
App type: banking and peer lending app
Platform: iOS and Android
Number of users: 7 million people
Why it's good: the app allows users to send and receive money instantly, as well as invest by buying stocks and bitcoins. It is in the first place of App store's rating in the Finance category.
Prosper
App type: p2p lending platform
Platform: iOS and Android for investors, other users can use it on desktop and mobile browsers.
Number of users: 1 million people
Why it's good: the app automatically recommends loans based on the borrower's profile. It has been operating on the market since 2005 and already helped more than a million individuals, and the volume of loans amounted to $17 billion.
Dave
App type: banking lending app
Platform: iOS and Android
Number of users: 10 million people
Why it's good: It is the best way to take small advanced loans. It suggests users to get up to $500 instantly without interest and credit check.
Possible
App type: banking and credit unions's app
Platform: iOS and Android
Number of users: 3 million people
Why it's good: The app allows you to get quick access to money with a bad credit or without it at all. It charges a high interest rate, but it is still less than traditional payday loans. Borrowers can choose and change the repayment date.
Funding Circle
App type: p2p lending app
Platform: iOS and Android for investors and there is a mobile web-version for other users.
Number of users: 120 000 businesses
Why it's good: Here small business owners can receive credit financing through crowdfunding investments. Such loans have low rates, but in order to receive them, entrepreneurs need to have a good personal credit history and an established business.
Why loan apps are in demand
Before getting to how to create a money lending app, let's briefly analyze why they are convenient for borrowers.
Such apps make life easier for customers by minimizing contacts with banks and other financial organizations.
Clients have the opportunity to apply for a loan from anywhere in the world without visiting the office.
You can manage your loans and cash receipts instantly.
All personal and financial information is protected.
As for the lenders, as banks and credit unions, they receive interest from using their money and therefore, want to increase the number of users of money lending apps. It also brings them additional benefits:
There's no need in personal communication with customers, so lenders incur less operating costs and can focus on servicing and increasing the number of loans.
Lenders can use KYC — banking principle "Know your customer". It will protect them from cases when scammers use the lending app for money laundering or other fraudulent schemes.
They reach more markets.
Improve credit products with the help of artificial intelligence capabilities and attract more clients.
In P2P lending platforms individuals lenders can find good opportunities for making money by loans and investments, because:
P2P lending platforms have a large audience of users, lenders have a choice who to provide loans to.
Lending apps check credits and documents of borrowers in order to prevent bad loans and scams.
Lenders can find interesting projects for crowdfunding to invest in.
Both lenders and borrowers  benefit from loan lending mobile app, which has become possible thanks to mobile technologies.
How loan mobile apps work
To understand how to create a money lending app, let's focus a little on the basic user scenarios. We will look at the stages of obtaining a loan — the main goal of your potential customers.
The user downloads the money borrowing app from one of the popular stores — App Store or Google Play.
Registers a new account and successfully logs in by entering username and password.
Adds necessary personal data in order to prove credit standing.
Chooses a loan from the app catalog using filters.
Applies for a loan, specifying the sum of the credit and expected repayment period.
Connects their bank account to which the loan will be received.
Gets approval and completes the procedure.
This is the main scenario of using a money lending app. Let's take a look at must-have features that implement this process in your app.
Must-have features
A money lending app can consist of many functions that ensure the security and convenience of getting loans. But we propose to consider the most basic of them for developing an MVP. This is the first version of the application, which you can release to the market in a short time to test your idea and adapt it if necessary.
Registration
Registration should be simple so as not to create difficulties for users. But at the same time, it must meet the safety requirements. Here it is better to make sure that the user enters a complex password. After successful authentication, you can also offer them to connect the verification of biometric data.
User profile
All personal information about the user is stored here. It includes credit card and bank account details, ID card and other important data.
Loan application form 
This is the main function of the loan application. It should be well-structured and divided into stages. Your app can guide users through these steps, display progress, and suggest the best way to fill in the fields. Because obtaining credit also depends on the correctness of this information.
Payment log 
Here users will be able to view their payment history, view pending payments and fix the remaining amount of debt. An interesting idea might be the integration of a calculator that would display changes in loan terms when making early payments.
Notifications
Push notifications will inform users about the next payments or new profitable loan and refinancing promotions. Another way is to sync app with widgets in a smartphone you can see in the picture below.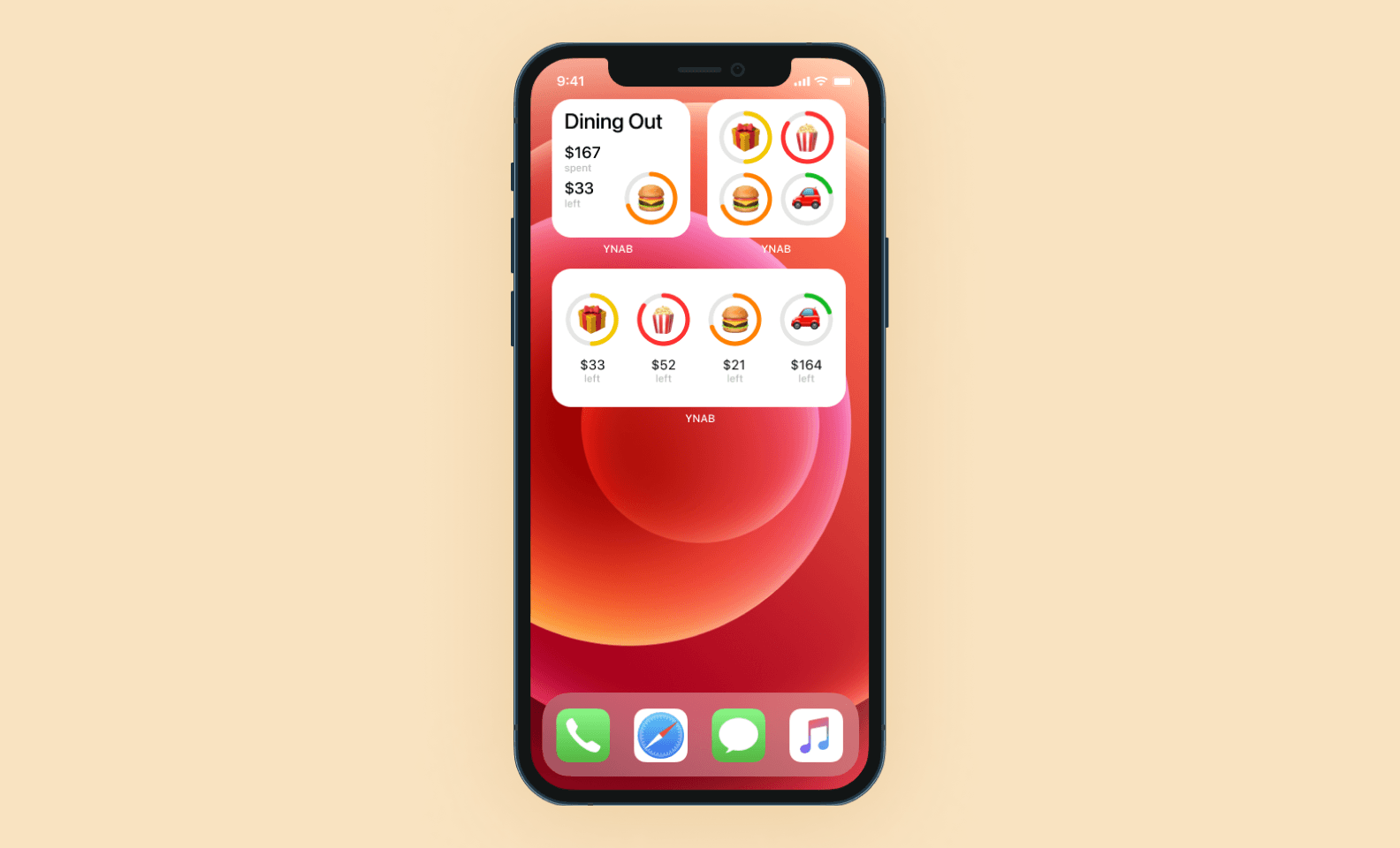 Transactions
Having received a loan, the borrower should then be able to make monthly payments that cover both interest and the principal amount of the debt. Here the app can also offer to link your bank account to the loan and install auto payments.
Support service
This can be a chat with the technical support service, which will help customers in using the lending app. You can also involve a lending manager who would advise users on credit products.
Security and legal compliance
Everything about money requires a high level of security. This demand is especially strict for lending app development. Transactions, personal data of users — everything should be under reliable protection. There are several ways to enhance data security and protection against intruders.
Authentication 
The lending app must provide reliable user authentication. In addition to a simple set of login and password, there are several ways to control access. For example, two-factor authentication also includes verification by sending an SMS with a code. But the most popular today is biometric authentication using facial recognition or fingerprint scanning, which are available in most modern smartphones.
Encryption 
Any confidential information that users can send through the money lending app needs to be encrypted both in storage and transit. All servers that store keys and data must be protected from attacks and belong to the owner of the loan app in order to avoid privacy leaks.
Legal compliance 
Also pay attention to the legislation of the cities and countries in which your lending app  works. It is quite possible that it has specific requirements, including security issues. For example, the Gramm-Leach-Bliley Act (GLBA) specifically requires all businesses in the U.S. to set standards to protect the security and privacy of Nonpublic Personal Information (NPI) of customers.
How to create a money lending app
Like any other, the loan lending app development begins with an idea. For example, a special feature that will help users solve their problems and distinguish you favorably among competitors. It will take 8 steps to turn your idea into reality:
Step 1. Conduct an initial study
Before creating a money lending app, you need to conduct an initial study. Try to research the market and study similar applications, conduct a survey of the target audience, find out what they would like to see in the loan app, what functions and service. As a result you will have a concept of the app, the main goals, user characteristics, and the app's feature list. It will help your development team to build a loan app that will perfectly fit your idea.
Step 2. Do it legally right
At this stage, you need to take care of the legality of the business. Here you need to study local laws, hire a team of financiers and lawyers, develop a loan agreement if necessary.
Step 3. Choose a platform 
To start lending app development, you first need to decide which platforms it will support. It may depend on the type of your users. For example, most of the peer lending apps are available for private investors in a mobile app, and for borrowers — in a web version. If you are targeting mass consumers, then you can consider cross-platform apps that run on Android and iOS. Using frameworks such as React Native, you can speed up the application development process to just 5 months.
Step 4. Find a development team
There are three ways to find a team — take in-house, collaborate with freelancers or sign a contract with an outsourcing company. The choice depends on your goals and objectives. The most optimal solution may be an outsourcing company that will give more guarantees of achieving results than freelancers. At the same time, it will cost less than hiring a complete development team. This is especially true for developing an MVP.
Step 5. Prioritize features
Prioritize features with the development team based on your budget. You can use MoSCoW prioritization technique, which divides all possible MVP functions into 4 categories: must have, should have, could have, won't have.
Step 6. Create design 
Simple but stylish design will attract attention to your product. Pay special attention to  UI/UX-design (user interface and experience designs). It will help to create an application that people can use easily and comfortably.
Step 7. Develop the app
Lending app development has 2 parts: frontend and backend. Frontend developers write code to display the interface of the app. It is a part that users see and can interact with. Backend is the place where all transactions take place. Also it includes writing a code for integration with servers, which is responsible for storing users' personal data and their authorization.
Step 8. Test and launch
Before the release of the app, testers check it for bugs. Only when they eliminate all possible errors, can you launch the loan app in the market. After that comes an equally important stage — collecting feedback and analyzing user behavior. If there are growth points, you can move the project to the second cycle of your loan lending app development by adding additional functions to it.
How much does it cost to build a money lending app?
Usually the cost of developing a money lending app depends on the amount of work. To find out how much does it cost to build a loan app, we have divided this process into basic stages. For each stage we have specified lead time and approximate prices. This assessment is relevant for MVP with a basic set of features.
| | | | | |
| --- | --- | --- | --- | --- |
| Stage | What we are doing | Estimation in hours | Estimation in weeks | Approximate costs |
| Project estimation | We discuss the idea of your loan app and estimate the costs and time needed | 8 hours | 0.1 weeks | free of charge |
| UI/UX design | We analyze user flow, create a prototype of the app based on it we, design concepts for each individual page, and approve them with you | 151 hours | 6 weeks | $6 040 |
| Development stage | Our team builds the architecture of the money lending app, builds the client-side interface and its interaction with the server, as well as creates the admin panel | 1120 hours | 13 weeks | $54 810 |
| QA (Quality Assurance) | We check the application for any small bugs and fix them before launching the loan app | 400 hours | in parallel with the project | $7 200 |
| Project management | We plan the stages and terms of development so that you get a quality product as a result | In parallel with project | In parallel with project | $4 600 |
With Purweb, an MVP loan lending mobile app costs about $72 650. But you can get the exact budget of the project only after approving all the details of the project. And if you want to get an individual assessment for your project from Purweb, fill out the form below.
Our experience in creating fintech apps
At Purrweb, we have already created over 300 MVP applications. We haven't done money lending apps directly yet, but we have experience in creating other financial products that are no less complex.
For instance, we built Broex wallet app for investments in crypto. The main idea of this app was to make the purchase of cryptocurrencies as safe, simple and understandable to the average user as possible. That's why we paid a lot of attention to the beginner-friendly design of interface and security issues. We have implemented the KYC procedure in the application, which crypto exchanges, like banks, must execute.
Another example is a Fintarget platform for brokers and investors. We created the design of interfaces: investment account with payment system, dashboard with all statistics, strategy pages. Our task was to make it simple, informative and useful.
If you have any questions regarding the loan lending app development, we will be happy to answer them and help you find the most interesting solution for your idea. Fill out the form below to get the quote for your project.