One of the most unpleasant things that can happen during cooperation with a contractor is when they go under the radar – they stop responding to your messages and calls and leave you with an unfinished product. In most cases, it's a sign of a scam, which means that you won't ever see the money you've already paid. However, sometimes this is a way for contractors to get out of a job they don't know how to complete. 
Whether this has ever happened to you or not, it doesn't mean that you shouldn't work with contractors altogether. You should just take certain precautions to make sure it doesn't happen. Let's take a look at the list of software outsourcing mistakes you can take into account to secure your project from scams and disappearing developers!
What to Do to Avoid Contractor Disappearance?
1. Ask for One More Reference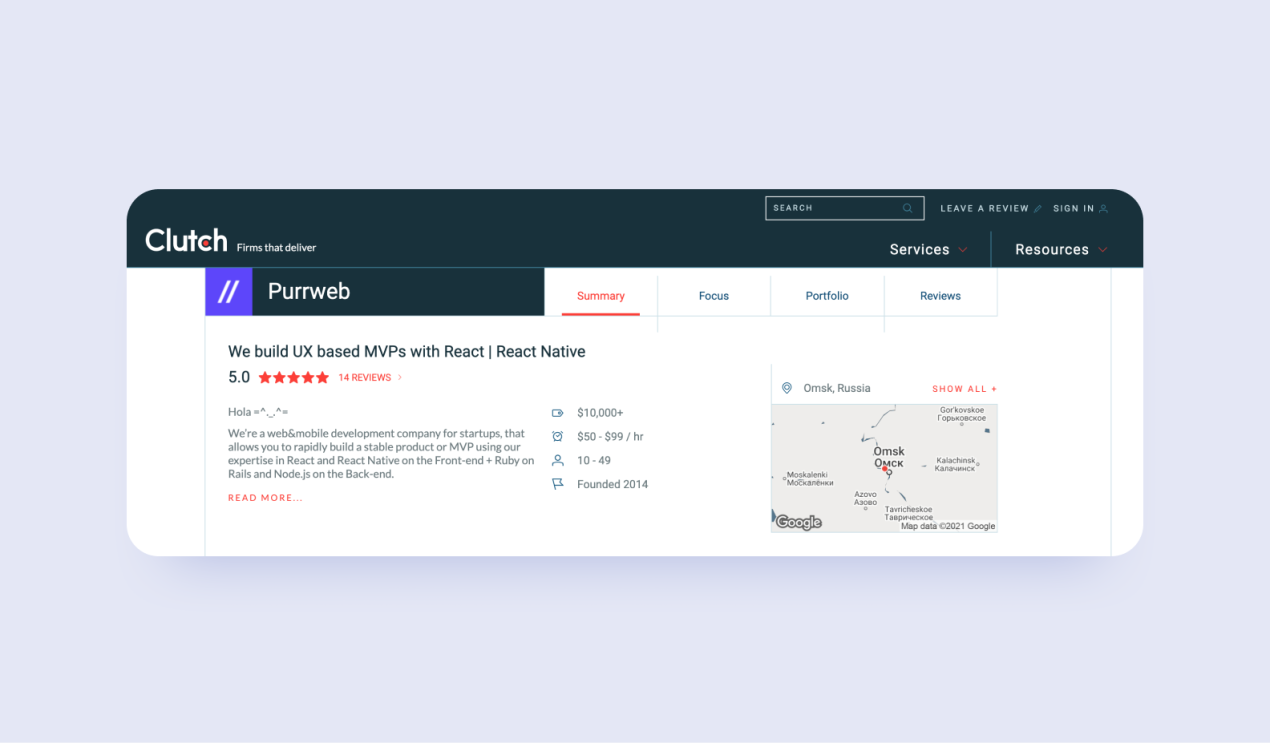 Contracting companies usually provide some references from the companies they've worked with. Usually, it's a set of positive comments about the time spent on certain projects. As you can guess, scammers can also provide such references. However, these references will be written by themselves and contain fake contact information.
The simple fact of the existence of references doesn't make the contractor who provides
React Native mobile development
services trustworthy.
Ask for one additional reference — it'll help you check the contractor's validity. It's not a big deal for a real contractor (except they are really new on the market). Make sure to check this additional reference thoroughly, research the clients on the internet, and contact them right away.
2. Verify Any Licenses and Certificates They Have
Contractors often provide various documents (certificates, licenses, and diplomas) as proof of their qualification and skills. Some certificates, like Apple Developer Program and Google ones, certify them on the respective app store. If you want to be able to trust a contractor, you might want to check the validity of licenses and certificates.
When it comes to skill shops, courses, and schools, the certificates are easy to check. Usually, this information is available on their official websites. You'll need to request the contractors the ID of their document and insert it into a search bar on the website.
Google developer certification can be checked via BadgeCert – it provides to the certified users a link to a badge with all the info on their certification. There is no way to verify if a person is the Apple Developer – except for asking them for one of their App IDs or asking to publish an app.
3. Never Agree to an Advanced Full Payment
It is common practice for a contractor to request some amount of payment in advance. Not only do they need money to live for, but they might also need some funds to spend on the development process. They might need to update their development tools, purchase ones that suit your project better, or pay for the ones that work on a subscription basis.
However, the more money the contractor asks you to pay in advance, the warier you should be. The raise in advance costs means the growth of risks for you. If the contractor decides to disappear – you will lose all the money you've paid them
Most contractors understand that and would never ask you for full payment in advance. So, if someone actually offers you this type of deal, it's the first sign of a scammer. You should never agree to pay the full price of an MVP in advance, even if the contractor seems trustworthy in all the other ways and assures you they'll complete React Native mobile development.
4. Check Out the Online Reviews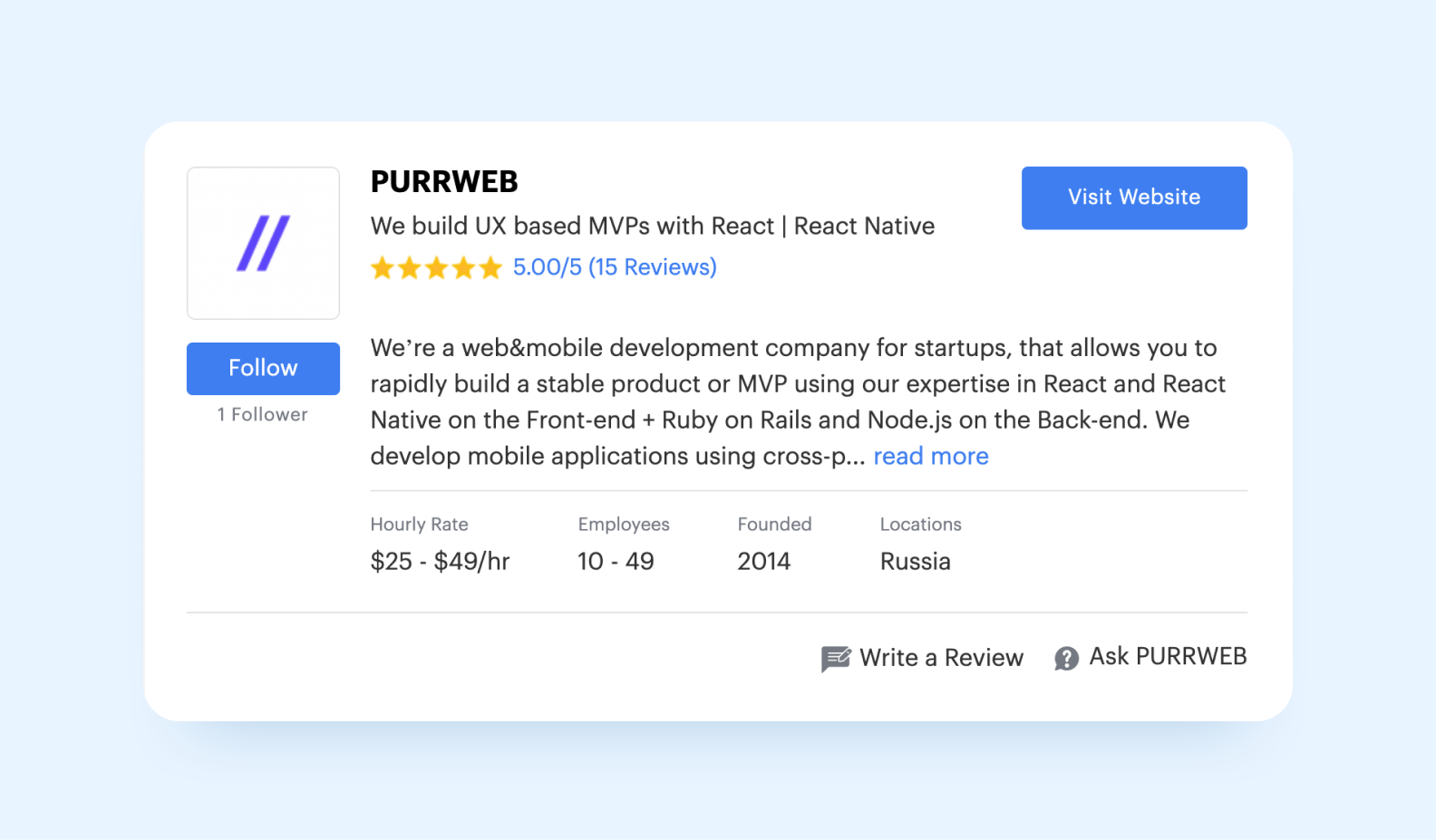 Online reviews are not the most trustworthy source of information. Many companies use online review platforms to post positive reviews about them as a marketing ploy. Some stoop to defaming their competitors with negative reviews
However, if you pay attention to an overall trend across multiple websites, you may find a pattern that may tell you something about the company. If there are multiple negative reviews across the board – it is better to avoid this contractor. If the company tries to respond to negativity with reasonable offers and compromise – they will most likely be reasonable during your cooperation process as well.
There are a lot of various websites and forums you can check for reviews. Some of them are:
These websites gather a wide range of comments and reviews on multiple development companies, which will help you to get the full picture of them easily and quickly.
5. Get a Second Opinion
This is a useful tactic for many facets of your life. For example, doctors often encourage their patients to get a second opinion to avoid mistakes and biases in their diagnosis. When it comes to React Native mobile development, the opinion from another source can also make a lot of things clear for you.
First of all, another specialist may propose another, more effective solution to a problem you might have. Secondly, you should pay attention to a budget estimation of a different expert. If the one provided by your contractor is too high compared to the second opinion, you know you might be getting scammed.
However, if the budget is too low, it might be a reason for suspicions as well. A low price for presumably high-quality MVP development services can be a selling point on the market, but if the price difference is too noticeable, it might be just a way to entice you into some sort of scam.
6. Be Wary of Free Additional Services
Contractors offer a wide range of services, but they rarely are jacks of all trades. In some cases, they even resort to hiring subcontractors to complete the task efficiently. That's why it may be a bit suspicious if they offer you some additional services, especially if they offer them for free.
Offering additional services for a reduced price is a widely used marketing tactic. Customers are often attracted by sales, even if they're minor ones. Furthermore, you might not even need the service for your project, but you might be tempted if the price for it is low enough — it's a great way for a contractor to make more money for poorly made React Native mobile app development.
However, if the price of the service is reduced to nothing, it's a reason to start worrying. It might be a way to lure gullible clients into a scam. Even if the offer seems lucrative and the service might be actually helpful for you, it's not worth it to check from your experience, whether it is a scam.
7. Don't Trust the Additional Costs
The reality of the MVP development process is that some things can go wrong, deviate from the initial plan, and there's nothing you can do about it. Additional problems need additional resources for their solution – so additional costs in and of themselves should not scare you.
However, a constant barrage of requests for additional funds is not a normal course of action, whatever your contractors might be telling you. You might want to put a limit on additional costs you can provide in the contract at the very beginning.
Sometimes you may put into additional funds and not see any results after. This should also raise your suspicions. Ask for updates on any problem often and check what's actually being done, especially if you're paying extra for it.
8. Carefully Proofread the Contract
Signing the right contract is the main step you can take to avoid being scammed. However, a lot of things can be hidden behind the official language and weird clauses. You have to be careful not to doom yourself when enlisting React Native mobile development service.
If you have questions about any clause of the contract – ask them immediately. If you sign the agreement without reading it and then start asking questions – it will be too late. Try to reach a compromise, if that's not possible – it would be better for you to just walk away.
If you're still not sure about some parts of the document – check with a lawyer. You should know about all the possible consequences of signing the contract. Cooperation with a pro will help you reach the best agreement possible (or scare the scammers off).
In Conclusion
If you had a negative experience with contractors, you would do anything in your power for it to not happen again. These simple steps will help you avoid dealing with scammers and get a great result of React Native mobile development.
In 2020, it's especially challenging to find out who your contractors really are, without any interaction with them. Make reasonable requests and look for reasonable responses. Make careful preparations, and a contractor won't disappear on you ever.