Key takeaways
The main types of pharmacy apps are online stores, aggregator apps, pharmacy management apps, and handbooks.

The process of

online pharmacy app development

requires focusing on

must-have features

, such as advanced filters, payment settings, and smart notifications.

Embed the app functions into existing pharmacy processes. To make the integration  process as seamless as possible, cooperate with pharmacists, medical advisors, storekeepers and logistic employees.
Online pharmacy market overview
Pharmacy app development is not as popular as messengers or games. The reason lies in the fact that the ePharmacy segment is a new player in the global mobile app market, unlike eCommerce or other leaders. In addition, the pharmaceutical industry is conservative and demanding in terms of regulations and restrictions. You can't just add a complete list of the existing drugs in your app; some are only available by prescription, while others must be stored in a special way. 
However, in the coming years, the online pharmacy market will gradually grow. By 2026 the global ePharmacy area will exceed $177 billion, according to the Fortune Businesshttps://www.fortunebusinessinsights.com/industry-reports/epharmacy-market-100238 and Mordor Intelligencehttps://www.mordorintelligence.com/industry-reports/epharmacy-market reports.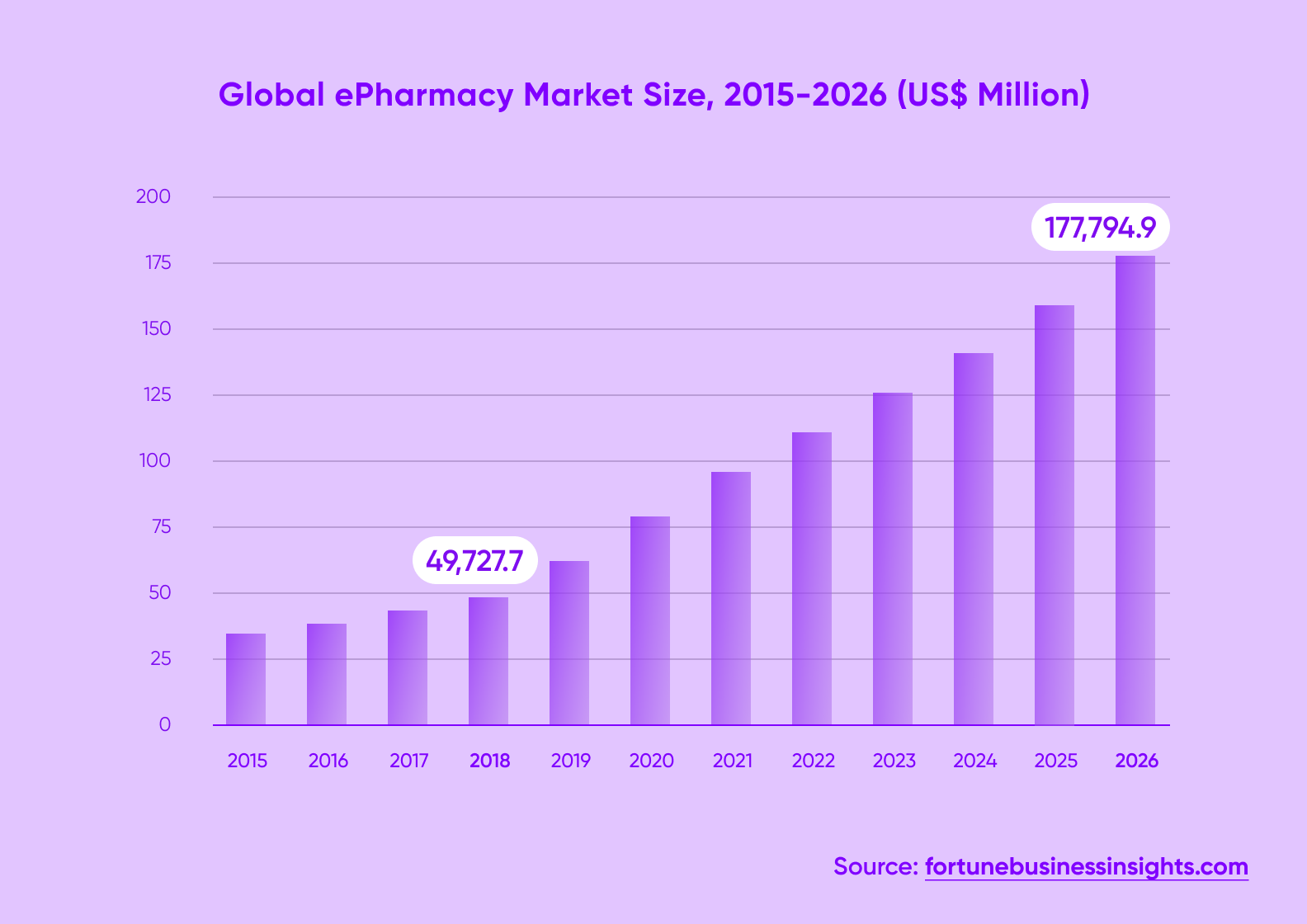 Today, the fastest growinghttps://www.mordorintelligence.com/industry-reports/epharmacy-market pharmacy and healthcare market segment is the Asian region. Perhaps in a few years it will catch up with the largest online pharmacy market in North America.
New participants are regularly added to the ePharmacy market. At the start, this industry included only medicine stores, both prescription and over-the-counter drugs. But now there are cosmetics, vitamins, as well as services — audio and video consultations with doctors and chats with bots.
As the ePharmacy niche is still poorly represented on the market, there is an opportunity for growth. Therefore, you have a chance to create a product, which has no analogues on the market yet.
Business benefits of custom pharmacy apps
Let's talk about the features of the ePharmacy market that make it different from other mobile apps and how the market benefits can be used by startuppers. A pharmacy app allows you to:
Emphasize social value
Unlike most entertainment mobile apps, any pharmacy service has undeniable value — it brings benefits because people really need it. Using medicine delivery apps, people receive help: order medicines, consult with a doctor, keep a treatment history. 
Highlight this benefit in the vision and mission of your product: pharmacy apps save people in a difficult situation when they are sick and need support. In return, you get a loyal audience that understands the app's benefits and will continue to use it. It means that you will receive a stable income by maintaining the product functions at the proper level.
Broaden your audience
If you already have a pharmacy chain, the app will help you get more customers.
It is more convenient to buy medicines through a smartphone than in an offline pharmacy. 

The pharmacy app can become an additional point of online sales.
You can expand your target audience by creating an app not only for customers, but also for pharmacists and healthcare professionals. Implement features that will be convenient for different categories of potential users of your app.
Take an advantage of modern technologies
You can implement analytical tools to attract new customers. Your customers buy drugs using a pharmacy app and they want to compare prices for similar drugs. Add a comparison tool to meet its need. Another useful feature is the analysis of purchase history. For example, the app can remember what the user usually buys and remind them about regular orders with some frequency.
Pharmacists often have to spend a lot of time sorting drug records, updating inventory lists, and analyzing sales statistics. Consider built-in sales analytics and tracking systems, such as drug code scanning, to make the work easier in pharmacies and warehouses.
Types of pharmacy apps
Before you start an online pharmacy app development, study the types of pharmacy applications on the market. This analysis will help you choose the direction to build your own product and highlight important points in the healthcare application development.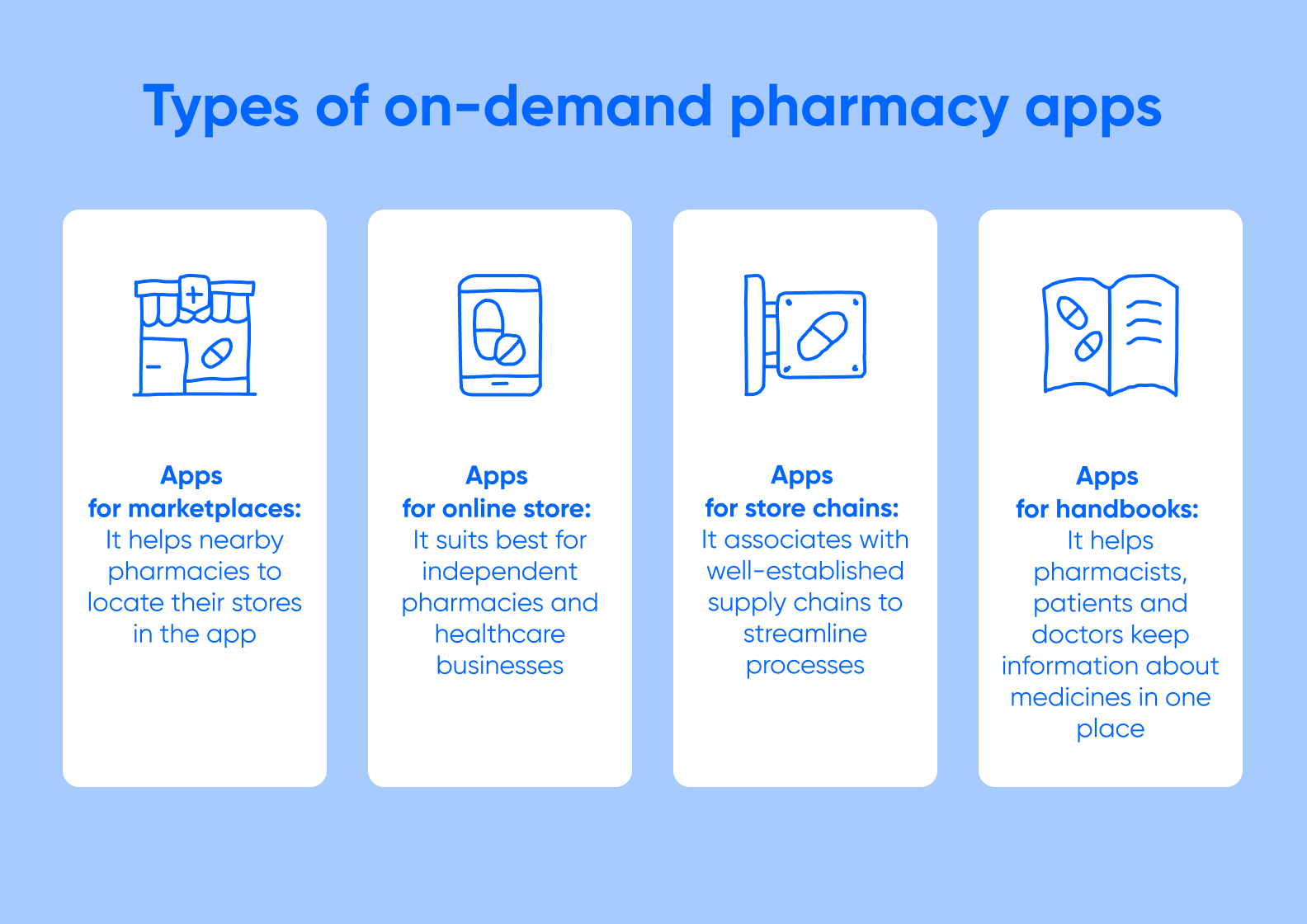 Apps for marketplaces
This is a pharmacy marketplace: you collect goods from several suppliers in one place, and the buyers select and order the right drugs. The main advantage of the aggregator app is that you are not limited to the list of pharmacies and medicines. You can cooperate with any pharmacy chain. However, in this case, you will have to build all processes for logistics, data aggregation, and collecting drug information from scratch.
Apps for online store
Unlike an aggregator app, a store app is associated with a specific pharmacy store or chain. The online pharmacy store is more limited in the list of drugs compared to the aggregator app. In return, you get streamlined processes that have already proven themselves in the pharmacy chain. The advantages of this type of pharmacy apps are well-established supply chains, accumulated drug data, and contacts with pharmacy consultants.
Apps for store chains
This is an app for managing processes in a pharmaceutical company or pharmacy. The app can include such useful features as smart digital catalog integration, logistics attributes, and analytic settings.
Apps for handbooks
You can develop a help app for pharmacists, patients, doctors, or pharmaceutical company employees who want to have all drug information in one place. For example, it may include an up-to-date list of all drugs approved by the US Food and Drug Administration. Another useful feature of the handbook app is an immunization calendar that notifies users — medical professionals or patients — of the vaccination schedule. 
The app should be a convenient tool for working with regularly updated databases. It is important to include a clear navigation and advanced search system.
Top-3 pharmaceutical mobile apps
Let's compare existing online pharmacy apps that will be useful for both customers and pharmacy staff. We selected 3 examples based on downloads, global presence, and must have features. You can borrow useful tips for your own product.
Walgreens
App for customers who want to buy drugs online. Walgreens is an online pharmacy store of the second largest pharmacy chainhttps://www.businessoutreach.in/walgreens-americas-second-largest-pharmacy/ in the United States.
Key functions: 
allows to buy medicines;

helps to find prescriptions and search for medicines by scanning a barcode;

reminds about taking medicines;

connects with

pharmacy and healthcare

providers for consultations.
Rite Aid Pharmacy
One of the pioneer products that appeared on the mobile app market in 2012.
Key functions: 
catalog of medicines: buy medicines using your smartphone;

family accounts: create common medical list with prescriptions for all family members;

navigation: find the nearest pharmacy with available medicines;

bonus system: earn Rite Aid Rewards points and convert it to BonusCash for more savings.
Epocrates
App for employees of pharmacies and pharmaceutical companies. Just enter a drug's characteristics, such as color and shape, to get its complete profile.
Key functions: 
analyzes how different drugs are combined and interact with each other; 

contains the full drug data, from prescription drugs, storage conditions, safety information to updates on pharmacopeia changes;

checks health insurance formularies for medication coverage.
Must have features of an online pharmacy app
The pharmacy app must include the necessary features to meet the needs of the business and user expectations. Consider the most important and common functions.
Login & registration
Any new user must be authorized, especially if they want to buy a prescription medicine. Online pharmacy apps typically ask for age, gender, and questions about health. This information is crucial if you are going to sell medicines with age or health restrictions. For example, there are special drugs that are prohibited from sale to patients under 18 years or people with chronic diseases. 
At the same time, it is important to keep in mind the balance between the full data collection and user privacy. Your app should be compliant with privacy standards such as HIPAA.
Search and filtering
An important issue for customers is to find the right medicine or its equivalent. First of all, implement advanced search filters. Besides, make the search user-friendly: for example, add an option to return similar drug names in the list of results, even if the user has mistyped the name of the drug.
Cart and payment
This is a standard feature for any e-commerce app. Provide your users with several payment options — different types of cards (VISA, Mastercard), payments by transfer through an online wallet, mobile payments. Enable the option to remember the card details to save users' time and simplify the purchase process.
Notifications system
Users need to keep track of their orders. Here are some examples of push notifications:
order status changes;

reminder for a user to take medications;

discounts and special offers.
Keep flexible settings in mind, for example, add a function to turn off all notifications or customize them.
Contacts or chat-bot
Provide your users with a tool to contact the pharmacy and courier to ask questions about medicines or verify order information. The specific type of communication channel and its implementation depends on your resources and the goals of your pharmacy app. At a minimum, add a simple chat-bot to communicate with the administrator.
An extended version of the communication function is telemedicine. In general, telemedicine works like a chat-bot or a call to a medical consultant or pharmacist. If you want to create a useful pharmacy app, ask medical experts to test interface scenarios.
Nice-to-have features of an online pharmacy app
Some of the features could turn it from a standard drug aggregator to an indispensable app for regular use.
Information about drugs and its comparison
Let your users find out all the necessary information about drugs: who is a manufacturer, what is the drug composition. In addition, you can also include a function to check the drug compatibility: some medicines must or must not be taken together.
Barcode scanning
Add a barcode scanning feature to the pharmacy app to get info about drugs, order a refill, or make a payment at a store. Scanning simplifies the UX because all data is in one place.
Order history
This feature allows users to see which drugs they have taken in the past and help to track the entire treatment history based on previous prescriptions. Order history can simplify record keeping for patients and healthcare professionals. 
Pharmacy app tech stack
If you create a pharmacy app from scratch, we recommend choosing a JavaScript-based tech stack. With JavaScript stack, your app will work on any device.
Choose React.js and Node.js for a web-based app. React.js is used for the frontend part of the app — the interface with which the user interacts. Node.js — for the backend, or the "server" side. The frameworks complement each other and ensure the best performance for your app.
Opt for Electron.js for a desktop app. This will allow you to build a cross-platform product compatible with MacOS and Windows with one development team.
Consider React Native — it's the best bet for a mobile app. One team of developers will make a product compatible with iOS and Android at the same time, which will save you money and hours.
6 steps to make a pharmacy app
If you are ready to start your pharmacy app development, consider the steps highlighted below. The approach is based on our 8-years experience in app development and over 300 completed projects.
#1. Analyze the market and research competitors
The first step on the path to a pharma app development is to decide which of the popular apps will be your points of reference. Feel free to use the experience of similar products: find tips, notice UX hacks and features from other online pharmacy apps. Try to define your product goals and focus on the needs of your target audience.
#2. Define the app features 
We recommend starting your healthcare app development with an MVP, minimum viable product. This is a basic version of your pharmacy app that will help to quickly test your idea on the market at minimum expense. Make a list of key features you got from the previous market analysis to create a vision for your product. You can also use the must-have features that we mentioned in the article.
#3. Find developers
There are 3 ways to hire a development team: outsourcing, freelancing, and in-house. We recommend outsourcing as it will save you time and money.
Choose a provider with relevant experience. It is better to choose an agency that has already implemented similar projects and knows the features and limitations of the healthcare application development process. 
Read more about how we created a drug delivery app that helps to find medicine available in pharmacies nearby, pay for them right from the app, and get them delivered.
#4. UI/UX design
The app interface should be simple so that the user can immediately understand how to order medicines. Case studies will help you with this — use the best practices from other online pharmacy apps.
#5. Coding
In the case of an online pharma app development, we recommend you to start from the mobile version. Most likely, the mobile version will be more popular for ordering medicines than the browser version, because the smartphone is always at hand. 
To reach a wider audience, it makes sense to develop the app both for Android and iOS. That's why you may want to choose React Native as a tech stack for your project. This framework allows you to develop a mobile app with one codebase for both Android and iOS — cheaper compared to native apps but still reliable.
#6. Release and maintenance
After your app goes to market, it's important to analyze user feedback and improve the app in next releases. In the case of a pharmacy app development, proper maintenance is particularly important. Take care of the most important pharmacy app properties: monitor its updates and protect user data.
How much it costs to create a pharmacy app
Here are the factors that will influence the final cost of the pharma app development:
the complexity and the number of app features;

the hiring type, the time frame, and developer hourly rate;

the number of platforms for the app.
Below you can see our approximate cost estimate for medicine delivery app development. If you would like an accurate estimate, please contact us.
| | | |
| --- | --- | --- |
| | Time | Cost |
| Project estimation & analysis | 8 hours | $0 |
| UI/UX design | 110 hours | $6 100 |
| Coding | 1300 hours | $75 150 |
| Testing | 680 hours | $13 600 |
| Project management | during the whole project  | $17 700 |
An online pharmacy app development will take about 7 months and cost approximately $112 550.
If you have an app idea and are looking for a development partner, feel free to get in touch with us using the form below. Purrweb has 8+ years of experience in MVP development and your app has every chance to become the next successful project.