Let us begin by explaining 'SaaS.' It means Software as a Service, that is, a subscription-based license program. SaaS products do not require installation and can be used on an Internet-connected device, which is an advantage over boxed solutions that must be deployed on a drive and tuned to every user. SaaS solutions keep all information on data clouds on the Internet – a convenient arrangement for developers and users alike.
SaaSocracy, or why cloud services have swept the globe
An increasing number of enterprises are building their work processes on SaaS. After the wave(s) of quarantines and lockdowns, the offline solutions proved to be difficult to handle and maintain or simply could not be installed outside offices. Besides corporations, individual users also appreciate the ease cloud computing brings to their lives. For startups, SaaS ideas draw their interest for a few other reasons.
Reasons to start up in SaaS
Lower launch and development costs
A SaaS product has less trouble getting off the ground than an offline application because potential users don't need to install it and set it up on and for every device – computer or smartphone. On the developer side, this means there is no need to keep a fleet of home servers and a team of system administrators.
Pirate-protected
Unlike boxed programs, cloud software is almost impossible to hack and steal. Someone can hack a locally installed application with a copied license key (how many Photoshops in use were actually bought?), but the only way to use a SaaS is to pay for access. The owner of the device gets none of the program data, only an interface to access the remote servers.
Centralized updates
Since the cloud keeps all of the data, the whole service can be updated for all users at once. This speeds up feedback and lets the developers quickly fix any bugs.
In 2017 the SaaS market was valued at $58.8 billion, and in 2022 it should reach $143.7. Looking at some better-known SaaS ideas, it seems that a good match of concept and niche is nothing but a lucky coincidence. However, the best SaaS ideas are based on a close study of demand and market analysis, which led the developers to the likely hot spots. We want to save your time and share the information, ideas, statistics, and numbers you may require — right below.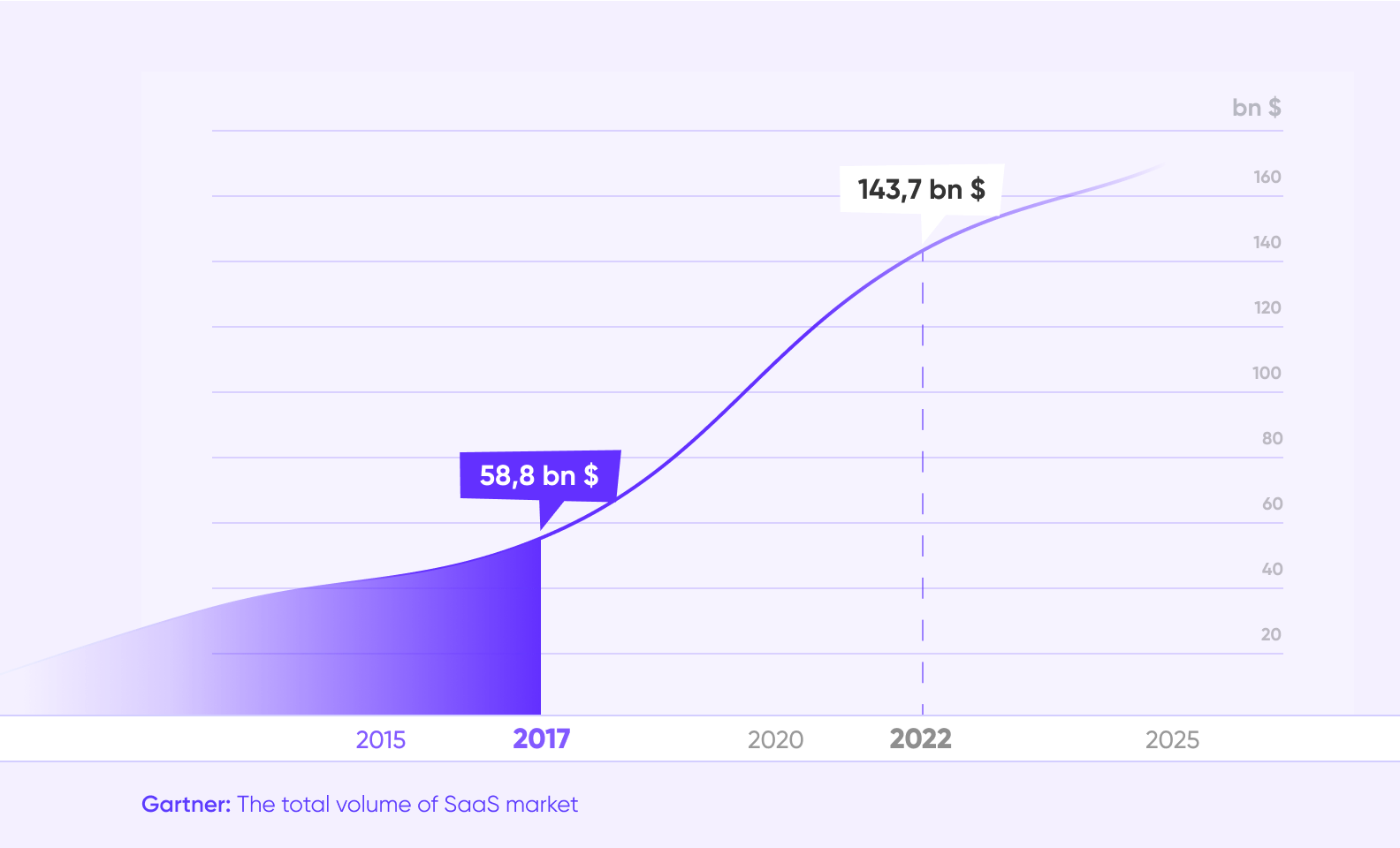 Promising SaaS project ideas in 2022
Real estate management
Demand
The real estate market is largely virgin territory as far as cloud computing is concerned. People are aware that finding an apartment to rent or buy (or any other piece of real estate) can be a pain in the wallet, and many would appreciate a way around realtors. Because of this, SaaS ideas that might help them get the property they require quicker and cheaper are going to be appreciated.
Idea
A direct deal ad search service with chat functions. For an original feature, let would-be tenants and buyers also post "wanted" ads so that landlords can contact them with offers. 
💰Potential
According to the Dsight database, the volume of global investments into PropTech (the real estate sector of IT) has grown from $200 million in 2011 to $14 billion in 2018. Based on these numbers, it is believed that by 2023 the volume may increase fourfold — to $58 billion.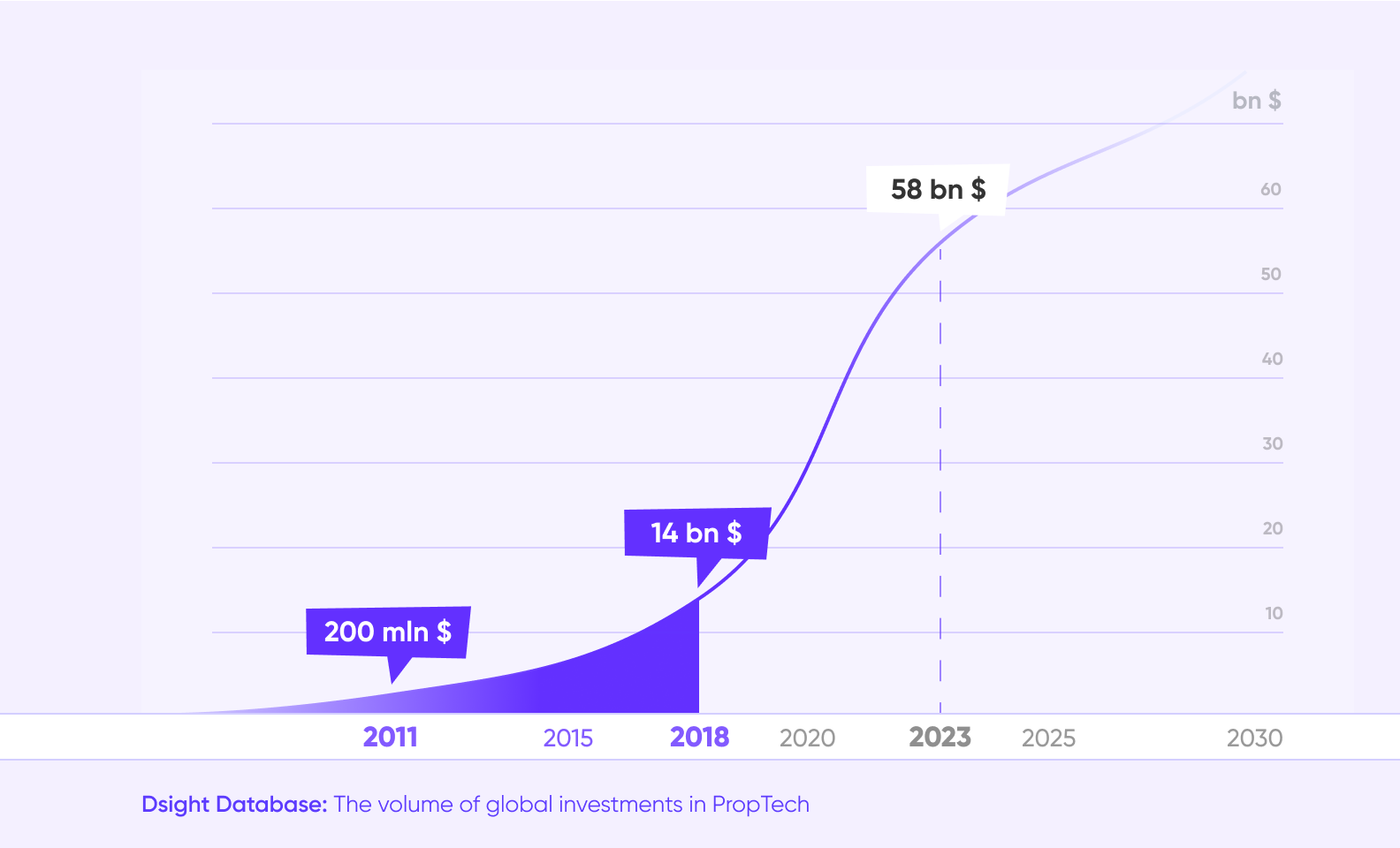 Remote workforce management
Demand
As early as 2020, when many companies were forced into the remote mode, labor market researchers predicted that they would not want to go back to the office. And they were right: when managers realized that remote work is as productive as the other kind and lets them save on office space and whatnot, they started putting workers out on a limb regardless of the virus situation. Then they searched for SaaS products that would bring together the remote employees and control their performance. 
Ideas
Kanban-type boards for task management, communication, and scheduling already exist. But one can segment customers' demand, and for each type of business, a specialized task management tool can be created:
— for marketing agencies, the platform could be integrated with ad campaign analytics tools; 
— for IT agencies, technical documents could be stored so that engineers could quickly find information for their own and others' tasks.
💰Potential
Every year economists compile a Future Workforce Report where they present their forecasts for the near future, and the number of remotely working employees is expected to double by 2025 from the 16.8 millionhttps://smallbiztrends.com/2021/11/remote-work-statistics.html — the figure before the pandemic. This promises more demand for software tools.
Fintech
Demand
Here is one of the most lucrative ideas for SaaS application development — financial services, something that will be wanted as long as there is an economy. The target audience of a new product may range widely from individual users to businesses of all sizes because payments, transactions, invoices, loans, and so on are important to everyone. Such lively demand makes financial technology a go-to field for SaaS platform builders.
Ideas
— a service to manage insurance payments and store policy information; 
— a cloud solution for supplier payments;
— an electronic card or virtual wallet platform.
💰Potential
If you still need proof, The Business Research Company has some numbers: in 2022 the global market of financial services will expand to $26.5 trillionhttps://tipalti.com/fintech-stats-for-2021/, and the growth of mobile-device transactions, including within SaaS products, increase by 121%. Online transfers will amount to 88% of all banking operations.
Education
Demand
SaaS products and SaaS ideas seeped into education before 2020, but with lockdowns, they became instantly essential. People still want to get high-quality education without leaving the house, and cloud platforms can float it to them. 
Ideas
— a children's service available at different institutes of education and adapted to audiences of various ages;
— a convenient remote tutoring platform;
— a corporate employee education solution;
— SaaS application developed for remote instruction in schools and colleges, common to them all, easy to understand and use. 
💰Potential
MarketsandMarkets expects the education segment of SaaS to bring $25 billionhttps://habr.com/ru/company/1cloud/blog/343198/ in 2021 to grow in the near future. A CDW survey among college presidents shows that about half of them mean to bring in some cloud technology.
Health care
Demand
Telemedicine is a rather new niche (not counting therapy, which has been delivered online for some time), and still with some elbow room. In certain cases, physicians, neurologists, or ENT specialists can examine a patient without their presence after a remote discussion. Hospital visits are risky at the moment, especially for the elderly, so telemedicine may be a nice, stay-at-home alternative.
Ideas
— developing a SaaS application for appointments and online visits, storing application data, patient histories, and doctor's recommendations;
— a platform for private hospitals that lets visitors make payments directly on the website. 
💰Potential
Fortune Business Insights, an analytics company, promises a turnaround of $396 billion dollars for the telemedicine market by 2027 — from $80 billion in 2020. Growth forecasts are borne out by real figures: according to Teladoc Health Inc., which specializes in telemedicine, its online consultations have increased by 60% and reached 2 million from January to March of 2020.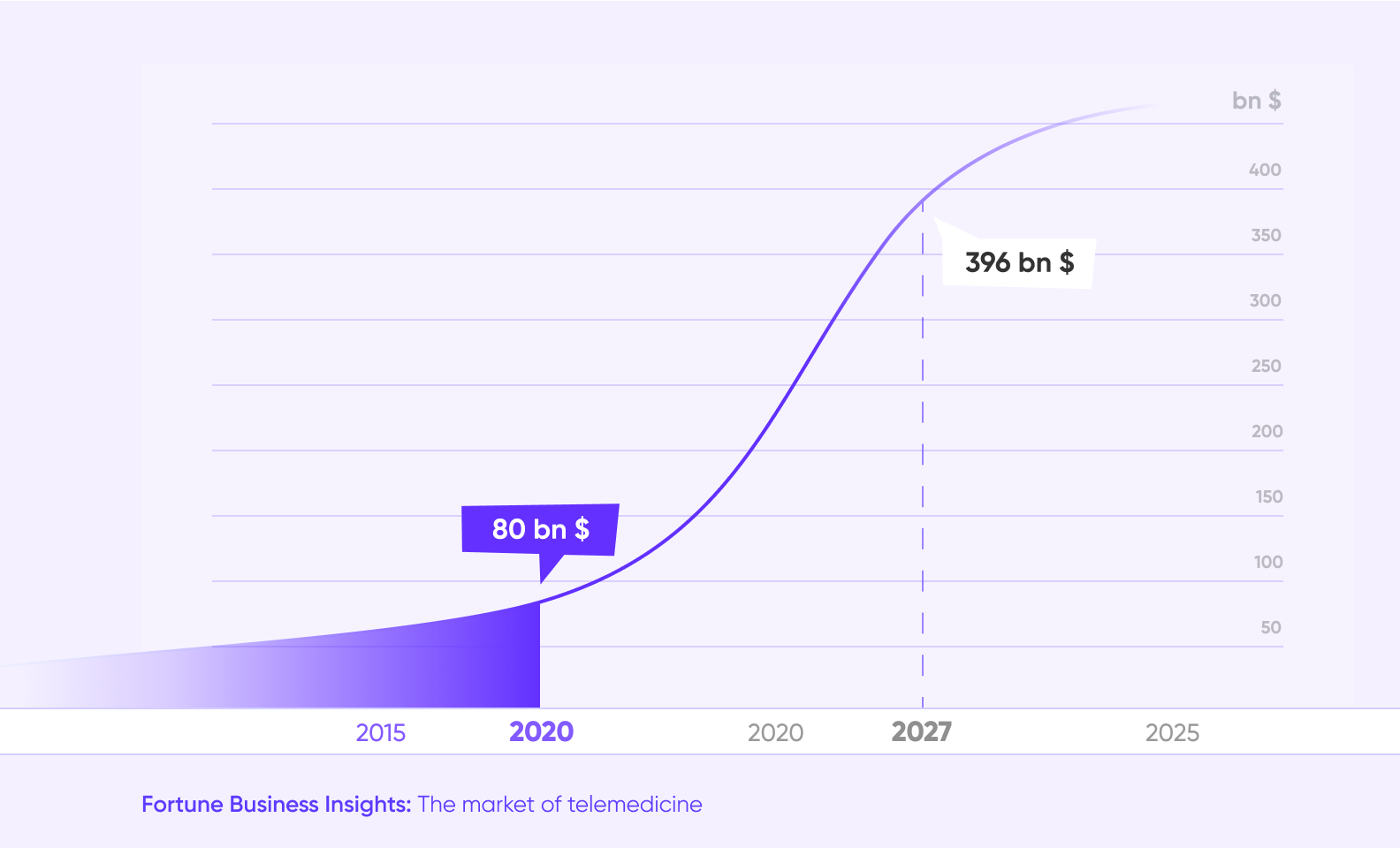 Internet marketing automation
Demand
Online marketers are always busy generating the content, starting campaigns, and checking customer activity, so they would seize an opportunity to automate at least some of the workflow. Cloud services might help speed up and improve the quality of advertising work.
Ideas
— a cloud solution for managing newsletters and segmenting the customer audience; 
— a system that collects customer behavior data from different channels to improve advertising campaigns. 
💰Potential 
Do we really have to say that online marketing grows year after year? If you still need proof, here are some figures: Forrester Research estimates that by 2023 media agencies will have automated 11% of their tasks, by 2032 — 23%. More than 60%https://sbermarketing.ru/news/marketing_automation of B2B companies already use some sales automation solution.
Automating accounting
Demand
Though this may not be the most original SaaS service idea, the target audience is certainly large: every kind of business has to organize financial reporting and paper flow, so there is still an appetite for cloud bookkeeping software. In this competitive environment, though, one would have to address the needs of a particular customer segment to succeed.
Idea
A service for aspiring entrepreneurs who prefer to manage accounts themselves to avoid hiring an accountant. The functions might include automated reporting, credit/debit control, and payment collection.
💰Potential
Fortune Business Insights, whom we have already mentioned, writes that the market of programs and services for autоmated accounting (all of them, not just SaaS products) in 2018 was worth $11 billion, and growing as it does by 8.2% year by year, in 2026 will expand to $2.408 billion.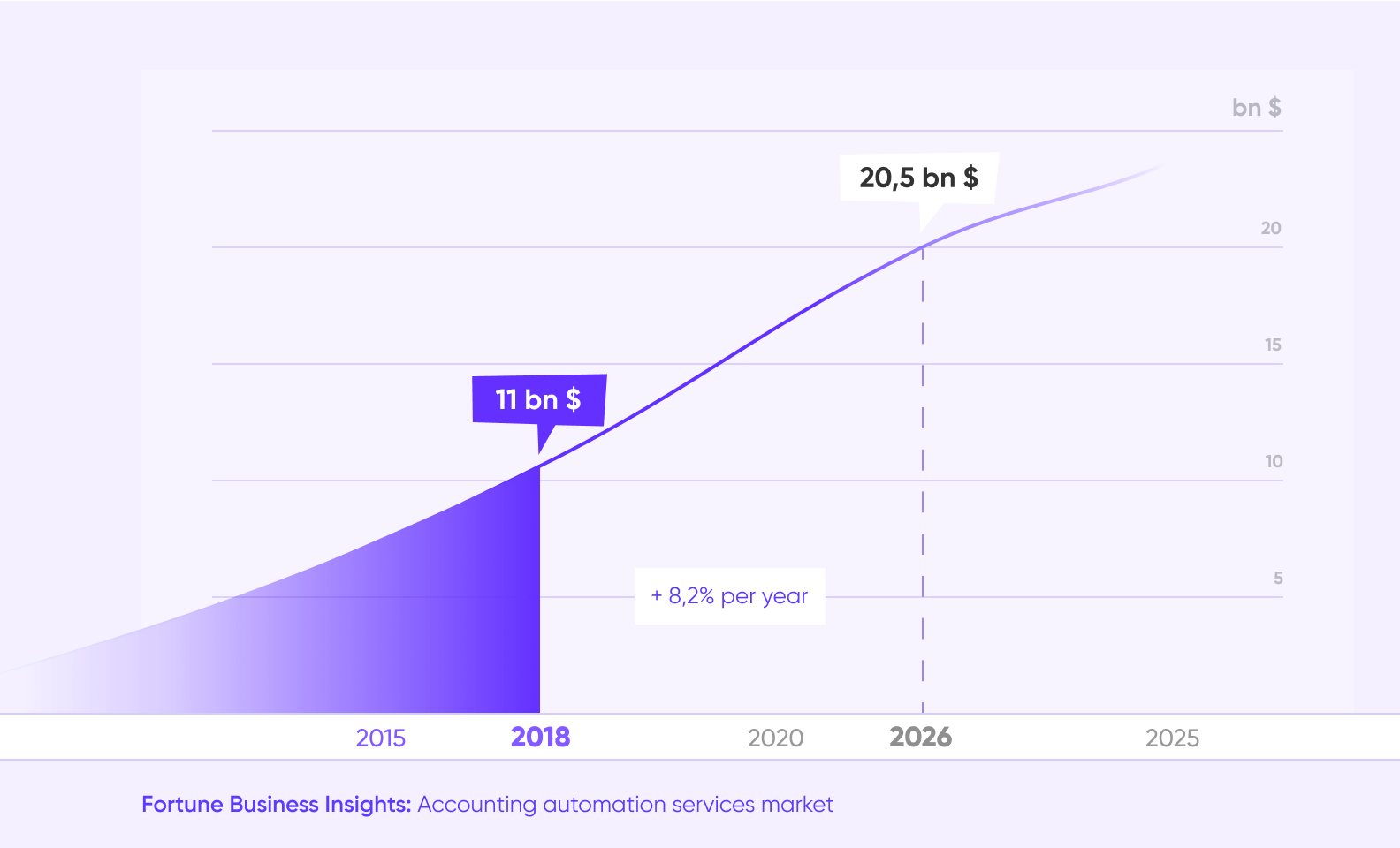 Freelance work
Demand
It is difficult to organize one's work on one's own. A freelancer has to look for clients, communicate with them on different platforms and messengers, remember deadlines, control due payments, maintain tax reporting. Cloud services can simplify all of this. There are already examples of marketplace-type SaaS services for freelancers, but the market is still open to unique innovations. 
Idea
A website for rare professions usually missing from such marketplaces: stylists, financial consultants, photographers. One would need to divide and study freelancers separately to discover what market share might need representation on a separate platform the most.
💰Potential
Researchers put the size of the world's freelancing software at $455 billionhttps://ddiy.co/freelance-statistics/ come 2023. In the United States, by 2027 freelancers may overtake traditionally employed workers and comprise 50.9% of the labor force in sheer numbers —  surely an attractive field for SaaS application development!
Recruitment
Demand
Every day of the week HR departments review and select candidates on a selection of marketplace websites. They continue screening them in those sites' chatrooms, messengers, and e-mails. On separate platforms, they bookmark and download appealing resumes. A cloud solution could bring together all these sources and streamline the requisite functions.
Idea
SaaS development of an HR platform that would let recruiters add resumes from different websites, store them in a shared database, communicate with candidates, send offers and rejections, set up appointments and keep application histories. 
 💰Potential
According to the marketing company, Grand View Research, the market of IT solutions for recruitment and personnel management was worth $17 billion in 2020. Supposing that this sector grows by 12.2% as expected year after year, its value will increase to $38 billion by 2027.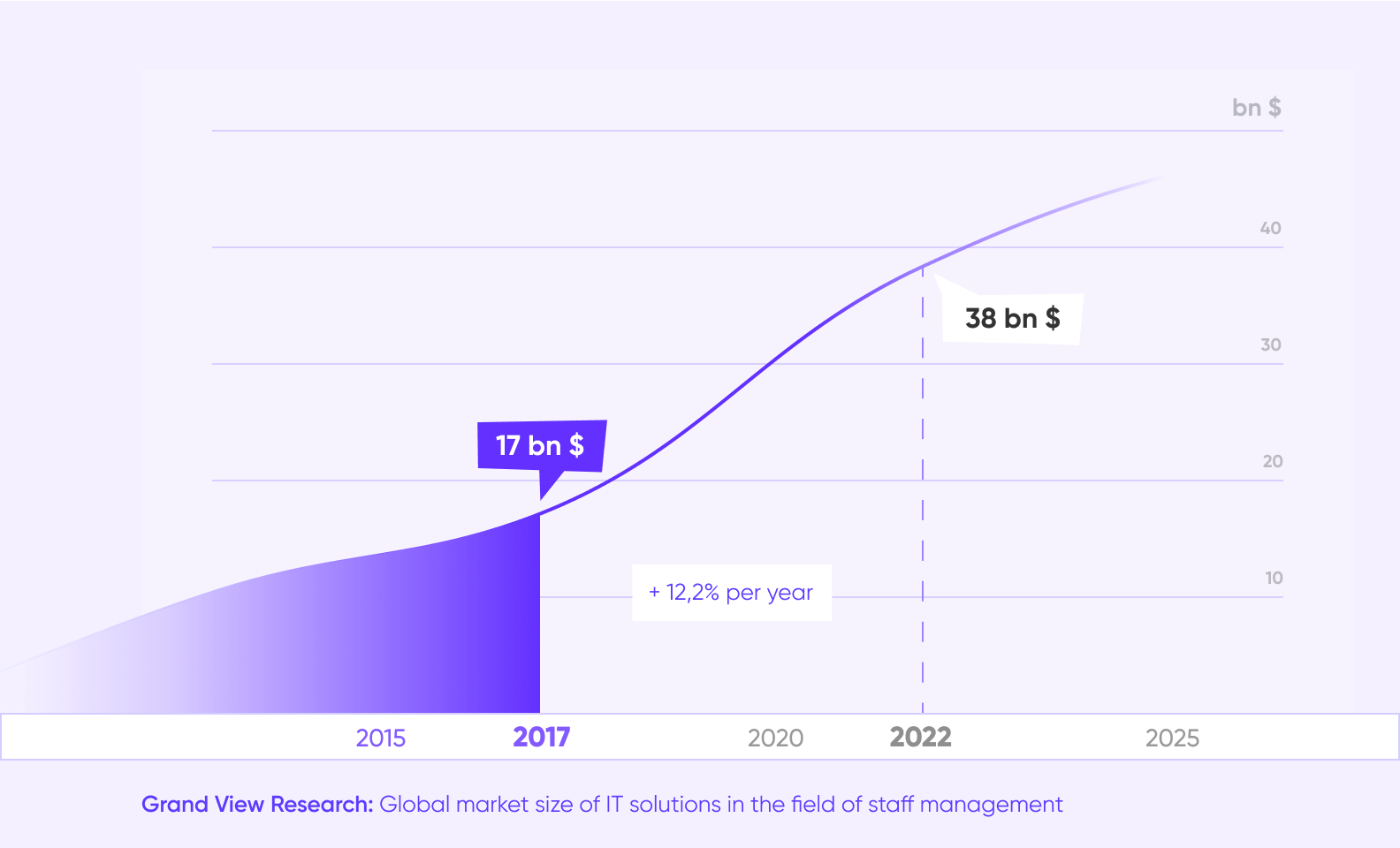 I think I have my SaaS idea hammered out. Where should I take it?
After you have picked a concept from among our SaaS examples and analyzed the market, you will have to prepare the project in detail, deciding on its goals, audience, and challenges it will eliminate. You will have to decide also which functions to include to get there, what the timeframe is, the resources to move the project along, test it, and eventually support it. 
Developing SaaS applications is a multi-step process that takes more than software programming skills; it also requires considerable marketing, economics, and pricing knowledge. If you would rather save your effort and time, you can always talk to Purrweb. 
We do more than create an MVP for testing your project. We can suggest which functions to add to a service to make the fullest use of its potential, recommend a profitable pricing model, and implement it in the test version. Bring a few SaaS examples you like, too, if you want. You can read more about our cases here. We are looking forward to your SaaS concepts to make real!