Demand generates supply, so there appear more and more UX design agencies. The quantity, however, does not always result in quality. The high number of UX companies makes it harder to find the one that suits your needs the most.
When the success of your project depends on the quality of the UI/UX design, choosing the right user experience agency to work with is an extremely important task. What makes it even more difficult is that not all top UX agencies are well-known in terms of skills. Some get new clients only through word of mouth and reference from previous clients. 
Look no further, we're here to help you find a decent UX agency for your upcoming project. In this piece, we've gathered some of the most talented and productive UX professionals in 2020. Take a closer look and find the company just for you.
Top
UX Agencies
in 2022
1. Purrweb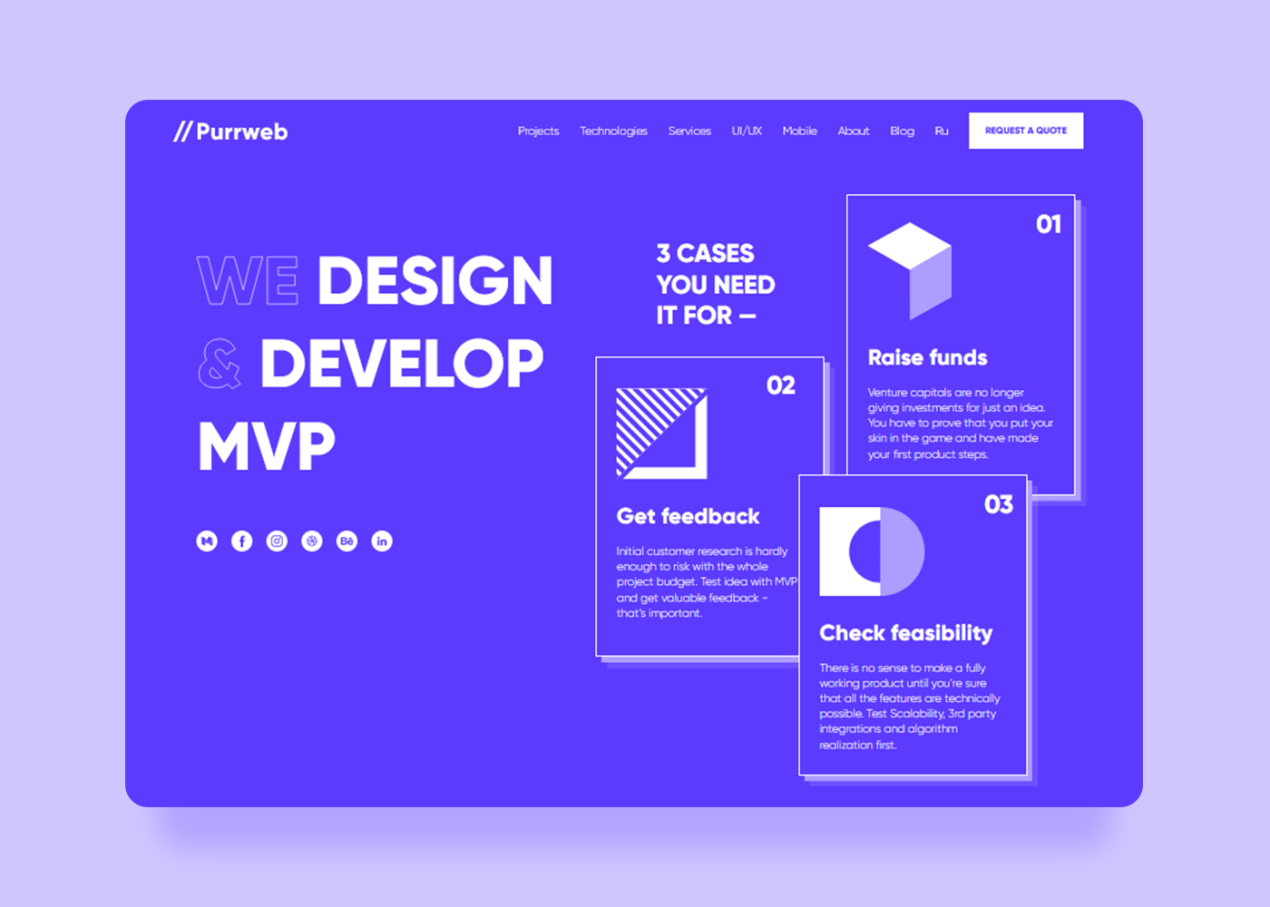 Key facts:
The main office is based in Omsk, Russia;

The UI/UX design company was founded in 2014;

Team size is 60 people;

The company has proven itself in various fields of expertise, including healthcare, logistics, real estate, sports and finance;

5-star reviews  on Clutch.co, GoodFirms.co and Facebook.
Purrweb's main goal as a UI/UX design agency is to help startups quickly, but without any loss of quality, create mobile apps, websites, or desktop apps. What makes them different from other UX agencies is that they provide a look at how your software will look like early in the designing process, so you can feel your project come to life. 
With a relatively small team based in Omsk, southwestern Siberia, Purrweb has compiled an impressive portfolio. The projects there range from a music marketplace to a pet health tracking app. If you're looking for a UI/UX design agency to help you make a unique project – Purrweb is a really good choice. 
2. Work&Co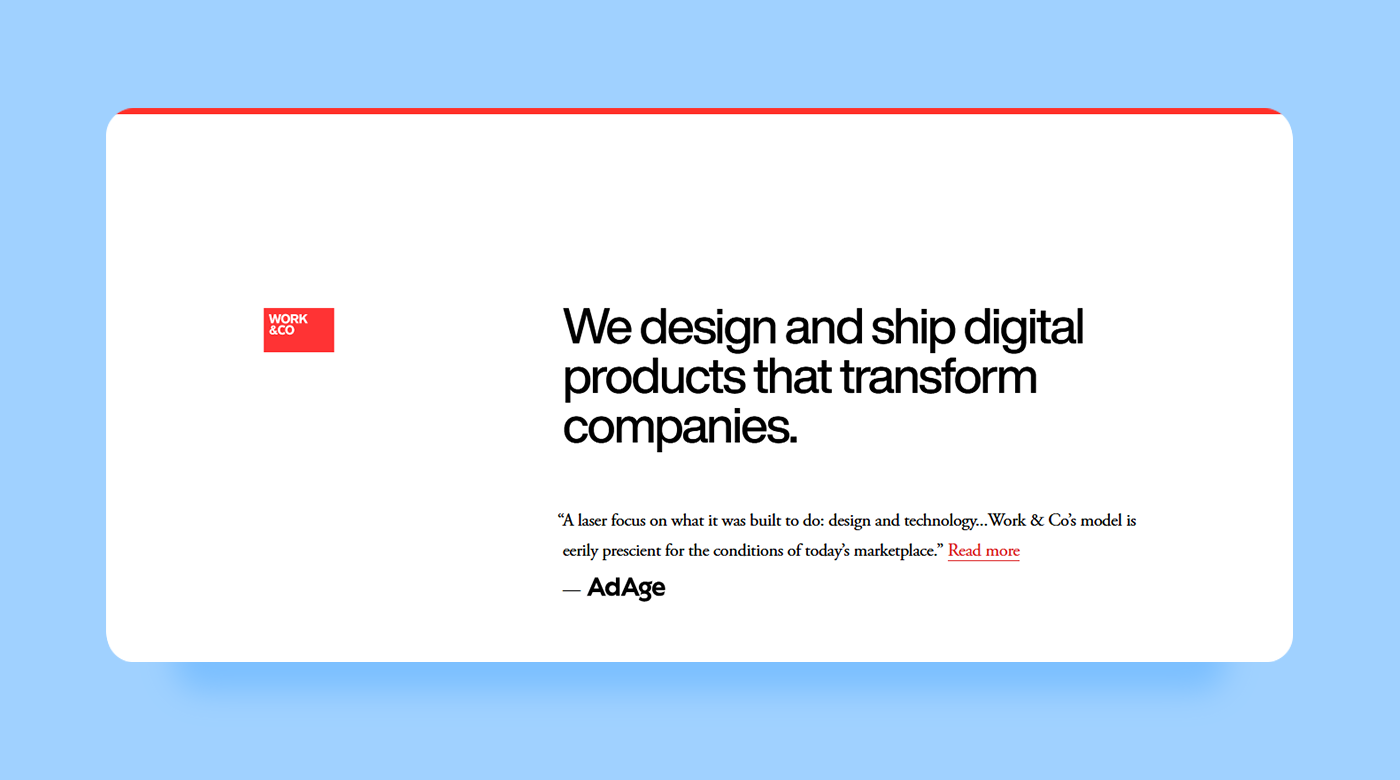 Key facts:
Works mainly with North American tech giants;

Offices based in New York, Portland and Sao Paolo;

The company has around 270 employees;

Select clients are Apple, IKEA, Google, Epic Games;

Has over 18,400 followers on Instagram, over 7,300 followers on Twitter.
The next on our list of UX agencies is Work & Co. This North American company has appeared on the radars after their first project – redesigning the website for Virgin America. Since then they've cooperated with dozens of big American and international companies.
Work & Co has gained the trust of tech giants, so you can trust in their skill. What makes them different is how they coordinate the design process. The company has 14 partners, and at any point in time, each one curates a separate project with its separate team. It is proven to be an effective system.
3. Ideo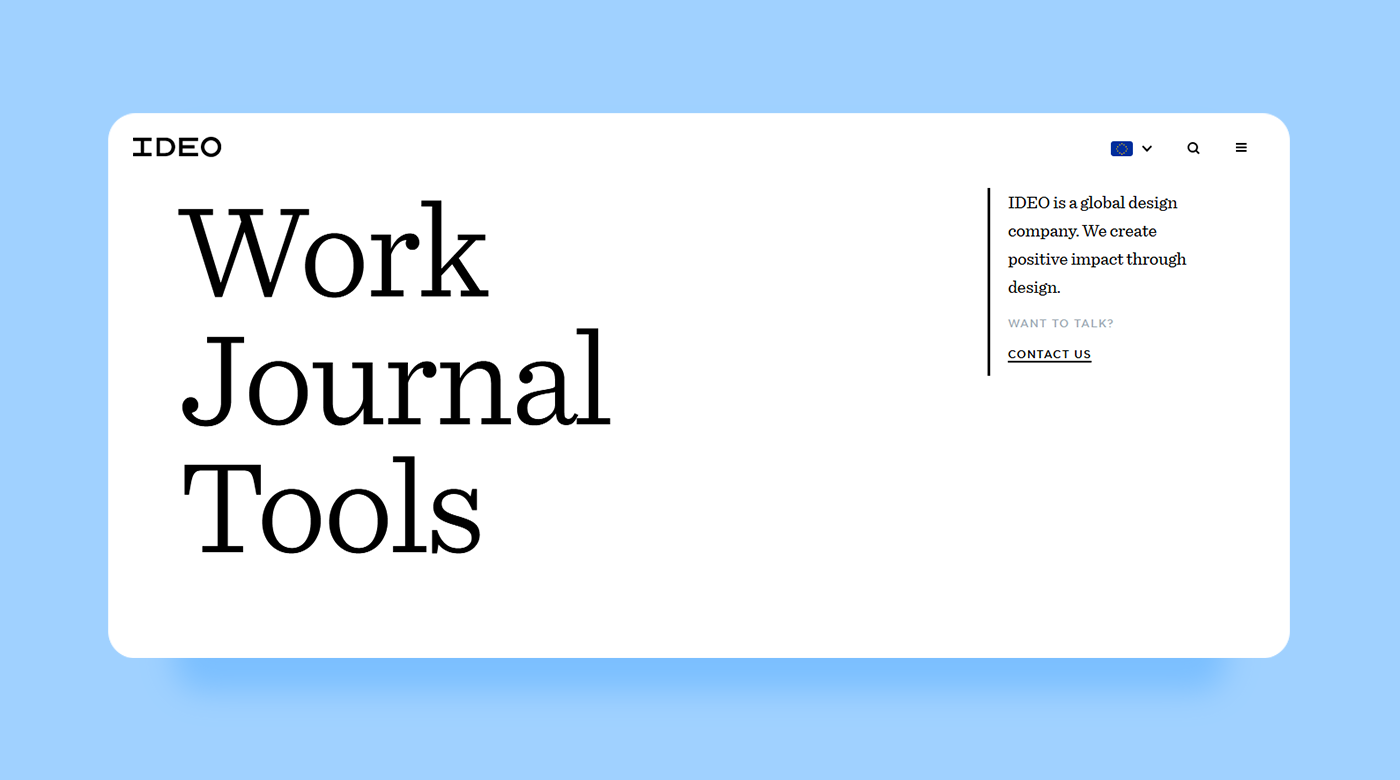 Key facts:
The company was founded in 1991;

First based in Palo Alto, now has offices all over the world, including London, Tokyo, Munich, New York;

Known for their innovative practices and focus on prototypes;

Employs over 700 people;

Some of their clients are Swarovski, Ford, Procter & Gamble, Planned Parenthood.
Ideo is the oldest company on this list. What makes it even more impressive is that it is still one of the most influential UX agencies in the world. They've first come up with the term "design thinking" and they've been following this principle ever since.
Not only does Ideo have decades of experience behind their back, but they also are not afraid to innovate. The employees are encouraged to think freely. However, this approach sometimes results in too big of an idea to realize. It is also often criticized for being too expensive to afford.
4. Clay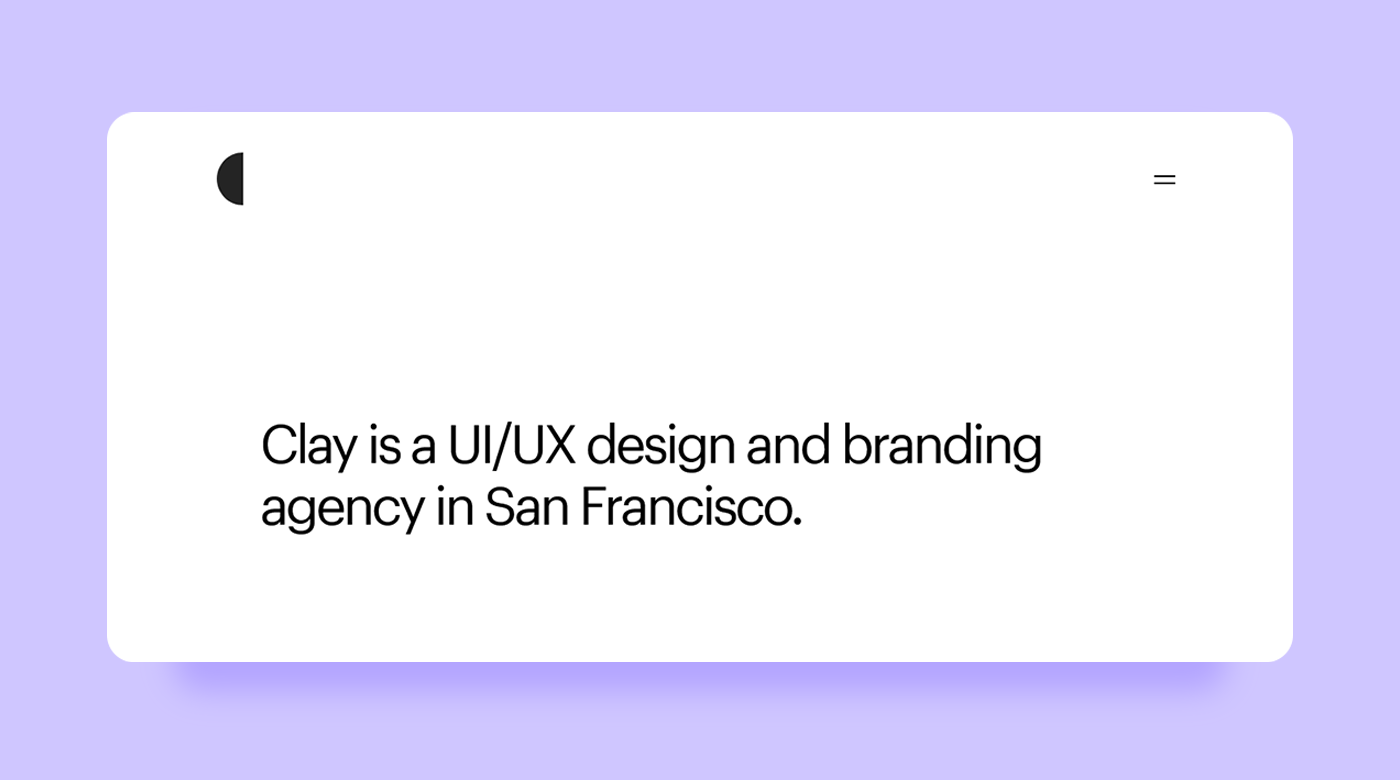 Key facts:
Based in San Francisco;

The main focus in terms of clients – Silicon Valley unicorns;

Consists of 32 employees;

Some of the companies they've worked with are Slack, Google, Facebook;

Has a rating of 4.8 based on 19 reviews on Clutch.co.
Clay is a full-cycle design company that can take your idea, make it a reality, and presents it to the world. Situated in San Francisco, this agency faces a lot of competition, yet they still manage to stand out in the crowd. Partnering with startups big and small all over Silicone Valley, they've created a reputation of a reliable and effective partner.
The team at Clay cares about the projects they work on, they try their hardest to ensure that your vision gets presented to the world. So, it's no wonder that they provide a discount to the startups they believe in.
5.  Fireart Studio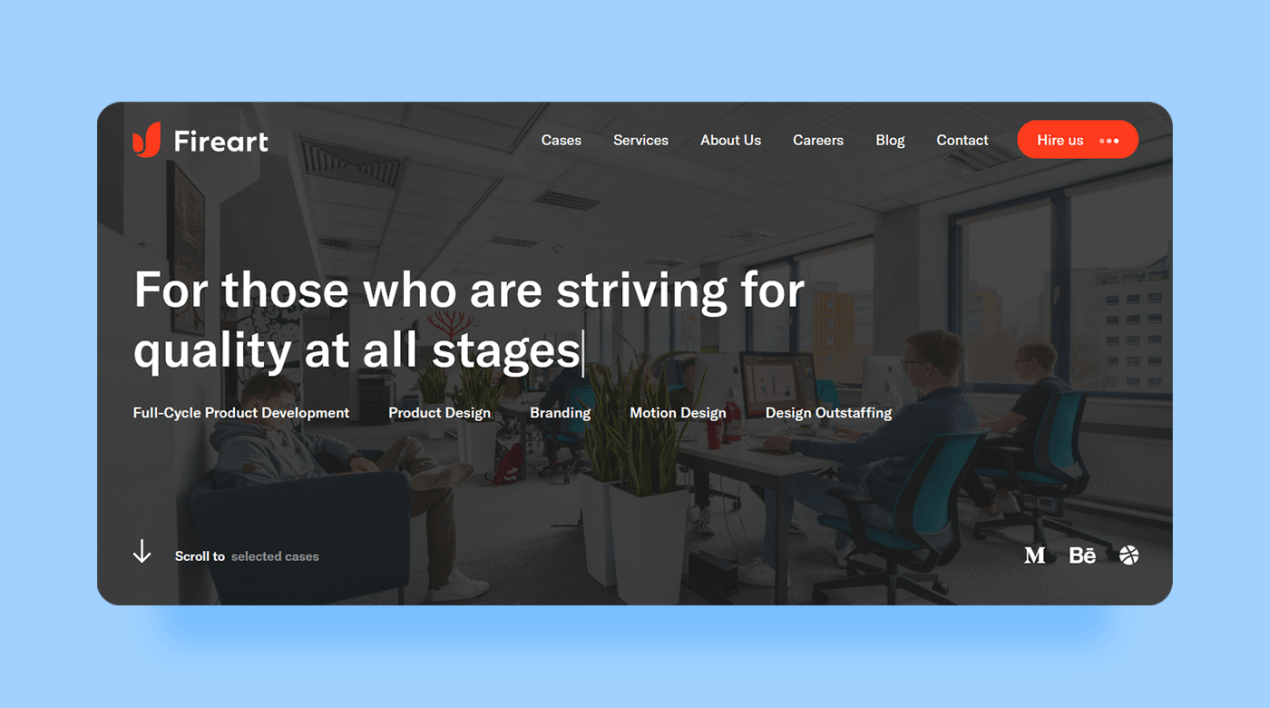 Key facts:
Founded in 2013 in Warsaw, Poland;

Besides the main office in Warsaw, there are locations in the United Kingdom and the United States;

Employs over 50 designers and developers;

Some of the clients are Atlassian, Codio, 2PARK, Google;

Has completed over 300 projects.
Another full-cycle development company on this list, this Warsaw-based company has earned its place on this list through hard work and dedication. In 6 years they've been around, they've partnered with over 700 companies to create new and update old software. Fireart Studio prides themselves with their agile and diverse team ready to overcome any challenge presented. 
Another thing they mention about their team is flexibility. Fireart Studio is ready to integrate their work with your ongoing projects. Furthermore, they are ready to cooperate with your in-house team to make the transition smoother. They are also flexible in terms of development costs. Fireart Studio assures clients that they are ready to adhere to fixed costs during the designing process. All of that makes them great allies that provide top-notch results.
6. Brave UX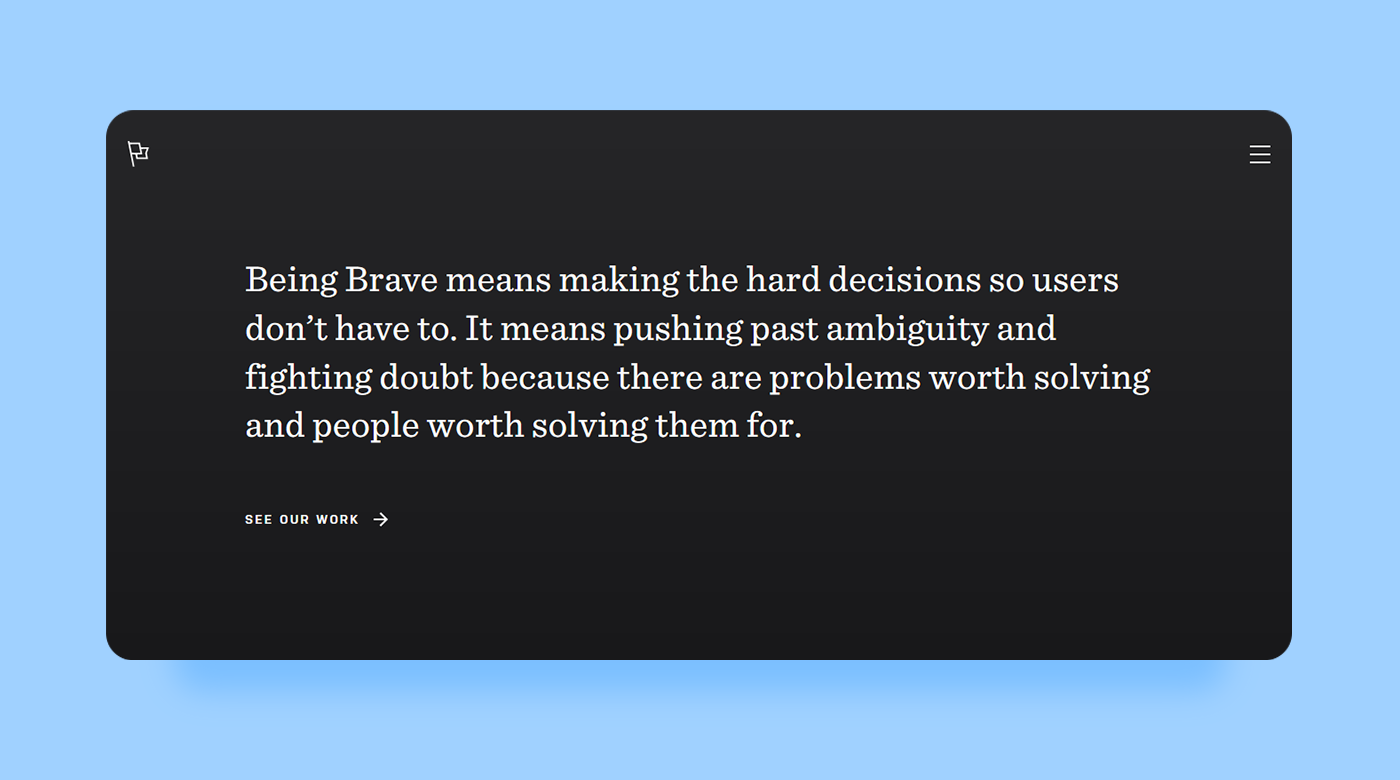 Based in Washington, DC;

Founded in 2014;

The company consists of 9 people;

Some of the projects include Royal Caribbean, FourthWall, LifeCents;

Has a 5.0 score on Clutch.co based on 23 reviews, has been included in the list of Top User Experience (UX) Agencies by the site.
Brave UX is a small team of passionate people. They definitely deserve their place on this list, as the company enjoys the challenge. They put a heavy focus on research and the preparation stage of the designing process. This allows Brave UX to approach the most complex tasks and develop elegant and beautiful solutions.
People at Brave UX are not only courageous, but they are also dedicated and creative. Their efforts have been recognized not only by satisfied customers but also by Clutch themselves. If you're looking for a creative outlook and maybe an unexpected take on your situation then Brave UX is the choice for you.
7. Praxent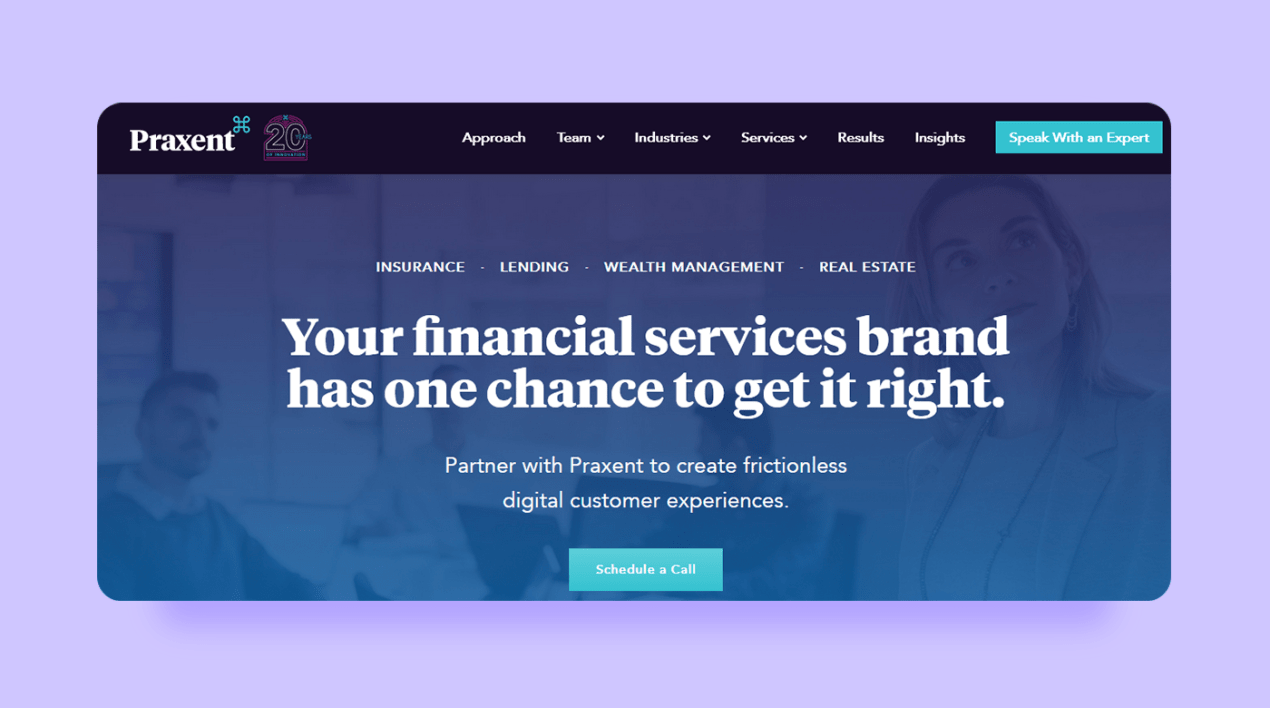 Key facts:
The main office is situated in Austin, Texas;

The company celebrates 20th anniversary in 2020;

Is a number 1,782 on Inc.5000 list;

Consists of a team of more than 70 employees;

Has cooperated with Cisco, Dimensional, Flex;

Has a score of 4.8 based on 42 reviews on Clutch.
Unlike most of the other UX agencies on this list, Praxent puts the business side of things into focus. While the main goal remains to bring your vision to life, Praxent also assures you of reduced financial risks and probable business goals. And they hold on to their word, as their 20 years of experience and successful projects demonstrate.
Praxent offers a transparent and flexible development experience with tangible results. However, they also warn potential customers that their design process works best with service-based business. So, if that's your case and you want to bring digital innovation into your business, you should check out Praxent. What's more, they have experience in many fields, from energy to real estate and healthcare.
8. Momentum Design Lab
Key facts:
International company with offices in San Mateo, New York, London, and Sydney;

Created in 2002;

Works with such companies as Sony, Bayer, Hasbro, AT&T;

Was rated #1 by Clutch.co 4 years in a row;

Now has a rating of 4.8 based on 53 reviews.
The next item on our list of UX agencies is the international Momentum Design Lab. As the company was born in Silicon Valley, it strives to innovate and bring something new into the familiar UI/UX designing process. One of their selling points is the AI-driven designing experience – intelligent analysis of the research data to create the best possible strategy moving forward.
As a result of such an innovative approach, Momentum Lab often works with startups that understand its value. Momentum has done multiple projects with AI, IoT, Blockchain companies. The applications they've created have been highly reviewed and they've stayed on the top of the Clutch rating for a long time.
9. Codal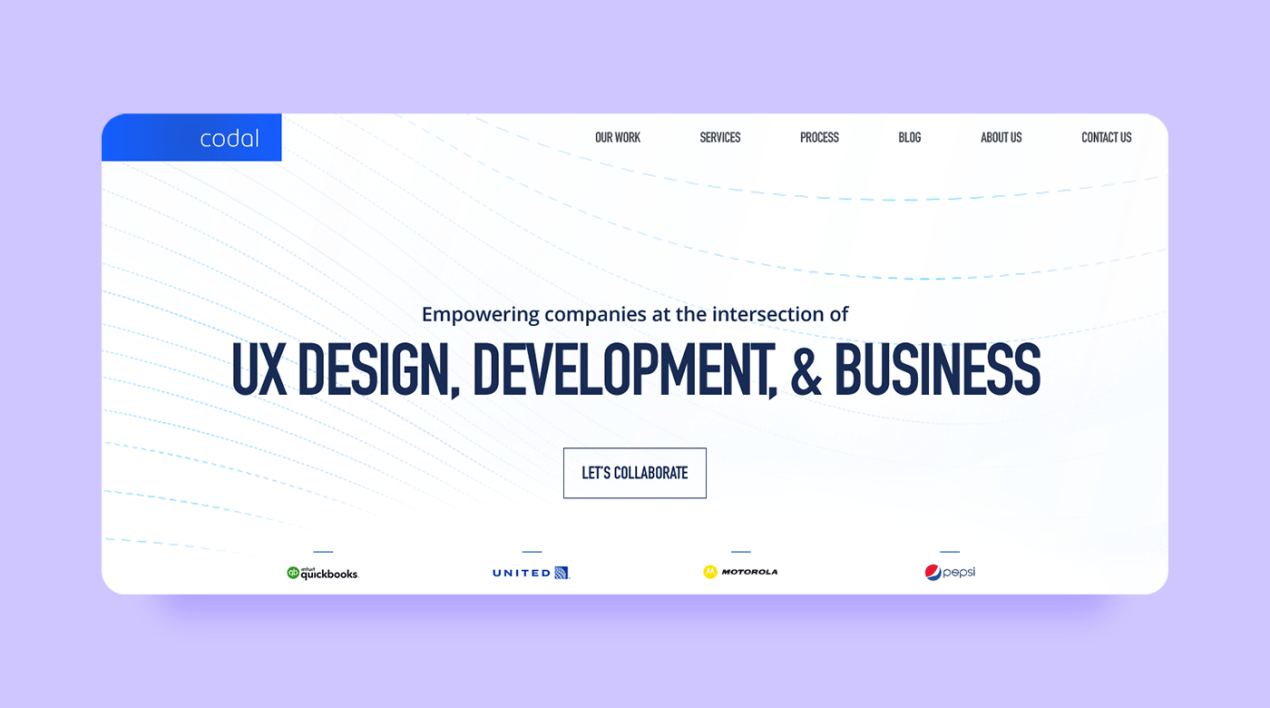 Key facts:
Founded in 2009;

The main office is based in Chicago;

Other locations include Ahmedabad, India and Lincoln, UK;

Cooperated with such big companies as Pepsi, United, Motorola;

Has a 4.6 rating based on 16 reviews on Clutch.
Like many other UX agencies on this list, Codal has started as a startup. Dedicated people with a strong work ethic and a desire to create have paved their unique way into the business. As the Codal founder James Langer says, they sought to fill the lack of transparency and efficiency in UX designing companies. 
While the company has cooperated with some of the biggest brands around, Codal strives to maintain the friendliness and openness they've had when the whole ordeal began. The goal also remains the same – help companies build brands and tell stories they want to tell. Not only do they build the brands from the ground up, but they also strive to make sustainable long-term solutions.
10. Beyond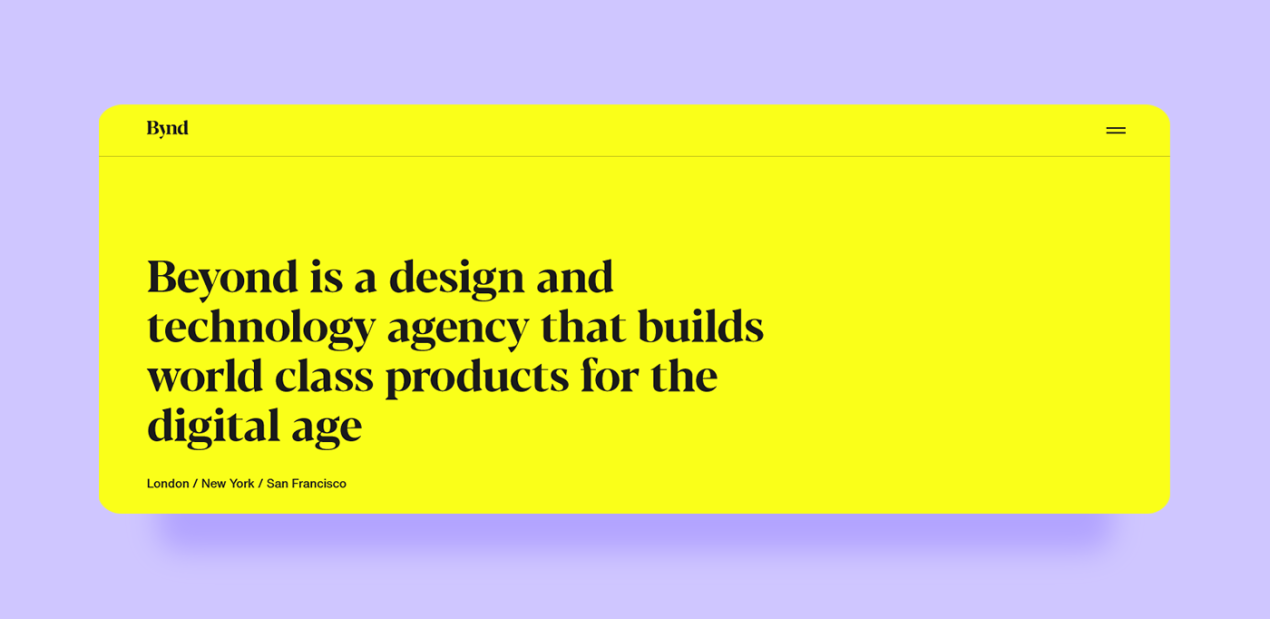 Key facts:
The company was founded in 2010 in San Francisco;

Other offices are situated in New York and London;

The management team consists of 11 people;

The company has worked with Facebook, Google, Royal College of Art;

Has a score of 4.88 based on 7 reviews on Clutch.co.
For a decade, Beyond has helped business owners accept technological change and interact with their customers more effectively and purposefully. They not only provide the UI/UX design solutions but also often supply customer experience audits and strategies on how to perfect, as well as education on the subject.
Beyond puts a lot of focus on a strategic approach to product engagement. This multifaceted approach results in effective and long-term solutions to your current challenges. Both for existing products and the ones made from scratch, this results in a higher probability of a great business outcome.
How to Choose the Right UX Design Company
As we've mentioned, the importance of choosing the right user experience agency cannot be overstated. You're picking a team that will help you create a visual design, navigation, and other elements of quality user experience, in some cases even handle the branding of your product.
Picking one of the good user experience design firms will not only result in higher user retention rates but also will allow you to gain an edge over your competitors. In the modern age of booming evolution of IT, the unique and pleasant UI/UX design is almost a necessity for a successful product.
However, when it comes to UI/UX agencies, there is no one-size-fits-all answer. Some UX agencies are more experienced in your field, while others have more talented designers. If you're looking through the list of top UX agencies and you're still not sure which one to choose, take a look at these simple tips that might help you out.
1. Evaluate the Past Experiences of the Company
One of the working ways to rate UX companies is by checking their previous projects. Most UX design agencies will gladly share their portfolio with their potential customers, as it shows the challenges they've faced and the unique solutions they've developed for each of them.
 When you're looking through the portfolio of one of the UI/UX agencies, you should be thorough. The visual part of the design is important, but you should also check whether the result was successful or if it just looked good in principle. Don't focus on the names of big companies, check out the actual products instead. 
The best-case scenario is when the agency has experience in the field you're working in. This would mean that they've already studied the niche, analyzed the target market and main competitors, and faced the common problems that might occur during the development of your product as well.
2. Assess the Communication Quality
"Communication is key" is a cliché, but when it comes to UI/UX design – it is definitely true. The look and feel of your software depend on how well you can communicate it to UX design agencies. It is equally as important how UX agencies handle communication. 
The first thing you should discuss with the company of your choice is how often are they ready to talk with you about your project. Ideally, you should know about the completion of each separate task and you should be informed on the attainment of each milestone.
Overall, the more the company is enthusiastic about your project, the more ready they will be to talk with you about it. Don't forget to communicate about challenges and failures as well to know more about the process as a whole. Be sure to gauge their interest and make the right decision after that.
3. Consider the Location
In terms of location, UX agencies can be divided into local and offshore. Offshore companies are the ones with an office in another country (or even in other cities). The offices of local UX design agencies you can visit without traveling. 
So, which one is better? Actually, both formats have their merits and the choice is completely yours. Communication with offshore companies is mostly done online, either through video chat or simply by email. Most UX agencies will be ready to accommodate you even if there is a big time difference between you.
If you prefer physical in-person discussion, the local UI/UX agencies are a better choice for you. The difference between the two types mostly ends there. However, during these trying times of the COVID-19 pandemic, it may be harder to realize. So, at least right now, offshore companies with online communication are a safer choice.
4. Ask for References
There are multiple marketing strategies and tactics UX design agencies employ. Some focus on traditional advertisements, while others try more of a guerilla approach by purchasing positive reviews on aggregators or generating positive comments from non-existing users.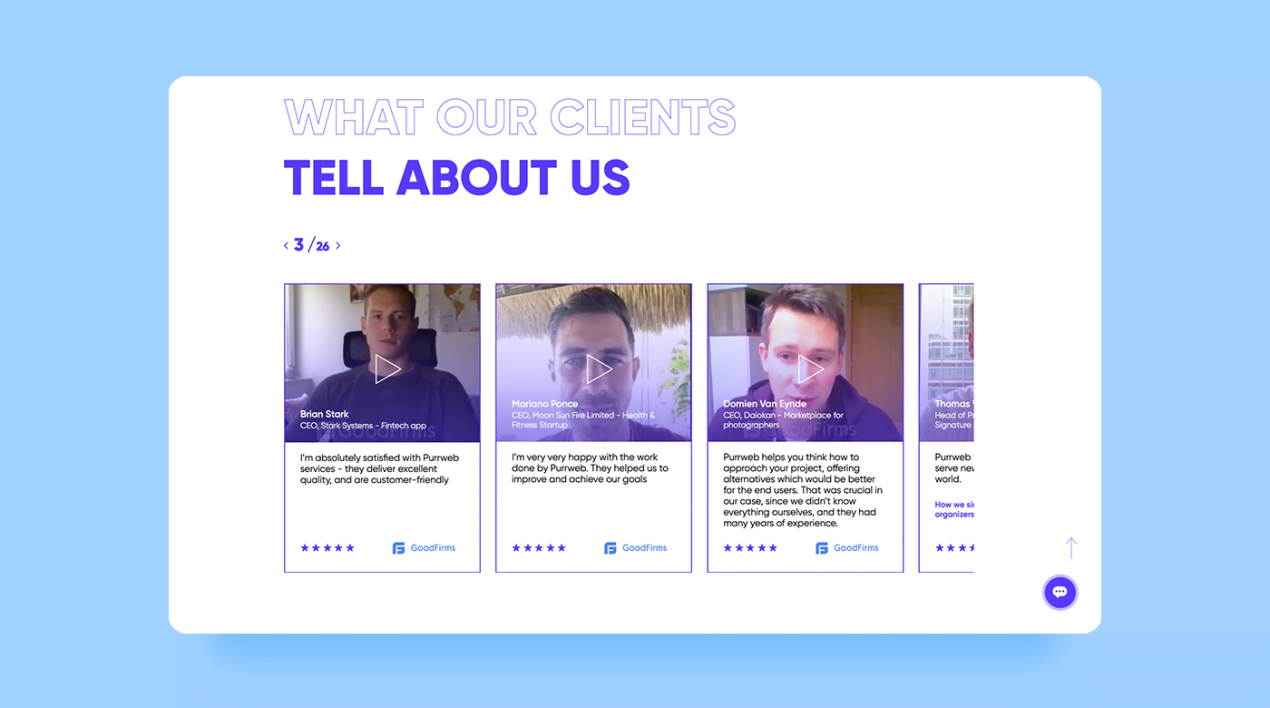 This is why testimonials from real human beings are much more valuable than a review from an unknown third party. Try asking around about the company you're interested in. If you can find a trustworthy source of information – you can trust an agency as well. However, it might be a difficult task if you're new in the field or you don't have many connections.
Another way to get a trustworthy review of the company's services is to visit Clutch.co. The reviews on this website are not as easy to simply generate, most of them are detailed accounts of top UX agencies' conduct. Most of the users also represent real companies you can easily contact.
5. Check the Specialty Resources
Some UX design agencies pride themselves on focusing solely on UI/UX design. Their team is usually not very diverse and consists solely of one type of specialists – designers. While that's not a bad thing and some of the top UX agencies do this, there are benefits to having other experts on your team.
For example, you might want to look into hiring one of the full-cycle UI/UX agencies. These teams usually consist of every type of specialist needed to develop an app. Besides the UI/UX designers, they can offer services of developers, QA specialists, and project managers. 
With the help of the full-cycle team, you won't need to worry about any intermediate steps – at the end of your cooperation, you will get a complete product. This approach might be not suitable for your project, for example if you don't have a need in a finished product just yet or if you have an in-house team ready to finish it. However, in most cases it simplifies the process and the coordination between each part of it a lot.
6. Determine Their Design Process
From first glance, UI/UX design seems like a very creative process. While it is true and you do need to come up with an original idea and the way to bring it to life, for most UI/UX agencies the design process has strictly determined and defined steps. It is consistent and tested through time and hardships.
For you to determine whether the company is suitable for you, you need to understand this process. In some cases, it might be less accommodating to you, but the result is worth it. In others, it might even be specifically tailored for your convenience and aimed to keep you informed every step of the way.
For example, Purrweb offers you to take a look at how your finished product will look like early on in the process. You will be able to get a sense of how the final product version will look like by checking out 1-2 app screens from the core user flow with completed UI elements and all the corresponding colors and fonts.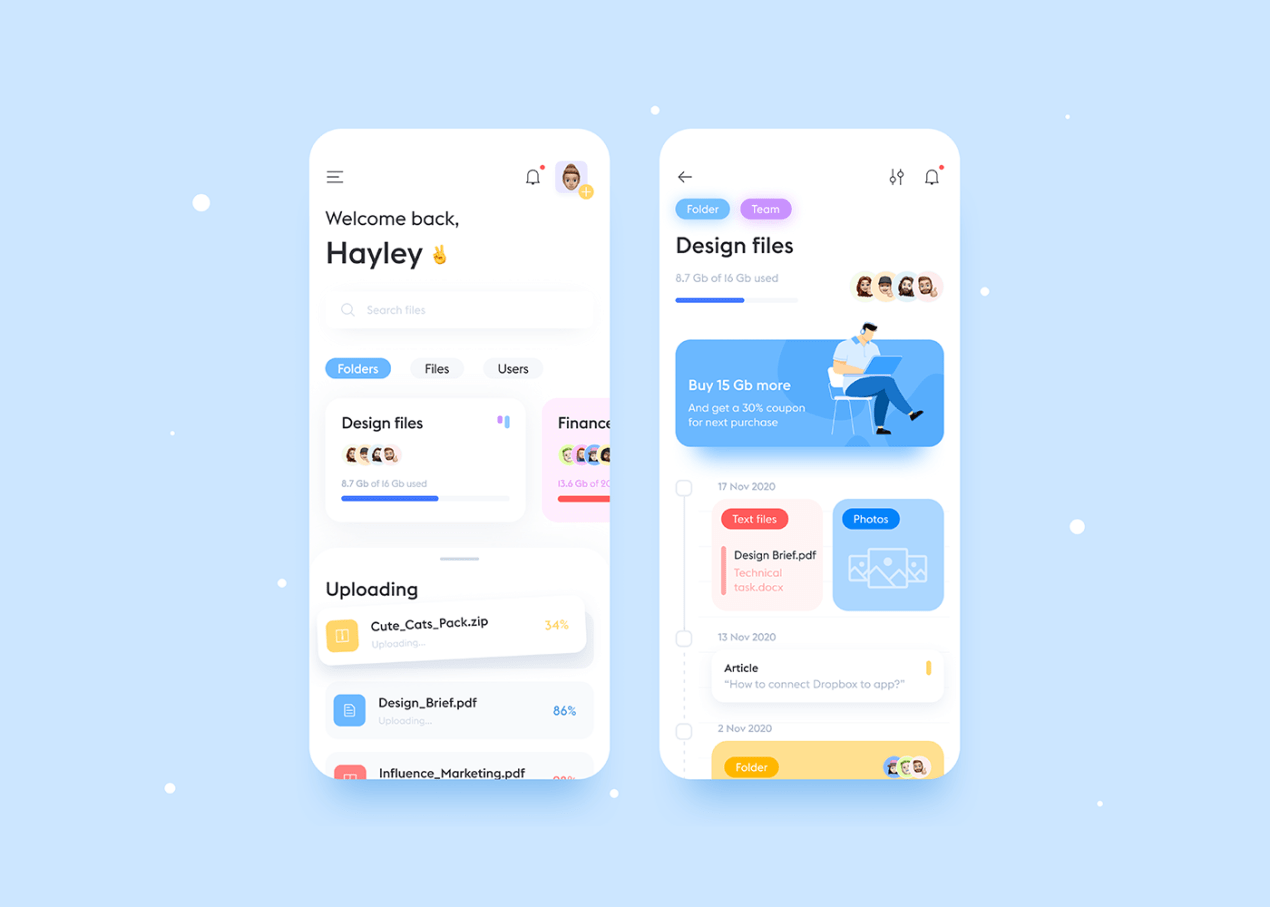 7. Get the Feedback and Estimation on Your Project
Before you choose one of the UX design agencies all you can do is review them based on abstract cases. They may be distanced from the actual project you want to work on, which is why such an estimation of your compatibility might be skewed. The best way to guarantee that you've made the right choice is to actually start working on the project. 
This doesn't mean that you need to immediately make a deal. Ask the agency for feedback on your project. Listen to how they talk about it, if they have ideas on how they would handle the process, whether they understand your vision, and are they ready to bring it to life.
Another thing you should consider is the price estimation of your project. You should pick an offer that is suitable for your budget. It should not take much time — for example, Purrweb provides an estimation in just 1-2 days. For other companies, it might take longer.
8. Don't Ignore the Corporate Culture
Company culture encompasses a wide variety of terms. The easiest way to explain it is that it's a set of values, attitudes, and behaviors all employees of a certain company share. Hearing this, you might be asking "How can the company culture help when choosing one of the UX companies?".
Well, corporate culture directly influences the designing process. The effectiveness of solving each task depends on how effective are the interpersonal interactions between the employees. Furthermore, if there are problems and conflicts in the team, each member might not be as invested in your project as they should be. 
Overall, you should review the agency's attitude and work ethic. If they are enthusiastic about working with you and each person on the team knows their task, your project will be done much more effectively and with a better chance of success.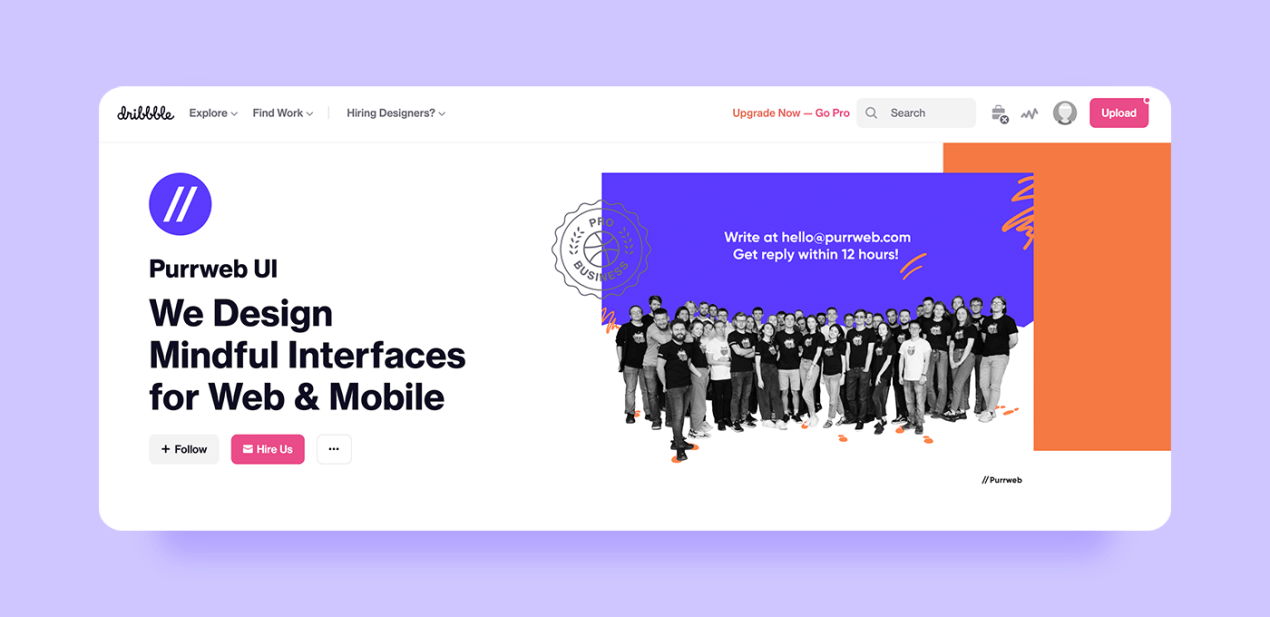 9. Make Sure it is Possible to Scale Your Project
One of the best results of your cooperation with one of the UX design agencies is that your project succeeds. However, in this case, you might want to extend your partnership and add something more to your app. Make it bigger and better.
While this is a best-case scenario, you should not ignore the possibility. That's why you should check whether it would be possible for a company to put even more resources into the design. Or, in case you need a specific specialist, whether it would be able for them to hire more experts.
On the other hand, it is possible that you might want to scale your project down, make it simpler and less functional. A good agency will let you account for both cases and accommodate your needs to the best of their abilities.
In Conclusion
With the number of UX design companies around, it is difficult to make the right choice for the UI/UX design of your software. To pick the right agency for your project, you need to get a clear picture of what your startup is about, conduct careful and thorough research, study tens of different agencies and eventually find a decent one.  
We hope this article will be helpful for you both in terms of determining the best UX design companies on the market and in learning how to pick the right one out of them. All in all, if you want your project to succeed you need to invest in it. UI/UX design is one such investment. Your idea deserves to be realized in the best way possible. So, make sure to pick the best agency and you will return your investment tenfold and even more.
Choosing a UI/UX agency is always important if you need to draw user's attention to your project. Statistically, a user needs only 50 milliseconds to gain a first impression from a website or an app — then they decide whether they like it enough to stay.
57% of users won't recommend a business with a poorly designed website or app. If you still vaсillate about it, this fact will help you to make a decision. The Purrweb team has more than 100 specialists who can help you to bring your idea to life.