What is UX 
UX is user experience — UX designers work on it. For instance, you need to make an app that corrects grammar, like Grammarly or LanguageTool. In this case, a beginner directly starts to create a design, and a UX expert first asks the following questions:
How will users upload text to the program? What is more convenient for them: the "copy — paste" option or downloading a file with an extension .docx, or .txt?

Will the app show exactly what grammar rules were violated in the text? How the startup can help users remember typical errors and avoid them later?

Will the service automatically save the document? How can it help a user not to lose the corrected text if the application closed accidentally?

How can users download the corrected text? Is it possible to receive a document in PDF format or send a file via  email?
A UX designer first thinks through users' behavior in the app and only then creates a design based on these conclusions. If the designer doesn't think about such nuances, they will create an inconvenient interface that turns away the audience of the product. It turns out that a bad UX can ruin a startup.
Now let's look at the good and bad UX design using the example of two text editors.
An example of a good UX design is Google Docs. Firstly, it is concise: it is not overloaded with information and color. Secondly, it is clear: a user sees the button and immediately understands what it does. This design improves the user experience, and people return readily to the product.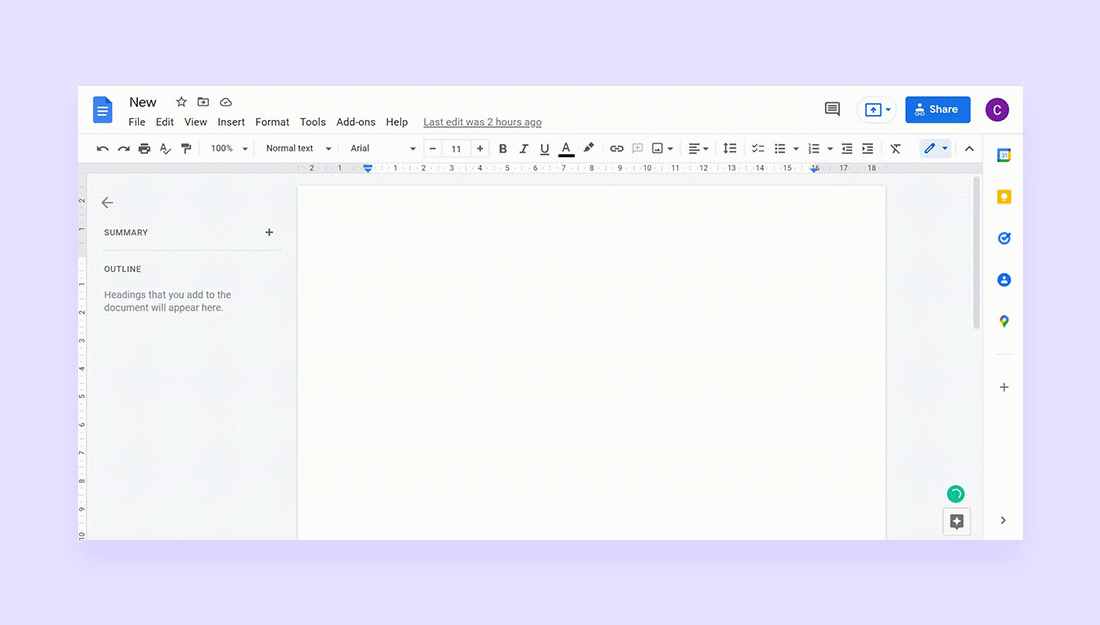 The Google Docs interface
An example of a bad UX design is Zoho Writer. Firstly, it is overloaded with information: there are a lot of colored icons on the left panel. The names of functions duplicate in hints on a black background, which appear when you hover the cursor. Secondly, the design is incomprehensible: the buttons do not fit phrases describing the actions of the program. It takes a long time to get used to such an interface, and this can alienate users.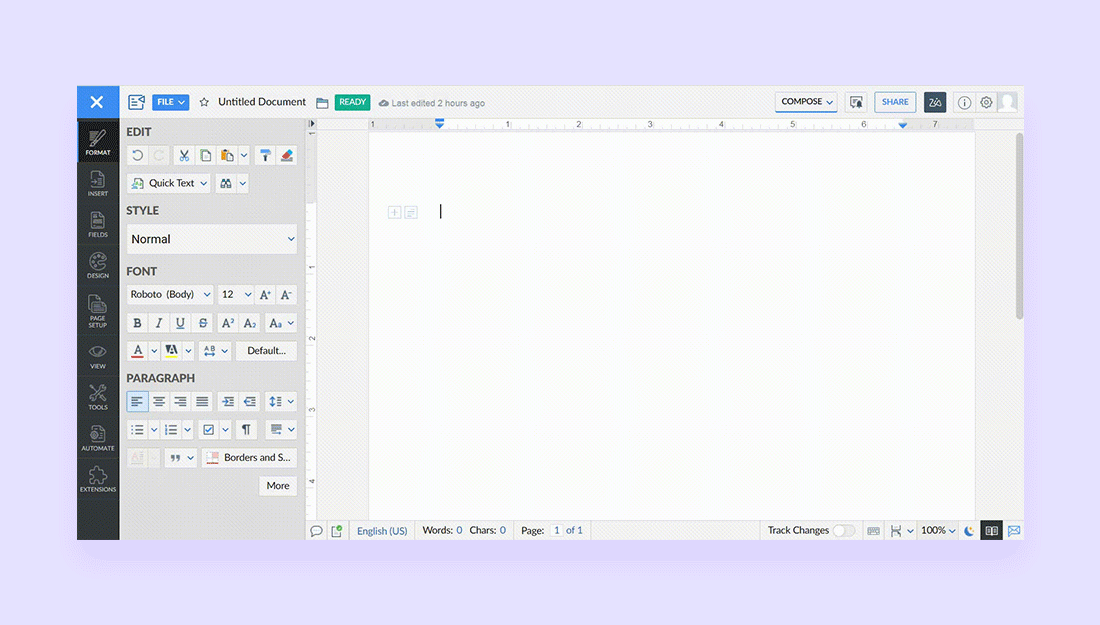 The Zoho Writer interface
If you want to create a user-friendly UX design, you should understand well how users interact with interfaces. A novice specialist doesn't have such knowledge yet. If you invite a beginner to your startup, this person can create an inconvenient app and hurt the business. So let's figure out how to distinguish an unskilled UX designer from an expert.
What is the difference between an aspiring designer and an expert
There are no clear criteria that would help distinguish a beginner from an expert because all people are different. But we will try to figure out examples to reveal these differences.
For example, we need a UX design for a grocery delivery app. Let's look at how beginners and experts would solve this problem.
The beginner builds a UX design process based on a competitor's product as this designer requires guidelines due to lack of experience and knowledge. For example, the beginner will look at Uber Eats and create something similar to this service. The designer will also add product sorting by popularity, price, and brand to his app.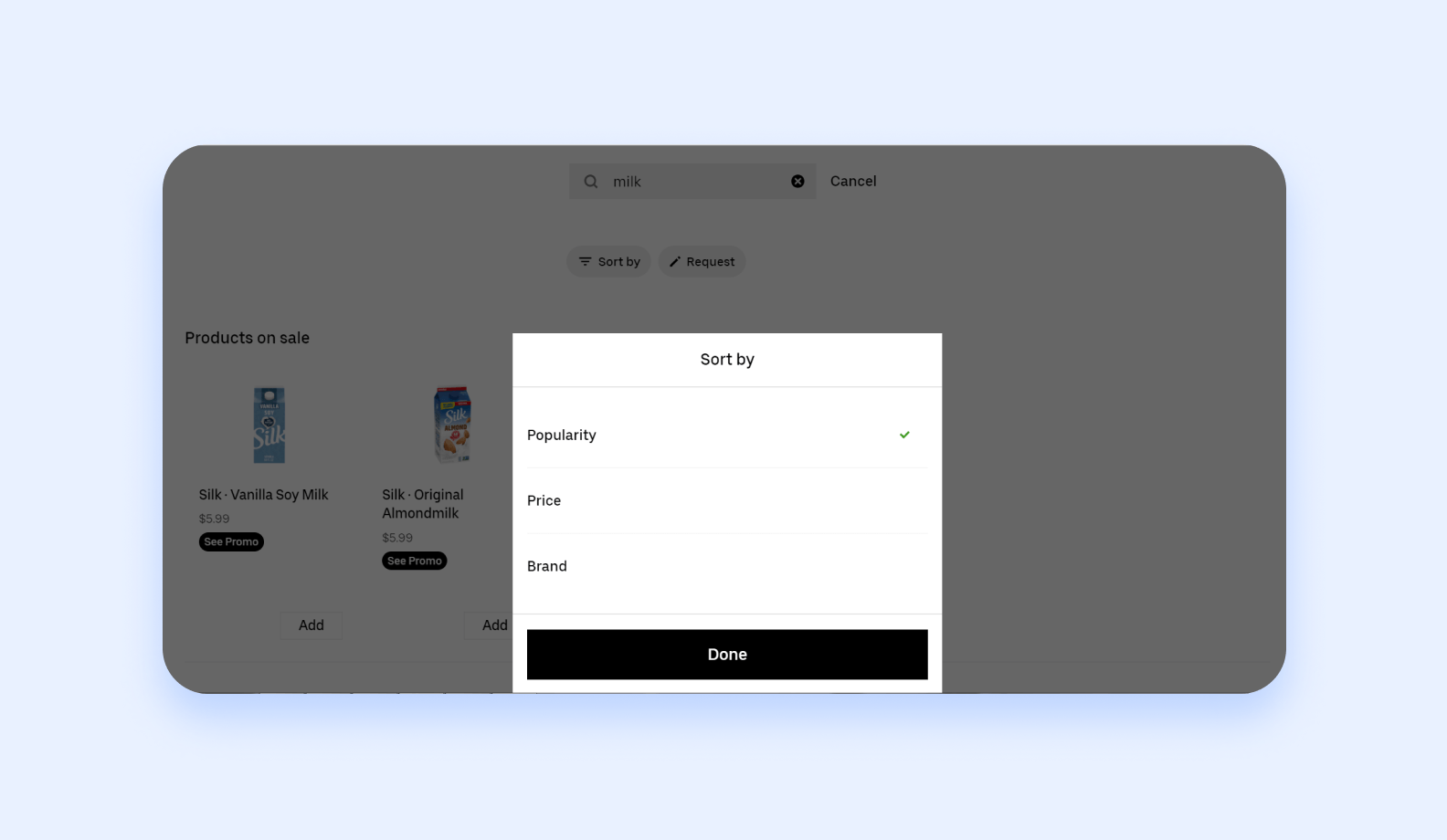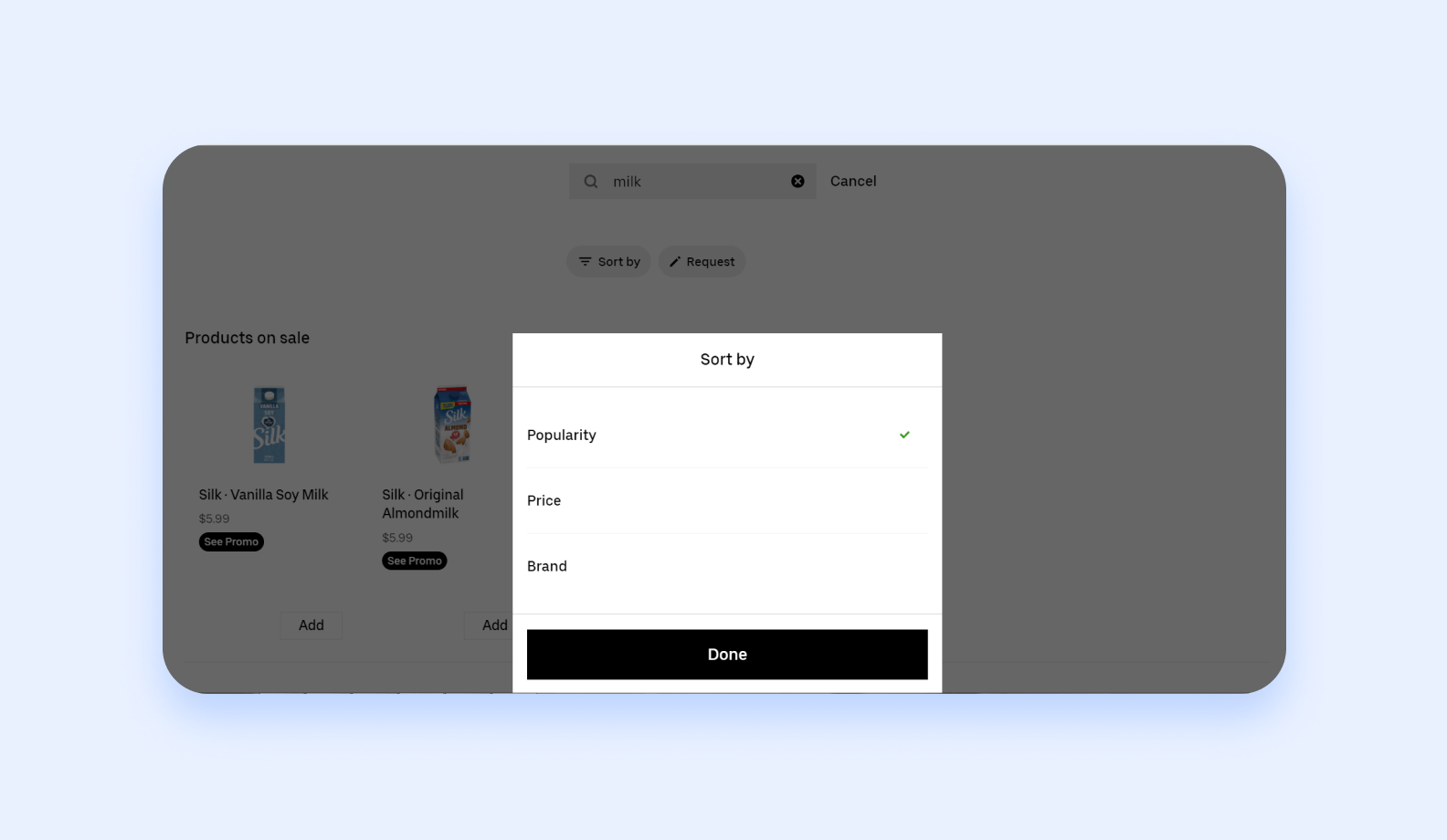 The Uber Eats filters of searching products
The professional will act differently: will not copy but invent something new. The expert will imagine which way users will go in the app, so that in the end they will have fresh food at home as soon as possible. For example, the UX expert will put the closest delivery date under the store names so that it is more convenient for users to choose the nearest store.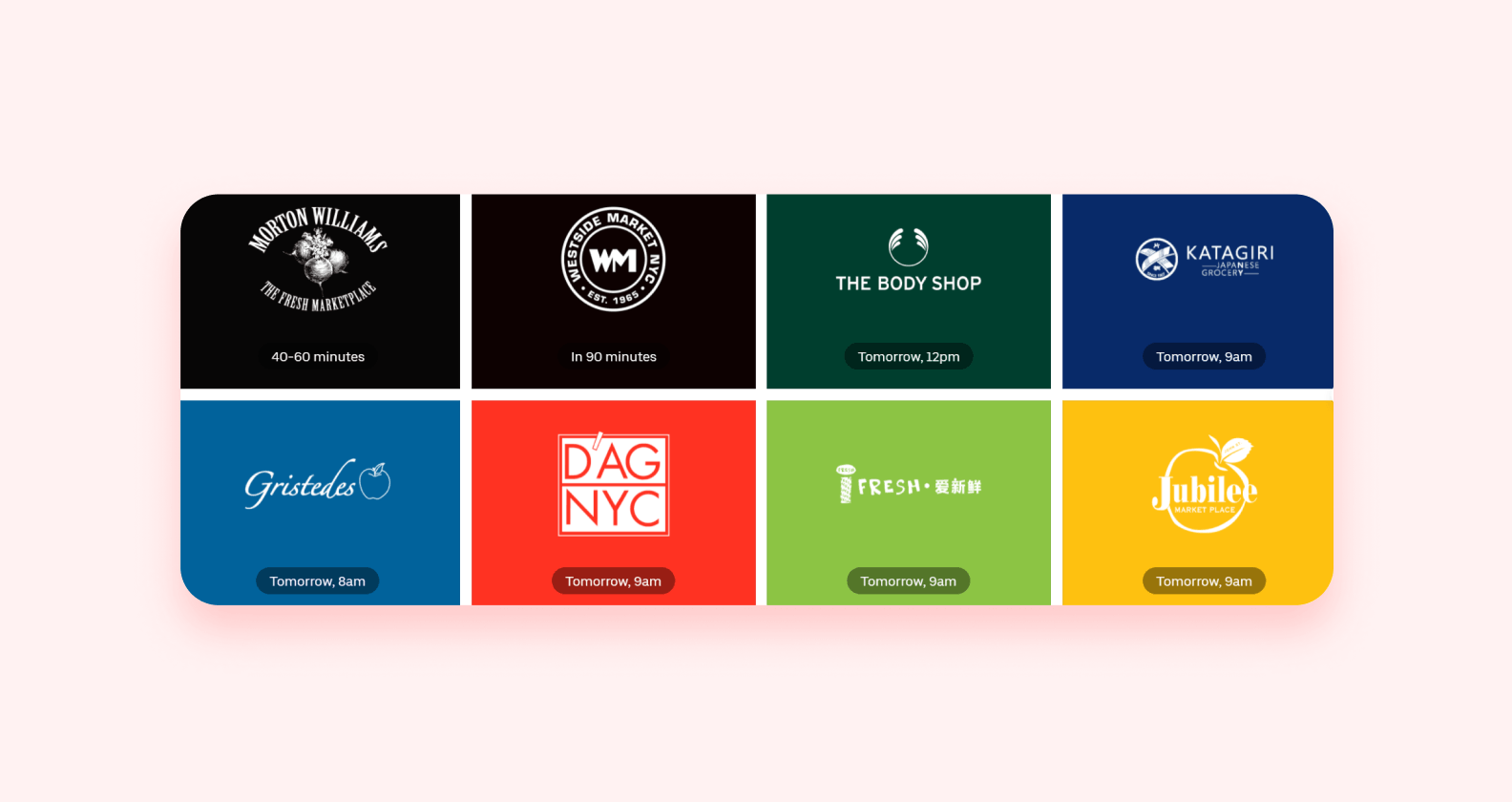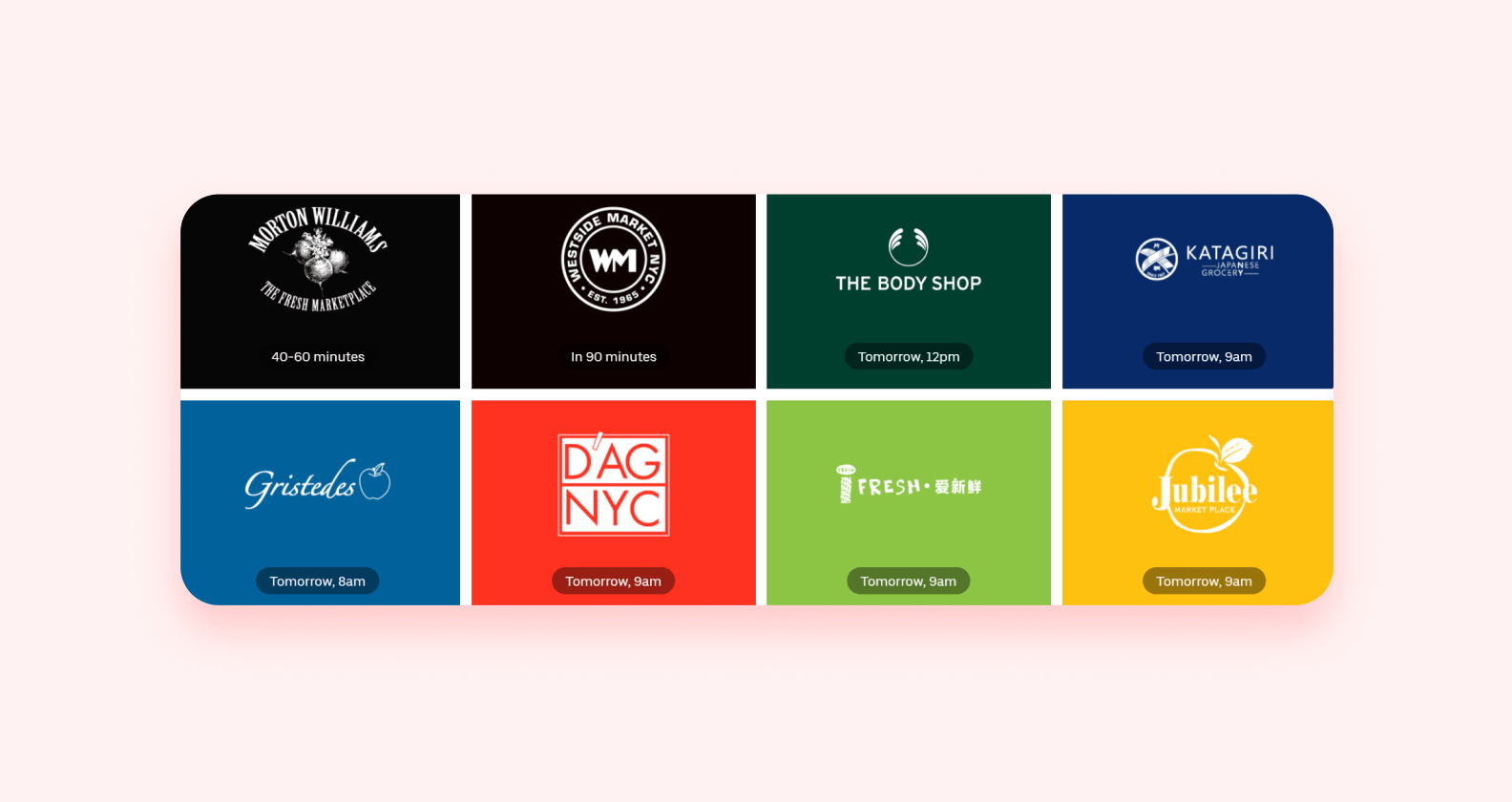 Store names with delivery time below in Uber Eats
The main difference is that a professional will explain in detail their decision to add a function to the service. The expert will know exactly which metrics the new decision will affect, and will give examples from practice. And a beginner will not be able to support their decisions. Probably, the beginner will merely copy something from popular apps.
A startup should understand the difference between beginner's and expert's attitudes to design in order to find a suitable candidate. Experts are able to explain their solutions — one can check this skill by their portfolios. You should ask a designer at an interview to tell more about the solutions in one of their projects. Now let's figure out how to evaluate a portfolio.
What portfolio a UX designer should have
You can identify a good portfolio by the following criteria:
Only the necessary information. A skilled designer will show projects only related to UX. The designer can also add their photo and tell a little about themselves. If the portfolio contains a story about the designer's childhood, relationships or, for example, religious views, that's a red flag.
Recent projects. A continuous practice is important for a UX expert, so you should pay attention to the dates of cases. If the designer completed the last project several years ago, this person may not know about new tools and current practices.
Explanation of cases. It is crucial for a startup to assess the expertise level of a UX designer and to understand what benefits the expert will bring to the business. If the designer not only shows the projects in their portfolio but also describes the UX design process of each case in detail, it will explain their solutions. This approach will make it clear to an employer that the designer doesn't copy other products but thinks about business tasks.
Let's take an example of Purrweb's portfolio. In each case, we describe the following points:
project input information;

what business tasks of a client we solved and how;

why did we choose such solutions;

the finished design;

feedback from our clients.
It is clear to the client how the contractor solved the task because of all these points.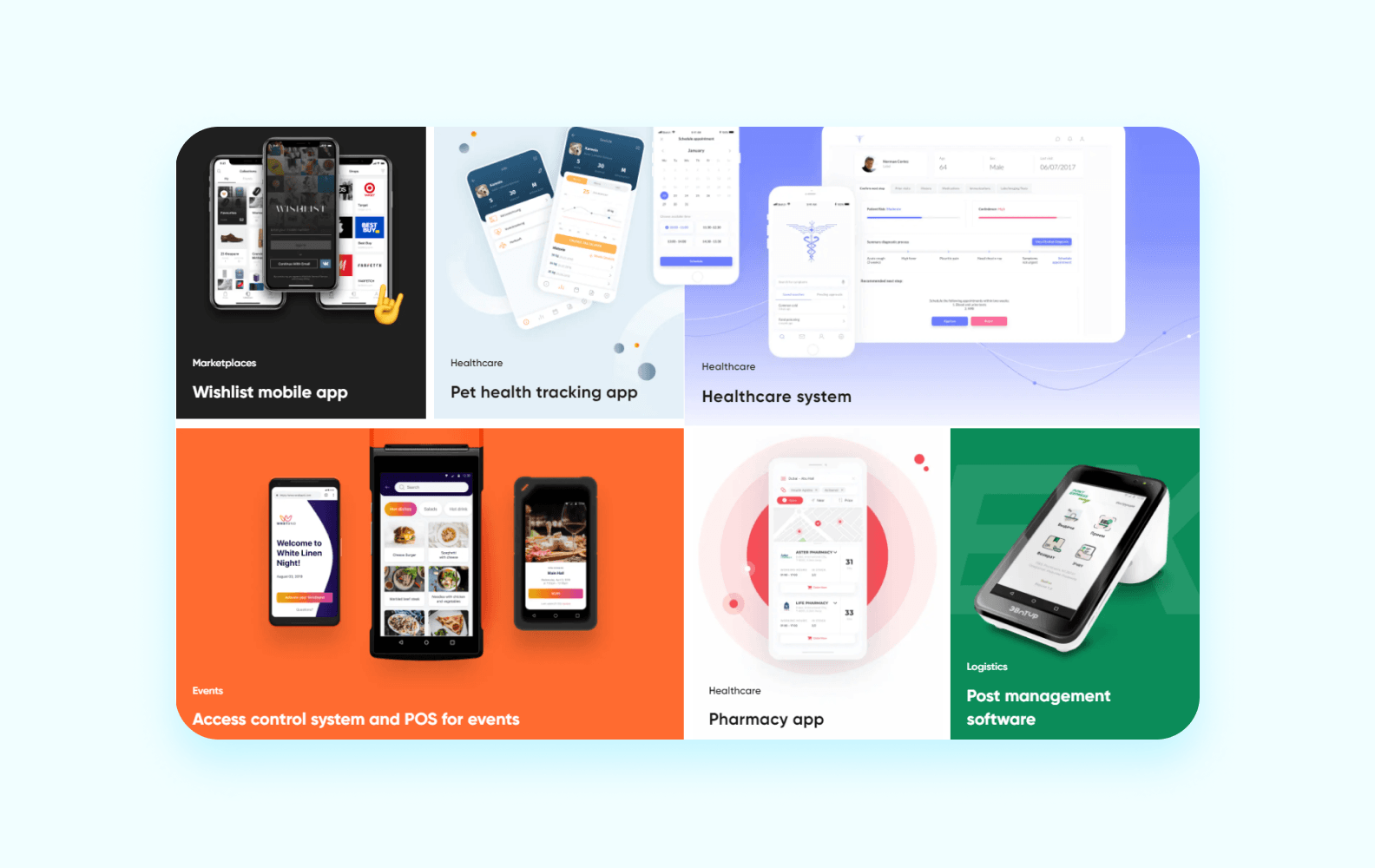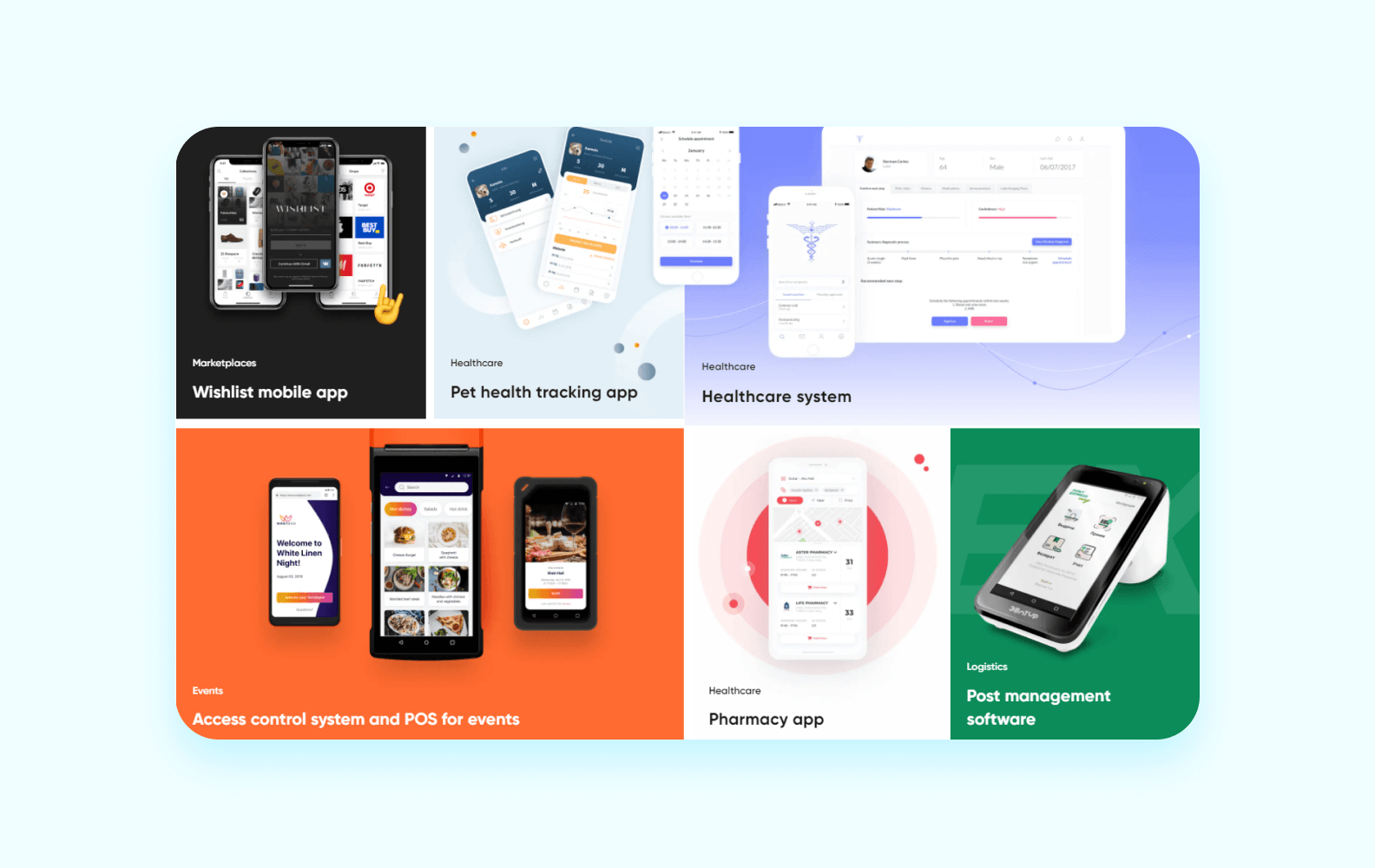 The Purrweb's portfolio
Let's take another example of the UX design portfolio of designer Alex Cornell. Alex jokingly created "the worst portfolio in the world":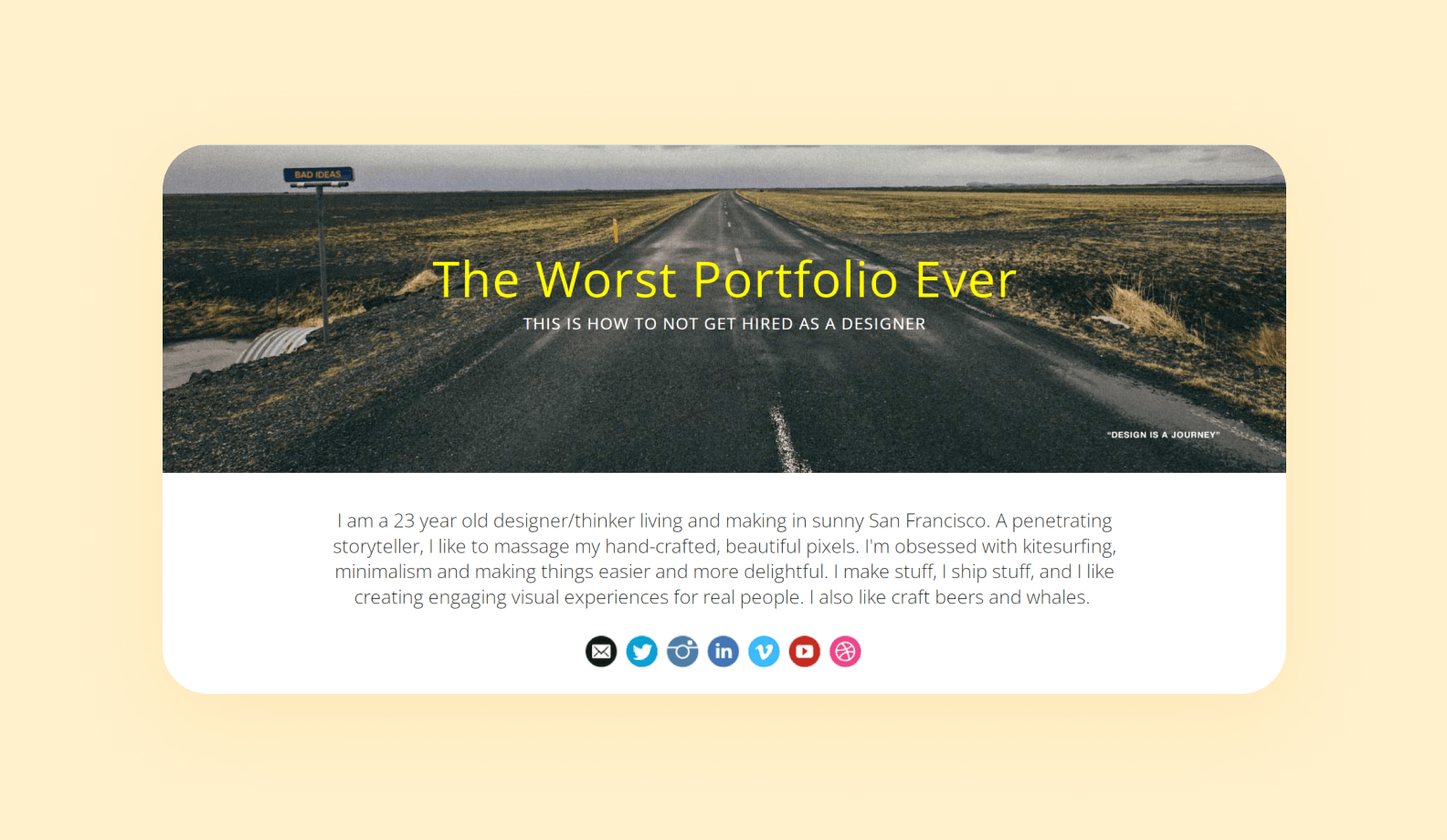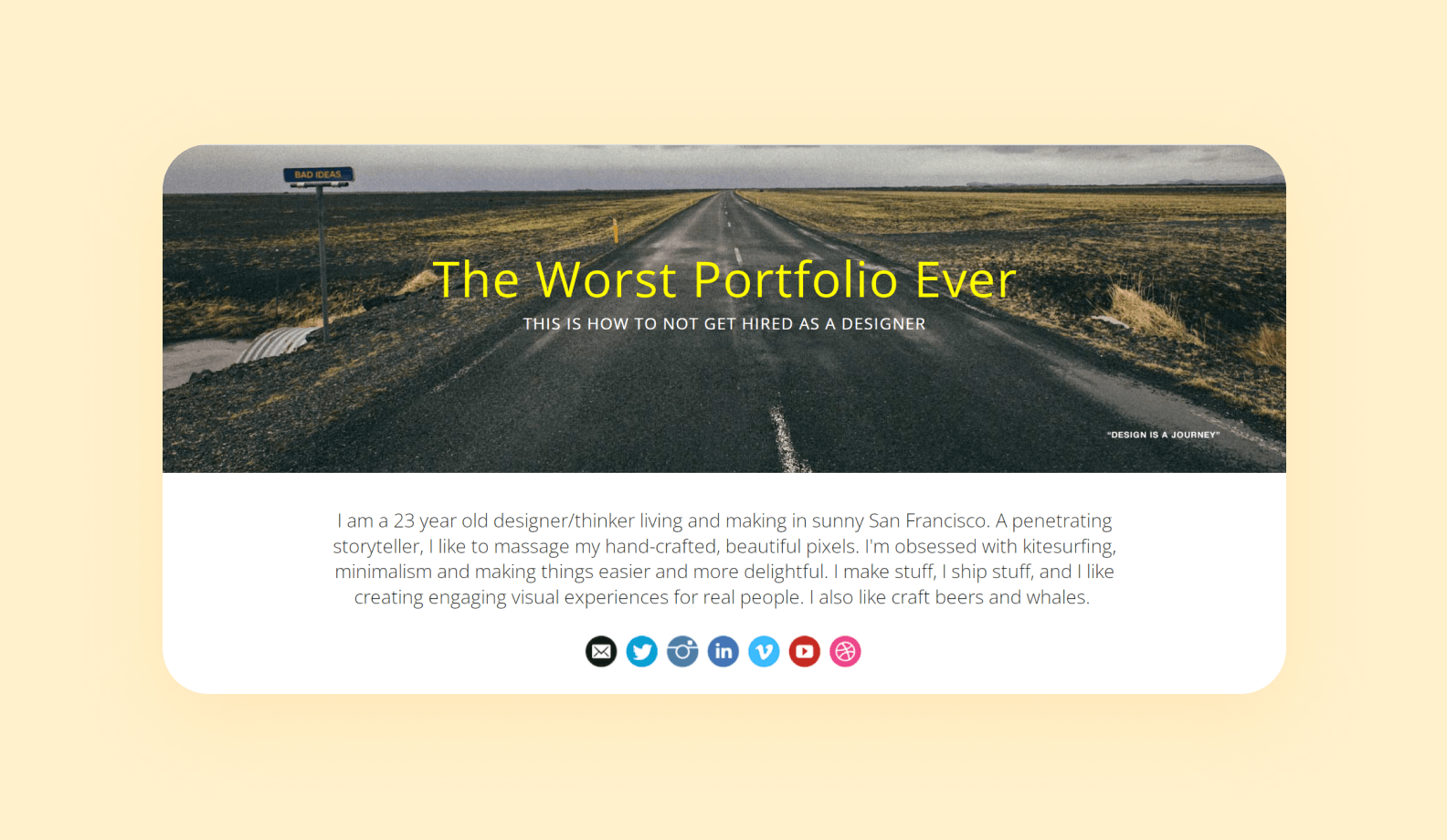 Let's try to analyze it seriously and describe the main disadvantages.
At the beginning, the author added an abstract text that doesn't help the customer to understand his experience of a UX specialist. The author wrote about his love for whales, craft beer and kiteboarding, which is not relevant at all — it is obvious that such passages are inappropriate in the portfolio.
Then the author added information about skills and abstract reasoning about design in general, but he could have shown his cases instead. With such a presentation, there is nothing to say about the author's recent projects. A startup shouldn't respond to this portfolio — it is unclear what to expect from working with such a freelancer.
In addition to a portfolio with examples, a UX designer must have key skills. Let's figure out which competencies of a UX expert a startup needs to pay attention to.
What skills a UX expert should have  
We don't offer a final list of skills: there are minor points that we did not mention. Here are the essential competencies of a UX designer:
Logical thinking. If an app design is unlogical, an interface will annoy users. Let's recall a popular example with WhatsApp: when a sender deletes messages in a chat, a recipient will see notifications about deleted messages. This is an illogical UX design: the user wanted to hide their messages, but in the end, WhatsApp made it even worse and caused distrust.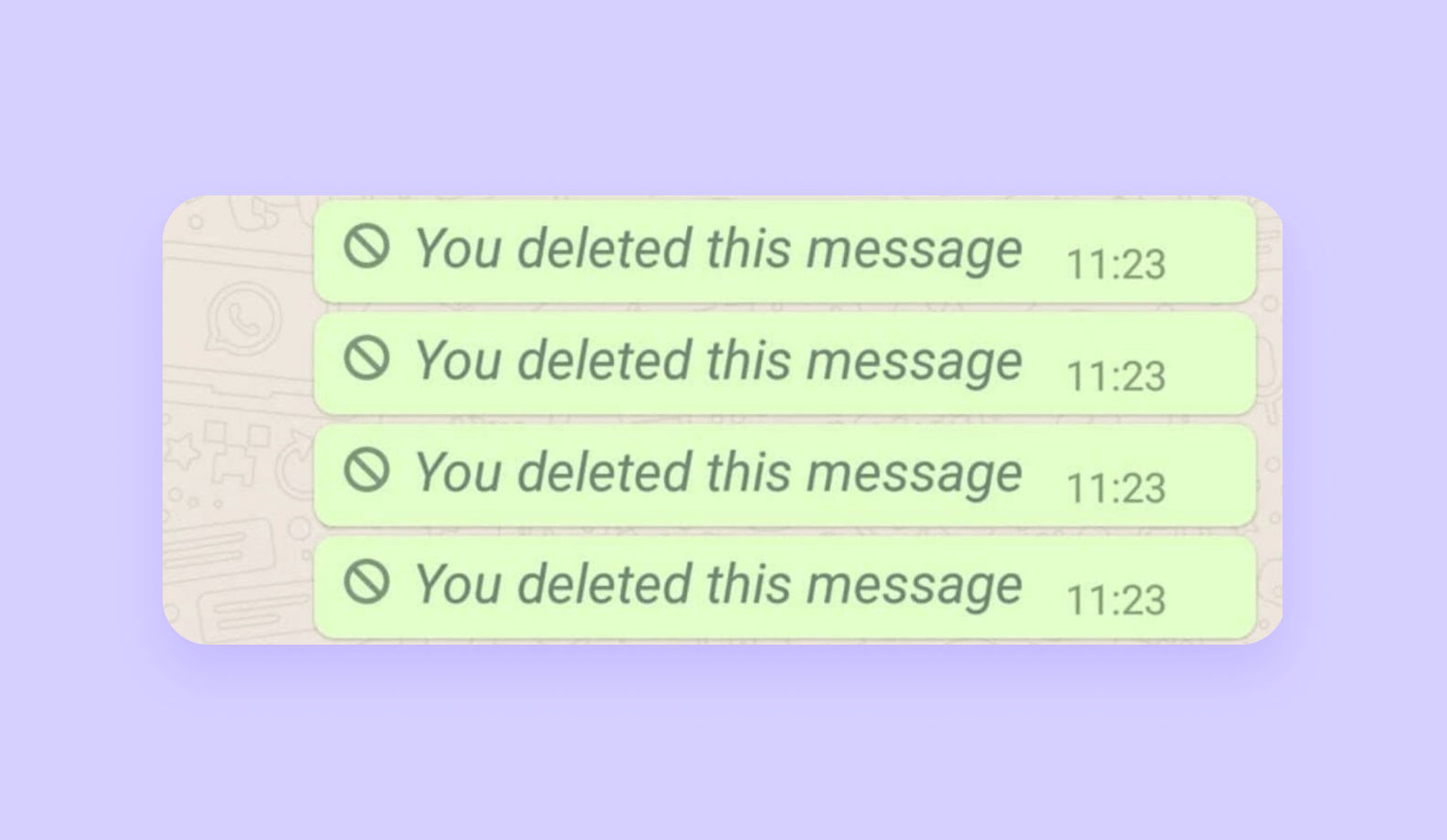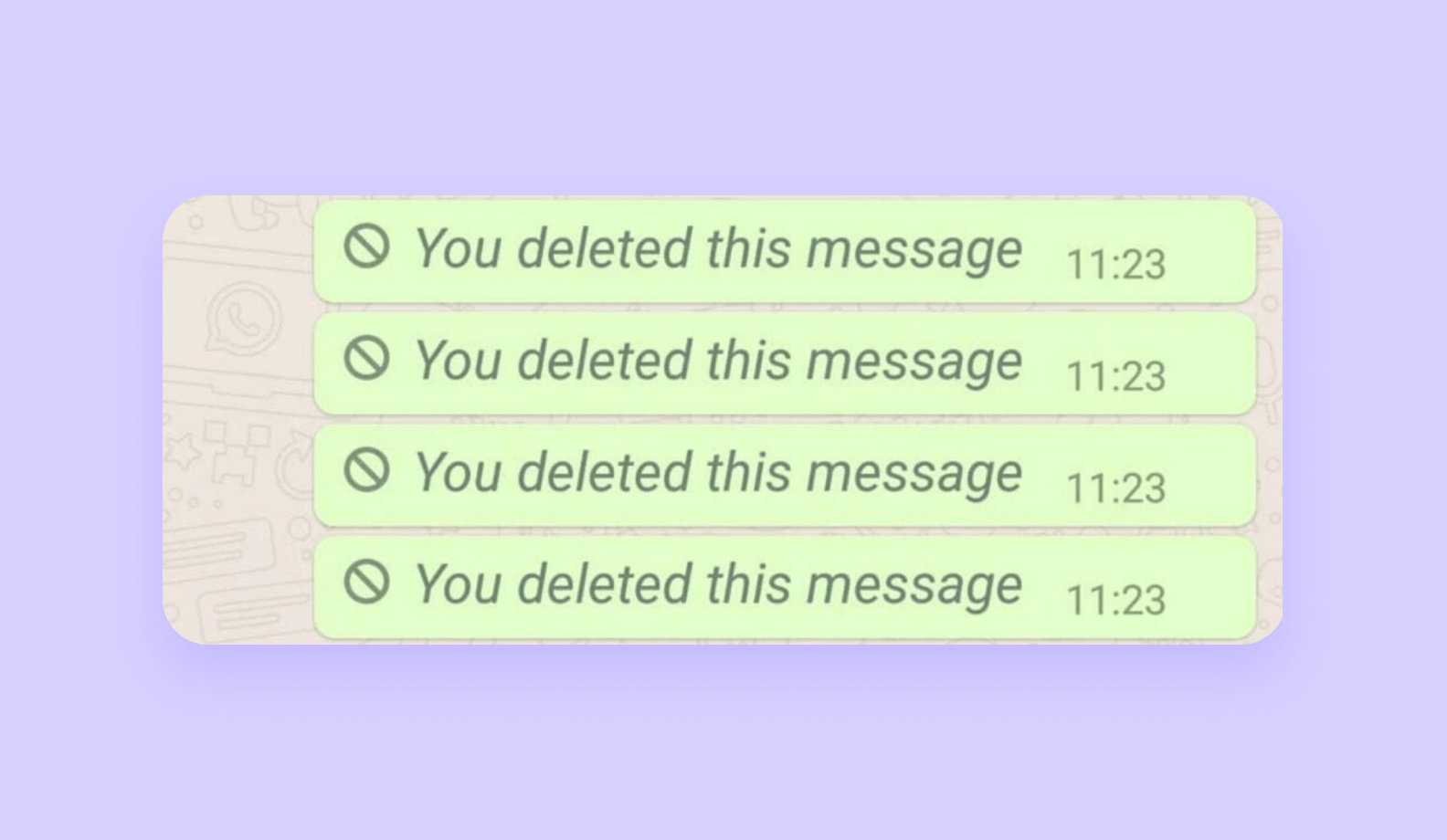 Deleted messages in WhatsApp
Empathy. A UX designer needs to put themselves in user's shoes to predict the client's emotions. Imagine that you order food delivery. After payment, you receive several notifications about the transaction at once: a push notification, an email, an SMS, and then the restaurant manager also calls and talks through all the order details again. People are usually annoyed by such importunity. The UX designer should not let annoying solutions into the interface.
Communication. A UX designer needs to be able to communicate: it is necessary to negotiate with the customer, to discuss changes in the project with colleagues and to ask users about the product. If the person doesn't know how to communicate, it will be difficult to work with them: this person doesn't know how to convey their thoughts and doesn't understand the interlocutor.
Stress resistance. It will come in handy, since a UX designer will work with feedback from a customer. Sometimes a designer needs to change a lot in a UX design after the client's edits. Therefore, the designer needs to be prepared for the fact that the customer may not like at first the design.
The ability to conduct UX research. A designer needs to analyze users' behavior. The researches will help to improve a product: to remove unnecessary options or to simplify an interface.
Technical skills. A UX expert needs to be able to create a product prototype in special programs, for example, in Figma or Adobe XD. If a UX designer doesn't understand professional programs, this is an incompetent designer. Hiring such an employee is unprofitable for business.
Additional skills:
Knowledge of basic programming. A UX designer can have a basic understanding of HTML and CSS. Without these basics, the designer can come up with something that is difficult to implement in code. It would be more convenient for developers to work with a designer who understands such nuances. This is an optional but pleasant addition for a customer.
UX copywriting. This skill will help the designer to imagine how the text will be displayed in the interface. If the designer has the skill of UX copywriting, then the customer will not have to spend money on a UX copywriter.
A startup should know what skills a professional should need in order to ask a candidate about them at an interview. So the customer will choose a designer and offer to do a test task or a trial project. When the work is finished, you need to evaluate it correctly. We will tell you further how to achieve this.
How to evaluate a designer's finished work
Imagine that the contractor has developed a design for your project. How to evaluate this work? Here are the criteria you can use to identify a good UX design:
It solves a user's problem. Let's say you want to create a social network for alcohol lovers, like Untappd. Users will exchange opinions about different drinks. In this case, the UX specialist should make sure that each element in the interface helps users to get other people's opinions easily.
It's created based on research. If a designer asks users what they like and dislike in the app, it will help to create a high-quality product. This will improve the interface and make it more useful. If the designer doesn't collect feedback from customers and doesn't analyze data, this will be a marker of dilettante approach.
It's objective. A subjective approach is inappropriate here because the benefits are important in a UX design. If a UX expert adds an element to the interface, they should explain its practical significance. If the designer made it just "because it's beautiful", this method would worsen the design.
It's being updated after a product launch. If a UX expert claims that you can relax after a release of an app and the finished design version is perfect, this is a reason to be wary. Even after launching the project, it is necessary to continue analyzing user data and to improve the interface.
It's minimalistic. Designers shouldn't overload an interface with information because design is developed to solve users' problems. It should be intuitively clear to the user what buttons to press in the app. An overloaded interface will only confuse the client.
We have figured out the main criteria for high-quality UX design. Now, a startup should find out where to look for UX experts for his project.
Why freelance designers are not the best choice 
At first glance, it is more profitable to cooperate with a freelancer than with UI/UX design agencies. Single professionals usually ask for less money for their services than agencies. This is where the advantages of freelancers over teams end.
Now let's look at the disadvantages of working with UX designers on a freelance basis:
Instability. Since a freelancer works alone, their resources are limited. The freelancer may get sick, not understand the task, or get distracted by personal matters. The freelancer can also collaborate with several customers at once — this will force the designer to work with one project longer than usual. There is no such problem in agencies, since someone else can always replace a sick or busy specialist.
It's hard to find an expert. It is necessary to collect responses to a vacancy, to review a portfolio, to check a test, to conduct an interview — customers spend a lot of time and effort on this. Everything is easier with the agency: it will make a turnkey project and free the startup from a painful choice.
A freelancer can quit a project without consequences for reputation. A customer wants reliability and often relies on a grapevine, reviews, and recommendations. It is not always possible to track these reputational moments with freelancers, because there is no place to comment on the work of the performer. Everything comes out easier with agencies: there are sites with detailed reviews for each company, on which the reputation of the agency directly depends.
Communication is not always possible. A freelancer needs to work on a project at the same time and communicate regularly with the customer in order to better understand the tasks, agree on deadlines, and also take into account the client's edits. In the agency, communication and the UX design process are separated, so specialists are focused on their professional tasks.
Freelancers' services are cheaper than agency ones, but in the end, such cooperation can lead to a waste of time and money. Let's take a closer look at the advantages of working with design agencies.
Why is it better to look for an expert in an agency
The main reasons are the following:
Well-established communication. UX experts spend almost all their working time on design development, so other specialists communicate with clients. In agencies, project managers do this. They write a client brief and learn a request. The project managers also agree on deadlines with the two parties and make sure that the designers do the work on time. With this approach, UX experts will accurately understand the task and perform everything efficiently.
A good reputation is important. Agencies are interested in ensuring that customers are satisfied with the design. Otherwise, the customer may leave negative feedback about the specialists.
Attention to details and edits. Imagine the following situation: an agency has already launched a project, but after that experts found that users do not notice some important function in the app. In this case, the agency will not leave the client alone with an unfinished product.
Saving without loss of quality. For instance, Purrweb doesn't just have UX designers — we have UI/UX design specialists. User Interface (UI) designers are responsible for a visual part of a project, which they develop together with UX specialists. UI/UX designers combine these two roles. This means that the customer receives a double benefit from Purrweb: simultaneously developing the logic and interface of the startup.
Let's take an example of a complex case of our UI/UX design agency:
Energo is an application for renting power banks. We have developed the design of an IoT project, thanks to which thousands of people rent power banks in the Moscow Metro and cafes. Customers can take a device in one terminal and return in another.
We have already worked with similar startups before, so we relied on familiar UX solutions. First, we conducted a study using the Jobs to Be Done (JTBD) methodology to study user behavior. Secondly, we identified design trends and drew more than 70 screens: yellow and black were chosen as the main colors. We used Apple patterns.
We also designed two additional applications in the project: for advertising and technical service in Energo.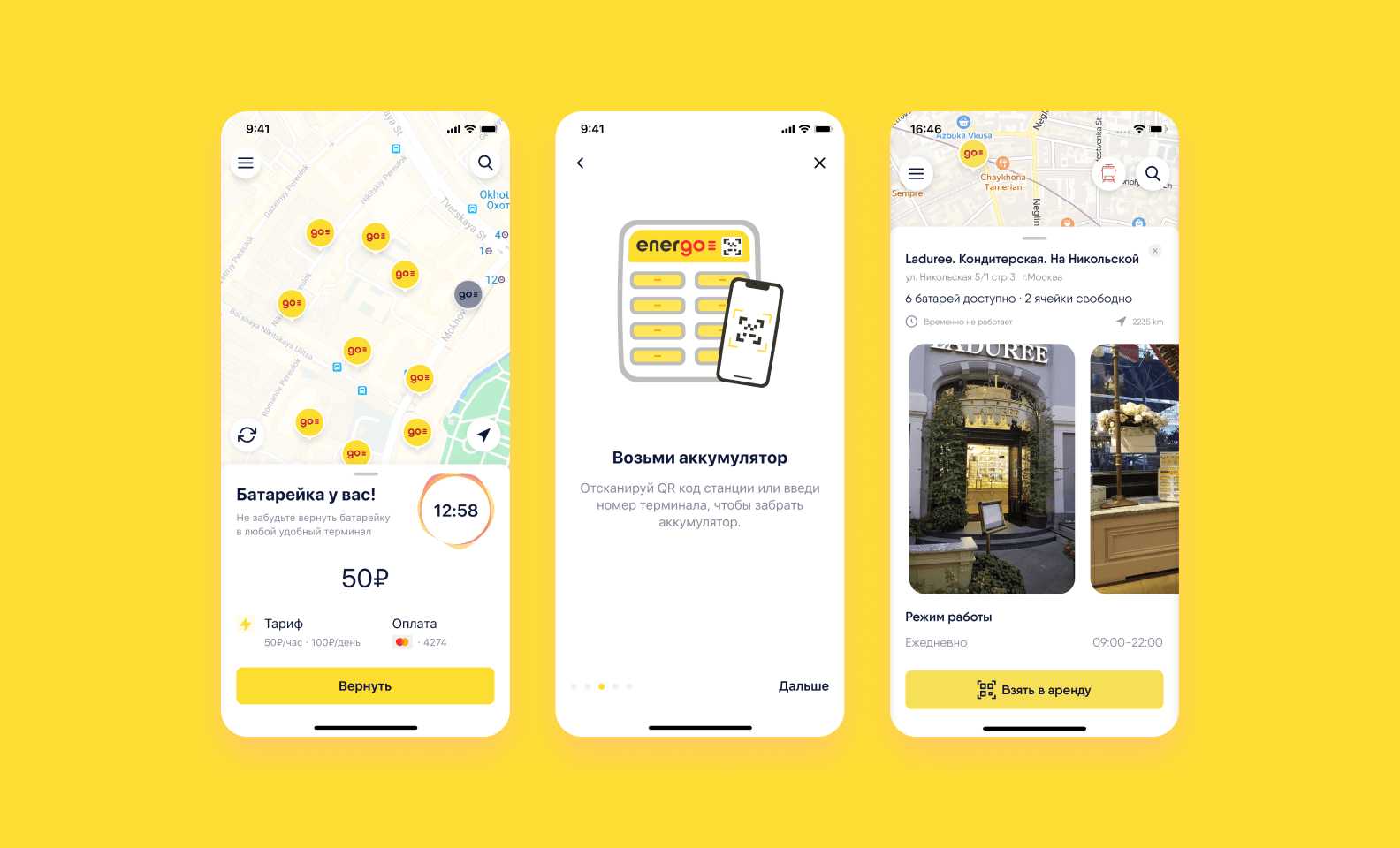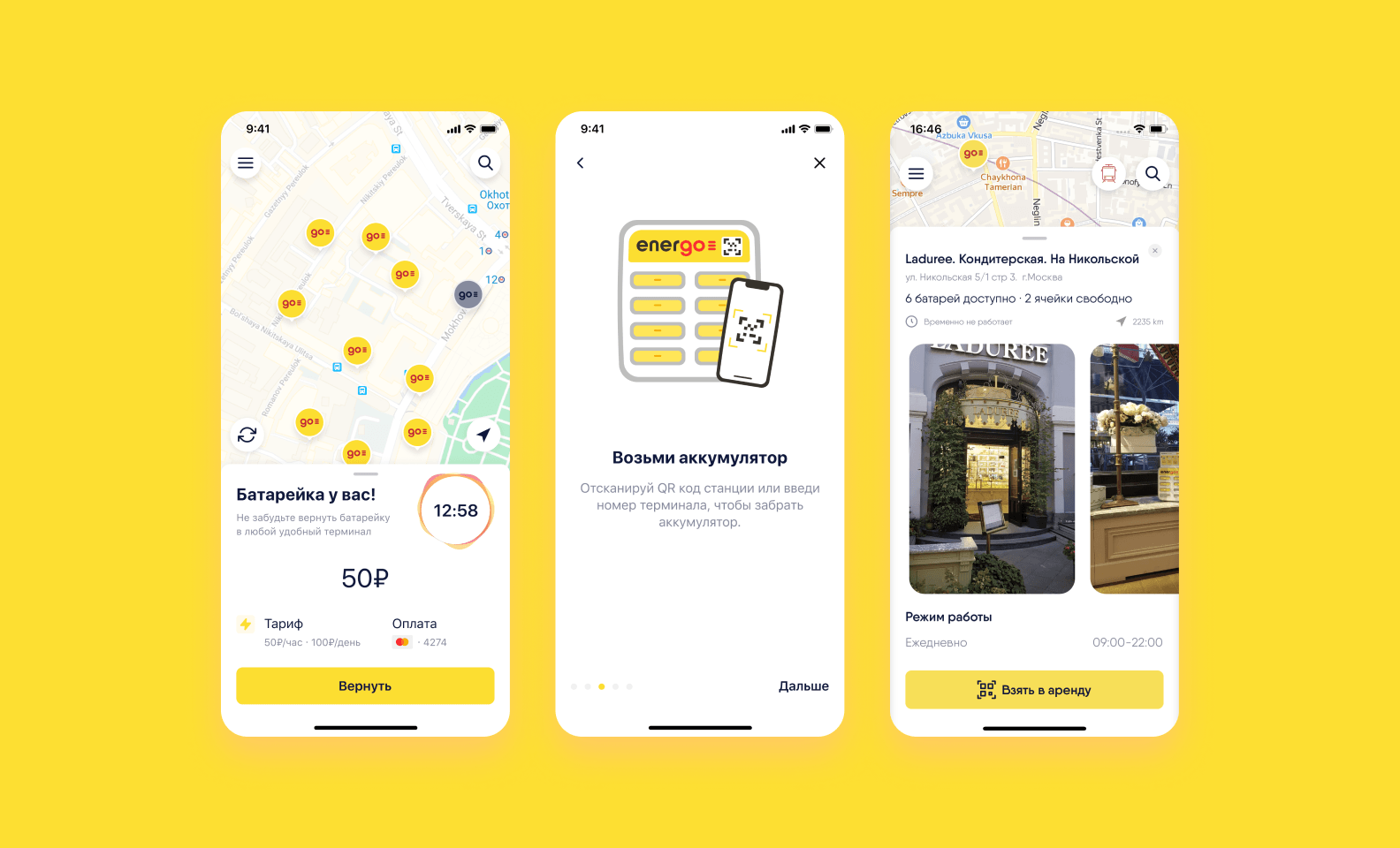 The screen examples in Energo
In addition to the startup with the rental of power banks, our UI/UX design agency has developed complex interfaces for many other applications. You will save time with Purrweb, because you won't have to search for freelance specialists yourself and check their professionalism.
Results
It is worth remembering the following from the whole article:
A good application solves any consumer problem. This means that the UX designer needs to develop an interface that will help the user quickly understand the program and get the necessary service. An ill-conceived UX design can damage a startup, as customers will be confused with different buttons and functions in the application.

An experienced UX specialist can explain his design decisions in detail, and a beginner — can't. For example, a novice designer will explain some of his decisions through «they have the same», while an expert will refer to user behavior studies and similar cases in his previous projects.

A

UX design portfolio

should consist of recent projects that clearly show how a specialist has solved various UX tasks and what has happened in the end.

A UX designer needs to be able to think logically, conduct research and understand what user emotions a product can cause. A startup should ask a candidate about these skills at an interview.

The resources of freelance UX designers are limited: for example, they may get sick or get distracted by personal matters. It is better for a startup to cooperate with a

UI/UX design agency

, because other employees can pick up the project there in case of force majeure. Agencies are also very interested in the good quality of their services: a bad product can ruin their reputation.

UX designer often works on UI design too and creates

UI/UX design

. This means that a customer receives a double benefit working with such a specialist: a logical interface and a beautiful visual in the application.
Purrweb is a full-cycle team that has been developing applications for startups around the world for 7 years. There are 140 of us: UI/UX designers, developers, project managers and QA engineers. Our agency has all the necessary specialists to create apps from scratch: from an idea to a release in app stores.
Fill out the form below to learn more about us. We will respond in 24 hours.