Key takeaways
The essential features of an e-scooters sharing app include an interactive map, integration with IoT-modules, and a QR-code scanner for starting rides.

If you want to incentivize loyalty, you can offer subscriptions with free scooter activations.

Developing a scooter sharing app usually costs from

$106 000 to $130 000

. 
How scooter sharing works
A scooter sharing company operates a fleet of electric scooters available for short-time rentals. It places fully-charged vehicles in strategic places throughout the service area, usually in spots with heavy pedestrian traffic. When a scooter runs out of charge, the company picks up the vehicle and recharges it — or simply replaces the battery right on the spot.
The logistics can be tricky, but from the customer's point of view, everything is really simple. Here's what they need to do: 
Download the

scooter sharing app

Find the nearest scooter

Scan its QR code

Take off

Get to their destination

Park the scooter 
The app then tracks the elapsed time and calculates the sum you're due to pay. Once you finish the ride, the app will automatically lock the vehicle and charge the specified bank account. 
In most cases, the customer needs to go to a designated parking space to leave the scooter. Places like this are usually scattered throughout the entire service area. Some services allow users to park anywhere as long as it doesn't obstruct pedestrian walkways, but this approach makes fleet maintenance harder and more expensive. Whichever model you decide to use when building your scooter sharing app, it's your call.
The benefits of an e-scooter app
OK, but what's so good about electric scooter sharing — and what makes it a promising business? Let's find out. 
Time-efficiency
Our average walking speed is 6 kph, while electric scooters can go as fast as 25 kph in most places. This makes them the perfect choice for short-distance travel in urban areas: you can use the same pedestrian routes as you normally would and still get where you need four times quicker. 4 minutes against 15 minutes — that's a huge difference, especially if you're running late.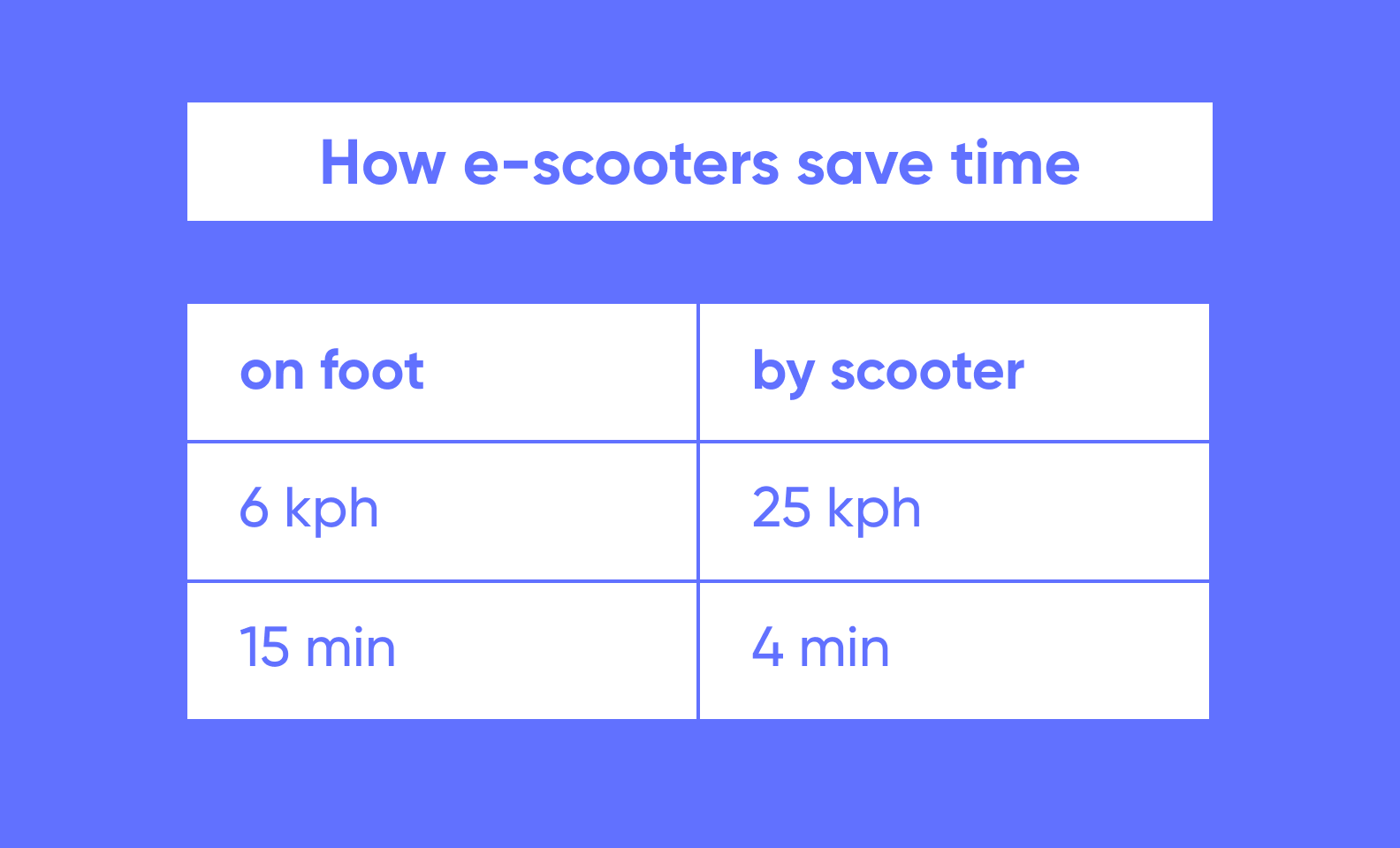 Reduced CO2 emissions
Since electric scooters don't generate any exhaust fumes, they are more eco-friendly than cars and motorcycles. However, it's important to bear in mind that they still leave a carbon footprint: manufacturing and recharging all the vehicles unavoidably creates harmful emissions. To lessen this negative impact, invest in high-quality motors and recyclable materials. 
Affordability
One of the deciding benefits of an e-scooter app. Starting a ride usually costs no more than a dollar. Once you hop on the scooter and take off, it's 15 cents per minute (on average). This means that a 10-minute ride will make you short just $2,5 — and now compare this to $15 often paid for a taxi. Such pricing policies make scooter sharing attractive to a wide audience, thus creating a win-win situation for both the entrepreneur and the customer. 
Lowered road congestion
Heavy traffic always means noise, frustration, and absurd amounts of CO2 released into the atmosphere. Public transportation is one way to solve this problem; micromobility devices like bicycles and e-scooters are another. They don't contribute to road congestion and allow commuters to simply bypass all the traffic jams. 
Popular examples
Although the scooter sharing market is still young, you can already pinpoint successful players that have been around for some time. Analyzing them will provide us with positive references and good examples of the key features we'll be talking about later. 
Bird
The first big scooter sharing company in the US. Bird's scooter sharing app greets customers with a super quick signup that requires only an email address. Once you're in, you see an interactive map that shows the nearest scooters ("Birds") and parking spots. Tapping on a scooter's icon will reveal the vehicle's control screen: here, you can see the battery charge, book/start the ride, as well as toggle on the lights. 
Note how prominent the Scan QR button is: it's large, bright, and positioned in the most thumb-friendly zone of the screen — in other words, impossible to miss in any weather conditions. This factor is important since customers primarily use scooter sharing apps outdoors and virtually never indoors. 
Lime
Bird's biggest rival. Since most scooter sharing apps are similar in structure and user journey, Lime incorporates all the features we've discussed above. It's worth noting that apart from banking cards, customers can pay with electronic wallets such as Apple Pay or PayPal — a nice touch that makes the service more flexible. There's also a designated Safety Center, where you can learn to ride scooters safely and report an accident. 
Spin 
One of the market's proud underdogs. What sets Spin apart from Bird and Lime is a closed-loop payment system — there's an in-app wallet that you need to top up in order to pay for rides. The UI features bright, high-contrast colors mixed with large buttons, which just goes to show how ubiquitous this approach is. There's also a referral program: you gain a free ride each time a new user redeems your unique promo code. 
The key features of a scooter sharing app
First, let's look at the essentials — the first things to consider during e-scooter app development.
Registration
The signup process should be quick and intuitive. The standard practice in this segment is to only ask for a phone number/email address and a verification code. After this, the customer is good to go. No passwords, no usernames, no profile pictures — remember that most people are going to complete this process outdoors and without much time to spare. 
You can also offer new users to authenticate with social media accounts — it's both quick and reliable.
Onboarding
Don't treat this as a formality. E-scooters can be dangerous and frustrating if handled improperly, and your task here is to introduce the customer to the basics of riding safely. Still, all the information should be concise and easily readable. Whether or not to make it skippable is up to you.
Interactive map 
This is the core section of any scooter sharing app. Here, customers can find scooters and parking spaces nearby. Scooters are displayed in the form of interactive icons: by tapping on an icon, you open a status screen for this particular vehicle. The status screen contains information about estimated battery life and current rates, as well as the buttons for reserving and starting a ride.
As we've seen in the examples above, the interactive map also features a big, bright button that opens the QR code scanner. 
QR code scanner
Each scooter is assigned a unique number and QR code. To unlock a scooter, the customer needs to scan this QR code and start the ride in the app. The whole process shouldn't take more than a couple of seconds — that's why this feature is so readily available on the interactive map in every scooter sharing app we've seen. 
Always provide the option to manually enter the code in case the scanner fails to work properly or the customer has a broken camera. Stuff happens.
Integration with IoT modules
IoT stands for the Internet of Things. Ideally, each scooter should be fitted with multiple sensors that monitor its condition and location — for example, GPS and GSM modules. These sensors are what makes it possible to control the vehicle with a single tap on the screen. It's also an important prerequisite for safety: if there's anything wrong with the scooter, the system will automatically lock it and notify the maintenance unit.
In-app payment system
There's no classic checkout involved — in electric scooter sharing, things work a little differently. When the customer first opens the electric scooter app, ask them to specify their payment details. The system will then automatically charge their account after each ride based on the elapsed time and current rate. 
Since there's plenty of sensitive information involved, make sure to protect it with end-to-end encryption — this algorithm enciphers all data before it leaves the phone, and it can only be deciphered with the correspondent private key stored on the recipient's device.
Ride status screen
Once you start the ride, the interactive map turns into the ride status screen. This is where you can track the elapsed time, find the nearest parking places, as well as lock/park the scooter. Locking the scooter allows customers to leave the vehicle unsupervised for some time (while still paying for the minutes of downtime). Parking it, on the other hand, means that they're finishing the ride. 
Additional features your customers will enjoy
Once you get all the basics running smoothly, you can focus on enhancing the user experience with these features. 
Ride reservations
This feature increases the flexibility of the service. With ride reservations in place, the customer can reserve a scooter for a limited amount of time — usually no longer than 10–15 minutes, although some companies go as far as 30 minutes. During this time, no other user can activate the vehicle, which makes the feature especially useful in rush hour. 
The standard practice is to provide this option for free, although you can also offer extended reservation times as a paid feature. 
Promo codes
Most electric scooter apps run discount systems with promo codes. You can give those out to customers who encounter any issues with the service as an apology, to regular clients as a sign of gratitude, or to birthday celebrants as a gift — you get the point. 
If you want to stand out, you can implement a full-fledged loyalty system that would reward loyal users with free rides and other perks — so far virtually no other company has made any steps in this direction. You may well be the first!
Monetization strategies
A couple of ideas on how you can monetize your scooter sharing app.
Fixed rates per minute/per day
The number one way to monetize a scooter sharing app. You charge for unlocking a scooter and then run a "taximeter" of sorts that charges smaller amounts for every minute of the ride. Both of these rates can fluctuate throughout the day as the demand changes, but once the customer starts their ride, any alterations no longer apply to them. 
To add more flexibility, you can also offer rates per day — instead of paying for every minute, the customer basically buys the right to use your scooters for extended periods of time. 
Subscriptions 
Subscriptions are a great way to incentivize loyalty as they provide important bonuses for regular customers. If the user buys a subscription, they no longer have to pay for unlocking scooters — only for the minutes they actually spend riding. The bundle also usually includes extended reservation times and free unlocks even in group rides. 
How to build a scooter sharing app in 6 steps
We believe that the best approach to bringing a new concept to life is to first create a minimum viable product (MVP). An MVP is a bare-bones version of an app designed to showcase its main functionality. It's perfect for gauging the market, testing the viability of your idea, and raising some funds. And it helps reduce expenses, too. 
In other words, it's a perfect fit for any startup, and this is exactly what we start with here at Purrweb. Let's break down the whole e-scooter app development process into six steps.
Step 1. Analyze the market
Everything starts with market research. You need to get a good understanding of the field you're going to be working in: this means meticulously analyzing your competitors to understand how you can offer a better solution, noting the most important trends in the market, and defining your target audience.
Step 2. Define the features of your product
Use the results of the market analysis to outline a competitive set of features that will comprise the core of your app's functionality. We've already discussed the most common features above, but feel free to experiment with fresh and unexpected solutions — after all, these are the ones that draw crowds. 
Step 3. Devise the UI/UX design
This stage is when abstract ideas begin to materialize. First, you need to construct an intuitive user journey that will make it easy for the customer to solve their problem. Then, you can start tinkering with design. Don't forget that it should be easy to use the app come rain or shine (literally) — a team of dedicated professionals will help you with that.
Step 4. Write the code and launch the first version
We've already discussed the importance of having a proper code base — make sure that the people who build your scooter sharing app are experienced developers who really know what they're doing. Testing is also absolutely necessary at all times, especially before launch.
To reach as wide an audience as possible, we recommend using cross-platform frameworks like React Native during the e-scooter app development — it will allow you to roll out versions for both iOS and Android at the same time and at a minimal cost.
Step 5. Establish a feedback loop
Once the MVP is launched, it would be a good idea to establish feedback channels with your audience. A word of advice: don't try to implement every single suggestion that comes into your mailbox — it will do you (and the audience) more harm than good. Instead, focus on working with the most common ones. 
Step 6. Release updates
After launch, the development cycle begins: you gather feedback and iterate for as long as you consider the product viable.
How much does it cost to build a scooter sharing app?
E-scooter sharing app development usually costs from $106 000 to $130 000. This includes the implementation of all the key features: 
Registration

Onboarding

Interactive map

QR-code scanner

Integration with IoT modules

In-app payment system

Ride status screen
Let's take a look at where these numbers come from:
| | | |
| --- | --- | --- |
| Process | Duration (avg) | Final cost (avg) |
| Project estimation | 8 hours | Free at Purrweb ☺️ |
| UI/UX | 135 hours | $6 000 |
| Development | 1700 hours | $74 500 |
| Testing | 810 hours | $17 000 |
| Project management  | Throughout the entire cycle | $19 000 |
Please bear in mind that these are approximate calculations. The numbers may differ for each individual project.
There are also several important factors that affect the price of e-scooter app development: 
App innovativeness and complexity

Design complexity

The number of staff on the team 

Means of contracting: in-house, freelance, outsource

The team's location

The number of supported platforms
Our experience
We haven't yet got the chance to develop a full-fledged electric scooter sharing app (although we're looking forward to it!), but we do have some experience with similar services. A little while back we were working on EvTrip, an interactive map of charging stations designed specifically for owners of electric vehicles. 
Initially, the client wanted us only to rework the design, but it soon turned out that the user journey left a lot to be desired — so we rebuilt the whole design system from scratch. 
Our team carefully analyzed the competitors, prioritized all the features, and created a new visual identity for the brand. After this, we redesigned the whole application and even created 3D-visualizations for real-life charging stations. The final task was to adapt a web app to Android and iOS on a tight budget, so we used React Native and WebView and even outsmarted the system a bit — you can read the whole story here. 
Conclusion
Do you have an idea for an electric scooter sharing app? Purrweb would love to help you bring it to life. We are a team of 190 that will take your project through the entire development cycle — from a concept to an MVP to a multitude of later versions. If this sounds interesting, fill in the form below, and we'll contact you as quickly as possible.