How do freelance platforms work?
A freelance marketplace is an online catalog with millions of profiles. They belong to various versatile experts: software engineers, designers, translators, copywriters, and others. Even if you need to hire react native developers specifically, or those who are focused on software testing, the platform has got you covered.
How does it work? A freelancer signs up, fills in all the forms, customizes their profile, summarizes previous works, and passes the interview if it is necessary. A startup owner browses talent catalog on the website or in the app and picks who they need.
Toptal vs Upwork are often called 'talent marketplaces' because they unite many specialists from different parts of the world. Here are some reasons why startups love to hire through these platforms:
You can check

reviews

and

portfolios

of potential contractors.

You can work with the best

remotely

, no matter where they are located geographically.

You can hire many different specialists, or the whole

team at once

.

You can find

competitive prices

.
To dig deeper, we compared two major platforms, Toptal vs Upwork, discussed their advantages, disadvantages, and life hacks on how to find a skilled freelancer.
What is Toptal?
Toptal is a global virtual network for specialists that originated from the United States. It was founded in 2010 by Taso du Val and Breanden Beneschott, and its name stands for "top talent". 
The service claims they "hire freelance talent from the top 3%." Currently, TopTal has a little bit over 10,000 talents to offer, which is a relatively small number for a freelancer platform. The reason for it is a strict and selective sign-up process.
Our goal is to break down the pros and cons of Toptal. Let's go!
Pros: Strict selection process
Any freelancer that applies to Toptal needs to pass a background check. First, the platform checks English language skills through interviews, then reviews and tests applicants' technical skills, professionalism, and integrity. 
According to Toptal, only 3% of all applicants pass all the checks and make it to the platform.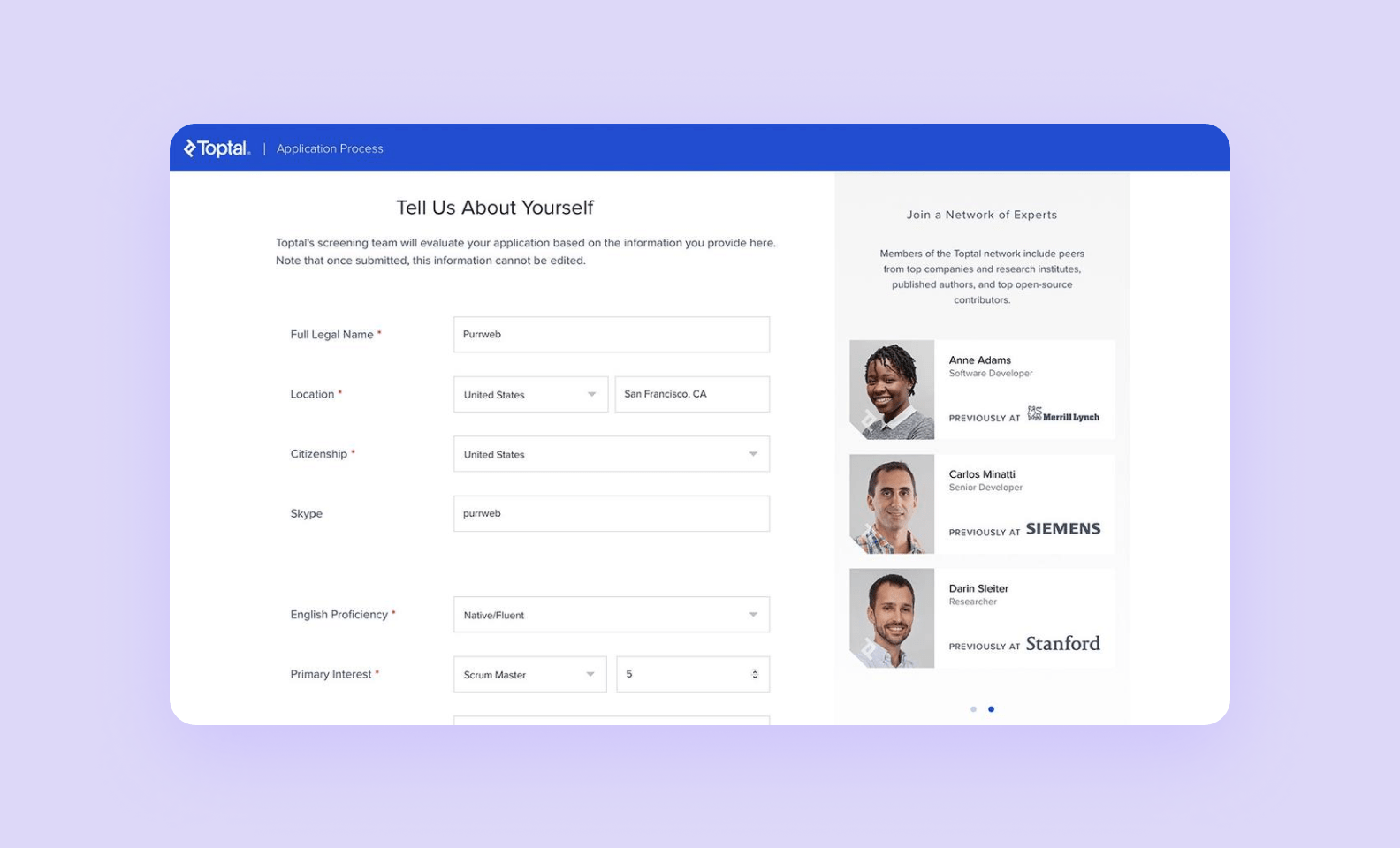 Why is it good for startups? Clients of Toptal don't need to perform their own tests and be picky. If you hire software developers through the platform, you can be sure they are experienced and their skills were already tested and confirmed. Long story short, it definitely saves a lot of time when hiring several contractors.
Pros: Diverse database
JavaScript or WordPress developers, dashboard designers, illustrators, blockchain consultants, and Scrum project managers — this is only a shortlist of specialists that can be found on Toptal.
The platform has a diverse set of specialists to pick, from very broad competence to narrow expertise. Want to hire react native developers? Not a problem!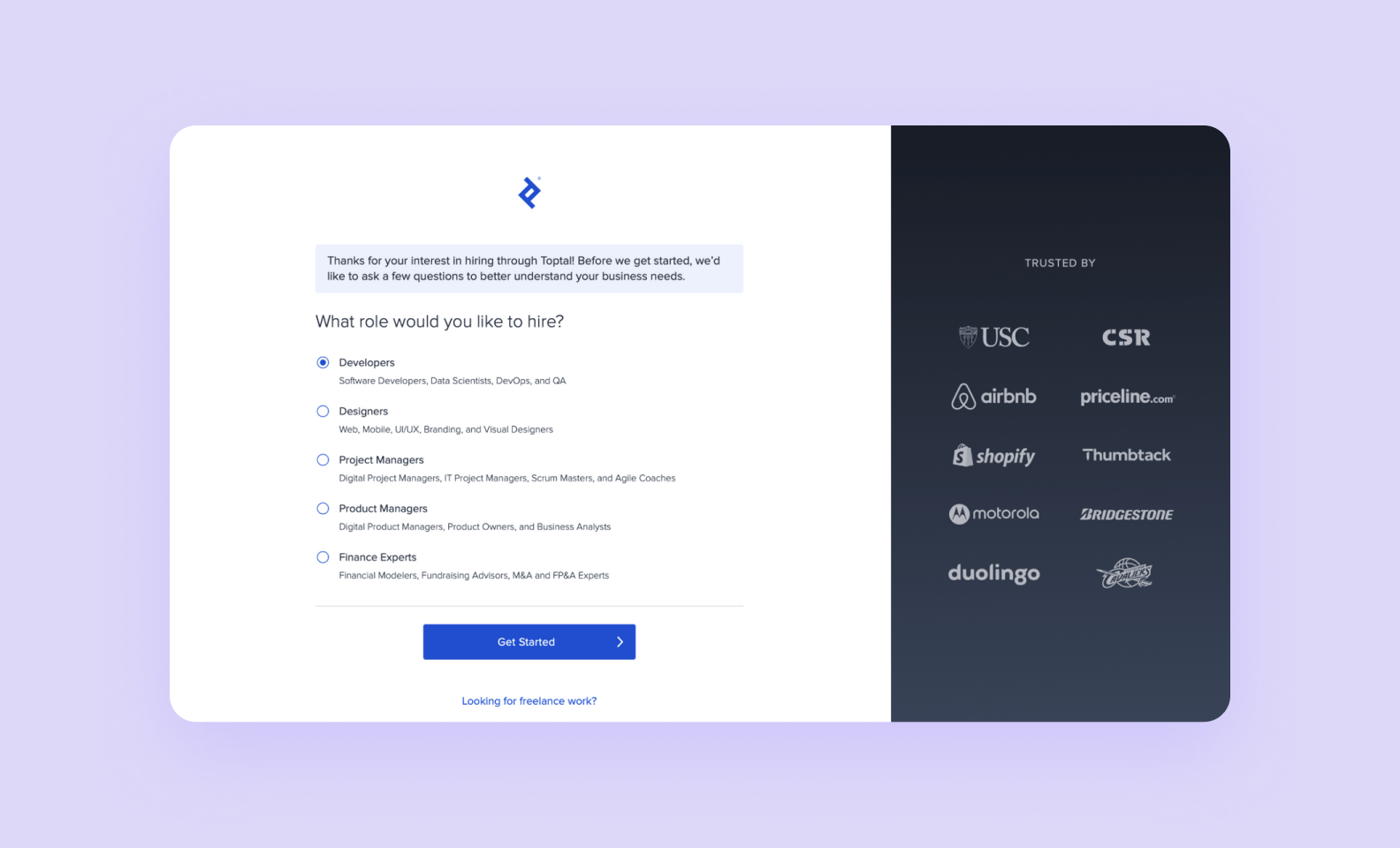 Why is it good for startups? Instead of searching for all contractors through different resources, you can pick the whole team on Toptal. Including developers, UI/UX designers, copywriters, QA engineers, and anyone else who is needed for your project.
Pros: Precise filters
Before you hire software developers, the platform asks you to fill in long and detailed forms to better understand what you are looking for. How long do you need the developer for? What level of commitment do you require? What skills are you looking for and when do you want to start?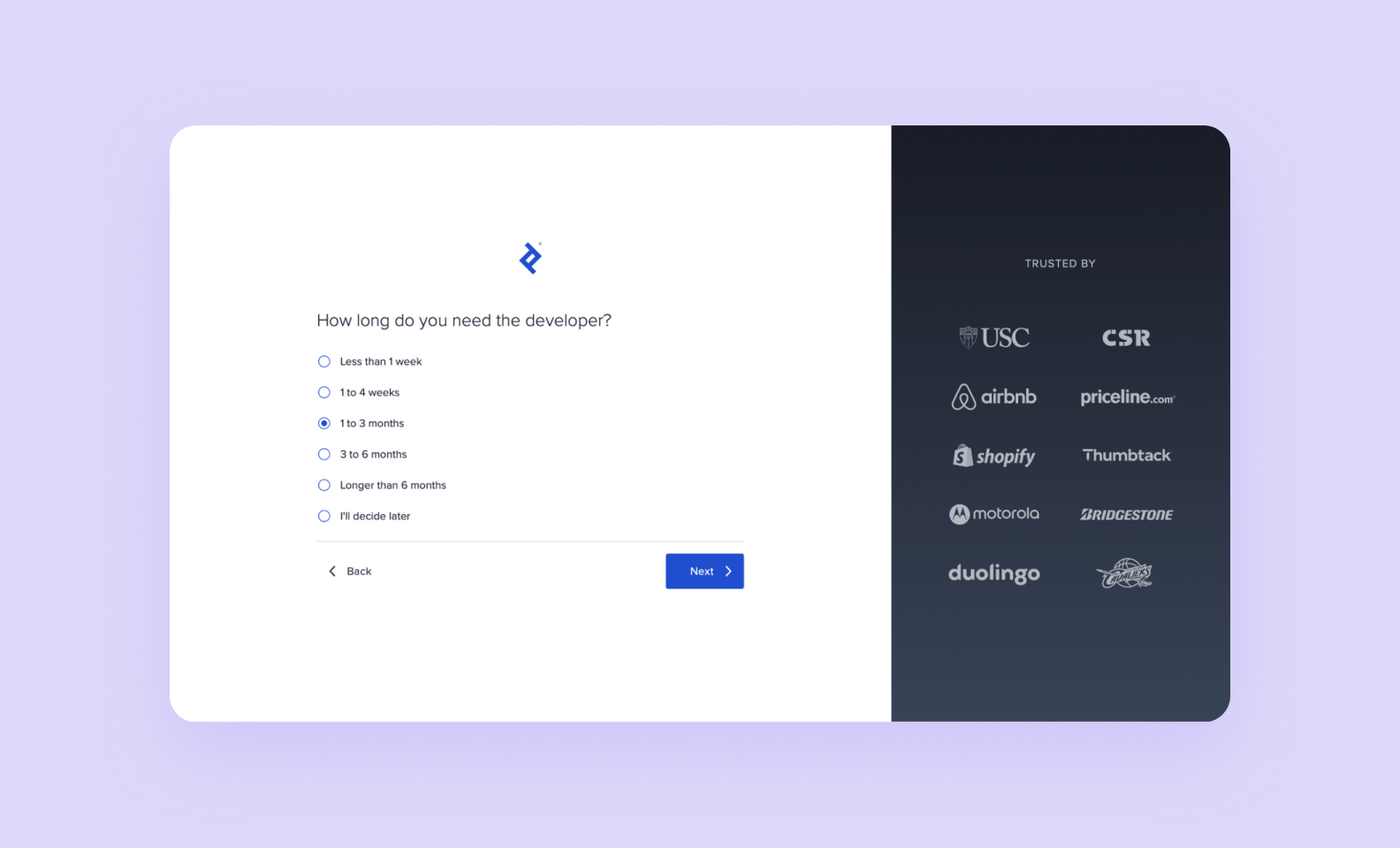 Before hiring a contractor, Toptal asks you questions to narrow down the search
After you answer all the questions, Toptal connects you with the talent to start working on the project together.
Why is it good for startups? Narrowing down the search saves time — you put all your requirements and get a match within the next 24 hours. Toptal rarely misses, and 90% of clients hire their first candidate the platform offers.
Cons: Expensive
Top freelancers cost money, and for some projects on tight budgets, it can be financially draining. The platform requires a $500 refundable deposit and most contractors charge anywhere from $60 to $200+ per hour. Thus, a small task can cost around $1000, while a bigger idea can cost up to $5,000+ for a week.
Why is it not good for startups? If you just started with your idea and have not had a chance to raise funds or find investors, Toptal's freelancers might hit your budget hard.
Cons: Not for all projects
Toptal unites highly professional and skillful developers who are good for sophisticated large-scale projects. However, if you need to complete a small task of fixing a bug, you are very likely to overpay and have a hard time finding available freelancers.
Why is it not good for startups? This issue limits the ways you can use the freelance platform. Toptal contractors will not suit every project, so it is important to consider it beforehand and weigh all the options.
What is Upwork?
Upwork was also born in the United States, but 5 years later, in 2015. It was the result of merging and rebranding of two other companies, Elance and oDesk. 
By now the platform managed to attract over 12 million freelancers globally. So, in the battle Toptal vs Upwork, in terms of the number of prospective candidates, Upwork undoubtedly wins. But is quantity more important than quality? Let's discuss!
Pros: More options
Upwork has 1,200 times more freelancers to offer than Toptal. The main reason for it is the less strict selection and lack of entry interviews. All contractors need to do is sign up and start working immediately.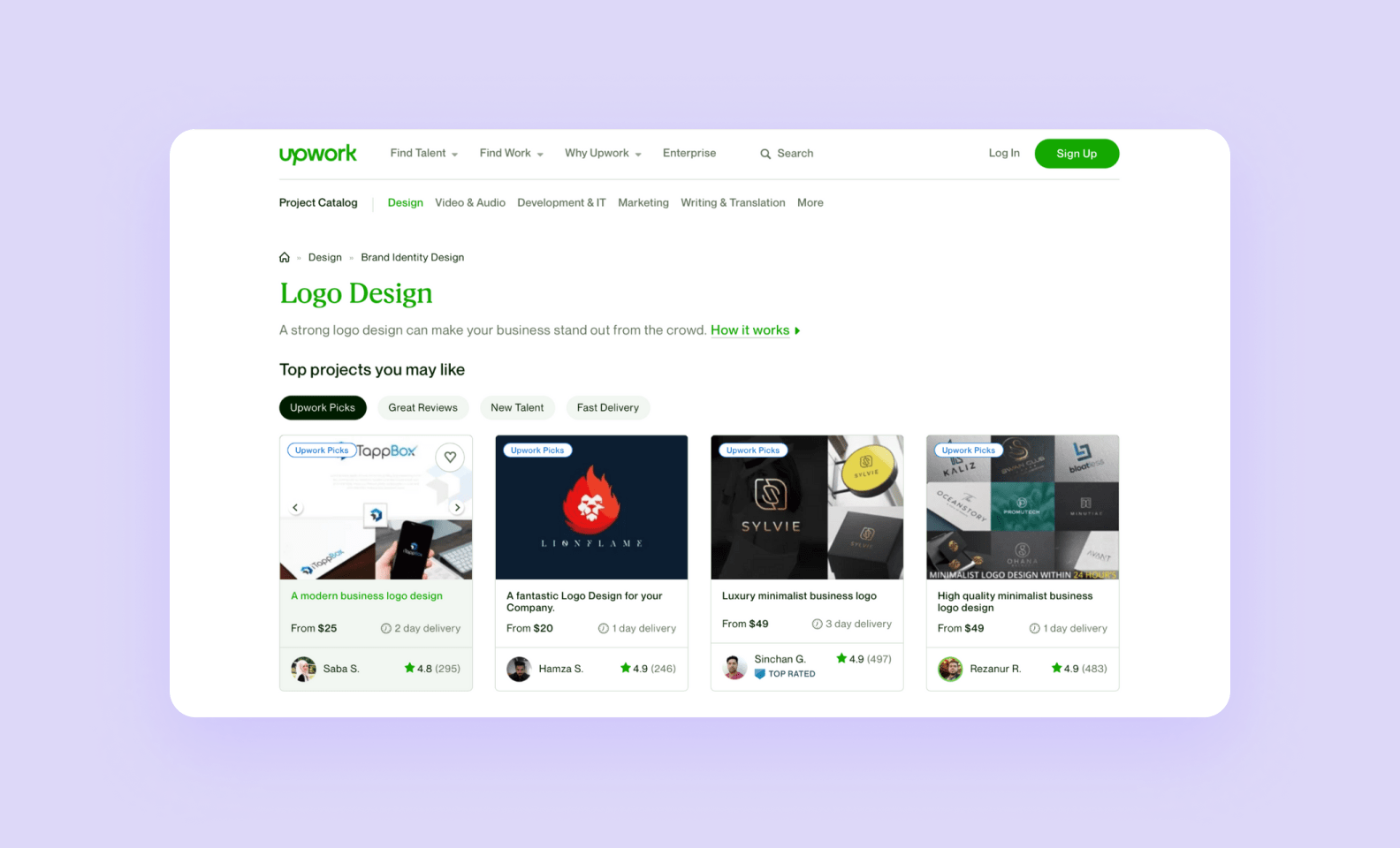 On Upwork, you can find not only freelancers but also projects –– packages of popular services
Why is it good for startups? Instead of one option that Toptal matches you with, you get thousands of possible freelancers who are ready to work for you. You can spend a lot of time scrolling through your profile until you find someone whose skills and experience are perfect for your project.
Pros: Cheaper rates
The more offers there are on the market, the lower the average rates are. For entry-level tasks, you can easily find experts for $20 — $50 an hour, while experienced freelancers can cost anywhere up to $200 an hour.
Why is it good for startups? With lower prices, Upwork gives different startups an opportunity to find a freelancer, regardless of their budget. So, even if you limit the expenses of your company, you can still find a developer for your startup to work on tasks.
For example, if you want to start with an MVP to show your potential investors, on Upwork you can hire software developers or a whole team of specialists, who will help to execute budget-friendly solutions.
Pros: Protected payments
On Upwork, your finances will be protected. The platform uses the third party — Escrow. Once you and a freelancer agree on tasks and sign the agreement, you will be charged. But the transaction will be put on hold until the work is done and approved. 
Why is it good for startups? If the contractor you chose can't complete the task or the result does not meet your requirements, you can refuse to approve the work and return your money.
Pros: Job postings
On Upwork, instead of spending time and scrolling through profiles, a startup can post who they want to hire and collect applications. 
Why is it good for startups? Job postings and direct replies facilitate the hiring process, provide equal employment opportunities and attract more talents.
Cons: Many entry and junior-lever contractors
A wide market and no selection process has a flip side. There are many freelancers on Upwork at the beginning of their career paths. They come to the platform to get experience and improve their coding, designing, testing, or managing skills.
Why is it not good for startups? If you have a complicated project that requires flexibility and creative thinking, you will likely need an experienced and skillful developer or a team to execute the idea. Upwork is full of beginners, so you have to spend more time looking for the right fit.
Cons: Scammers
Since the platform doesn't have background checks, it gives scammers an opportunity to squeeze in. Therefore between Toptal vs Upwork, the second platform is more vulnerable and susceptible to fishing profiles.
Why is it not good for startups? Your payment will be protected anyways, but if you face the scamming developer, you will lose valuable time dealing with the situation, instead of building the solution.
Freelancer vs. a development team
After diving into the never-ending argument Toptal vs Upwork and breaking it down, it is time to take a look at an equally important choice — freelancer vs development team. 
Both Toptal and Upwork platforms allow you to hire app developers working individually, as well as collaboratively. Most teams offer full-cycle development, including front and back ends, UI/UX designers, copywriters, QA engineers, and others.
Based on your experience, a team is always better than a freelancer or in-house developer for startups at the early stages. Imagine you have to manually select several freelancers, responsible for software, interface design, testing, and then establish communication, supervise them, and ping them if needed. How much time would it take?
Instead, you can spend these hours on researching the market better, creating a marketing strategy, and pitching potential investors while a professional team will take care of the project from head to toe.
Here are some more perks of working with the team:
Each team has a

project manager

who distributes tasks, oversees deadlines, and makes sure everything is done on time. It saves startup owners valuable time that they can spend developing their idea.

The team offers

long-term support

even after the app launch, while freelancers usually take over the next project and move on. If you need something to be fixed and your single freelance developer is busy, it will be hard to find someone who will quickly learn the architecture and interface of your app to address the issue.

Reliability issues usually come up with freelancers. No one is safe from stumbling upon an irresponsible and messy freelancer who will miss the deadline or disappear. With the team it is not possible, because the

responsibility

is collective and if one developer gets sick, there is another one to take over. 

Teams work with contracts, which means you will be

legally protected

from all possible disputes. Plus, when you

hire app developers

for an innovative idea, you might want to have an NDA (non-disclosure agreement), to protect information from leaking. Teams are used to it and quickly prepare all the paperwork you need.

Collaborative work encourages

creativity and critical thinking, therefore many original and groundbreaking ideas can be

 born during brainstorming sessions with the development team.
Wrapping up
When you want to hire react native developers, there are several options to find the perfect match. It can be through freelance platforms, referrals, recruitment agencies, and many more. The most popular way is a talent marketplace, like Toptal vs Upwork, Fiverr, Guru, FlexJobs, or others.
In the article, we reviewed Toptal vs Upwork and compared its advantages and disadvantages. The table below summarizes the main points:
Toptal
Upwork
Pros

Strict selection process and background checks for freelancers

The diverse set of roles

Precise filters to narrow down the search

Millions of freelancers to choose from

Cheaper rates (from $20 per hour)

Protected payments via Escrow

Job postings for startups

Cons

Expensive hour rates (expect to pay from $60 per hour)

Suitable only for large-scale sophisticated projects and not convenient for small tasks

A lot of beginners on the platform

Scammers who can waste your time
Overall, both Toptal vs Upwork are good sources to hire app developers, designers, copywriters, and even project managers for small projects. However, if you value your time and quick turnaround, then hiring teams instead of individual contractors is a better option.
We put together the main points about work processes with a contractor and a development agency. Here is why we think working with a team is more convenient and effective:
Individual freelancer
Team

Needs to be onboarded and supervised

Switches to another project after the release

Irreplaceable if get sick or can't complete the task

Can disappear without completing the work

More affordable

Takes care of all little corners of the project

Has in-house project managers to supervise developers

Offers post-launch support and updates 

More reliable as a collective

Legally protected contracts and NDAs
Based on years of experience, we recommend outsourcing the development of MVP to a full-cycle team who can also be found on freelance marketplaces, like Toptal vs Upwork, or hired directly. 
Who we are
Purrweb is a full-cycle development team that executes both small and large-scale projects, offering long-term support to mobile and web applications. Our strengths are React Native development, robust and minimalistic UI/UX interface design, as well as adaptive and receptive project management that helps us promote expertise, delegate tasks effectively, and create a space for creativity to flow. 
There are a few things we can help startups with at an early stage. In particular, we aim on building a fully functional MVP in 3 months, focusing on worthwhile user experience and feasibility of the solution. In addition, we conduct research on the market, analyze competitors and create an easy-to-navigate interface that will stand your solution out. 
Moreover, we provide QA testing of web and mobile applications, where our specialists predict user behavior, create testing situations, look for possible bugs and manually check the reliability of the solution. All these tasks have one goal: to make sure users get a reliable and intuitive app that enhances their satisfaction after using the service and the product.
While single contractors are skilled in only one area, versatile and diverse teams will provide full life-cycle services including professional consulting, project management, business analytics, and more. If you are in the beginning and trying to build a startup, hiring professional developers that can help with all the parts of the idea could result in a more significant return on customers and financials.
If you want to talk about our development services and see if we can be useful for your startup, fill in the quote and we will get back to you shortly.