What exactly is mobile banking?
You might think that all finance apps count as online mobile banking but it's not true. For example, Mint is not a mobile banking app. This budget tracker monitors your expenses, bills, and credit score but you can't open an account to keep money on and you don't use it for payments. Neither is Venmo — although you can use it for transactions, it's only designed for peer-to-peer payments.
The broadest definition of online mobile banking is apps that allow you to manage your bank account and do financial transactions. With mobile banking apps you can:
open and close bank accounts

check your account balance

buy and sell currencies

get the transaction history

get loans, term deposits, investments, and other financial products
In this article we're looking at verified bank apps like Bank of America and large fintech companies like N26 and Revolut.
Why do I need to know trends?
Imagine that you want to make a revolution in the automotive industry with the best steam engine on the market. Your creation works like a clock and looks fabulous but we live in the age of Tesla — no one would buy the most effective steam engine in the world when we have electric cars.
The same thing applies to mobile app development. Trends come from customer needs — if you want to make a product that people will actually use, you should listen to its potential users. It doesn't mean you should add every possible function because everyone has it. For example, one of the current mobile banking trends is chatbots. If your app development company doesn't have enough budget to hire a machine learning team or you're not sure which process design would make it work, consider a different option. Your choice of features depends on the product itself, your target audience, budget, and many other factors — which is why you should be picky with the trends you hop on.
And if you're still thinking about your future fintech app, our list of mobile banking app development trends will help you find inspiration for product design.
Current mobile banking trends
Let's take a look at 6 trendy features in fintech apps that improve user experience. 
Cybersecurity features
What is it? When it comes to finance apps, security is a must. Security breaches may lead to both data leaks and financial losses. Mobile banking is still vulnerable to malware, different phishing methods including fake banking apps, keyloggers, and mobile SIM card swaps. Attacks happen not only because of problems with mobile app development but also because people are trustful and fraudsters are convincing. For example, one of the common scamming schemes is fake phone calls from bank employees.
There are many ways to improve mobile banking security, such as biometric authentication, complex payment verification, and real-time fraud monitoring. One of the most interesting features in Revolut is disposable virtual cards. You can use this card once for online payments and its number will be replaced after the transaction, which is a great measure against phishing and possible misuse of data.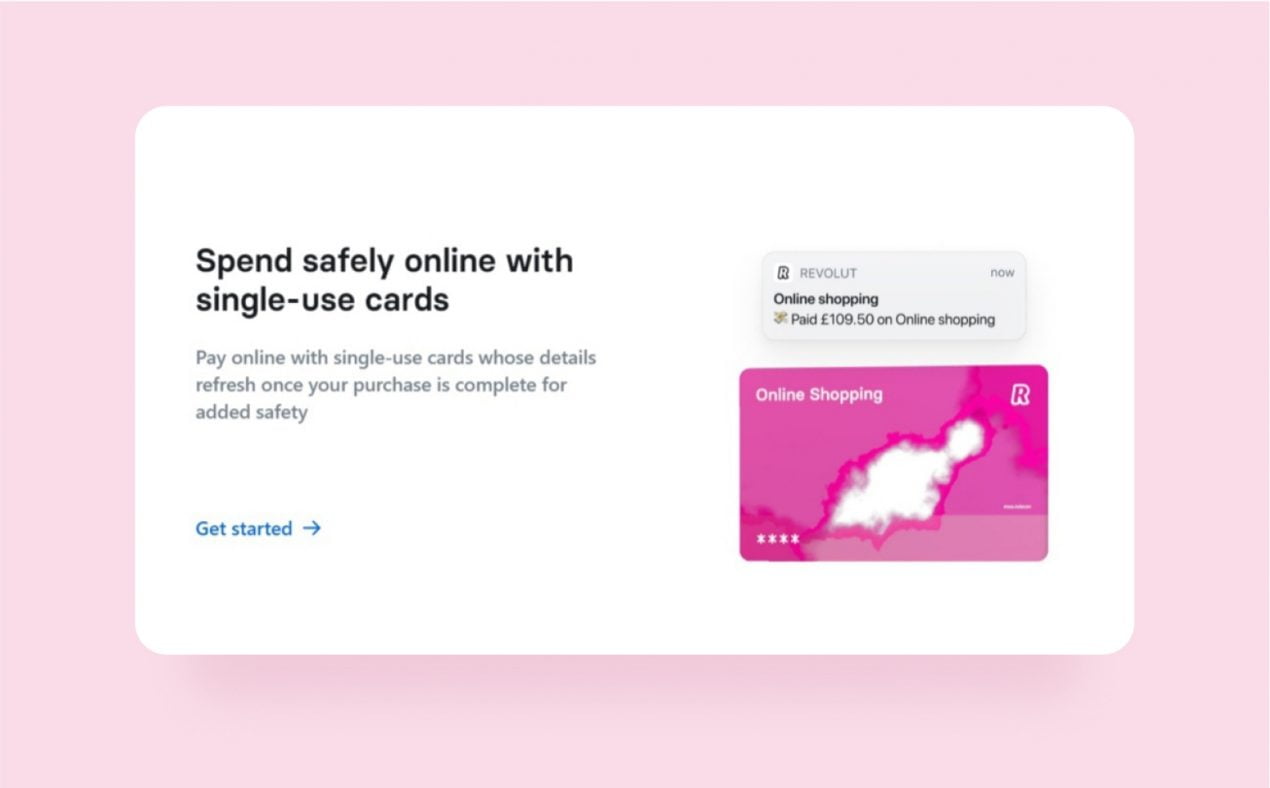 How does it affect user experience? Not only scammers become more tech-savvy, but also your potential users. If an app development company puts as much effort into cybersecurity features as possible, people will consider its product trustworthy and they will be more likely to become your client.
Chatbots
What is it? Banking chatbot is an app that allows users to hold conversations and perform transactions like with a human employee in a brick-and-mortar bank. Chatbots in mobile banking can be used not only for sending money and tech support but also for feedback collection and answering different questions like nearest ATMs. And AI-powered bots can execute more complex scenarios and learn from users' behavior.
One of the examples is Capital One. Their chatbot Eno verifies your payments for extra security, answers questions, sends money, and performs other banking app functions. It's AI-based which allows it to learn how to build relationships with customers from users' messages. App users form an emotional connection with the product, which increases customer retention.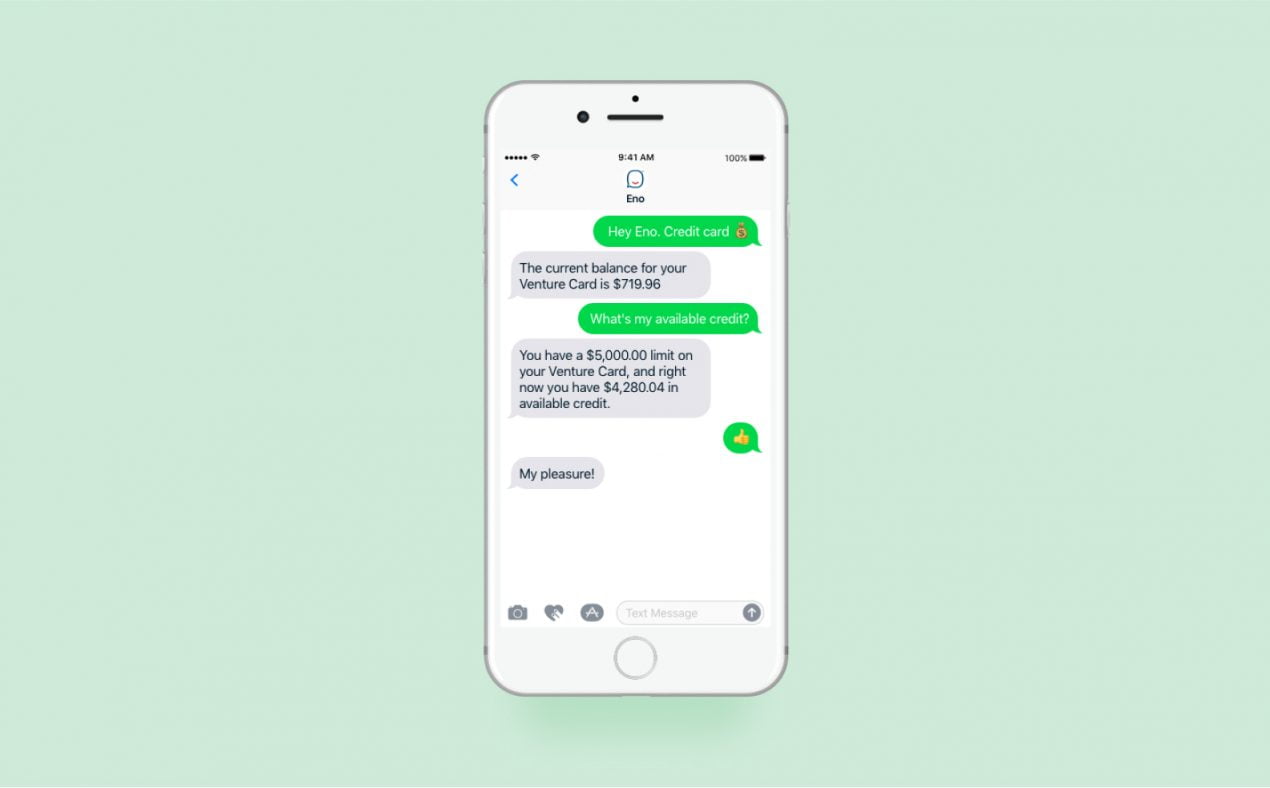 How does it affect user experience? Chatbots for customer service not only save money on human assistants but also provide fast and convenient 24/7 support. Apart from that, AI provides a personalized approach to users' needs — for example, it can give you data-driven financial advice or detect anomalies in spending statistics. Finally, chatbots increase engagement and retention since users get emotionally attached to a realistic conversation emulator.
Machine learning
What is it? We've already discussed AI-powered chatbots but that's not the only ML use case in mobile banking. Since the main machine learning feature is pattern recognition, possible usage options include fraud detection, less risky loan approval, and trading forecasts.
For example, Monzo used machine learning and data analysis to build a better help screen and improve navigation in the knowledge base. The app development company also plans to use ML for voice recognition which will make the app interface more inclusive for people with disabilities.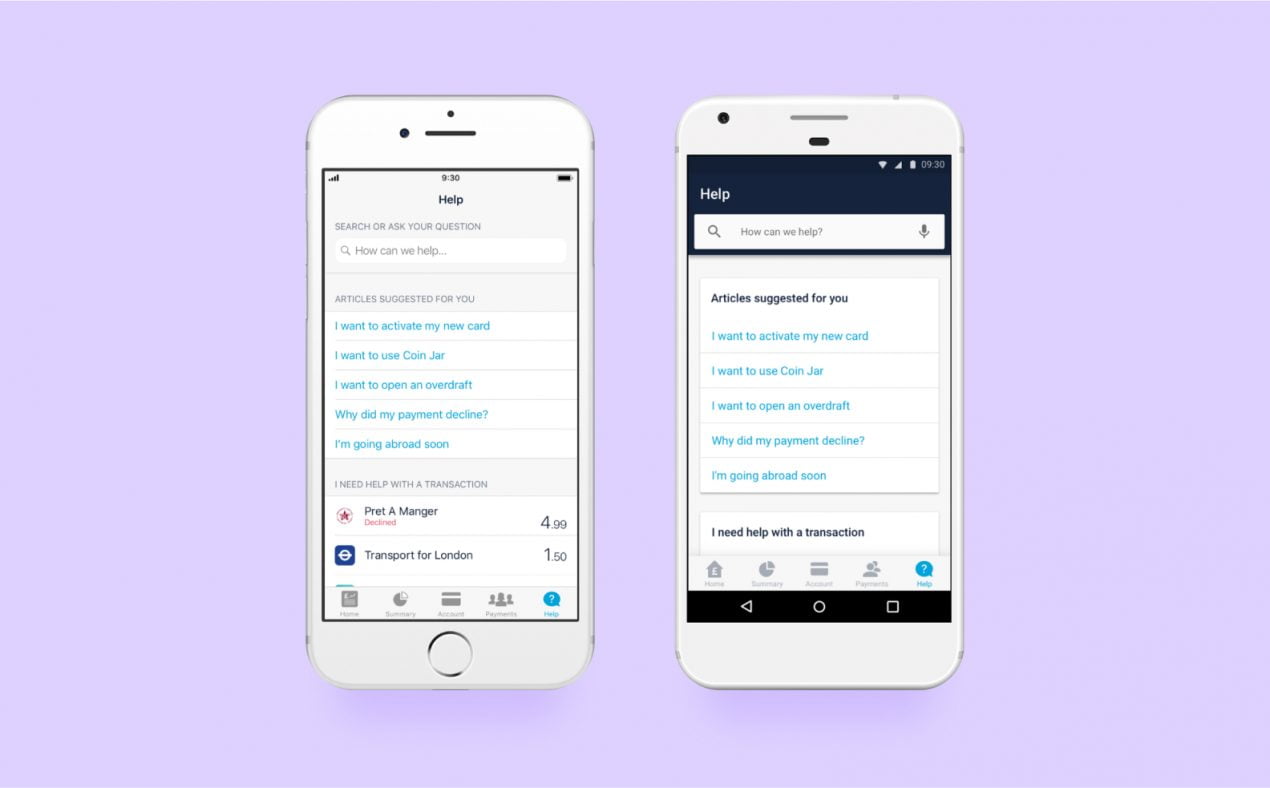 How does it affect user experience? Machine learning means personalization, which drastically improves user experience. Another advantage of ML is the automation of functions such as customer support. Finally, ML increases security, and predictive models improve the efficiency of certain processes. Machine learning can be used for every app feature, which is why it became one of the most noticeable mobile banking trends.
Superapps
What is it? Superapp is an app that puts a bunch of services together. This trend in mobile app development started in China with WeChat, which is a messenger that turned into the app for everything in life. WeChat allows you to transfer money, hail a taxi, buy movie tickets, book a flight or a doctor's appointment, go shopping, and many other things. 
In the West one prominent superapp example is Revolut. With this mobile banking app you can analyze your budget and set financial goals, trade stocks and buy crypto, transfer money internationally, get cashback, manage your subscriptions to streaming platforms, book hotels, and track your bill payments. Their slogan is "One app, all things money", after all.
How does it affect user experience? Since you don't have to use a bunch of different apps for different everyday tasks, superapps provide users with a seamless experience and make their lives simpler. Also, superapps have access to insane amounts of customers' data, which can be used to deliver a better, more personalized experience. Finally, superapp is a platform that can incorporate third-party mini apps. For banking app development it means that you can use it as a sandbox for cheap and convenient MVP testing.
Mobile payment
What is it? With COVID-19 concerns, many people chose to go cashless which increased the usage of mobile payment technologies. It's not only in-app money transfers but also QR-codes and contactless options like NFC and Bluetooth payments.
For example, N26 accounts come with a virtual card that you can connect to Apple Pay or Google Pay.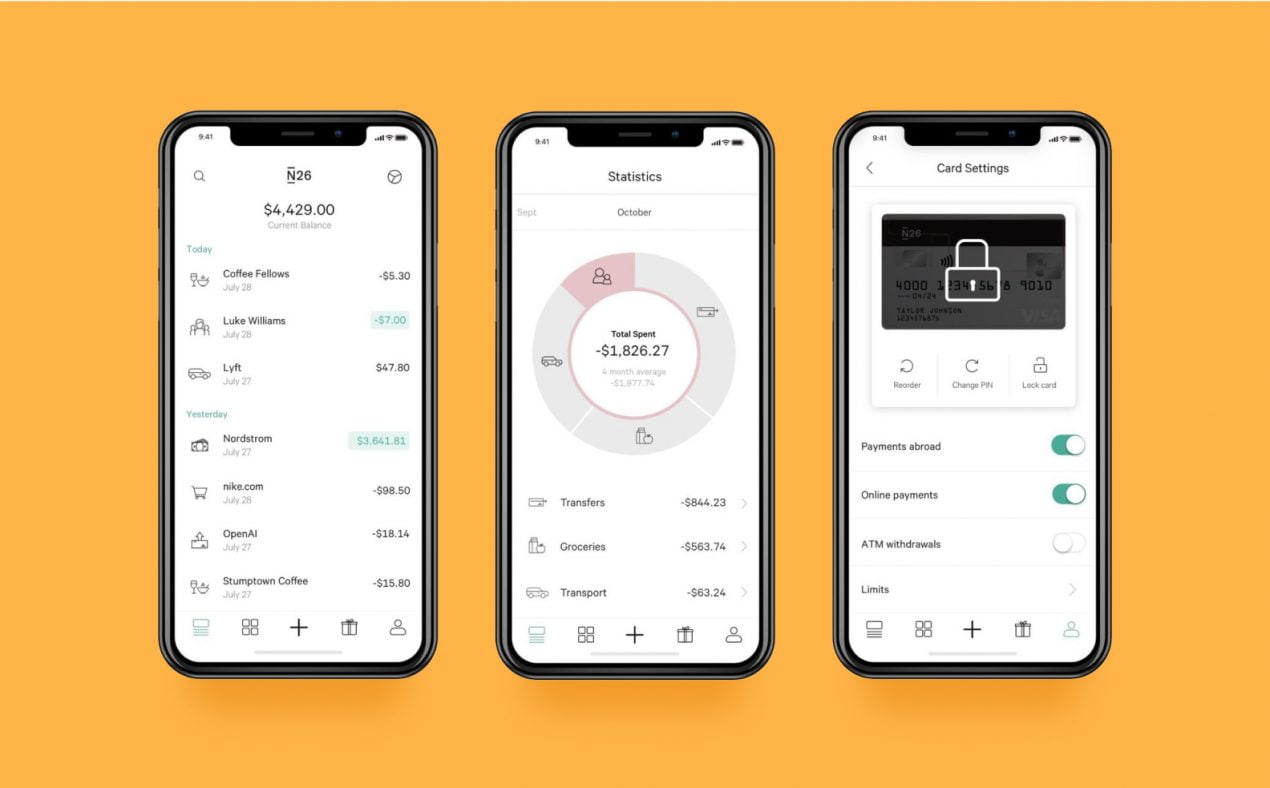 How does it affect user experience? Although it's been proven that the risk of catching COVID-19 from surfaces including cash is low, people still feel safer using contactless payment options. In the end, it's more convenient because you don't have to carry a bunch of cards — all you need to pay for your groceries is a phone. 
Edutainment
What is it? Although it's more about content marketing than app development, edutainment is still one of the most curious mobile banking trends. Many fintech apps include educational content related to budgeting, cryptocurrency, stock market, and other possibly confusing topics.
One of the cases is Revolut Junior. Revolut developed a separate product to teach money skills to kids and teenagers. This app allows you to learn about personal finances, track spendings and money earned by doing chores and other challenges, and even get your own card. Basically, Revolut built a kindergarten to bring up their future adult customers.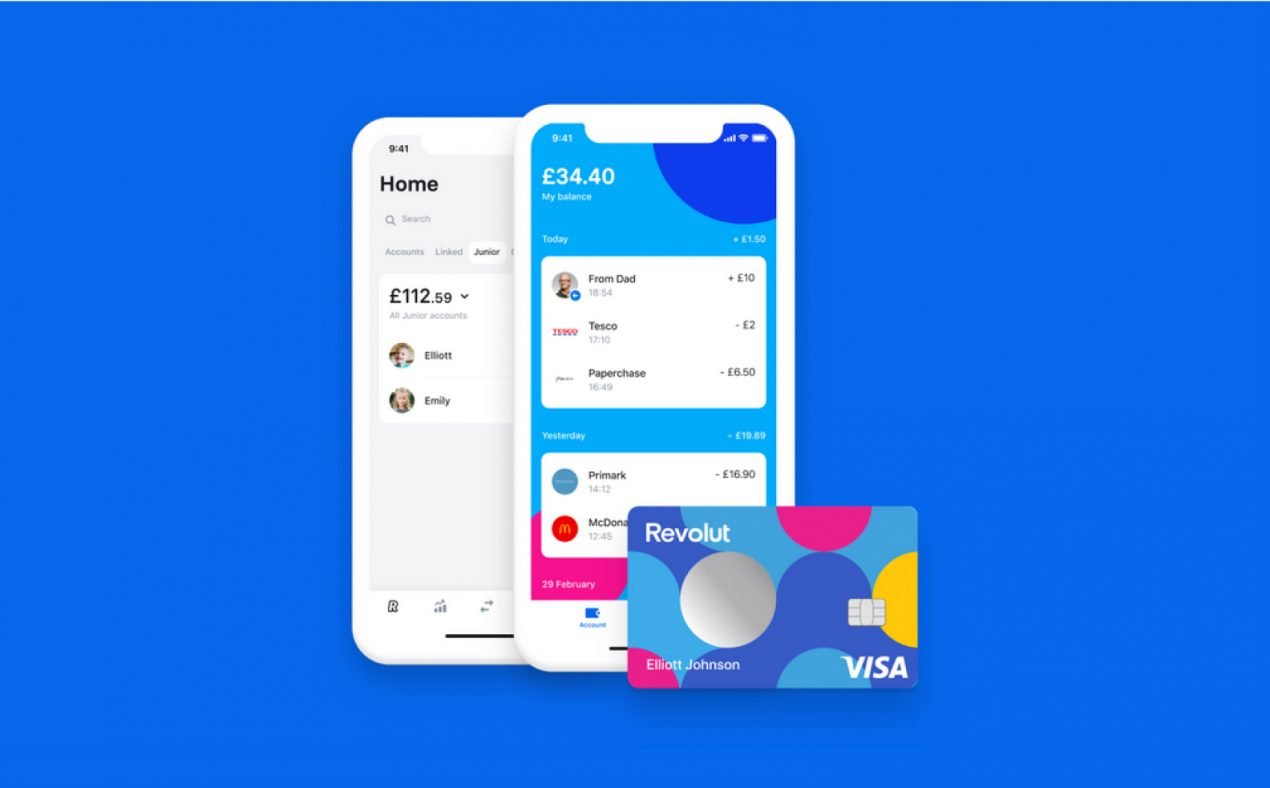 How does it affect user experience? Edutainment, like other expertise-based content marketing strategies, creates a trustworthy brand because potential users see that you know a thing or two about the subject. Apart from that, users will be more willing to use particular financial products like investments if they are provided with extra information. 
According to Business Insider, 71% of customers will use mobile banking by 2024, with 2021 being the year when fintech products will become more popular than brick-and-mortar banks. Mobile banking is on the rise but hopping on a developing industry is not enough to build a profitable business.
If you consider launching a mobile banking project, current trends can become your inspiration for product design. Trendy features don't guarantee success — you still need an MVP to test your ideas. But what if your cutting-edge fintech app grows obsolete by its final release? The solution is to outsource MVP of mobile banking application development — this will allow you to bring your project to market faster. And Purrweb is here to help. 
It takes our team 3 months to develop an MVP with all the necessary features and beautiful UX design like this investment platform. To save your time we build cross-platform apps so you can bring your product to a larger market. We take care of every project from idea to app store. And yes, you still can decide which shade of green we should use for the "OK" button. 
We'll be happy to work on your project — tell us about your future app in the contact form below.