What is MVP
The notion of a minimum viable product or simply MVP was described by American entrepreneur Eric Ries. He made his way from a software engineer to a CTO in Silicon Valley and an influencer in lean methodology. In 2008, Ries published a document called 'The Lean Startup' that explained why releasing MVP is the best way for discovering the viability of a product. This is how he defined MVP: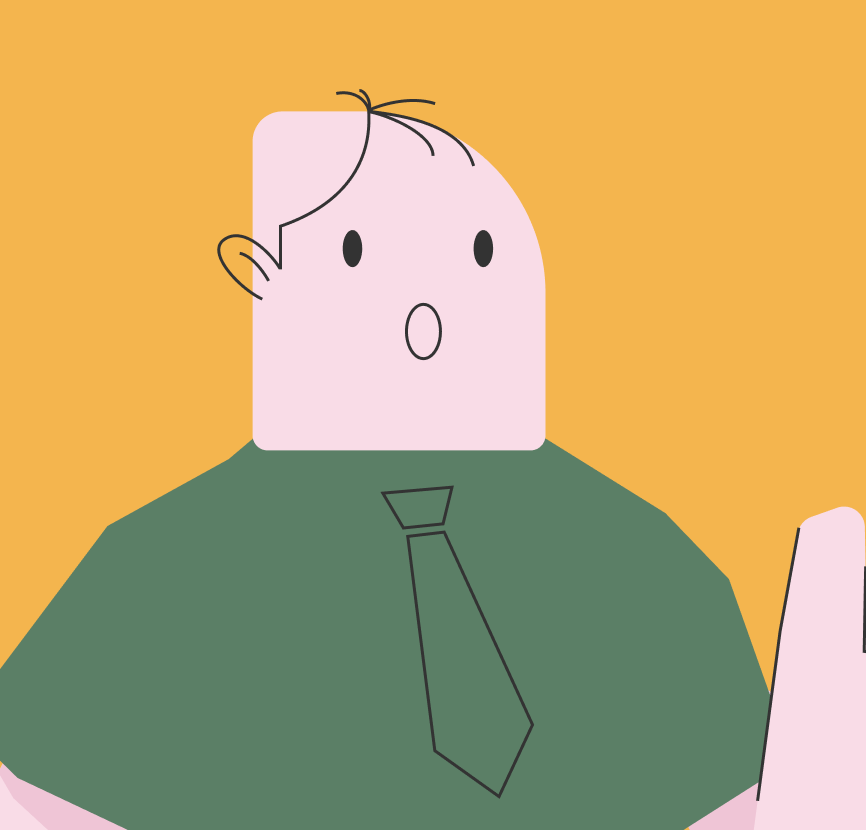 MVP is the version of a new product allowing a team to collect the maximum amount of validated learning about users with the least effort.
If you create a minimum viable product, you concentrate on releasing the version of a product with core features before shaping it into a full service software. This approach shows you if the solution proves useful for users, solves any of their problems, and brings any profit.
Why choose the MVP approach
Thousands of startups and enterprises prefer this approach for mobile and web development for several reasons: 
Efficient validation of an idea. Minimum viable product allows startups to challenge an idea in action, get feedback, and improve it to meet the actual users' needs. 
Quick time-to-market. Focusing on developing a piece of software with only essential features enables you to reduce operational costs and use the budget to the best advantage. 
Pitching investors. Securing investors gets easier if the product is already operating and attracting users. 
MVP development company: overview
Development of an MVP is a sophisticated task requiring experience and expertise. If your team lacks any of these, but has an idea, you may apply to an MVP development company for: 

— market analysis;
— product value defining;
— UI/UX design;
— frontend / backend-development;
— QA testing.
You will have your product created from scratch and released. Generally, it happens this way.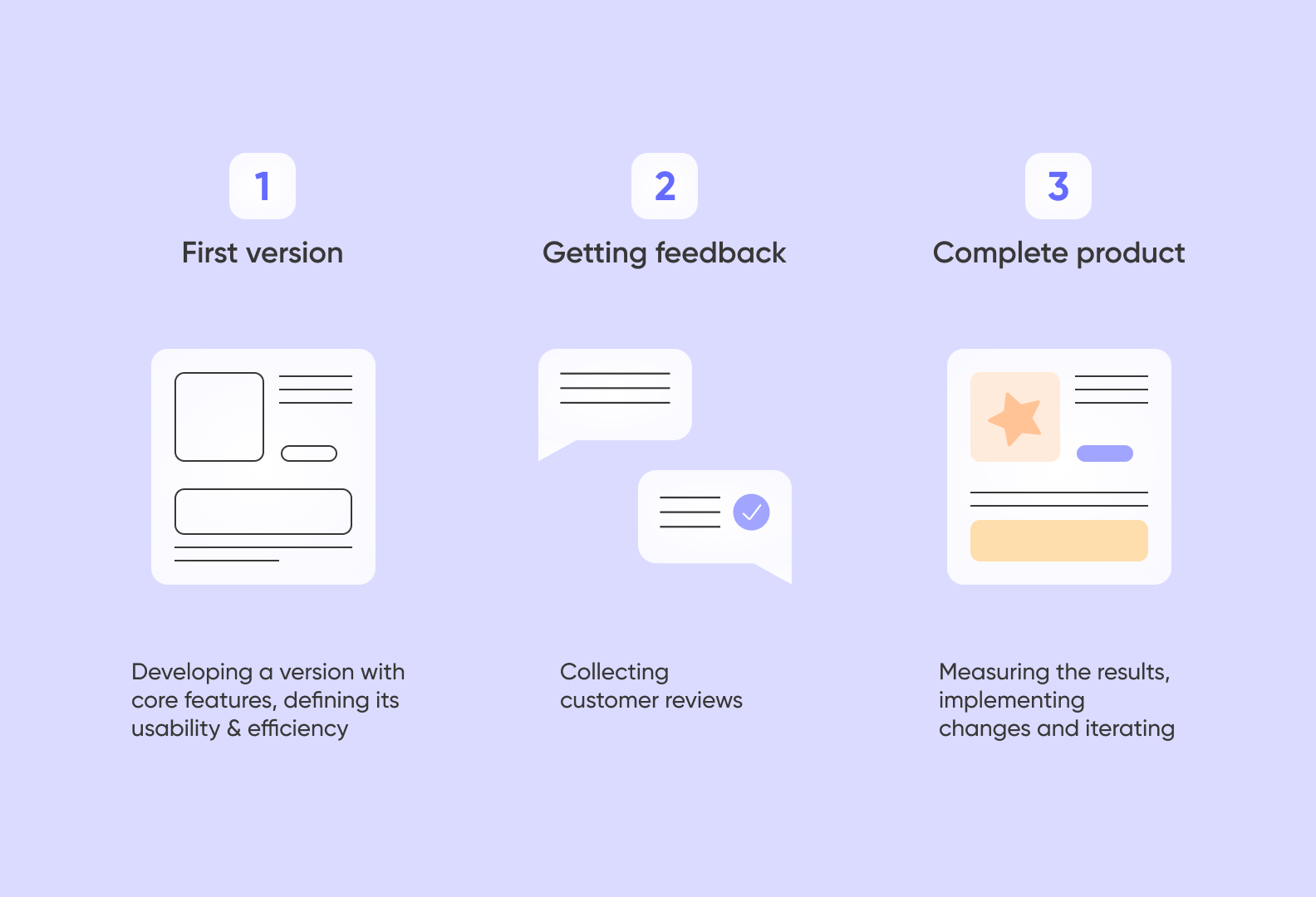 Who may need help with MVP development
Just like Amazon or Instagram, startups and enterprises can take MVP release upon themselves. However, in some cases, it is worthwhile to reach out to an MVP development company. 
Outsource MVP release if you… 
  Launch MVP on your own if you…

don't have staff that's fit with the app requirements

have an internal team with corresponding expertise

want to release it in the shortest time as possible to edge out rivals

can take your time not bothering about the exact release date 

intend to offer a brand new product or a path-breaking solution and need to know if customers will appreciate it or not

know for sure that the idea will work out and will be developed into a

full service software

despite budget and timings

e.g. a company website or a subdomain / section for an existing resource

have no prior experience in launching digital products to the market and need assistance 

have released several apps and are confident in your next product
MVP Development Process
Regardless if you choose web or mobile application development  with a studio, it consists of the following stages.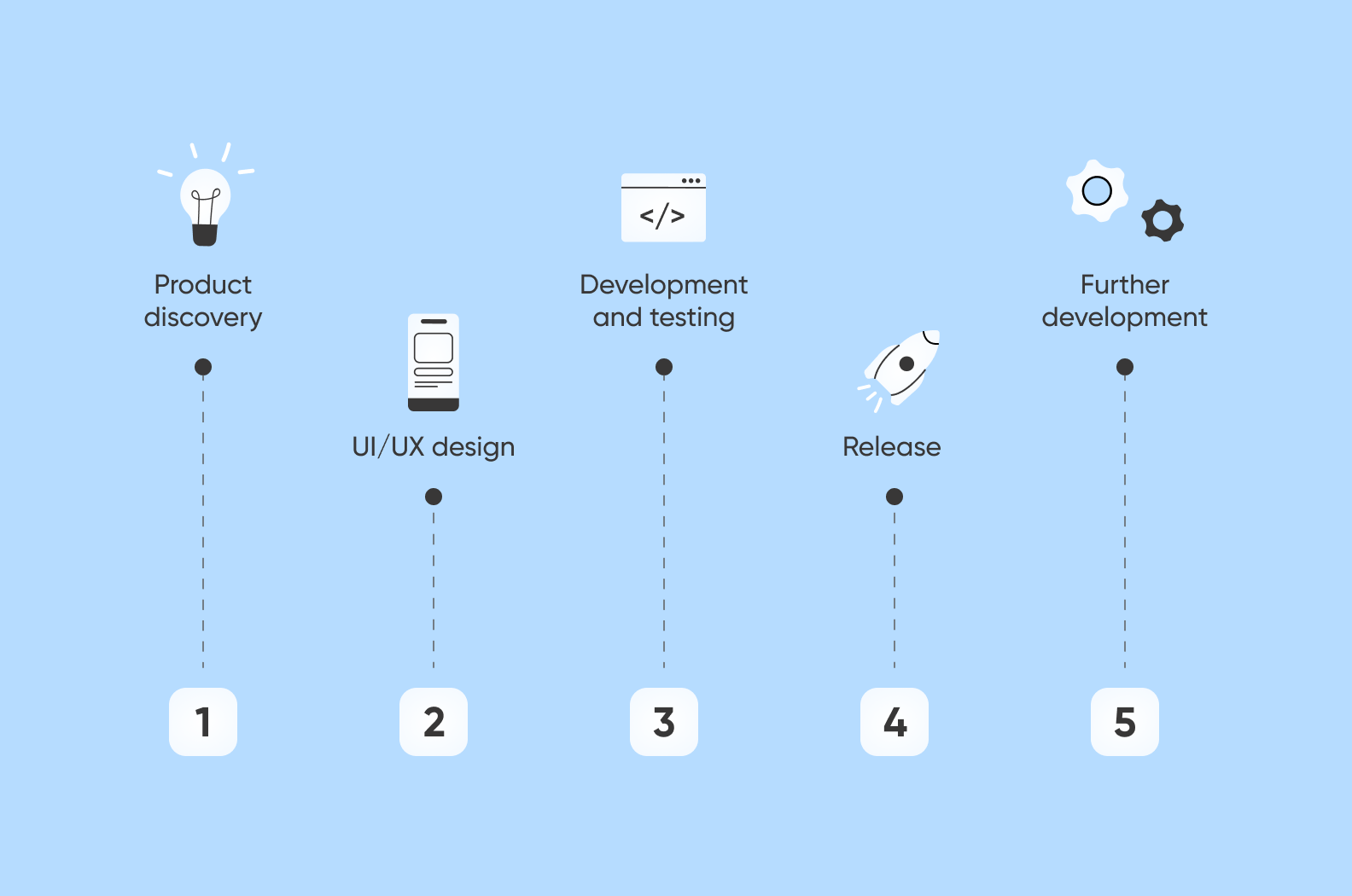 Stage #1. Product discovery
🧑‍💻 project manager, business analyst, UI/UX designer
Gathering information about customers and competitors, developing a product strategy. Discussing features and value. Choosing a tech stack.
Stage #2. UI/UX design
🧑‍💻 project manager, UI/UX designer
Creating a design concept and defining its look and feel. Designing UI kit. Mind mapping, wireframing and making sure product UX is convenient for users. 
Stage #3. Development & testing
🧑‍💻 project manager, frontend and backend developers, DevOps, QA
Developing the codebase for the project using the chosen tech stack, deploying ready-coded parts on a testing server. Running QA testing to eliminate bugs. 
Stage #4. Release
🧑‍💻 project manager, frontend and backend developers, QA
Deploying and making sure software meets all app stores requirements. 
Stage #5. Further development
🧑‍💻 project manager, designer, web analyst, frontend and backend developers, DevOps, QA
Product maintaining and developing. Rolling out product updates and new features according to tests, assumptions, and KPIs. 
MVP development company: main requirements
Building a product from scratch is a complicated process, but outsourcing streamlines it and saves worry. Anyway, appearances are deceitful and even if a team claims to have excellent ratings, you have to double-check. These are the points that might help you find your dream company for MVP development. 
Full-cycle development
It is more convenient to apply to an MVP development company that pursues a holistic approach and has all the staff you need, from business analysts to PMs. You won't have to coordinate the work of several outsource teams and bother about negotiations. 
Relevant experience 
Consider companies having experience with successful MVP releases, similar products or a portfolio of clients in related areas. Usually it matters more than the date of the company's establishments or the number of employees. 
Suitable tech stack 
It's essential to outsource a team with deep expertise and proven results in the tech stack you need. In terms of mobile app development, one the best solutions is React Native allowing startups to save time and money. 
Positive customer reviews
Make sure clients of a particular software development company appreciate its work. Along with checking reviews on a company's website, we recommend searching for feedback on third-party platforms like Clutch, DesignRush, Goodfirms.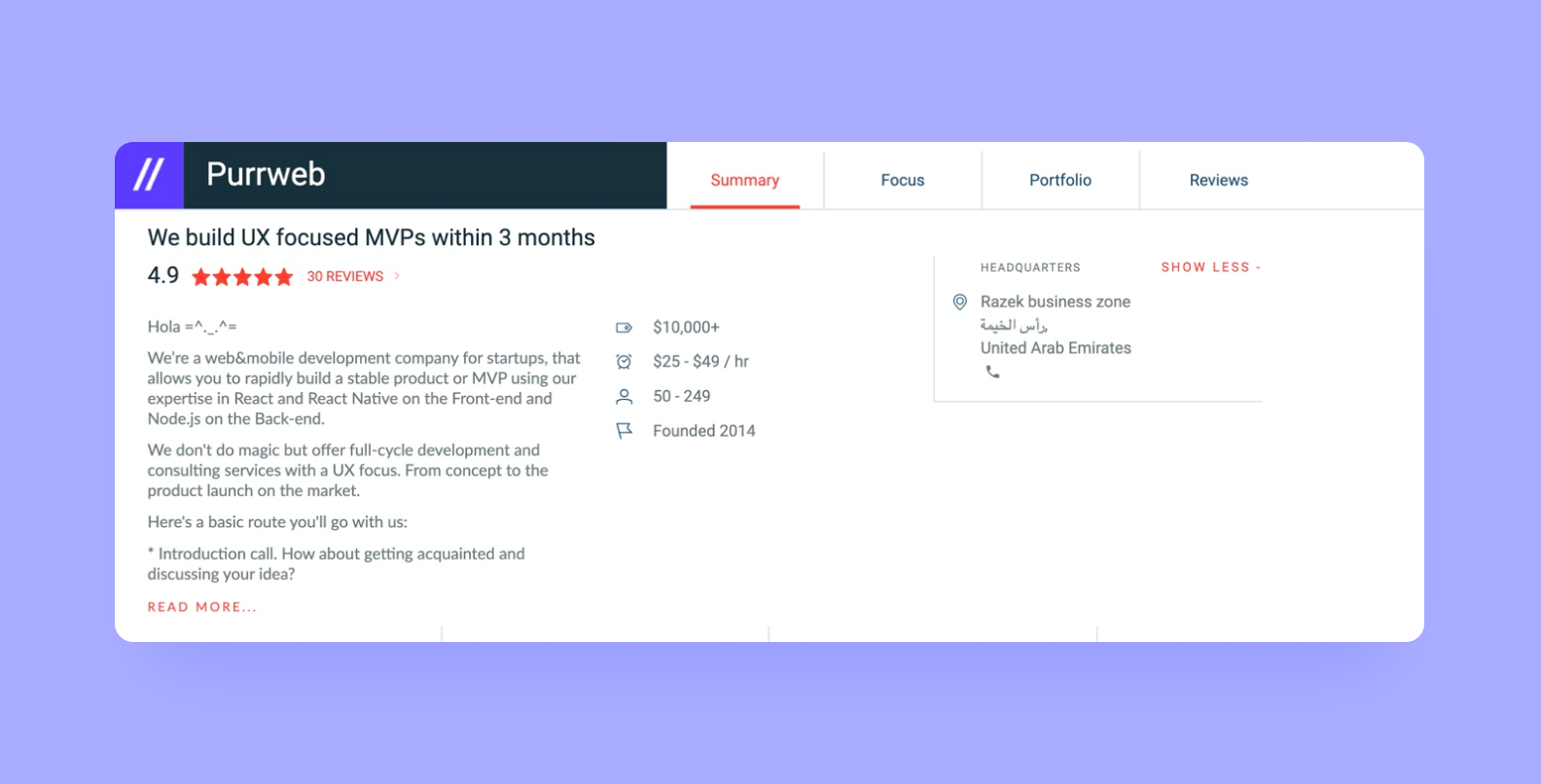 Strong product-oriented management
It is vital that an outsource team should be efficiently managed by leaders, deeply concerned with the future success of your product. Search for those who seem reliable, involved and eager to do their best. 
Transparent communication and workflow
That's not a good sign if you ask your outsource manager when they would start front end development, and he just gives you a vague 'In a little while' answer. Cooperation, transparency, readiness to share updates and news (even unpleasant ones) are significant conditions of solid partnerships. 
Top 10 MVP development companies
If you try googling 'MVP development' you will discover yourself spoiled for choice. Save your precious time and discover your ideal top MVP development company using this list.
Purrweb
🇺🇸🇦🇪Country: USA and UAE
💻 Stack: JavaScript, React Native, Electron.js, React.js, Node.js
👩‍💼 Clients: Gallivant Inc, minme.io, EventIgnite
⏰ MVP development time: 3 months
💸 Cost per hour: $25 – $49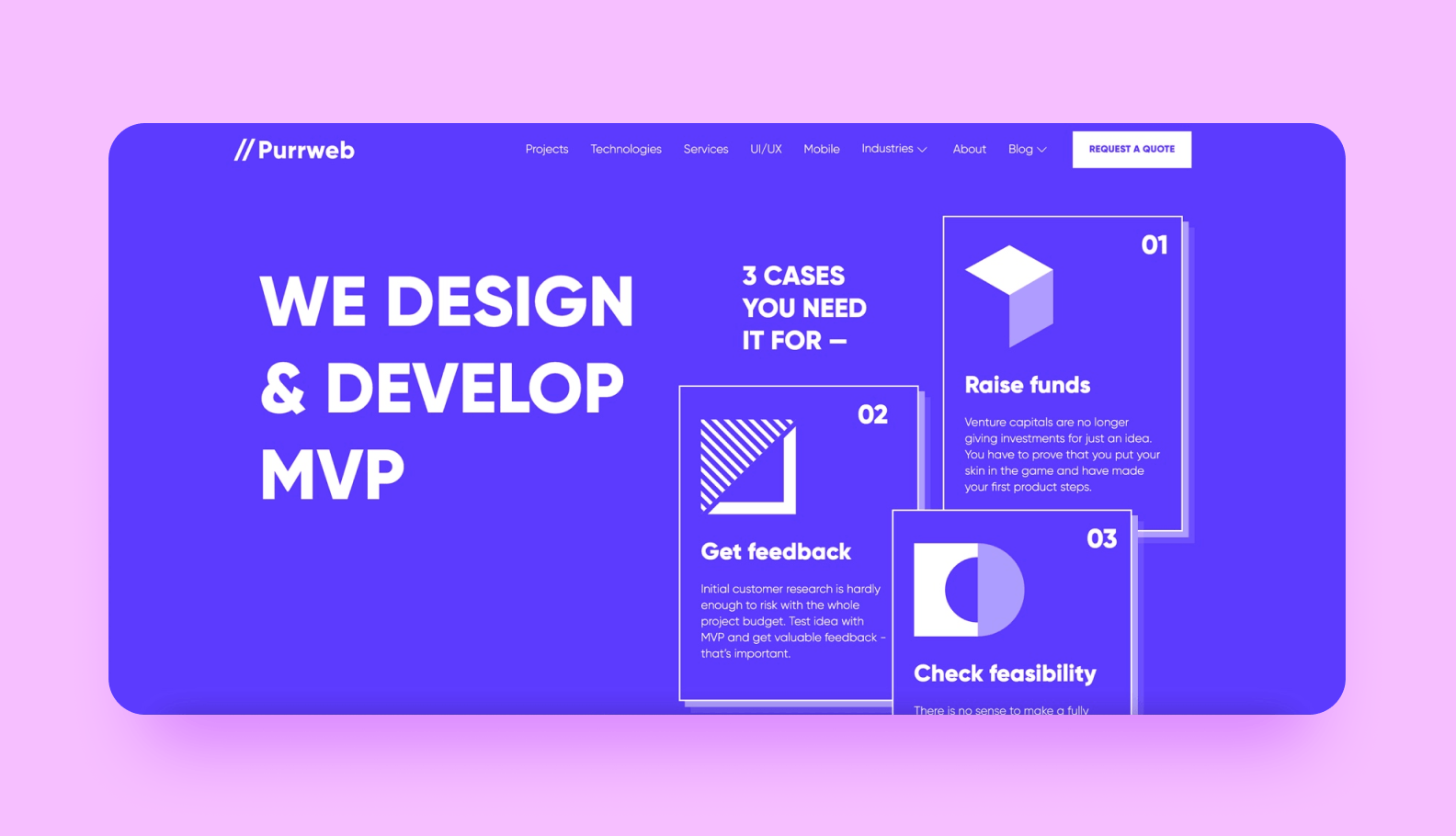 The first in this list is a top MVP development company Purrweb, specializing in mobile app development. The team has over 190 professionals who provide full-cycle development services for a variety of platforms: iOS, Android, desktop, web, POS. Minimum viable product release is the team's major focus area, with over 250 startups helped. Purweb knows how to develop a project from an idea into a reliable application meeting users' needs. At the same time the agency values a UX-oriented approach and does more than just test your hypothesis, but can advise on additional features to reveal the full potential of your product. The team starts developing MVP as soon as you approve the design concept. This allows to hit the 3 months deadline. 
Contus
🇺🇸🇮🇳 Country: USA and India
💻 Stack: JavaScript, Angular, React.js, Java, Python, PHP, Lumen
👩‍💼 Clients: Dr.Reddy, Sportscorner, Learning Space
⏰ MVP development time: 4+ months
💸 Cost pe hour: $25 – $49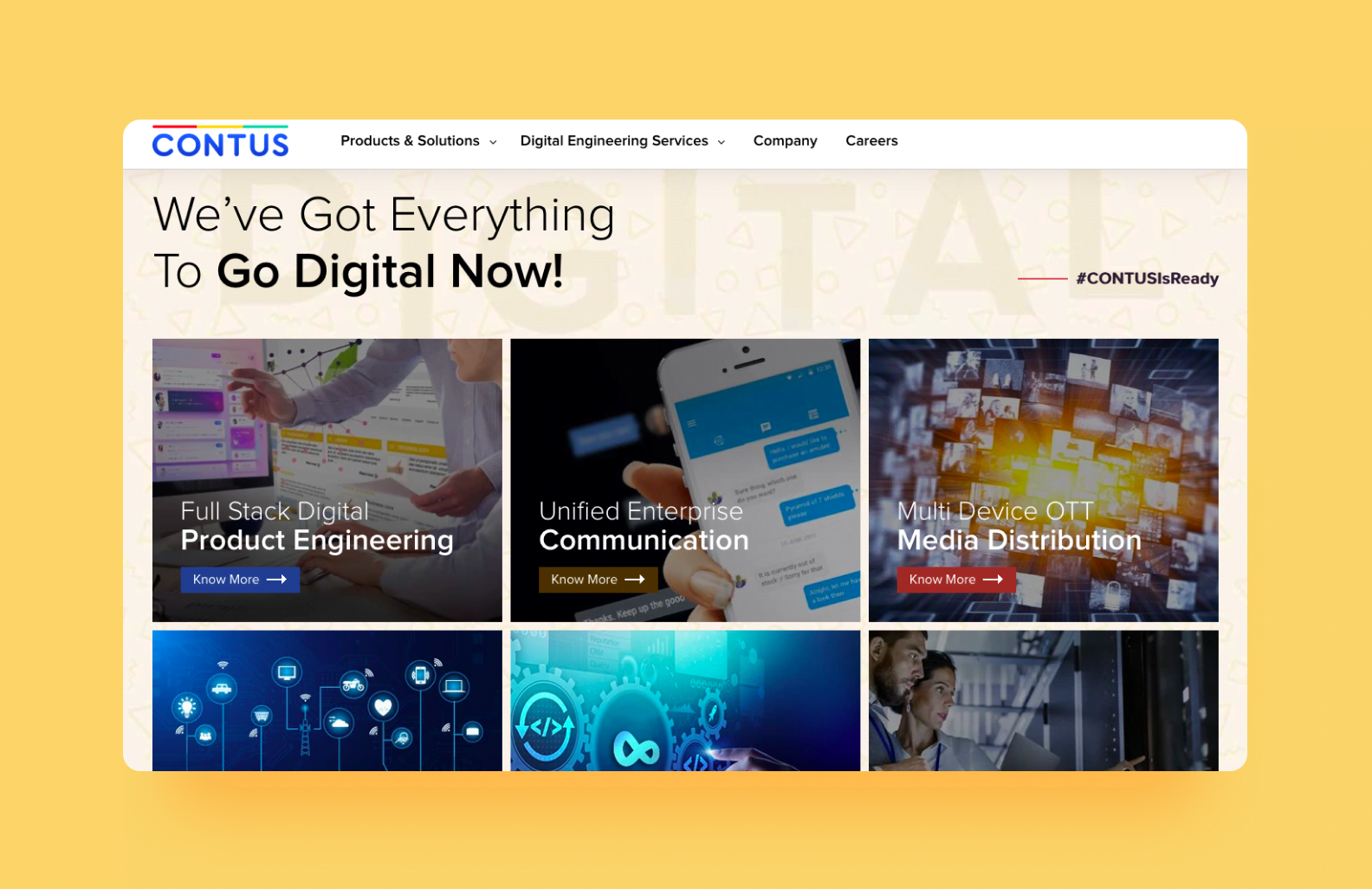 Contus is a software development company with an extensive area of interest including digital product engineering, robot automation, IoT and telehealth. Their customer portfolio varies too as well as tech stack and it's true that MVP development for startups is not the main domain of teams here. Yet Contus has earned profound respect and trust among its clients. As you may have guessed, project timings vary here as well, it all depends on the project, goal and tech stack, but, as founders claim, the workflow is always transparent.
Brainhub
🇵🇱🇺🇾 Country: Poland and Uruguay
💻 Stack: JavaScript, React Native, React.js, Node.js, .NET
👩‍💼 Clients: Collegial, Beam, Jackbox Games
⏰ MVP development time: unknown
💸 Cost per hour: $50 – $99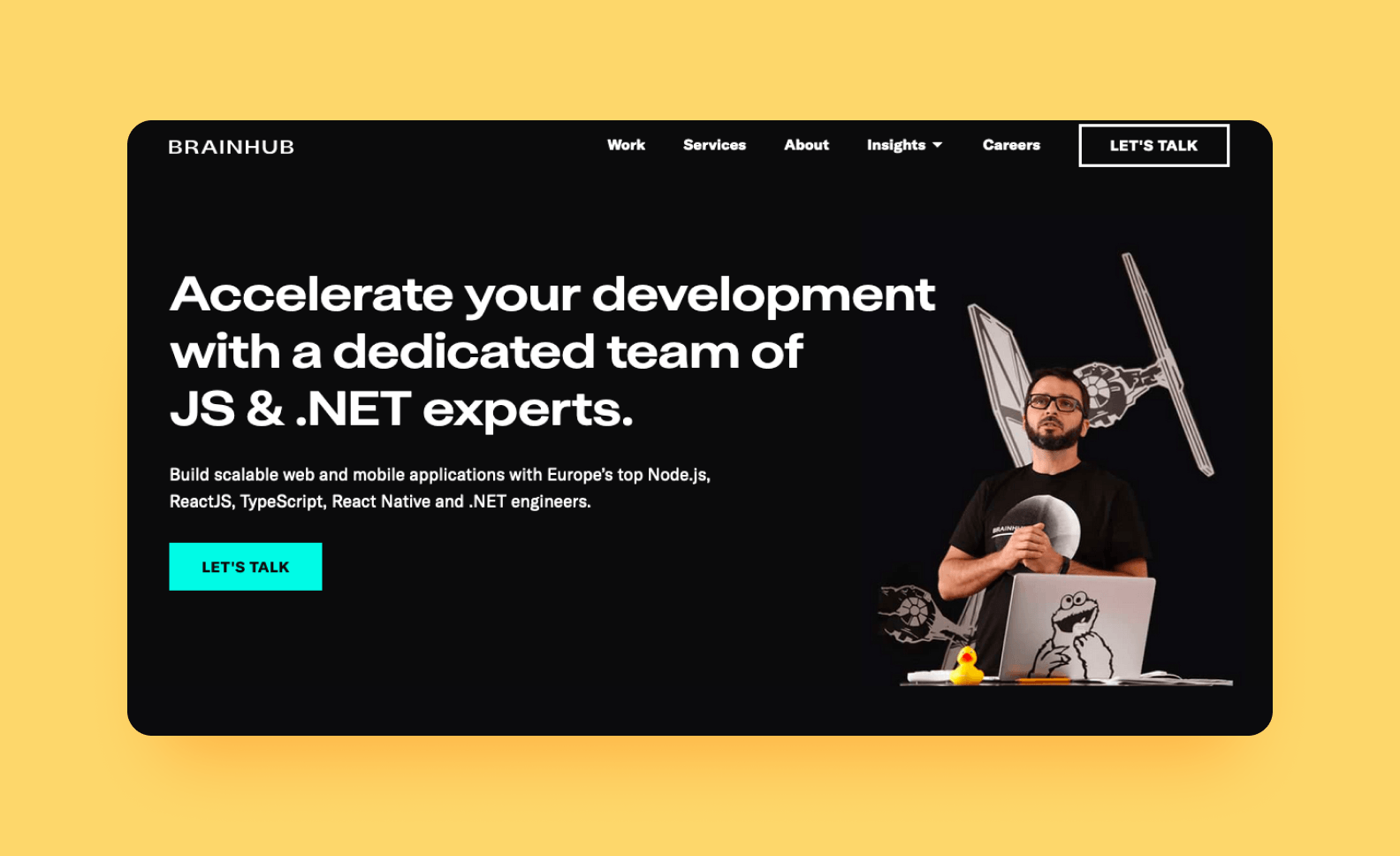 If you are looking for an outsource team or want to bring more people into your own team, Brainhub may be the answer. This is a top desktop and mobile app development company in Europe claiming to ensure painless augmentation of the staff and digital acceleration. It's mainly concerned with JS engineering adding .NET to it. Brainhub provides cross-functional teams with tech advisors and business analysts with a focus on agile development. However, teams' cost per hour seem higher than of previous companies and release timings should be specified upon the spot. 
Future Processing 
🇵🇱🇬🇧🇩🇪 Country: Poland, UK, Germany
💻 Stack: .NET, Java, Angular, C++, PHP, Python, Node.js, 
👩‍💼 Clients: Collegial, Beam, Jackbox Games
⏰ MVP development time: 3+ months
💸 Cost per hour: $50 – $99
One more company with a variable scope of services is Future Processing with headquarters located in Poland. It provides help with digital transformation, data science & engineering, cloud services and product development. This company has strong management resources and self-invented rules of delivering its solutions. However, as you may see from their portfolio, Future Processing teams mainly focus on websites and have brief experience with web and desktop applications.
SoluLab
🇦🇺🇺🇸🇮🇳 Countrry: Australia, USA, India
💻 Stack: Swift, C++, Python, Node.js
👩‍💼 Clients: Igniter100, Planoly, Padget Law Group
⏰ MVP development time: unknown
💸 Cost per hour: $25 – $49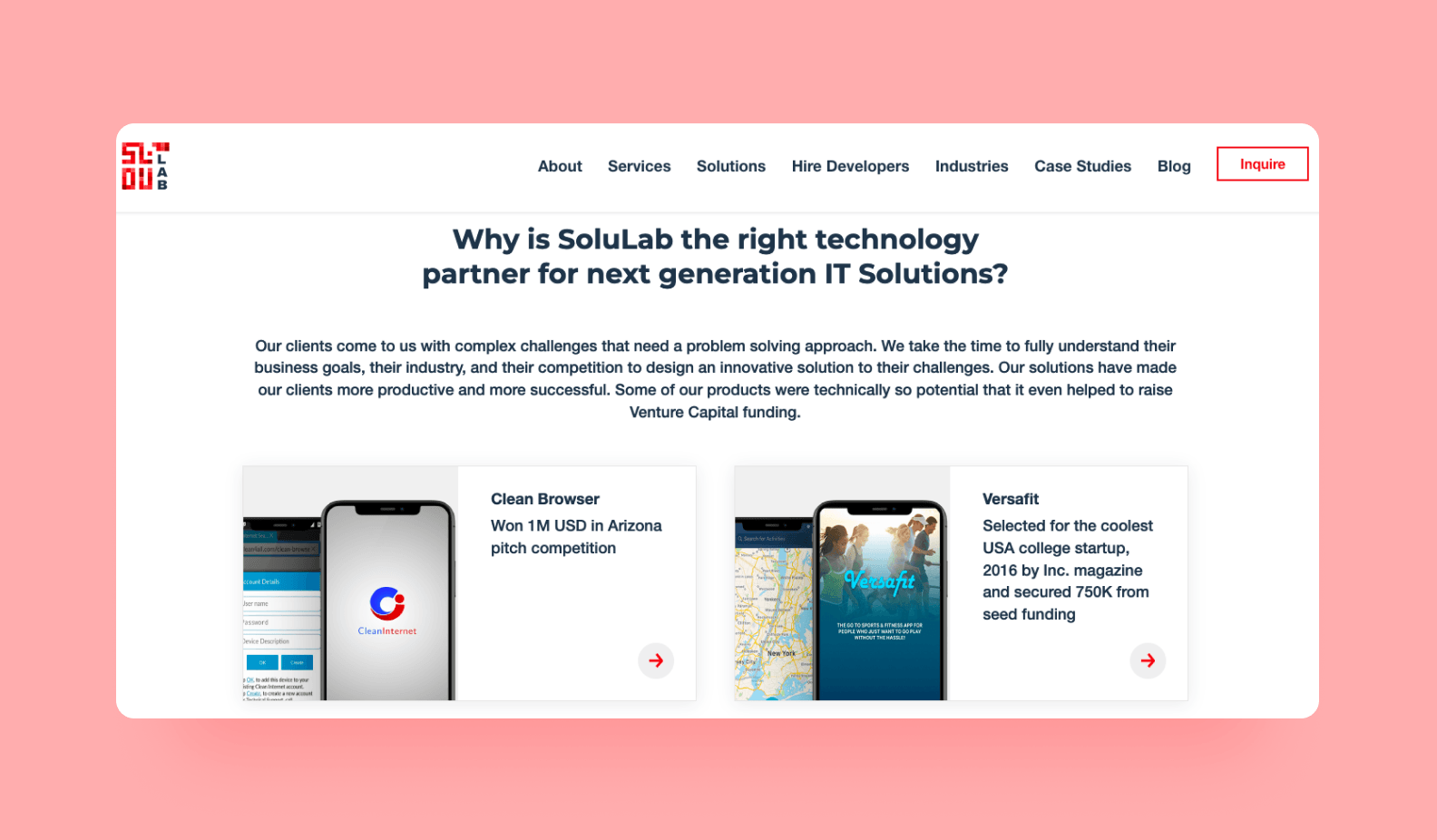 Solulab is a company aspiring to provide technical partnership for solopreneurs, small and medium enterprises, and startups. It works with multiple tech stacks and offers diversified development services: SaaS, crypto wallets, mobile and web applications, etc. As it seems from the website, they deepen their expertise mainly in respect to blockchain. You may see it from the company's portfolio, which is ultimately presented by crypto and NFT platforms, investing and trading services. If you are about to launch a product of such a focus area, Solulab may outsource a dexterous engineering team for a good price.
Atta Systems
🇸🇬🇷🇴 Country: Singapore and Romania
💻 Stack: Angular, React, Vue.js, Flutter, React Native
👩‍💼 Clients: EdXP, SkinVision, Medicai 
⏰ MVP development time: 1+ month
💸 Cost per hour: $50 – $99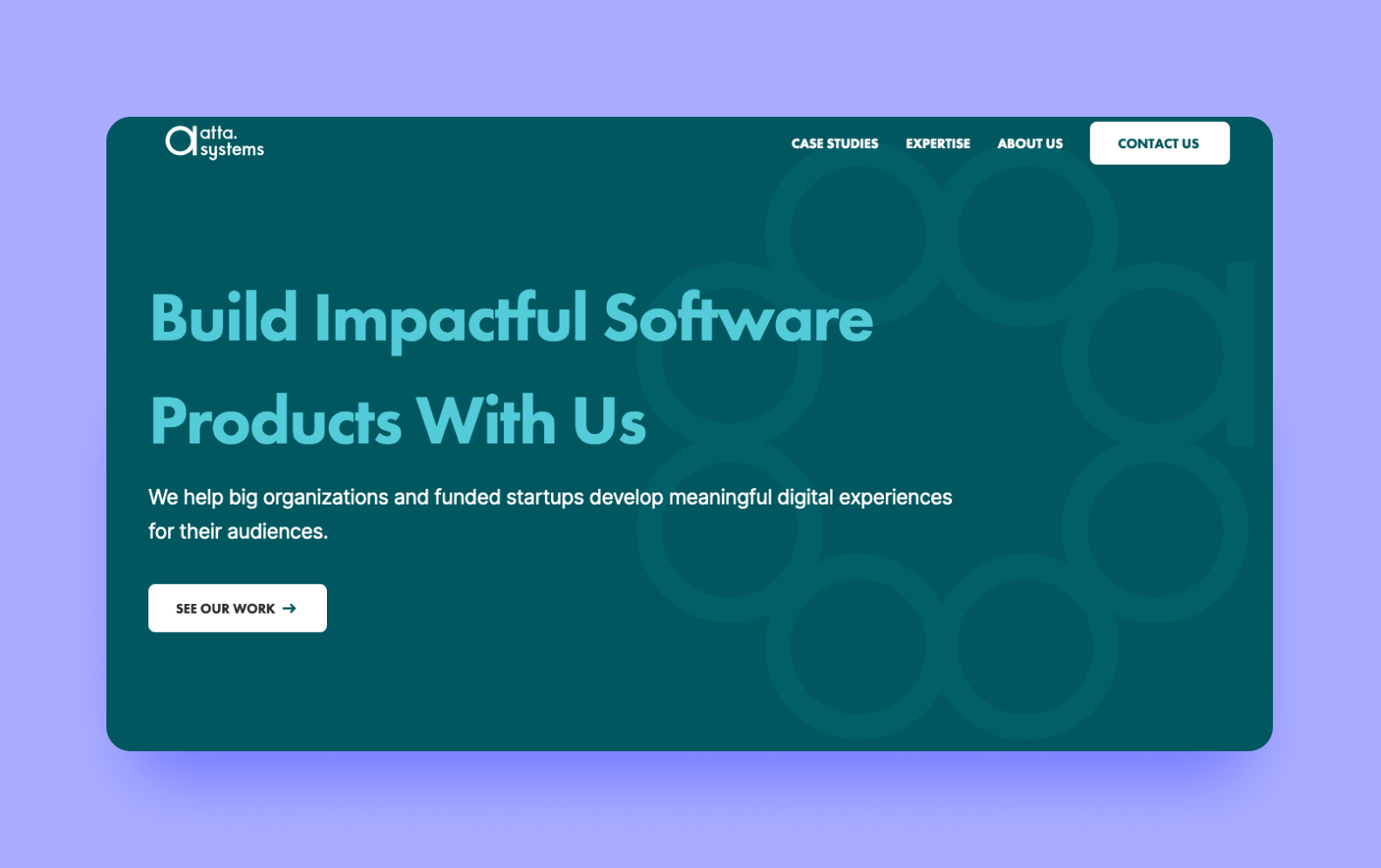 One of the top MVP-oriented companies is also Atta Systems based in two countries at once: Romania and Singapore. It helps funded startups to shape an idea into a product ensuring predictable and transparent journey to success. Company's expertise covers primarily mobile application development in JS, along with Java and Flutter. Atta Systems promises to provide full-cycle services starting from product strategy up to QA and even machine learning. Judging by the portfolio, the company mainly partners with tech companies in MedTech, EdTech or FinTech areas. Therefore in terms of e-commerce or other unrelated products you need to apply to their managers specifically or choose another company.  
PurpleFire
🇩🇰🇬🇧🇺🇸 Country: Denmark, UK, USA
💻 Stack: JavaScript, Python, Node.js, Vue.js
👩‍💼 Clients: Rockay, Infinite Age, Neuro 
⏰ MVP development time: unknown
💸 Cost per hour: $50 – $99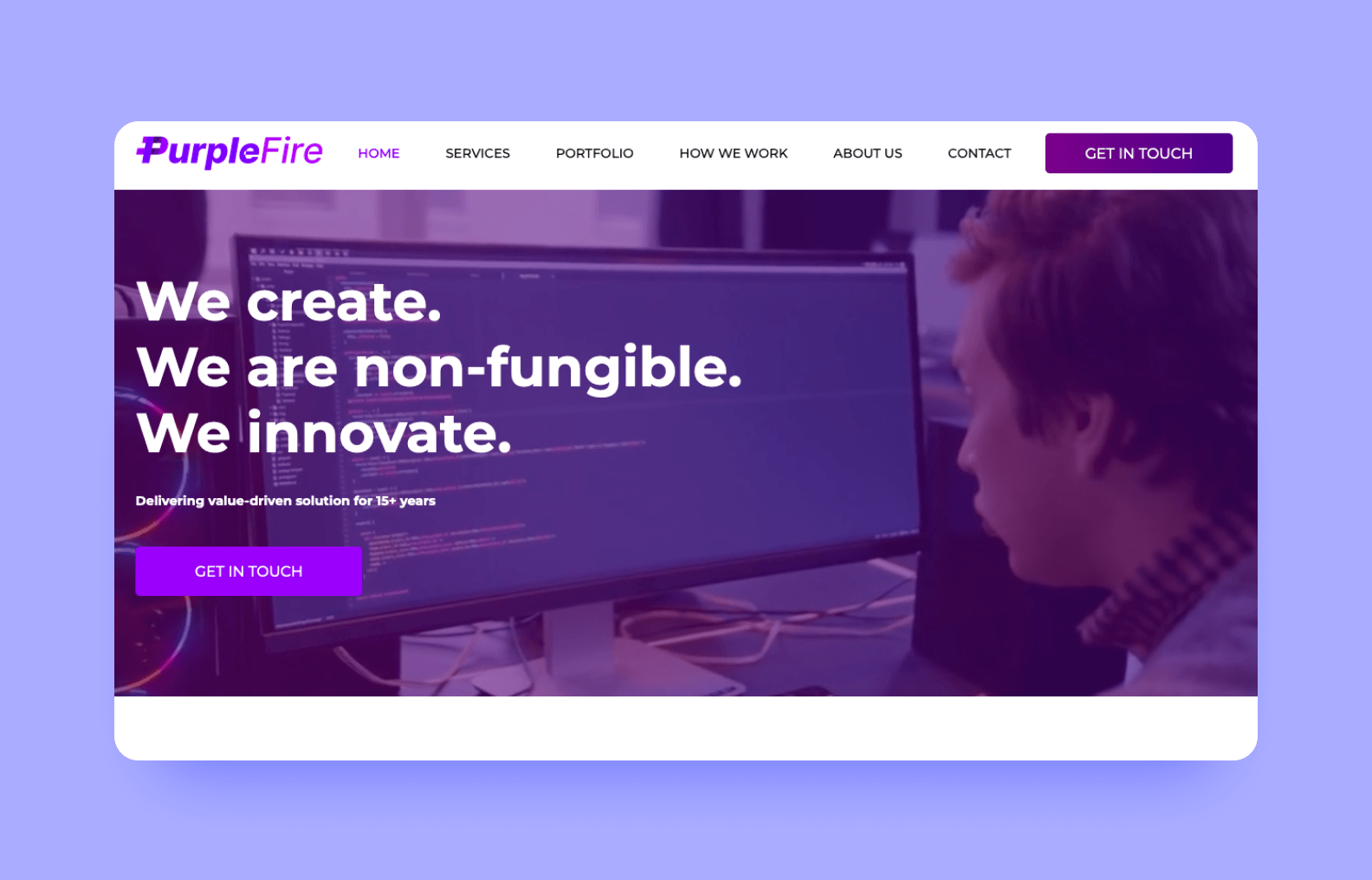 Today PurpleFire is a full-stack development company with a diversified portfolio in a variety of industries such as e-commerce, NFTs, blockchain, affiliate media and many more. Though they lay stress primarily on the first domain and have the richest portfolio here. Local teams have valid experience with various technologies from React and JavaScript to PHP and Python. PurpleFire delivers services at a relatively high price but, according to customers' reviews, this can be balanced by their result-oriented approach and dedication to the process. 
Appingine
🇺🇸 Country: USA
💻 Stack: Flutter, Java, Swift
👩‍💼 Clients: Avis Car Rental, WebMD, Drive Safely, SPA Theory
⏰ MVP development time: 3+ months
💸Cost per hour: $25 – $49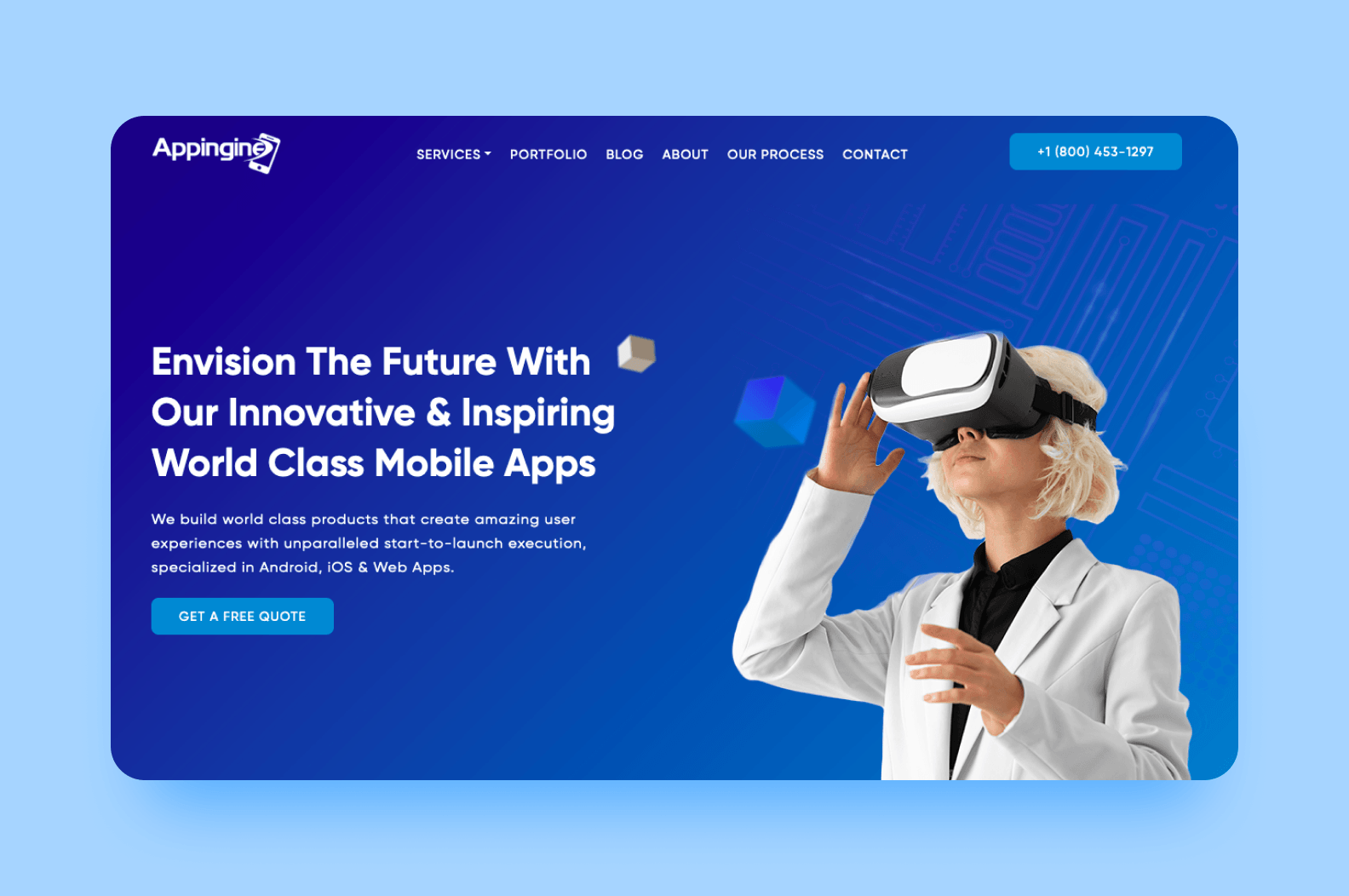 If you are searching for the best in mobile apps and MVP development for your startup or a growing enterprise consider American-based company Appingine as an option. Team staff make inventive and strong applications basically for Android and iOS using Ionic, Flutter, Java, Swift, React Native. It seems like you can come to Appingine team with any idea you like and they are going to venture and release it. Anyway, if you intend to release a web platform you may have to apply to other developers as teams here don't have sufficient experience with it. Though you need to spend some time searching for reviews for related products, as Appingine's portfolio looks relatively small.  
Alphonic Network Solutions 
🇺🇸 Country: USA
💻 Stack: PHP, Laravel, Angular.js, React Native
👩‍💼 Clients: Standyou, 100 Cofounders lab, Anime-me
⏰ MVP development time: 1+ month
💸 Cost per hour: $25 – $49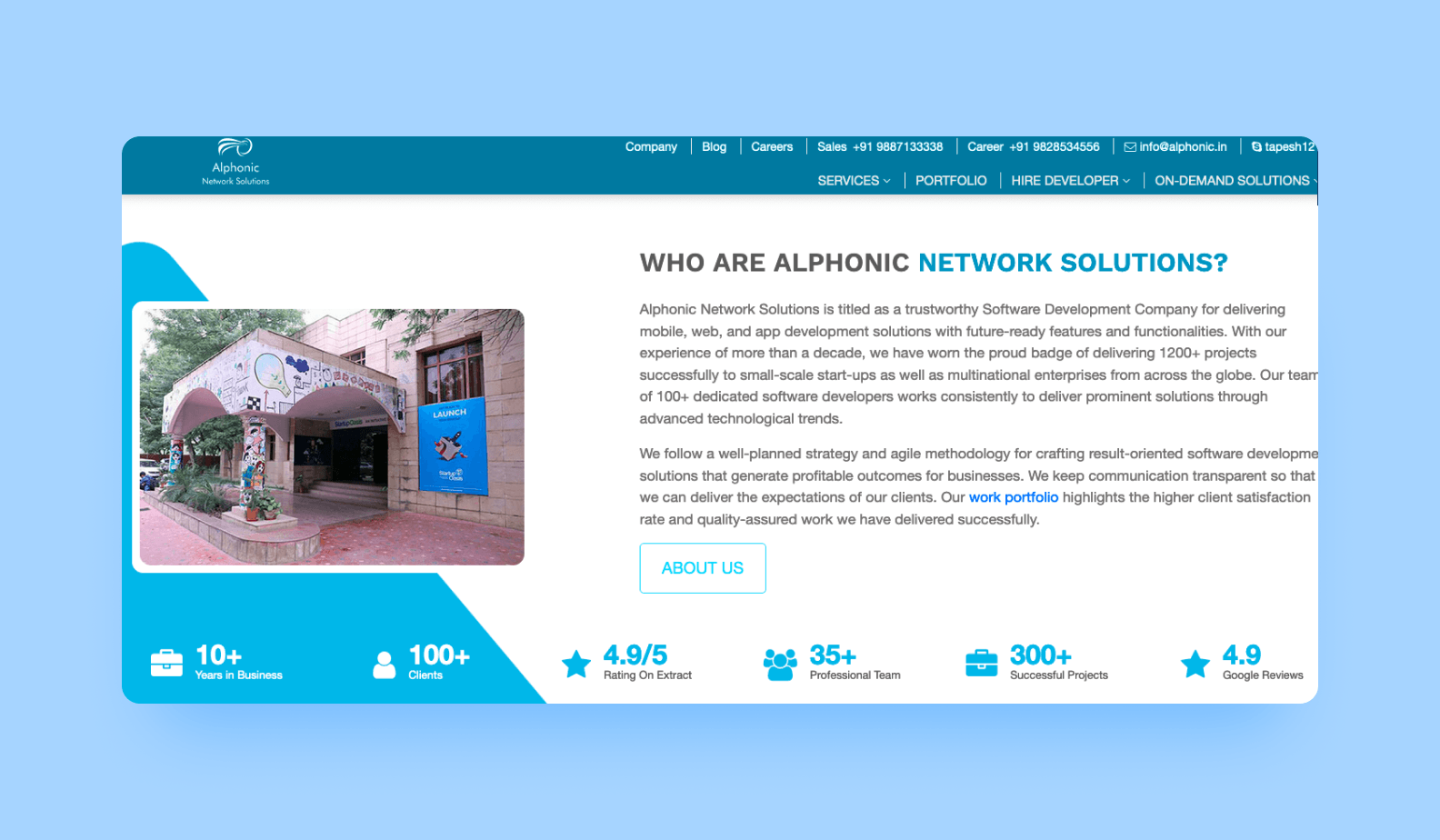 Among top agile-minded MVP developers Alphonic Network Solutions might be one of the top teams. The company either develops a product itself from scratch or extends your local team by providing experienced staff. Unlike all the other members of our list, Alphonic brings focus on PHP and its most reliable and popular frameworks combining it with those of JS. Designs look rather simple and use instantly recognizable UX-patterns. Portfolio is mostly represented by web applications, yet developed for clients of different industries from cryptocurrency and e-wallets to management software. 
RebelDot
🇷🇴🇩🇰 Country: Romania and Denmark
💻 Stack: .NET, Node.js, React.Js, Python
👩‍💼 Clients: Grundfos, BP, Lautec
⏰ MVP development time: unknown
💸 Cost per hour: $50 – $99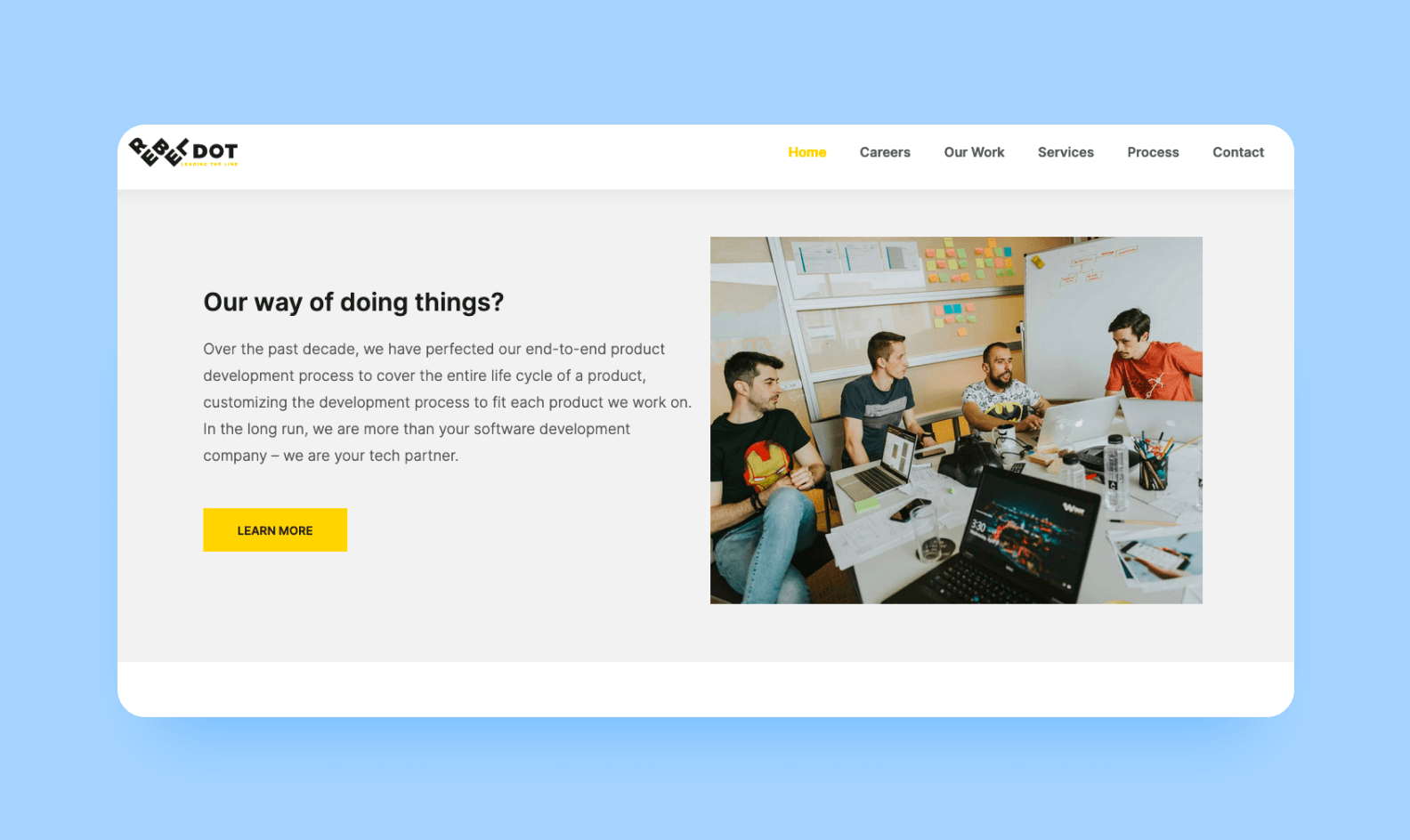 Last but not least, in our list are developers from RebelDot specializing in service software development for mobile and desktop apps, and web platforms. The company has experience across various areas from media to healthcare though using limited tech stacks. RebelDot seems to be equally effective in releasing new minimum viable products, maintaining, supporting and improving. Their approach is based on the agile principle that brings flexibility into the project. But be ready to splurge on, as the prices here are above average. Besides, the company can't boast of a rich UI design portfolio, as they mainly focus on minimalistic and simple patterns. 
Let's sum it up
In case you've missed something important, let's brush up the main points concerning MVP development and its outsource. 
MVP is a version of a product with essential features allowing you to get an insight into its target users. 

Releasing a minimum viable product shows if people need your solution, if it solves their problem and can be monetized.

Startups value this approach as it ensures cost-effective idea validation and makes a product more attractive for potential investors.

In terms of MVP the process usually goes this way: first, you release a product with basic features, then collect customers' feedback and use it for further iterations and integrations.

MVP development outsource might be useful if you are limited in time, don't have your own team and can hardly predict if customers will value the product or not.

Full-cycle minimum viable product development covers the stages of product discovery, UX/UI design, coding, debugging, release and further improvements. When deciding upon the outsource company, consider relevant experience with the tech stack you need, capabilities to deliver full-cycle services, positive reviews and management practices, including their communication rules. 
Have an idea and want to rock the digital-world with it? Purrweb can help you put it into life just like we already did for 250 startups. If you are ready to release MVP together with us, fill in the form down below and we'll contact you as soon as possible.