We are going to study design history, find out why UX teams matter, tell how we've done it at Purrweb, and show you our projects. Enjoy!
Brief design history 
At first sight, UI/UX design is a modern thing. In fact, the design appeared two years ago in the industrial revolution times in the United Kingdom. The only 'product' 'designers' worked on was machines. The constructors goal was to make such machines people can spend as much time as possible and bring manufactures as much as possible. Sounds familiar? 😉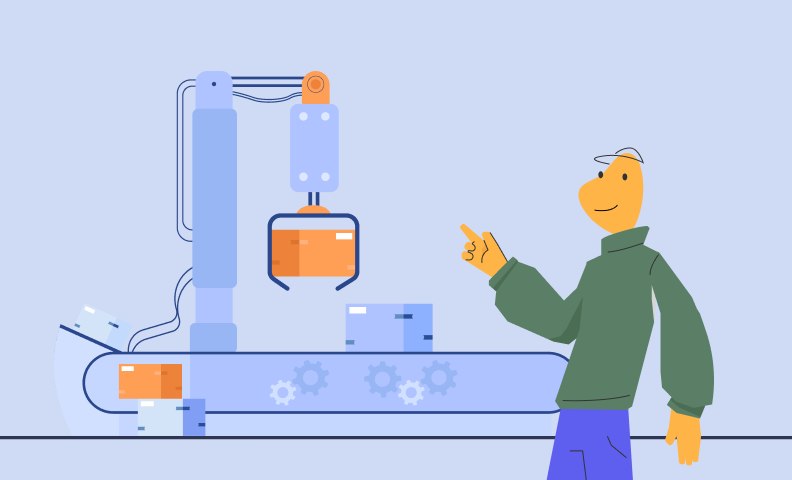 But in fact, it wasn't always well — after all, an ordinary worker in a factory in the 19th century is not a user of an application. No reason to try…
UX design became even stronger with the advent of the telegraph and the telephone. Now the creators of the forefathers of mobile phones cared about the convenience of their user. The future of the telephone literally depended on this: if people are comfortable using a new device, then the invention will live. Moreover, it was important for the creators to work on privacy. After all, very personal things are sometimes discussed on the phone.
Over time, UI/UX design spread everywhere: creating clothes, building houses, designing cities – everyone who created something had to think about user-friendliness first.. 
And then you know: the Internet appeared, and there are different sites and applications. It's funny that the first interfaces looked like they were made by an avant-garde artist for a new exhibition, and not for daily use.
The demand for applications grew, and the number of companies and individuals willing to offer their services grew. The strongest survive in big competition — for example, Purrweb has been on the market for seven years, six of which we've been doing UI / UX design. About our design — read on!
Design team matters
The UX team is the guys who are responsible for clear interfaces in applications. Without them, you would hardly be able to find this article, the site would be so confusing that the «Blog»  button would simply not be visible or even absent. UX designers usually not only work out the user experience, but also create a comfortable visual part — UI.
The project starts with UI/UX design. The work of the designer is shown to the client, and development is done on its basis. The key role of a UI/UX specialist is to make a layout that a developer can bring to life. The users are closely associated with the development team.
You may be surprised, but the UX team is not only about leads and their junes, they are also UX analysts, UX writers, UX testers, UX researchers. Most often, one specialist contains all these skills, but sometimes a separate person is found for each position. One way or another, UX is not just about beautiful buttons and gradients, it is a lot of work with the interface, the result of which directly affects the perception of the application.

At Purrweb, there are no particular writers, analysts, esters. An UX team member usually has several skills and improves knowledge in several fields. We grow multidisciplinary specialists who will help the customer with any problem in UI/UX application design.
How we gather the team  
The team at Purrweb took a long time to select. We started with one designer, now we have a whole department. There is a permanent internship, where three leading designers help beginners to learn and go to real projects.
We are great specialists in UI/UX (cases will be a little later, do not switch). To make it beautifully, understandably, without unnecessary details, but with meaning — this is for us. The design team at Purrweb has a whole history of creation: how we grew from two users into a full-fledged design department.
Sergey Nikonenko, Chief Operating Officer at Purrweb, says:

«We started out with two UI / UX designers. We worked with such a staff for two years – this is a long time within the company. And then our design sales skyrocketed. We still don't know if this was a general trend in the market, or if we were just lucky. So we got a third, and then a couple more, because in the process of hiring several cool specialists were found.
After a while, we decided to try our luck again, but this time the big fish didn't get caught in our nets. And then we turned to the experience of teaching developers – at that time, the internship in React / React Native was working – and did the same for designers.
Now UI / UX designers from the first internships have already become leading and training interns themselves. This is the wheel of Samsara in Purrweb.
We have an individual internship, each student has a curator and a 'synthetic' project that we came up with especially for him. Leading designers control the quality of the work, and then decide whether to hire an intern. Let's brag: since the last internship, four designers have gone on real projects!» 
Now you know how hard we managed to put together a strong design. Put yourself in our shoes: would you like to build up your design expertise for several years, hire experienced HRs to hire experienced designers, engage in team building, create conditions for development and pay a whole staff of interface specialists? We will not answer this question for you — we think everything is clear anyway.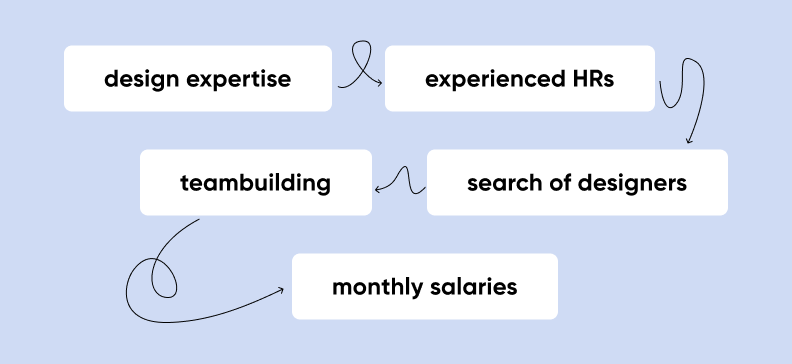 It's hard to assemble a well-coordinated and cohesive team. But finding contractors who have already done this work for you is much easier. There are many design studios on the IT market with different levels of expertise and different prices. There is nothing wrong with outsourcing a team. Especially if within this team there are already project managers and a design team with a ready-made hierarchy — junior, middle, team lead.
We are just an example of such a team. The processes at Purrweb have long been established: there is a UX team with a manager, there are experienced designers who constantly conduct internships for beginners, there are ambitious juniors ready for professional challenges. Together they make an attractive interface. And if the client wants to go further, we are ready to do development, testing, and support. It happened here 👇
And then we will discuss in more detail who is who in the design team, what skills are needed for specialists of different levels, how we built the design process. And we'll even show you a couple of cool works 👀
Who is who in UX team
The UI/UX design team consists of specialists of different levels. Under the leadership of a leading designer, juniors and middles create user-friendly interfaces and improve their skills. Each member has their own role depending on the skills. For example, a junior UI/UX designer can make a button or draw an icon, but does not integrate it into the interface. This step is taken by the middle or senior designer.
Who is who in the UX team, let's figure it out together.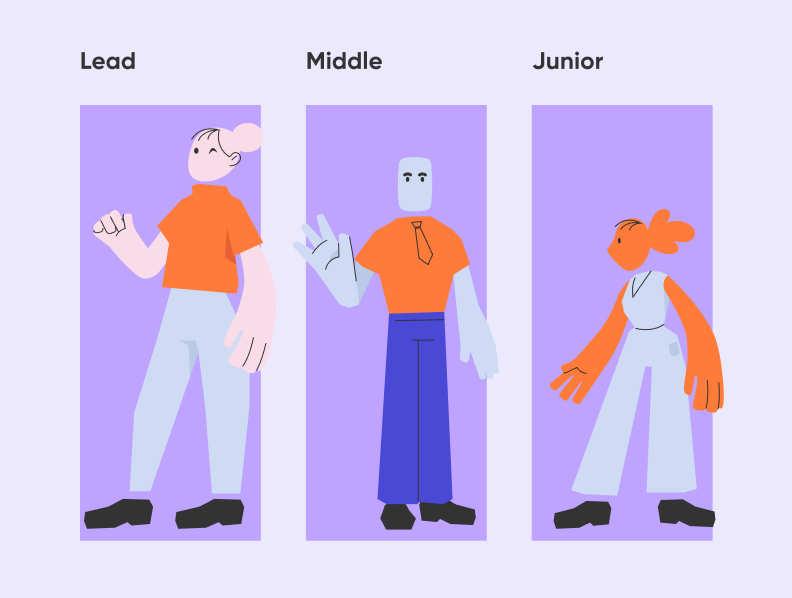 Lead UI/UX designer
The lead designer manages the design team with a specialist with less skill. For example, the lead designer conducts a review, leads an internship, makes complex parts of projects, and helps the HR manager hire new employees to his team.
Let's divide the skills of the lead designer into three categories: theoretical, practical and personal.
Thinking: theoretical skills
A cool lead designer needs to understand where the industry is heading. Knowledge of trends and tendencies not only helps to create unique and modern products, but also trains discernment. Observation is a professional optician, trained eyesight, capable of recognizing what is stylish, harmonious and relevant, and what is not.
The lead designer will also benefit from the basics of mobile design, and sometimes an understanding of how it works from a technical perspective. It is important to know the guidelines of the main platforms — Android and iOS, the basics of color and composition, the principles of interaction through interfaces. As well as practical, theoretical skills also need to be constantly developed. This is especially true for coldness and understanding trends.
Do: professional skills
The professional skill of a leading designer consists of possession of software for the development of digital product design, knowledge of interactive design, the skill of creating a full-fledged product (prototyping, wireframe, design, testing, drawing, maintenance).
Act: personality skills
Soft skills are an equally important part of a designer's job. Primarily because the lead designer communicates with the whole design team and leads an internship. The design chief should be proficient in time management, workflow organization, and multitasking.
A good leader is not afraid to take responsibility for the outcome and make difficult decisions. He / she is a leader, and knows how to set tasks, delegate, and control performance.
Middle UI/UX designer
Middle UI/UX designer is one step down from the leading designer. He can do the same things as the lead, but so far he does not see the «big picture». A middle designer works with hypotheses and can test them quantitatively and qualitatively. Can paint the entire user path within a script (build CJM). Find barriers and propose solutions.
It can render a whole pack of icons in one style for interface tasks. Or create several graphic icons in the general style of the site or presentation. Collects pages of different levels and complexity. Does not think in blocks, but understands how the whole page will look. It uses additional features such as animation.
Junior  UI/UX designer
A junior UI/UX designer is usually a chick who hatched out of an internship or completed a thematic course. He is still far from understanding the whole project, but he does an excellent job with small parts of it.
The junior designer is familiar with 3D modeling and animation, and can draw an icon according to a ready-made system and rules. Knows how to bring different stock icons to a uniform look. Already knows how to think about the user. In the process of work, he asks himself the question « How will a person use this?» Has an idea of ​​the target user of the product. In general terms, he understands how and why he uses the product.
Have something to brag about
As we already wrote, Purrweb has a strong design team. And these are not just words – we already have 250 projects under our belt, many of which have grown from startups into full-fledged applications. Want to see what projects our team has done? Then go ahead! 👉
Grecha.pro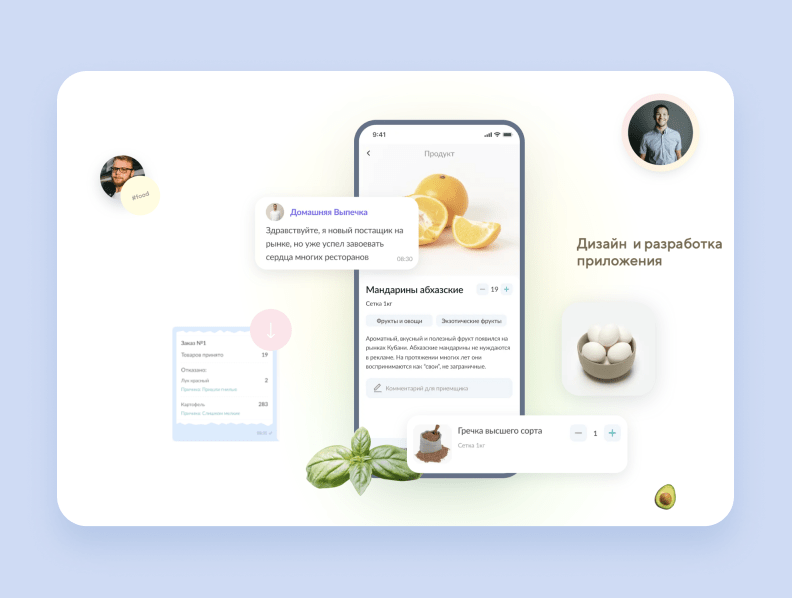 Grecha.pro is an application that allows restaurateurs to communicate with their suppliers in one place, place purchase orders and check supplies.
The client came from the restaurant business with a problem: looking for suppliers who bring fresh food and make friends with them is not an easy task. It is difficult for restaurateurs to control the quality of products, and, of course, no one wants to serve not the best food on the table. This is how the idea was born to make an application with trusted suppliers.
The flow of Grecha.pro is simple: log in, see chats with suppliers, open a chat, make an order. If necessary, add a receiver to the chat to control orders. The main feature of the application is that communication with the supplier and ordering products can be done in one place. We at Purrweb did the UI / UX and graphic design and developed the app. You can view the full case here
Energo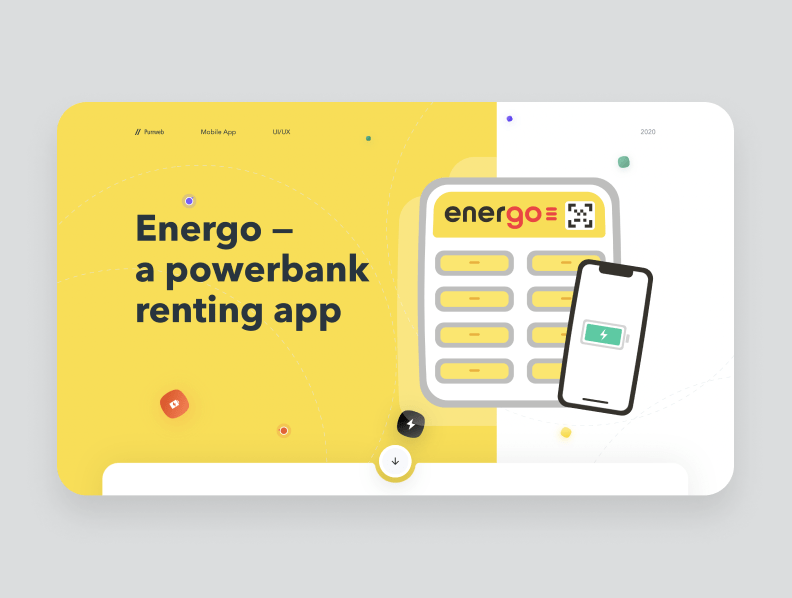 Energo is an app for renting powerbanks.
The customer was inspired to develop a startup by traveling to China: there he met the guys who make IOT devices. When the customer came to us to evaluate the project, he already had an idea and investment.
We studied competitors, selected the minimum functionality and thought out the main flows. We worked on the UX: conducted a JTBD study to predict whether the application would be of interest to users, compiled a CJM, prescribed User Flow and designed the information architecture of the application.
The design concert was made based on the research of competitors, past similar projects and Apple patterns. It is also our first experience of interacting with iron. How we coped with this task — read the case
NoTab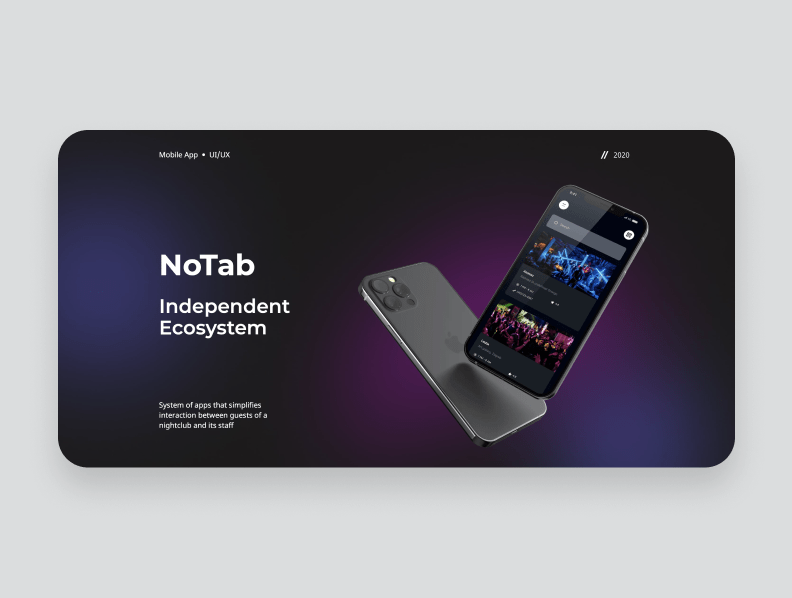 NoTab is a nightclub app or another child of the pandemic. A year ago, everyone dreamed of touching each other as little as possible, so the NoTab idea fit perfectly into the context of the situation.
The customer of the app, a former athlete and now a startup, had investors and customers willing to buy and use the product. The main idea of ​​the application is to minimize personal contact. Guests do not have to stand in line at the bar, wait for their order and then carry everything to their table. All these tasks are closed by the NoTab mobile application.
Feature of NoTab design – there is no light theme in the application. The UI / UX team made this decision for two reasons: firstly, we keep the association "dark theme – nightclub", and secondly, we care about the user. Nightlife usually has dim light or no light at all, so a light theme will just hit the user in the eyes.
 IZumator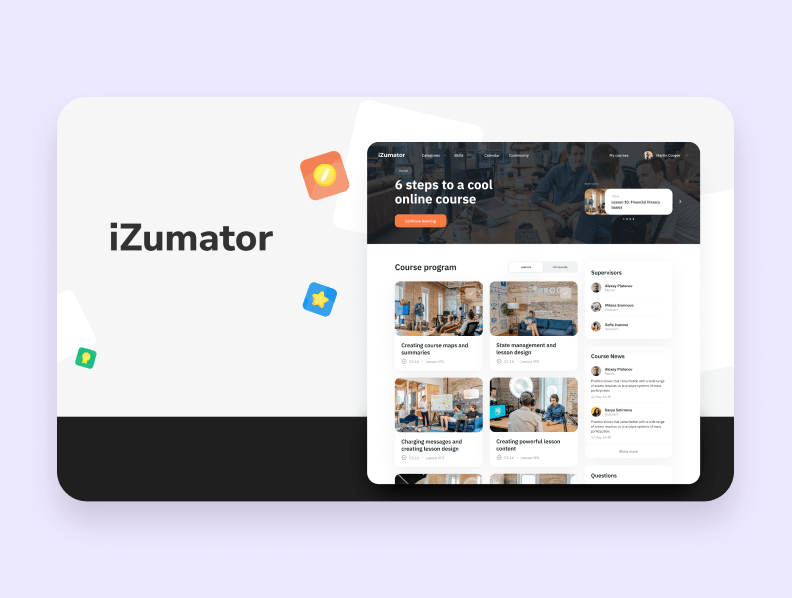 IZumator is an educational online learning platform that allows users to create and take courses. Any student can become a mentor and teach others. iZyum focuses on gaining a skill, not on the learning process – the knowledge that a student gains during the course can already be applied in practice.
On this project, we carefully worked out the wireframes: due to the hierarchy of roles, the platform's functionality had to be closed in a circle. We put together a mood board: colors, fonts, references to determine the style of the future product. Then we started working on the concept.
Raisin (as our developers called the project) started as a platform for internal training of employees, but has grown into a project where everyone can gain new knowledge. By the way, the customer is a fellow countryman of Purrweb, also from the Siberian city of Omsk.
Talentum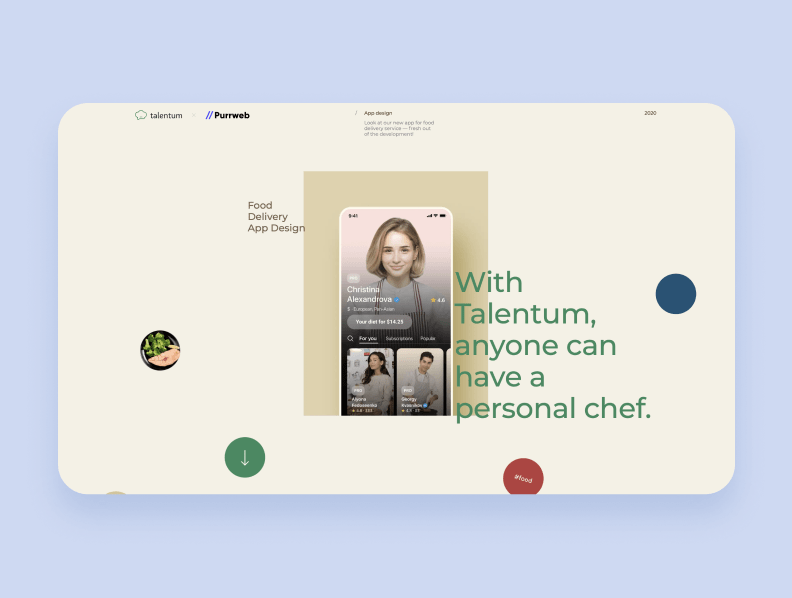 Talentum is a food tech application where the user finds a personal chef and orders homemade food delivered to his home or office.
At Talentum, we worked a lot with the design concept. Each screen has been designed with the pros and cons of competing apps in mind – our concept was to allow the user to place an order on one screen. The popular backdrop (a curtain that pops up at the bottom of the screen) helped a lot in this.
A separate pride of our team is UX animation. They work smoothly in the application and appear when the user switches between screens.
Wanna work with our UX team? Leave an email here!