How does app design help?
The number of mental health apps is growing every year because many people suffer from anxiety and need to monitor their mental health through the app. Mobile apps for meditation practice help to cope with stress and provide psychological comfort.
Such apps are widely represented in the wellness market. Calm, one of the most popular meditation apps, has over $6 mln in revenue. 18 mln US citizens use meditation practice to manage stress, according to the report from the National Center for Complementary and Integrative Health. Analysts predict market growth in the global health and wellness industry: from $4,9 bln in 2022 to $7,7 bln in 2032.
Hundreds of people download meditation apps every day to manage their mental health — and expect from them easy installation, clear interface, and fascinating meditation guides. To compete with other products on the market, it is important to pay attention to the competent design of your app: to make it visually pleasing, convenient, and easy to use. Good product design with gamification elements (progress bars, achievements, ratings) helps users to keep a training schedule in mind and increase involvement in meditation practice.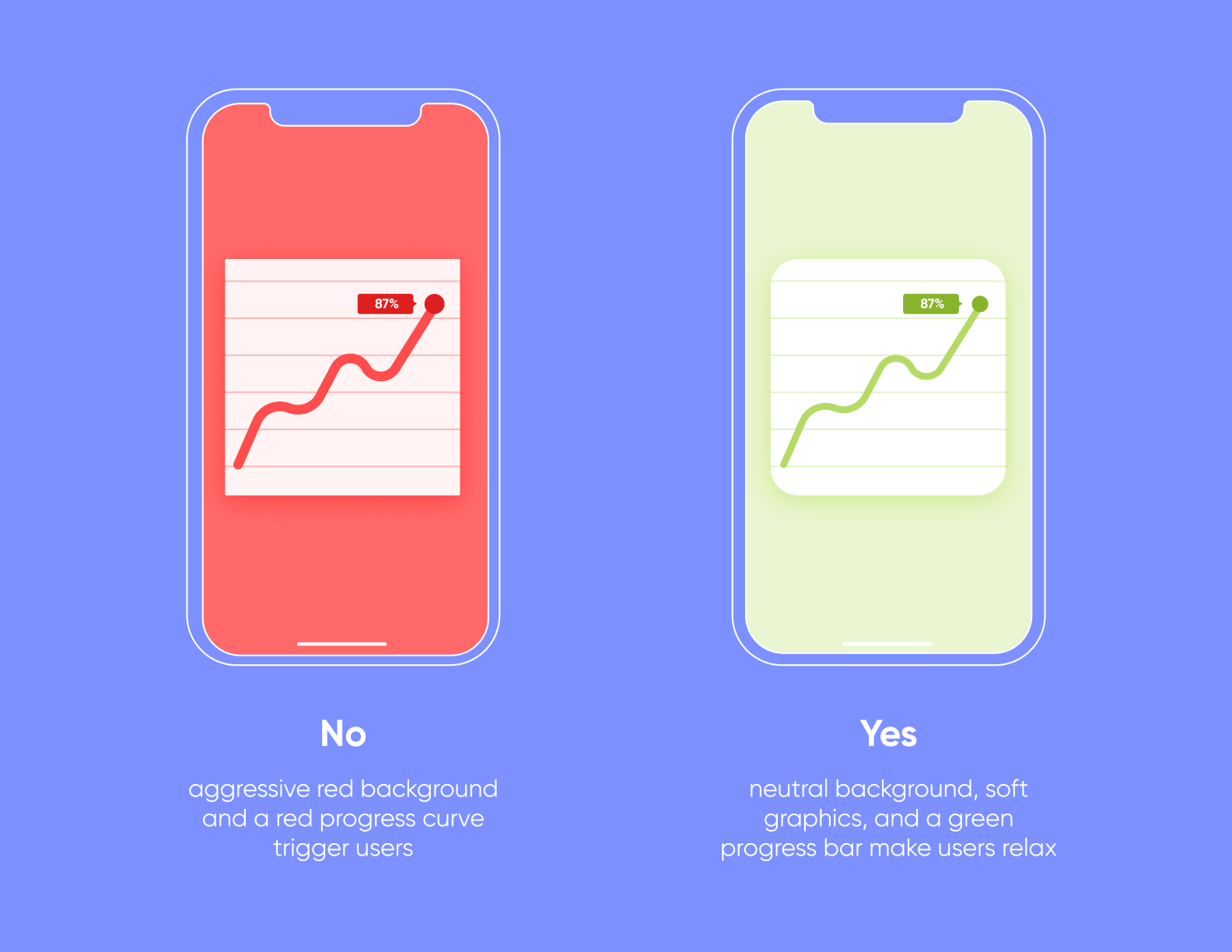 What are types of meditation apps?
There are different types of meditation apps, each designed for a specific target audience. Depending on the user's needs, the wellness products contain special design elements. Consider several niches for designing meditation app prototypes.
Antistress apps
Main features: help manage anxiety; play an audio with relaxing music or videos with meditation instructions.
Apps for focusing
Main features: turn off notifications or switch the messengers to sleep mode, count the time spent on the social network.
Breathing apps
Main features: show a timer for counting the time of breathing in and out, help to focus on your breath to relax or concentrate.
Sleep meditation apps
Main features: turn on relaxing sounds while falling asleep or waking up, monitor the sleep quality.
Yoga apps
Main feature: include a set of training sessions.
Put yourself in the user's shoes and imagine in what situation you will use the meditation app: for example, at work, before going to bed, while walking. Perhaps you will find non-standard use cases for the app, which will allow you to develop a unique product.
Tips for designing a meditation app
Your app design is the face of your product. A mobile app with a calm and friendly interface attracts new users, who want to dive into app features and explore it. On the contrary, an aggressive and technically saturated design will alienate a potential user who wants to calm down and cope with stress.
Use these tips to create an attractive meditation app.
Choose calm colors
The main goal of meditation apps is to relax users. Color is a good tool for setting the user in the right mood and stimulating the nervous system, so choosing the right palette is an important task in developing a meditation app.
Remember: each color has its own emotional association. Sleek flat design and pastel colors, such as blue, grass, golden, beige help to relax emotionally.
Add light and space to the user interface
There are two main characteristics of an air interface, paddings and margins. Padding is the inner element space, while the margin is whitespace surrounding an element. The paddings and margins between various interface elements (buttons, text blocks, icons) add "air" to the screen and makes the meditation app design more expressive.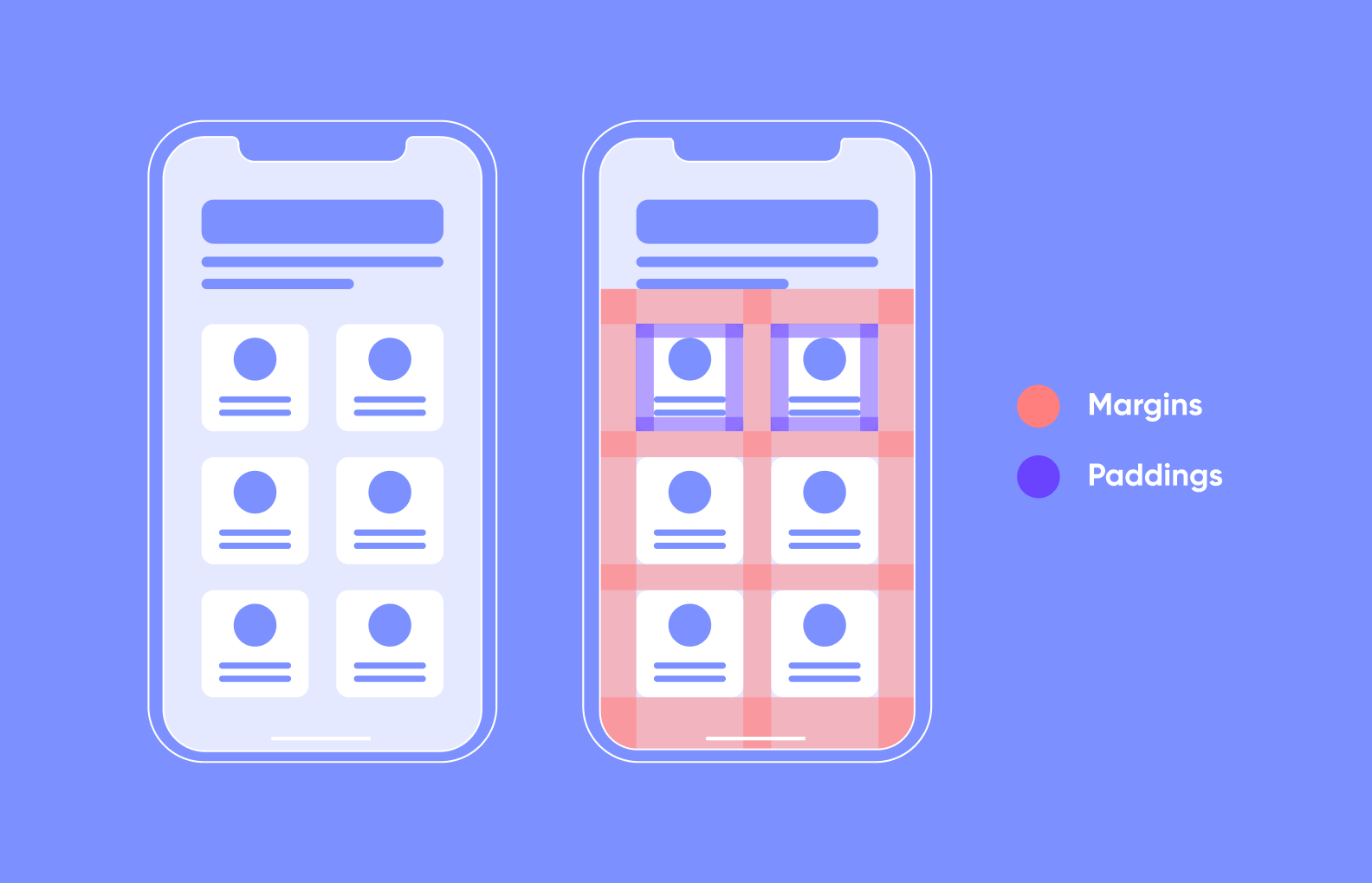 Be cautious with the text elements, disturbing animations, and pop-ups, which annoy users.
Focus on natural elements
The target audience of the meditation app is the city residents who miss nature. Therefore, it's a good idea to use photos of nature in your app prototypes: sea beach, plants, clouds, mountains. Similarly, add soothing sounds to the meditation playlist, such as rain, rustling leaves, crackling fire. If you're developing a voice meditation app, it is important that the instructor's voice is calm and relaxed.
Use soft graphics
Avoid sharp lines and right angles that interfere with relaxation. Try rounding the corners of rectangular UI elements. Add more circles, concentric and wavy elements.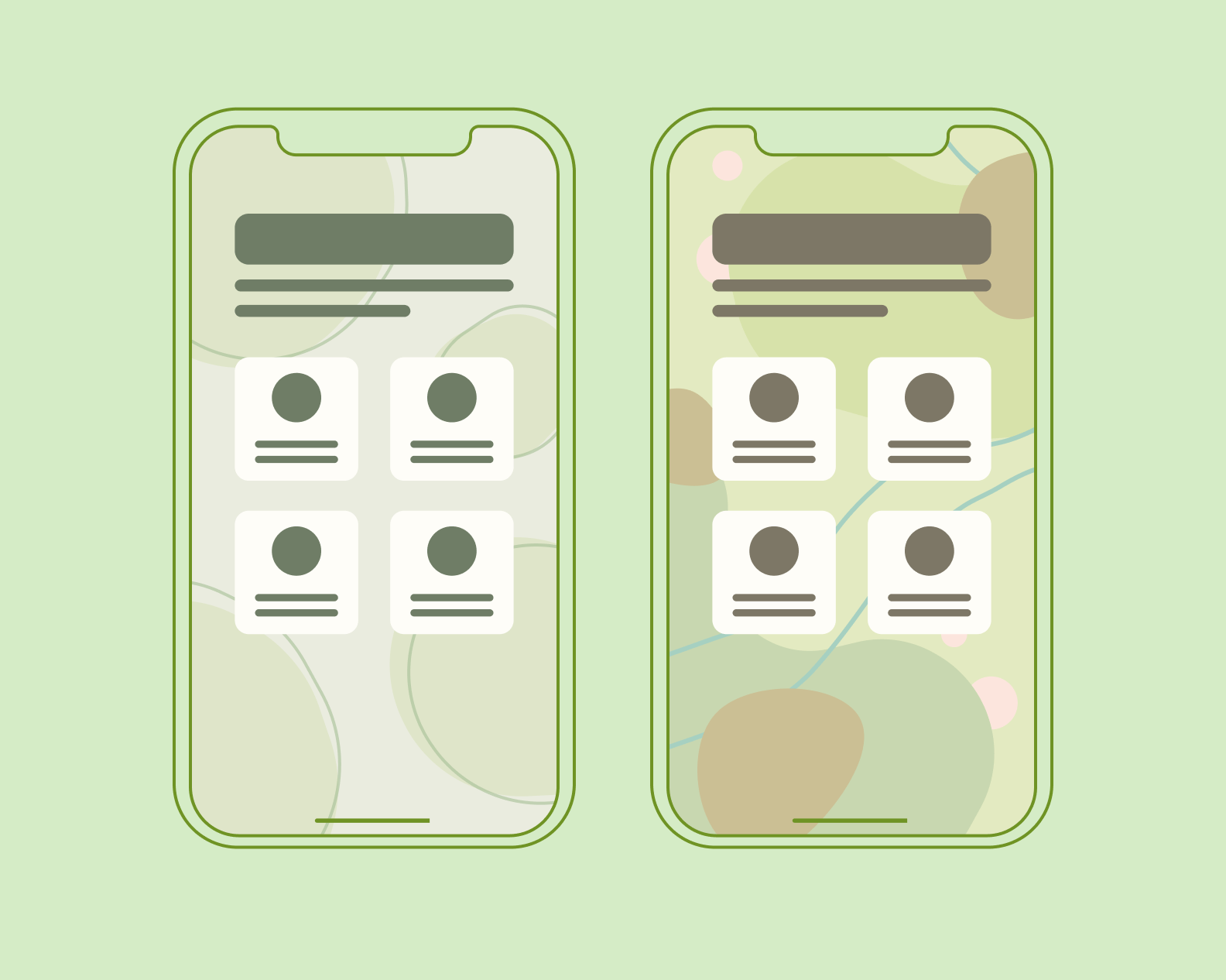 Meditation app design samples
Let's get down to business and try to apply our new design knowledge to develop a meditation app. In this section, we will analyze various interface elements using popular apps as examples.
Home screen
Here is the start screen of the Calm app (over 10 million downloads on Google Play):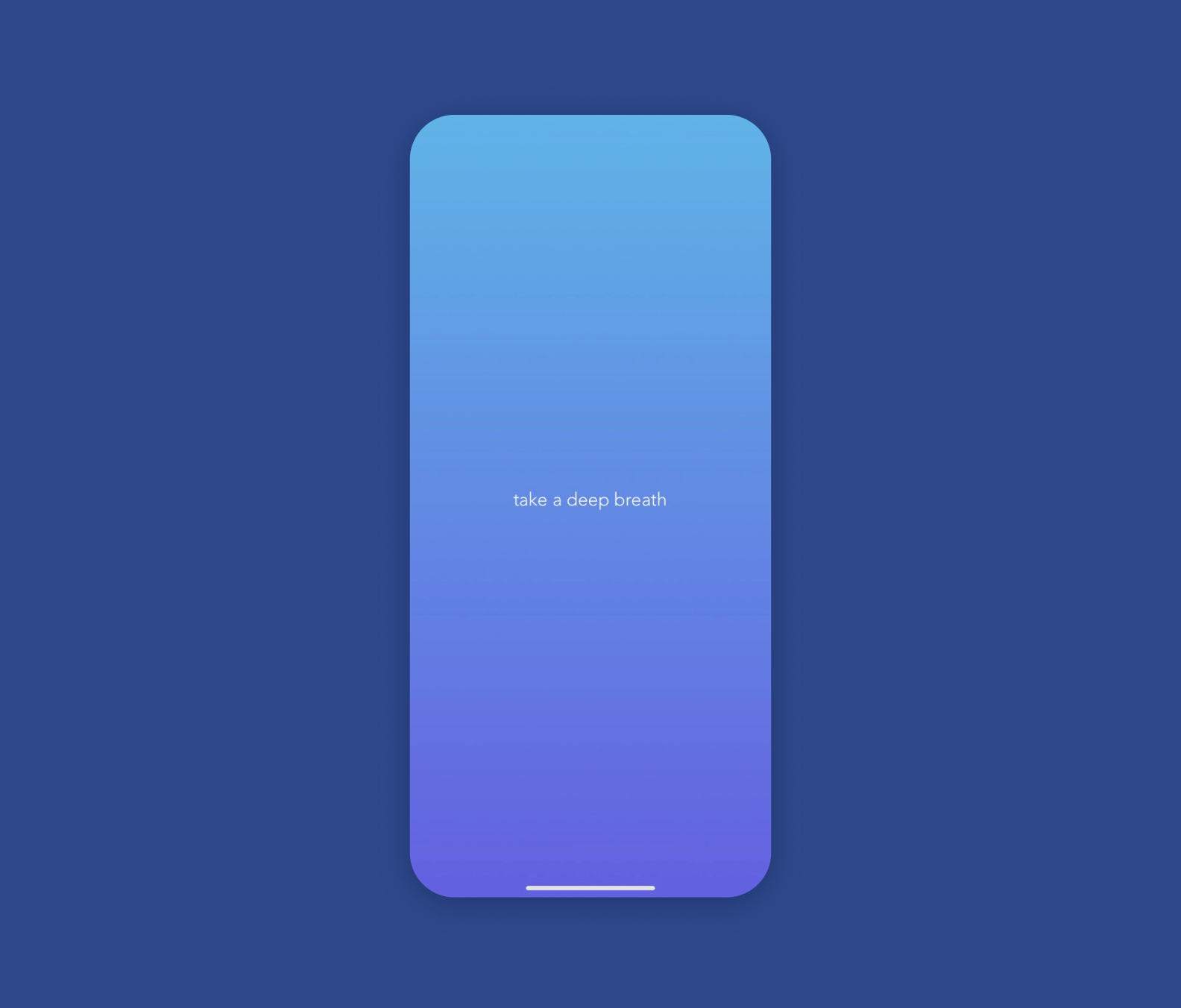 Calm starts with a blue screen that calls users to take a deep breath. In this example, a product designer used the rule of color associations: many people associate blue with serenity and stability. Purple screen helps to focus and calm down. This simple meditation app design creates a relaxed atmosphere.
Playback screen
Here is the Calm playback screen: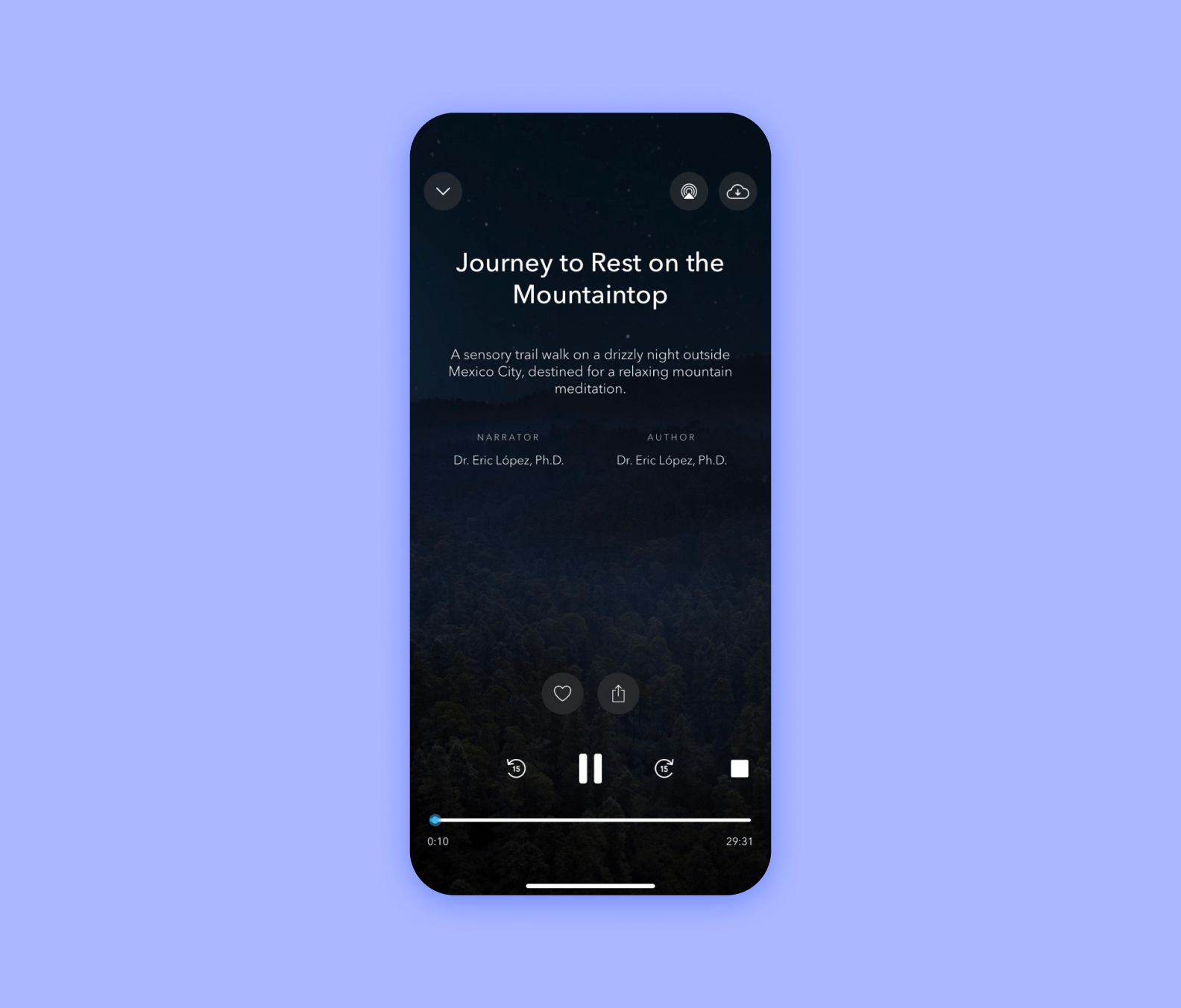 Background with a landscape is an important feature of the user interface for a meditation practice.
Photos of nature are an essential part of the meditation app design. Natural motives — water, stones, plants — relax well. The user can customize the screen to suit their mood.
User profile 
Use gamification to track user's progress. Here's how Ten Percent Happier applies gamification to user profiles: the app provides its users with the option to track progress on the calendar and complete key milestones such as daily and weekly streaks. You can also share your milestones with people outside the app.
Focus on soft interface. Headspace interface has many circular elements associated with calmness and comfort: soft pillows, a sleeping moon, a smiling sun. Each element has margins and paddings; icons are separated from the text, meditation programs are separated from each other. Space and soft forms relax the user.
Step-by-step process of designing a meditation app
If you need help with designing your meditation app from scratch, it makes sense to find a provider proficient in the app design industry. In case you do not have your own design team, it is more profitable and faster to outsource the design and development. By hiring an experienced team of product designers, you will get a working prototype, streamlined pipeline, and transparent feedback, which increases the competitiveness of your meditation app.
At Purrweb, we've been designing and developing apps for more than 8 years — learn more about the 300+ projects we've delivered so far
Developing a meditation app design is one of the most important steps because UX design will sell your product. If you want to create a competitive app, you will need enough time to develop the design concept.
If you want to design a meditation app on your own, feel free to use our pipeline based on the 8 years of design experience. This brief step-by-step guide focuses on functionality development and helps you to create an attractive meditation app.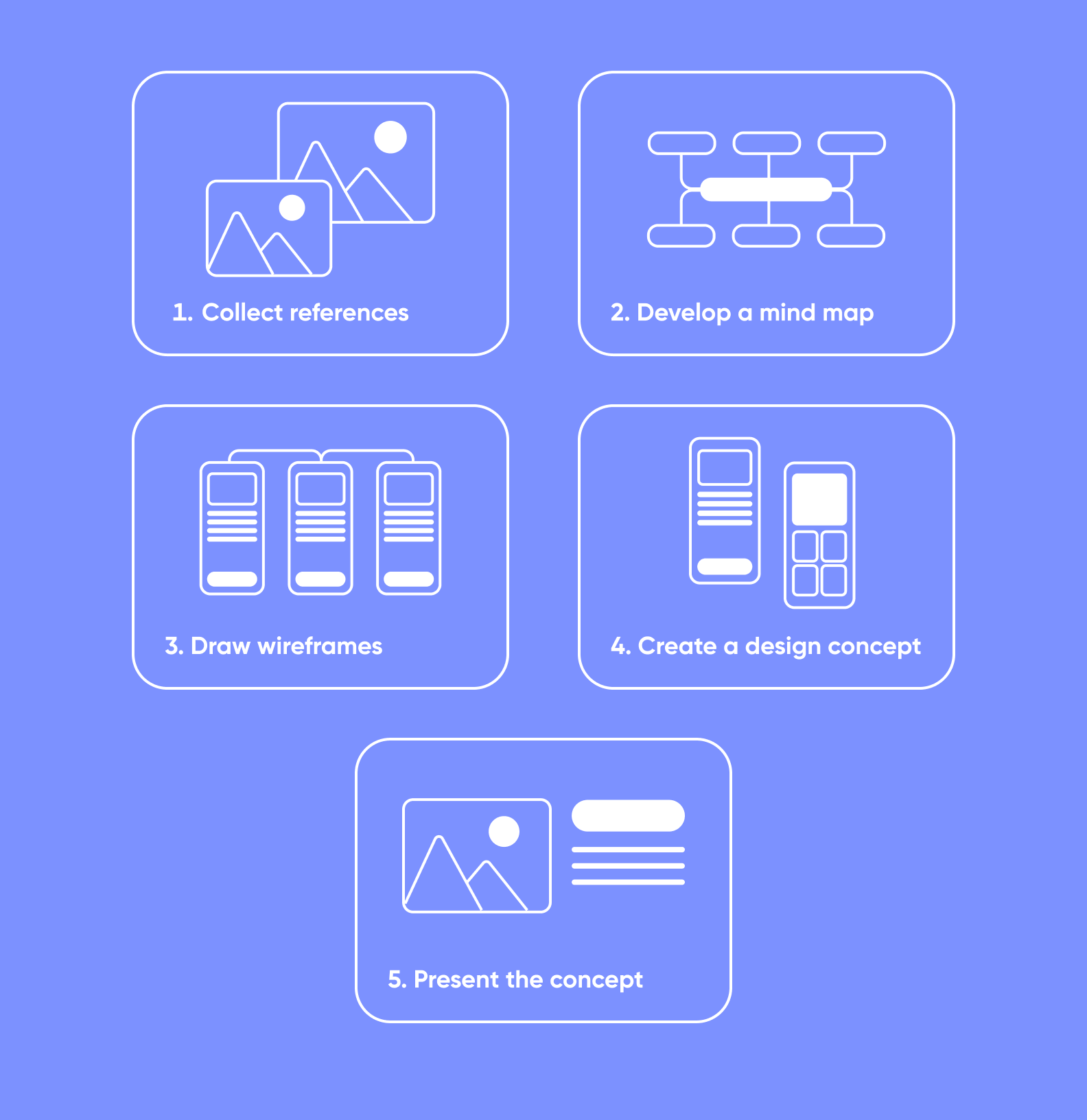 Step 1. Collect references (both positive and negative) 
Study the market, analyze competitors, and offer your vision for a meditation app. Studying the competition will help you understand why users prefer certain meditation apps. Market research points out best practices and helps find new ideas.
Step 2. Develop a mind map
The purpose of this step is to design the app features and user flow. The mind map schematically shows the product interface and user interactions with the app.
Step 3. Draw wireframes
Black and white prototypes of app screens. This way you will determine where the main elements of the screen will be located.
Step 4. Create a design concept 
The product designer creates an animated visualization of the meditation app: welcome screen, user profile, playback screen. The result of this step is a UI-kit and clickable prototypes showing how the product will work and interact with users.
Step 5. Present the concept 
As soon as the design process is finished, you can deliver the prototypes to developers and pass on the next development stage — start coding (yay!). Alternatively, at this stage you present your design concept to investors and other stakeholders. The purpose of the presentation is to reveal the ideas, based on the design prototype and get feedback about the product features.
A unique meditation app: explore our case
Any new mental health app competes with two giants: Headspace and Calm. However, existing products do not cover all offshoots of meditation. Your app may focus on a specific aspect of mental health such as sleep facilitation, walk relaxation, or your own authoring meditation practices.
For instance, our team developed a meditation mobile app for breathing exercises, based on unique training. The clients asked us to create UI/UX design. Initially, they planned to hire another company for MVP development, but we agreed that we could complete the whole project. We developed a minimalistic app with natural design elements that works through the SaaS model.
Conclusions
Design is an important part of meditation app development: the more attractive your product looks, the more new users you can find.
Your target audience is people who need to relax and calm down. Designing a meditation app, focus on muted colors, soft shapes, and smooth lines.
It seems that the design is the fastest and easiest part of app development, but designing an app  is a complex process. Many meditation apps do not withstand competition because of wrong design. If you don't have time to come up with a design yourself, hire an agency to develop a design concept.
For a fresh and unique design concept, get in touch with us using the contact form below.