We believe that there's nothing better than real, live startup conferences. Speakers, participants, meetings, parties and extra events — that's what makes conferences memorable and impactful. In return, online meetings make you stay focused on speaker performances and save your money on tickets.
Sadly, because of the COVID-19 restrictions, many events are cancelled or postponed. So make sure to check the up-to-date information on official pages to stay tuned. All information is correct at time of writing. When you finish reading the list, you can fill your calendar with useful information for developing your startup. Now, let's get started.
Web Summit 
🗓November 1—4, Lisbon, Portugal 🗺
Speaking of startup conferences that redefine the global tech industry — Web Summit is one of the largest in this area. It unites the people and companies, gathering the experts of different fields in one place. "The best technology conference on the planet" – Forbes.
👥Who participates
Every year it brings more than 70K people. Top CEOs, experts, speakers, famous entrepreneurs and investors are visiting this conference. Earlier the convention was visited by Elon Musk, Al Gore, and Stephen Hawking. Such influential companies as VOGUE, Google, Booking.com, and Huawei are also presented here. Apart from major players, Web Summit is full of startups and fast-growing beginners in the tech world.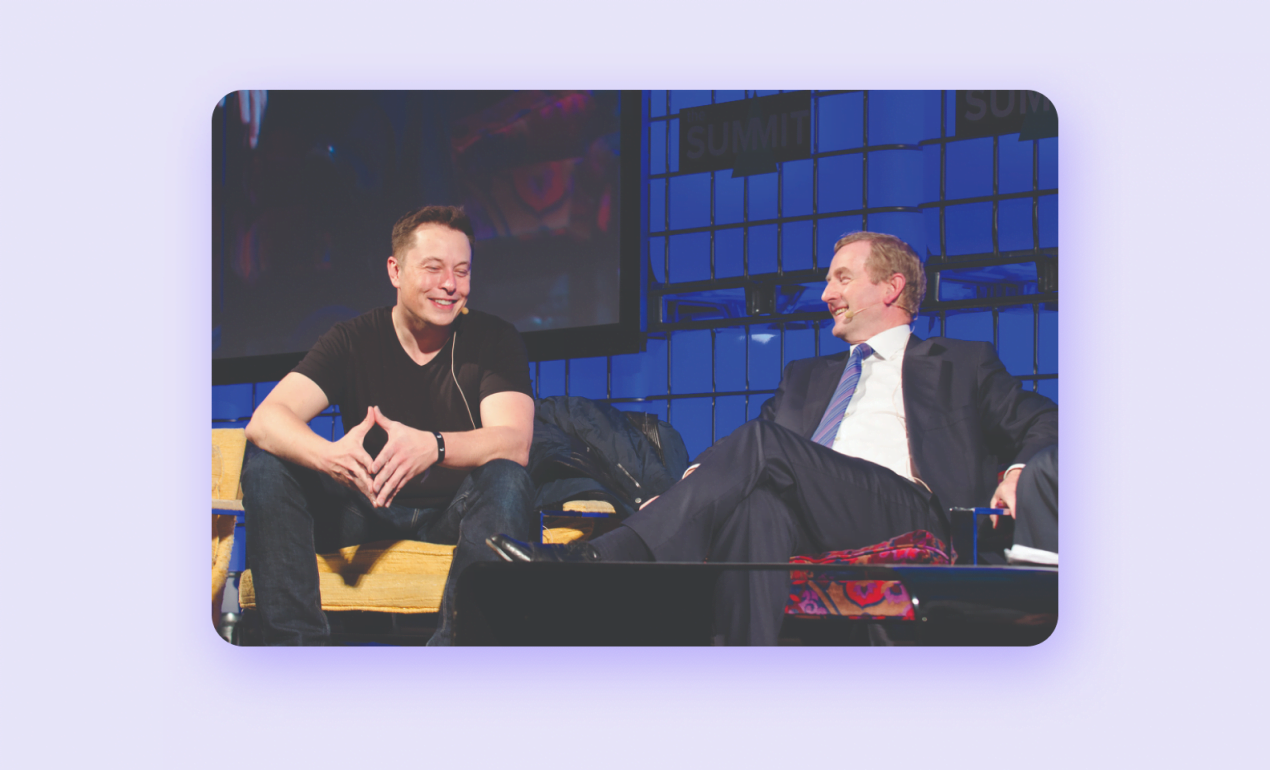 The Dublin Web Summit 2013 Elon Musk
🎯Why participate
These are uncertain days for technologies and business. The aim of Web Summit is solving big problems. So you should come with global startup business ideas. You can suggest the solutions in any direction, from technologies and data science to ecological stability. The startup conference Web Summit is a window of opportunity to prove yourself. You can share your startup business idea with experts of the same field, meet your future business partners, and ask people with the same product for advice. If you want to do that — join ALPHA, a startup program. It is created to find new startups who design the future, and connect them to powerful world leaders, investors and media organizations.
In the present circumstances it is important to develop and upskill your qualification. So the biggest focus of the conference is education. Here you'll find informative workshops, innovative roundtables and educational content from world-class speakers.
📋How to take part
The conference format is offline. Click herehttps://websummit.com/ to register on the official website.
SWITCH 
🗓November 8—12, online event 💻
The startup conference SWITCH is organized by Enterprise Singapore (ESG), supported by National Research Foundation (NRF). In 2020, more than 15K participants from 42 cities, and 600 international leaders visited this event. In 2021 the SWITCH will present various innovative and partner programs. The high point is the online festival that will take your breath away. It consists of conferences, the startup branch office SLINGSHOT, presentations, roundtables, global partnership and networking events.
👥Who participates
SWITCH will bring together top leaders, entrepreneurs, startuppers and investors from global-asian innovative ecosystem. The event hosts will present a global platform for fostering collaboration. At this startup conference you will experience the flow of knowledge and ideas of various fields, as well as the events, focused on innovations. Speakers will touch on such questions as:
intellectual cities and urban solutions;

AI innovations;

first-hand sustainable technologies;

biomedicine;

robot technology;

trade;

communication.
🎯Why participate
As 2020 is a year of global turmoil, SWITCH 2021 aims to address global challenges and innovate for sustainable recovery across all industries. The event will feature discussions between experts from different fields. The first day will be about industry transformation with the use of innovative technologies. Participants will get exclusive information about such topics as smart cities, circular economy, and renewable energy. The second day is dedicated to technological impact on our life. The question is — how technology could help us to revolutionize current social systems and promote the development of our society. Startuppers will be able to dwell into innovations that make our everyday life easier and to take part in lively debates on various spheres, from digital economy to healthcare and agri-food industry. The last day of the event is about how new technologies will change the way we live, work, and communicate in the next 30 years. Well, these are gonna be eventful few days. SWITCH 2021 will broaden your mindset and charge you with fresh app startup ideas.
📋How to take part
Format of the event — online. Venue — virtual platform SWITCH. To get to the conference, follow a link to register on the official websitehttps://www.switchsg.org/events/switch-2021-flagship-festival.
Wild Digital Southeast Asia
🗓November 9—12, 2021, online event 💻
Wild Digital is the leading conference for digital entrepreneurs, investors and startups. In 2021, Wild Digital makes a comeback with hotter topics and new networking features to interact with the best minds of the digital ecosystem.
👥Who participates
The four-day event in 2020 pulled together:
2800+ participants;

150+ speakers;

50+ sponsors and partners.
Many key industry leaders of this field took part in these briefing sessions, such as Rachmat Kaimuddin (CEO of Bukalapak), Surina Shukri (former CEO of MDEC), Anthony Tan (CEO and Co-founder of Grab). The event of 2021 is expected to be as striking as it was last year.
🎯Why participate
Wild Digital Southeast Asia startup conference will provide access to funding and meetings with prominent venture investors and business angels of the region. You will have an opportunity to show your startup on the world stage. The event features the speakers successful in Asia and beyond. It also features startups of less than $10M capitalization. During the life broadcast, all participants will have a chance to share their thoughts and ask questions to speakers.
📋How to take part
Wild Digital Southeast Asia, top-of-the-line conference makes its return for the past 7 years. In 2021 the event will be held offline. You can sign in on the official websitehttps://www.wilddigital.com/sea-2021-conference/event-overview
GIANT Health Event 
🗓November 30 — December 1, 2021, offline and online event🙋💻, UK (London)🗺
GIANT Health Event is a festival of global innovations and new technologies in healthcare. It was created by GIANT Health — a medical community with more than 200K regular members. Apart from making annual festivals, the event planners host weekly live TV shows, podcasts, and do mailing.
The community's mission is to improve people's health and well-being all around the world by promoting health innovation and supporting health technology entrepreneurs. This idea is spreading because of the growing community of health experts and entrepreneurs.
👥Who participates
In 2021 the GIANT Health Event startup conference will bring together:
50+ thousand participants from 60+ countries;

900+ journalists;

3250+ investors;

350+ startups;

400+ speakers.
The biggest global corporations and thousands of small & medium-sized businesses will take part in the event, along with the littlest healthcare startups. It will also be visited by healthcare investors, bankers, accountants, lawyers, management consultants and advisors. In addition, healthcare providers, doctors, nurses, birth attendants, hospital directors and medical students will join the conference.
🎯Why participate
GIANT Health Event startup conference gives a shot to contact the investors, clients and business angels from across the globe. The event includes 1:1 pre-arranged meetings and startup support. You'll be able to visit numerous conferences on the leading topics of modern health technology and hear expert opinion.
📋How to take part
In 2021 the GIANT Health Service event will be hybrid. Participants will enjoy an offline exhibition and a conference in central London, as well as online meetings and live broadcasts, which will take place on the licensed virtual platform GIANT Health. You can register on the official websitehttps://www.giant.health/giant-main-health-event-2021.
The Big Score 
November 30 — December 2, 2021, offline and online event🙋💻, Belgium (Ghent) 🗺
The Big Score is an international B2B event on venture capital investments and corporate innovations. It will be focused on sales and finance. In 2021 it will be divided in 2 stages:
November 30 and December 1

— these days are allocated to venture capitalists, investors, corporate leaders

, and 50 selected large-scale companies.

December 2

  is dedicated to major innovators from emerging corporations, tech startups, and companies that promote B2B expansion. 35 transnational corporations will share their opinion on pending issues that require technical solutions.
👥Who participates
In 2021, The Big Score will bring together venture capitalists, investors, corporate leaders, innovators, startups, and companies. In other words — anyone who is interested in expanding their B2B businesses.
🎯Why participate
Participants will get up-to-date info about large-scale projects and the existing problems. They will have an opportunity to hold individual meetings. You will be able to talk to investors face-to-face, share your app startup ideas and find funding for it. By meeting professionals of various fields, you can find developers for startups, or the other experts you need. 
📋How to take part
This startup conference is not about lectures and seminars. It's about cool presentations and discussions in online & offline. And there'll also be some cookies (but in offline mode only 😋). You can sign on the official websitehttps://www.thebigscore.eu/.
Slush
🗓December 1—2, 2021, Finland (Helsinki)🗺
Slush is a non-profit student movement that was created to help people change their opinion about entrepreneurship. The first meeting was held in Helsinki, which then transformed into a series of conferences around the world.
👥Who participates
In 2021, startups, tech experts, world famous companies, investors and mass media will gather in Helsinki once more. If you are looking for rapid growth with the use of a scalable business model — Slush is the right choice. More than 1500 investors are seeking a groundbreaking company with funky and working business model. Also, here you'll find not only the investor, but you can learn from experts and hear the address of top speakers. As for startup conference speakers, there will be:
Tony Fadell

— principal at Future Shape;

Renate Nyborg — CEO of Tinder;

Peter Carlsson — founder and CEO of Northvolt.
🎯Why participate
The event would be good for new players of the market. If you work on a product, you want to come up with app startup ideas, or you've created something unique —  you can tell the investors about it in individual meetings and get funding for further development. In 2019 there were more than 10 thousand such meetings. To sit down for the talks, you need to use the automatic partner selection. You'll be able to do it after registration. This would help you find the investors and meet face-to-face.
📋How to take part
Slush will be held offline. You can sign up to the event on the official websitehttps://www.slush.org/events/helsinki/.
Hello Tomorrow Global Summit
🗓December 2—3, 2021, 🗺France (Paris) 🙋
This startup conference is held by Hello Tomorrow — an organization, focused on using the technologies to solve global problems. To find startups in the early development stage, the community works with research labs and universities.
You won't find Instagram for dogs here, but you'll surely find a startup, working on nuclear fusion or launching you to the moon.
Balderton Capital
👥Who participates
To solve global problems, you should create, fund, and scale complex solutions. You'll find all you need on Hello Tomorrow Global Summit — the only event in the world that brings together corporations, investors, entrepreneurs, accelerators, and well-being technology researchers. Hello Tomorrow Global Summit stands out from other large events because it has a relatively small number of participants — about 3500. By doing that, the hosts want to achieve high quality of communication between all participants.
🎯Why participate
Hello Tomorrow gives a chance to show yourself, show your app startup idea or suggest a solution to any global problem. By hosting events like this, it  links startupers to manufacturing, investors, and researchers.
📋How to take part
In 2021 the event will be hosted offline. To make a registration, follow a link to the official websitehttps://hello-tomorrow.org/summit/ of the event.
Africa Tech Summit 
🗓December 8, 2021, 🗺 UK (London) 🙋
Africa Tech Summit — a conference dedicated to technological development in Africa. It started in 2016 as a way to bring together the technologies, leading companies, investors and corporations from all Africa.
👥Who participates
This year it will be the 5th African tech summit. There will be:
digital leaders;

technology corporations;

mobile operators;

banks;

investors;

regulatory bodies;

startups;

creative media;

leading technology enterprises from all over Africa.
🎯Why participate
This startup conference is highly important, because African startups are one of the most underfunded and underestimated entrepreneur groups. They create unique projects to solve global problems, and they're definitely worth being noticed. For example, Jihan Abbas created an insurance startup. Aim of this product is to help companies develop digital insurance products. She has successfully released their idea and now she manages the company. 
📋How to take part
In 2021, Alpha Tech Summit will be held offline. It starts on December 8. To take part in the summit, sign in on the official websitehttps://www.africatechsummit.com/london/.
GLOBAL IMPACT WEEK
🗓December 14—18, 2021, online event 💻
The aim of GLOBAL IMPACT WEEK startup conference is to develop entrepreneurship and innovations, extend possibilities, explore and support sustainable development solutions.
👥Who participates
The event brings together thousands of investors, innovators, politicians, and mass media representatives. The expected number of participants is 100K. The meeting will be useful for startups from the following areas: 
finance 

energy

health

retail 

manufacturing

TV communication

marketing

education

cyber technology

digital entertainment

media

politics
🎯Why participate
You can expect more than 150 live performances of the keenest minds of the world, influential people and innovators. On live sessions you can get new startup business ideas. 
You'll be able to host workshops and roundtables. You can also organize your own online event — this will help to make your own team or to find developers for a startup.
GLOBAL IMPACT WEEK startup conference makes 1:1 online meetings possible. You'll be able to communicate with influencers in the digital and tech industries, as well as top digital economy leaders, global innovators, investors, tech leaders and other startups.
Webit, a startup funding platform, will host a Founder Games event. The first time it was held 13 years ago when Webit just joined the ecosystem. Webit was one of the pioneers who started to unite startups and the corporate world. Every year startup companies are getting a share of profits, ranging from $200K to $1M in the form of investments and grants for participating. Webit's Founder Games is a cool opportunity to find investors for your startups from all around the globe.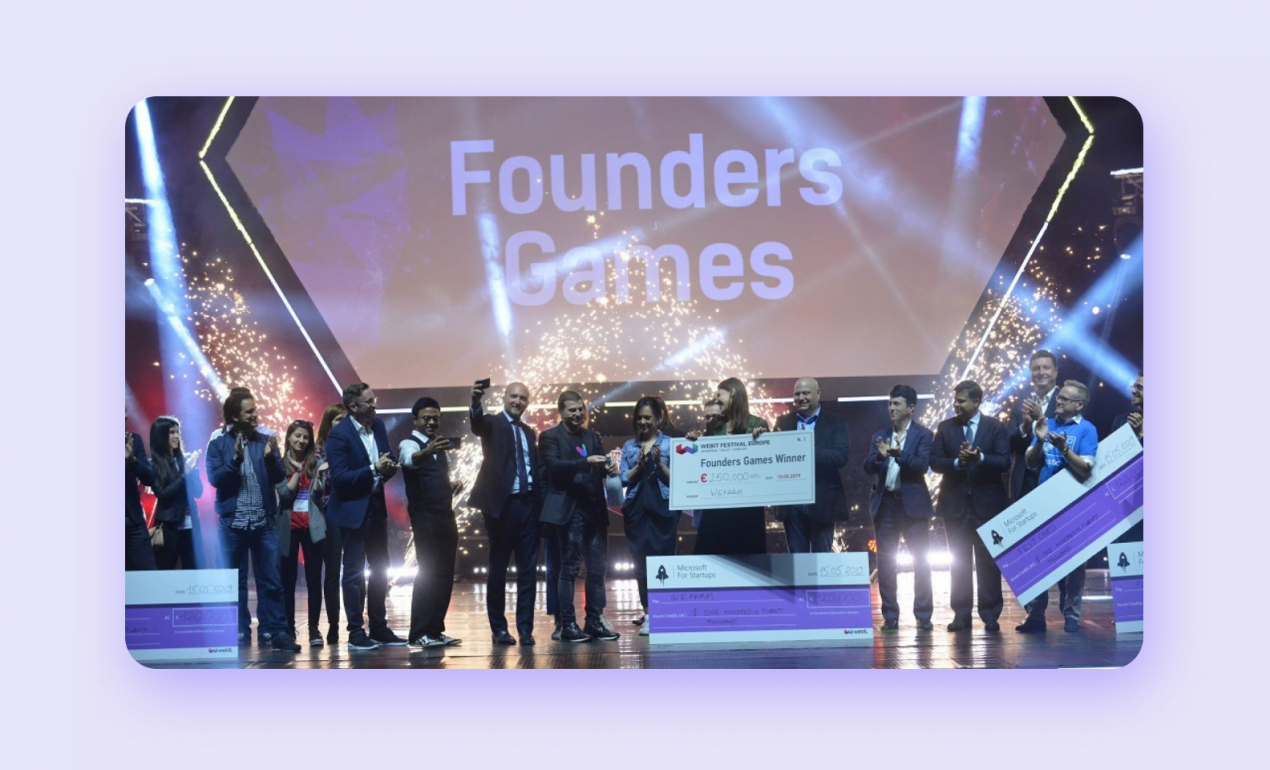 On GLOBAL IMPACT WEEK startuppers can present their innovative ideas to investors and get the recommendations from leading world investors and venture capitalists. This startup conference will help you find new partners and clients, as well as get bonuses and benefits from partners.
📋How to take part
In 2021 it will be an online event. It starts on December 14 and will last 5 days. To get to the conference, get registered on the official websitehttps://www.webit.org/2021/.
BETT Powering Learning
🗓January 19 — 21, 2022, 🗺UK (London)
BETT Powering Learning is a top-of-the-line international event of educational technologies. During the 3-day conference, participants will dive into inspiring content, talk to educators from different countries and get an access to demonstrate innovative products. There will be discussions on such global issues as new ideas in teaching and learning technologies, equipment for educational centers, and institutions management systems. Executives will voice the current problems they face and talk about the products and services they are looking for. There also planned a demonstration of how schools and universities can use the esports industry to engage students, to teach, learn and define skills.
👥Who participates
In 2020, more than 33K people from 123 countries visited the BETT Powering Learning conference. Among them were eminent educators from around the world, speakers, politicians and solution providers. Both leading companies and new startups in the field of EdTech suggested their ideas. This isn't just about innovation in online education. It's also about all kinds of digital tools aimed at improving the efficiency of the educational process.
🎯Why participate
For education startups, it makes sense to sign up for several 1:1 meetings with investors and tell them about their idea. 1:1 meetings are organized to connect solution providers with interested people and quickly implement effective educational projects.
📋How to take part
In 2022, the BETT Powering Learning conference will be held offline. To take part in the event, get registered on the official websitehttps://www.bettshow.com/events.
Startup Grind 
🗓February 28 — March 2, 2022, offline & online event 🙋💻, Silicon Valley🗺
The Startup Grind conference opens its doors for both young and more experienced, large-scale companies. The participants will have a rich program: exhibitions, seminars, speaker performances, Q&A sessions with investors, individual meetings and networking.
👥Who participates
In 2022, the event will bring together speakers, investors and companies. Journalists from major media and influential bloggers are invited as press. It is cool that students from secondary schools, colleges and universities can attend the conference too. Moreover, anyone can register as volunteers.
🎯Why participate
Growing and emerging startups will have the opportunity to meet with investors and mentors to tell about the project they made. Participants will have seminars on fundraising, sales, marketing, leadership and management. Educational content and workshops will help you find new startup business ideas. Startups will have access to exclusive benefits and discounts from event partners.
Startup Grind has definitely filled the space for startups like us that are on the way to the growth stage. It provided us a great platform to meet with investors, listen to other startup founders, and explore new opportunities with partners.
Sce Pike, IOTAS
📋How to take part
The startup conference will be held in Silicon Valley from February 28 to March 2 of 2022. Those who can't take part offline will have online access to the conference. You can submit your application for participation on the official websitehttps://startupgrind.tech/conference/.
RISE
🗓March 14—17, 2022, 🗺Hong Kong 🙋
Another major startup conference in 2022 will take place in Hong Kong. It will focus on training and development. RISE welcomes enthusiasts who ask global questions, seek solutions, develop products, and help solve existing problems.
👥Who participates
In 2022, RISE will bring together startups from all over the world with interested investors. The event will provide an opportunity for developing companies to show themselves to a thousandth audience. You'll make yourself known by world business leaders, savvy investors, and technology influencers. The event gathers leading experts from various fields. Participants will  see presentations on artificial intelligence, finance, automotive engineering and data science. "RISE was attended by some of the most prominent minds in international technology." — Forbes.
🎯Why participate
The RISE team is looking for promising startups, so it has developed the ALPHA program, which allows startups to present their growing company to thousands of visitors. You'll make yourself known by world business leaders, seasoned investors and some of the most influential people in technology. To become a participant in the program, you must submit an application, pass the qualifying round and prepare for the performance.
Participation in RISE will help to convey the startup business ideas to a global audience with the help of journalists from the leading world's mass media. You will get the opportunity to meet influential people and investors who can finance your project. The great thing about this startup conference is that 1:1 meetings are arranged in advance. During the sessions, investors meet with startups who have piqued their interest. The RISE application is used to organize meetings. It allows you to find people and companies that interest you and make an appointment. In addition, in the application you can find developers for a startup or propose your candidacy.
📋How to take part
The event will be held offline. You can register on the official websitehttps://riseconf.com/.
DN Unlimited
🗓March 22—24, 2022, online and offline conference 🙋💻, Berlin🗺
Data Natives (DN) — the world's largest community of data professionals. It was founded in 2015 to unite people from all over the world who were excited about the data science boom, as much as about machine learning and new technologies in this field. Today, the organization hosts the events in more than 50 key technology centers around the globe.
The aim of Data Natives is to unite different sides of the world technological community, educate, motivate, and inspire people to create innovations of the future.
👥Who participates
The event will bring together leading entrepreneurs, as well as data and technology professionals in one place. The reputable companies, state institutions and government will also take part. This is made to share knowledge, create solutions together, establish relationships and celebrate the achievements.
In 2020 the DN Unlimited startup conference gathered:
more than 5K participants from 22 countries;

100 volunteers;

160+ speakers;

9 sponsors.
Because the event is held both offline and online in 2022, it will gather even more people who are interested in this area. Clare Jones (Chief Commercial Officer of what3words), William Hurley (CEO of Strangeworks) and Jessica Graves (Founder & Chief Data Officer) are there to give their speeches.
🎯Why participate
The problems of 2020 had an impact on everyone. We had to accept the uncertainty, become more stable and flexible. Data Natives Unlimited strives to turn the tide and give people the chance to make the most of communication, collaboration and networking during the conference. To create a feeling of an offline event while watching the live broadcast, the hosts made it possible to move in a virtual space. The participants can exchange the app startup ideas and their business cards with data processing companies, technology experts, other startups, hackers, headhunters and job seekers from over 37 countries. The offline startup conference will bring even more benefits. Here startuppers can have personal conversations with investors.
📋How to take part
The DN Unlimited conference will be held in 2022 in offline and online formats. Click herehttps://datanatives.io/conference/ to join the largest data science event.
HUB.BERLIN
🗓April 5—6, 2022, Berlin🗺
HUB.BERLIN event is a highly important platform for pushing the technology limits and driving the innovations forward. Networking defines the main values of the festival. Participants will get access to like-minded people, where they can share their experience and ideas.
👥Who participates
The festival will unite:
more than 10K technical experts from all over the world;

2000+ future-oriented startups;

representatives from successful companies;

scientists;

350+ speakers;

investors;

politicians.
🎯Why should I participate
During the 2 festival days, participants will meet interesting experts, innovators and investors. HUB.BERLIN will help to make strong soсial ties with the help of:
Matchmaking — an app for private meetings

. It is managed by AI. It finds perfect matches of partners to talk to, depending on their skills, sphere and job position. The app organizes meetings for you. If you'd like to meet spontaneously and easily, you can attend scheduled meetings.

Meetings of startups and corporations.

It allows the successful companies to communicate with startups, developing in the same field. Hosts suggest the members to classify themselves into one of five categories, depending on their field of activity.

Scheduled group meetings.

They help to randomly and easily find people that match your needs. By the beginning of the conference, you'll see a schedule with dates and group meeting times on the official website.

Networking.

At the

startup conference

, participants will find quests and technical expeditions, pubs, clubs, and last night with drinks.
On HUB.BERLIN you'll find the investors, speakers and successful company representatives, as well as professionals of your field. Such events are rich on developers for startups, system administrators, market professionals and any other specialist you are looking for.
📋How to join
The conference will be held offline. Follow a linkhttps://www.hub.berlin/ to register on the official website.
Collision
🗓June 20—23, 2022, 🗺Toronto 🙋
Collision is called "The Olympics of Tech" because it's the fastest growing annual tech conference in North America. It's a place where you can find your inspiration and get practical knowledge from the top technology leaders, politicians and cultural figures. Organizers held the event online for the last two years, but in 2022 they are preparing for an offline comeback. 38K+ visitors are expected.
👥Who participates
In 2022 the startup conference Collision will blend together the influential global speakers, mass media and top technology companies. According to official data, the event will be attended by:
38K+ participants;

850+ investors;

1260+ startups;

100+ partners.
Apart from that, 1400 journalists, including the Wall Street Journal, CNBC, Forbes, Financial Times and Bloomberg will take part in offline event. So it's an opportunity for everyone to tell the international mass media about their company.
🎯Why should I participate
In 2022 the Collision will help not only with networking, but with finding the potential customers and getting access to premium content. The congress will touch upon 30 topics in six areas:
development and data

mass media and marketing;

business development;

lifestyle;

commerce;

society.
Each theme will focus on emerging industries and technologies. You will meet famous speakers and leaders from every field. You will hear the guest authors, athletes, actors and musicians talking about technological influence on various areas. Inspirational stories, engaging discussions and the opportunity to network with successful people — It's a great source of new startup business ideas.
"Collision, is a frenetic stream of sessions on a wide range of topics, from technology and digital media to music, politics and culture"
📋How to join
The startup conference will be held offline. Click herehttps://collisionconf.com/ to register on the official website.
Conclusion
Startups are wondering if the costs of attending conferences in 2021 and 2022 will bring any return on investment. This is a serious problem for young companies, as their budget is limited and tickets for the event are not cheap. In Purrweb, we believe that startup conferences are a great networking opportunity and a chance to find an investor. Active participation in startup events always brings benefits and outweighs the costs.